Western Arms Proliferate in Afghanistan, Spike Violence
Western forces reportedly left behind a whopping $7 billion worth of military equipment and weapons that are now being acquired by terror groups.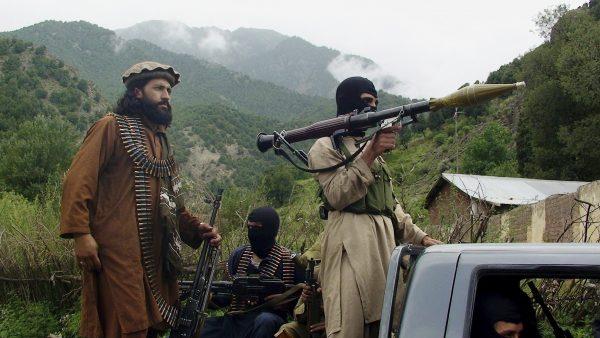 Image for representational purpose. Credit: The Diplomat
The threat of terrorism emanating from Afghanistan remains an ongoing concern for the global community. A latest report by the United Nation Security Council's monitoring team says that the land-locked nation "remained a place of global significance for terrorism, with approximately 20 terrorist groups operating in the country".
The report, presented to the Security Council earlier this month, also indicates that members of Al-Qaeda have "infiltrated Afghan law enforcement agencies and public administration bodies". It says that agencies of member states have assessed that Daesh or the Islamic State-Khorasan (ISIL-K) was "the most serious terror threat in the region, with the group benefiting from increased operational capabilities" inside Afghanistan.
Daesh has reportedly claimed responsibility for several recent bloody attacks inside Pakistan, with the largest being a suicide bombing at a political rally in Bajaur area of Khyber-Pakhtunkhwa province on July 30, which claimed over 45 lives and left about 200 injured.
In such a scenario, there also exists the threat from the presence of a huge cache of arms, ammunition and sophisticated military equipment left behind by the United States and its NATO allies when they pulled out their forces in 2021. As per a US estimate, these Western forces left behind a whopping $7billion worth of military equipment and weapons, including firearms, communications gear and armoured vehicles.
The Taliban, which took over the country on August 15, 2021, seized the arms spread out across various Afghan provinces after the fall of the Western-backed government led by Ashraf Ghani during the chaotic US-NATO withdrawal. This presented the hard-line Islamist outfit a massive war chest.
Since the Taliban takeover, a chunk of this military gear and weapons has also found way into the arms black market, from where the ruling Taliban has been making money through their sale. The weaponry has also turned up in neighbouring Pakistan and has been found in the hands of the Tehreek-e-Taliban Pakistan (TTP or Pakistani Taliban) terrorists, separatist outfits and criminal gangs.
The scale of weaponry and equipment stacked up by the US-NATO forces for decades and left behind in Afghanistan can be gauged from the fact that its total official valuation stands at nearly $7.2 billion, a figure reported by the Pentagon to the US Congress in March 2022. These include aircraft, guns, vehicles, ammunition, specialised equipment like night vision goggles and biometric devices.
The Pentagon told US government watchdog SIGAR (Special Inspector General for Afghanistan Reconstruction) that there is "currently no realistic way to retrieve the material that remains in Afghanistan, given that the US does not recognise the Taliban as a government." A recent report in Al Jazeera news channel quoted a Taliban official as saying that the group had so far seized over 300,000 light arms (like M16 machine guns and M4 assault rifles), 26,000 heavy weapons and around 61,000 military vehicles.
Overall, the incidents of terrorist violence have significantly increased inside since the Taliban took control of Kabul. The number of people killed in the attacks in Pakistan from August 2021 to April 2023 (21 months) has also increased by a massive 138 per cent. These are some of the key findings of the policy-oriented report titled 'Pakistan's Afghan Perspective and Policy Options', launched by the Islamabad-based Pakistan Institute for Peace Studies (PIPS). According to it, the number of terrorist attacks in Pakistan saw a phenomenal surge of 73% during the first 21 months since the Taliban seized power in Afghanistan, compared with the corresponding period before their takeover.
Experts say the influx of American weapons has boosted the military capabilities and lethality of the Tehrik-e-Taliban Pakistan and ethnic separatist groups, such as Uyghurs and the Balochis, which are waging low-scale guerilla war against China and Pakistan governments.
A "robust and in many ways growing black market" for these weapons is thriving in Pakistan, these experts were quoted by Pakistani dailies such as Dawn and Friday Times, as saying. They said that the TTP's access to such sophisticated weaponry and systems has had a "terrifying" impact, especially on the lesser-equipped police force in Pakistan who have "virtually become sitting ducks for terrorists possessing night-vision devices".
Media reports also said the TTP itself has released numerous videos of its sniper attacks on security check posts along Pakistan's western border with Afghanistan over the past two years.
The ruling Taliban in Afghanistan has, however, denied allegations that it has supplied American weapons to TTP. It has also downplayed suggestions that it has sold off large tranches of small arms on the black market to make money, which it needs the most. However, Pakistani gun owners say the black market has been flooded by US weaponry.
Media reports have named and quoted gun traders in Pakistan's Khyber-Pakhtunkhwa province as saying the new US weapons available on the black market "are of excellent quality and very lethal." One of them was quoted as saying that a US-made M4 assault rifle in good condition could be bought for around $1,400 and military communication gear such as Harris Engineering Falcon Three Radios for around $3,500. An unnamed Pakistani bureaucrat, who claimed threat to his life, said he had bought an Austrian-made Glock handgun for $1,500 under his legitimate firearms license, according to local media reports.
Such a scenario has been aggravated by the lack of the ruling Afghan Taliban's institutional capacity as well as any system to regulate these weapons. This has led it to it losing control over their circulation. The internal rifts within Taliban and its warring factions and gangs have hindered any accounting or registration of these weapons spread over various provinces.
The reports said most commanders of Kabul, Heral, Kandahar and other parts of Afghanistan have claimed ownership of these arms and distributed them within their respective areas of influence. Additionally, internal rivalry and strife within the Taliban has posed a serious threat to the stability and security of Afghanistan, primarily due to the loss of any control over weapon circulation.
Expressing concern over the situation, security experts have warned that these emerging trends of terrorism will only add to tensions for Afghanistan's neighbours, especially Pakistan in terms of the security challenges posed by Taliban militancy in Khyber Pakhtunkhwa, Baloch nationalist insurgency in Balochistan, ethnic violence in Sindh, as well as growing religious extremism and radicalism. "Protracted over a longer period of time, such an environment of insecurity, militancy and violence can pose serious threats to political and economic stability as well," the PIPS report states.
This also serves as a warning for India as there are credible reports of terror outfits such as Lashkar-e-Taiba and Jaish-e-Muhammad being trained in Afghanistan. There are also real threats of these groups acquiring superior firepower by gaining access to Western weapons.  Hence, the international community at large should maintain a close watch over these developments and work out policies to deal with the ruling Taliban regime in Afghanistan to find ways to check the possible re-emergence of a volatile situation in the region.
The writer has extensively covered internal security, defence and civil aviation for the Press Trust of India for three decades. Views are personal.
Get the latest reports & analysis with people's perspective on Protests, movements & deep analytical videos, discussions of the current affairs in your Telegram app. Subscribe to NewsClick's Telegram channel & get Real-Time updates on stories, as they get published on our website.
Subscribe Newsclick On Telegram