#WeThePeople: Is the Space for Civil Society in India Contracting?
The instances of crackdowns on dissenting voices, curtailment of peaceful protests, and the branding of activists as threats to national security contribute to an environment of intimidation, dissuading individuals from engaging in civic participation.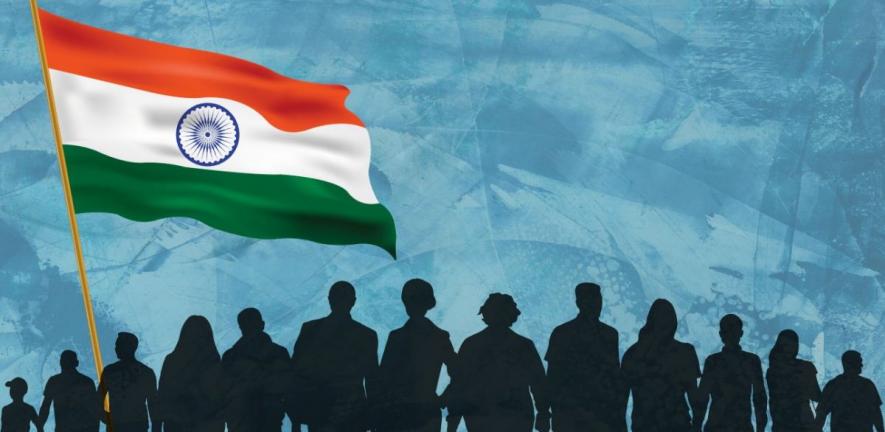 Image credit: The Leaflet
Pluralistic and democratic societies are characterised by active, diverse and critical civic engagement.
This engagement fosters discussions in the realm of politics and significantly contributes to enhanced representation and legitimacy within political and societal decisions.
Through active participation in political and social matters, individuals and civil society groups play a pivotal role in advocating for increased accountability, transparency, and responsibility from governments, businesses and various stakeholders, particularly in cases involving human rights abuses and corruption.
In doing so, these groups maintain essential oversight within the democratic set-up.
The participation of grassroots and social organisations, non-governmental organisations (NGOs) and human rights advocates collectively comprising civil society, in political processes, along with their dedication to the well-being of others, stands as a crucial prerequisite for equitable development and safeguarding of democratic principles.
However, a concerning trend has emerged as the room for civil society to voice their opinions and concerns openly is rapidly diminishing.
Civil society groups frequently encounter slander, coercion and even criminalisation when they attempt to address matters of political, economic or environmental significance.
Within India as well, there is a consensus among political commentators that the domain of civil society is undergoing a discernible contraction.
Our investigation underscores two significant reasons for this pattern: First, the rise of non-State actors; and second, a sharp decline in the standards of media ethics, erosion of academic freedoms and a noticeable fall in the effectiveness of legislative bodies.
The rise of non-State actors
The ascent of Hindutva politics found resonance within a predominantly religious Hindu middle class, reinvigorating politico-religious organisations such as the Vishwa Hindu Parishad and the Bajrang Dal.
These organisations view the Indian State as feeble and paralysed, necessitating a strong leader to safeguard territorial integrity and national 'Hindu' honour. Though there might have been elements of truth in these assumptions, the underlying aim is to seize control of political power and the societal psyche.
This was observed during the 'Dharma Sansad' event held in Haridwar in December 2021, where several sadhus delivered inflammatory speeches advocating for violence against Muslims and praising Nathuram Godse for his assassination of Mahatma Gandhi.
As a reaction, a video emerged from Alappuzha in May 2022, showcasing a young boy participating in a rally organised by the Popular Front of India where he was heard chanting slogans that were seemingly directed against Hindus and Christians.
Likewise, the portrayal of the conflict between the Meiteis and the Kukis in Manipur along religious lines, and the communal riots in Nuh suggest a diminishing space for civil discussions to address disputes.
Such a profoundly sectarian and religious divide has given rise to an atmosphere characterised by distrust, social tensions and prejudice. This environment has also witnessed an alarming surge in hate crimes fueled by hate speeches.
According to The Wire's Heartland Hatewatch, there have been 89 documented cases of hate crimes spanning five states in northern India between October 2021 and March 2022.
A recent illustration of such hate crimes involves the shooting of three Muslim passengers on board a train by a railway protection force constable.
These incidents have cast a shadow of moral despondency over civil society, further exacerbated by the concerning trend of relinquishing civic engagement and ceding space to anti-social factions.
The prevailing sense of moral disillusionment is to some extent driven by corporate avarice. This assertion finds support in the open letter penned by 17 faculties from the Indian Institute of Management Bangalore, including several retirees, which stands as a testament to this concern. 
A notable section of the letter titled De-fund Hate Speech reads:
"These trends [of hatred towards minorities in public discourse] concern corporate India, as they point towards an increasing risk of violent conflicts in the country.
"In the worst case, such acts of violence could culminate in a genocide, which could annihilate the social fabric as well as the economy of the country, casting a dark shadow over India's future.
"Corporate India, which hopes to reach new frontiers of international growth and innovation in the 21st century, cannot afford to live with even a small possibility of such a scenario."
While India Inc. strives to attain global recognition, it often falls short of adopting universally recognised principles of communal harmony.
In more advanced countries, companies are progressively standing opposed to technology and media platforms that propagate misinformation and fuel animosity or aggression.
Global majors such as Adidas, Diageo, Ford, Honda, HP, Hershey's, and Coca Cola have boycotted Facebook for its malicious propaganda. However, the same corporations engage with segments of Indian electronic media that exhibit even more virulent toxicity than Facebook.
This disparity in action could possibly be attributed to the absence of substantial pressure from the Indian civil society.
However, a segment of Indian industrialists have duly expressed their apprehensions on the issue in the past.
Kiran Mazumdar conveyed her disquiet, remarking, "I am very disturbed by fringe elements trying to disturb communal harmony."
In another interview, Narayan Murthy shared his perspective on intolerance, highlighting "a considerable fear amongst minorities in India."
During an award ceremony, industrialist Rahul Bajaj openly expressed that "you [the government] are doing good work, but if we want to openly criticise you, there is no confidence you will appreciate that. I may be wrong but everyone feels that [way]."
Yet, the commitment to prioritise social cohesion over mere profits appears to be increasingly uncommon in today's context.
For instance, the withdrawal of an advertisement by Tanishq following backlash from social media trolls over a 'love jihad' controversy exemplifies this trend. 
As Avay Shukla notes, several prominent conglomerates, including Birla Group, Amul, TCS, Dabur, Raymonds, Muthoot Group, Reliance Jio and Mahindra, are perpetuating the toxicity propagated incessantly by some news channels 24×7.
Declining media ethics, academic freedoms and effectiveness of legislative bodies
The influence of corporations over news channels has reshaped the dissemination of information, leading to a paradigm shift in the way news is delivered. This phenomenon of presenting controlled, calculated and curated content also extends to print media.
A noteworthy example is Outlook India magazine, which garnered significant attention with its May 2021 edition featuring a blank white cover page reminiscent of a 'missing poster'.
The cover depicted the absence of the government of India during the severe second wave of the Covid-19 pandemic.
However, interestingly, this impactful cover was conspicuously absent from the online edition.
During an interview with The Wire's Karan Thapar, Rubin Banerjee, the former editor-in-chief of the Outlook India magazine, revealed that the night when the magazine was released, a storm ensued.
"I was repeatedly called by my owners & CEO, and I was told in as many words that they [proprietors] are under a lot of pressure, the kind of pressure that they can't handle," said Banerjee.
In June 2022, a media watchdog, Newslaundry analysed 449 prime-time debate shows, the results of which are presented in the chart below, showcasing the coverage of various mainstream news channels.
Evidently, the subjects that dominate prime-time TV debates on mainstream news channels rarely revolve around matters of civic interest such as inflation, unemployment, social security, healthcare, education and safety.
Furthermore, political leaders and parties have ownership stakes in various news channels. The convergence of corporate influence and political interests has significantly impacted the landscape of ground reporting and fact-checking within the Indian media industry. 
The following table illustrates the ownership of newspapers and TV news channels by political leaders.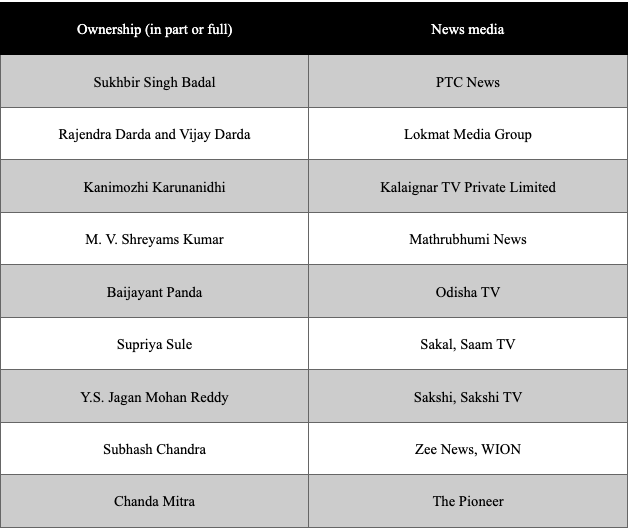 This information is compiled from multiple sources such as The Caravan, Outlook, the Hoot.
This shift away from debates on issues of civic interest means that traditional journalistic practices are being overshadowed by the prominence of news anchors and TV presenters.
There has been a disturbing increase in arbitrary arrests and acts of violence against freelance journalists.
The annual report by the Committee to Protect Journalists reveals a stark reality: 59 journalists have been confirmed killed due to their work, and another seven journalists find themselves imprisoned.
The decline of Indian media's independence is matched only by the sorry state of our educational institutions who have become new victims of this ongoing hostility.
Faculties across junior colleges, universities and educational startups have experienced the negative consequences of this trend.
In August 2023 alone, we encountered three instances where it appears that academic freedom has been undermined.
First, a lecturer at Symbiosis College in Pune was arrested under Section 295A of the Indian Penal Code. The arrest was prompted by a viral video recorded by a student during the lecturer's class.
The video attracted the attention of the Samast Hindu Bandhav, a relatively lesser-known Hindu group, which organised a demonstration outside the college.
Subsequently, the Akhil Bharatiya Vidyarthi Parishad, the student wing of the Bharatiya Janata Party, joined the protest, leading to the lecturer's arrest. Soon, the lecturer was terminated from his duties by the college authorities.
Second, an assistant professor in the Department of Economics at Ashoka University resigned after the university's governing council initiated an inquiry into the credibility of his research titled "Democratic Backsliding in the World's Largest Democracy" which came under scrutiny due to criticisms on social media.
This incident led to 87 other faculty members of the university addressing a letter to the vice-chancellor and the dean of faculty, expressing concerns about the "ongoing threats to the all-important domain of academic freedom."
Up to this point, five departments— economics, English and creative writing, sociology, anthropology and political science— at Ashoka University have expressed their support for the assistant professor.
Third, a video featuring an instructor from the online tutoring platform Unacademy gained widespread attention as he encouraged his students to vote for well-educated candidates.
The instructor expressed a mix of emotions (in the context of three newly introduced criminal law Bills), stating, "I don't know whether to laugh or cry because I have a lot of notes, bare acts, and caseloads that I had prepared. 
"But remember one thing, the next time you vote, choose an educated candidate so that you do not have to suffer all this again in life. Do not vote for someone who only knows how to change names."
These remarks led to a controversy, with certain social media users accusing Unacademy of promoting an 'anti-Modi agenda'.
Subsequently, the learning platform terminated the instructor, citing a breach of contract.
The comprehensive decline of academic institutions and the erosion of research freedom have been succinctly captured by R. Raj Rao, who notes that,
"While educational institutions pride themselves on introducing newer and newer subjects into the curriculum, the teachers who teach these subjects, often with PhD degrees and books and articles to their credit, expose themselves to grave risk.
"They can be jailed, beaten up and thrown out of their jobs. They can be ostracised."
Academic institutions, by their very definition, nurture creativity, foster a critical mindset and instil discipline. However, when the fundamental freedom to engage in critical thinking and questioning the nature of things is subject to scrutiny, it is these very traits of creativity and discipline that bear the brunt of the impact.
Speaking of discipline, there is a noticeable dearth when we turn our attention to our elected bodies such as Parliament and legislatures. The primary duty of these bodies is to deliberate on critical legislations and policies that directly impact the citizens.
By abstaining from engaging, they compel civil society to contend with a lack of representation amidst political turmoil.
A snapshot of the recently concluded monsoon session of Parliament serves to highlight this point.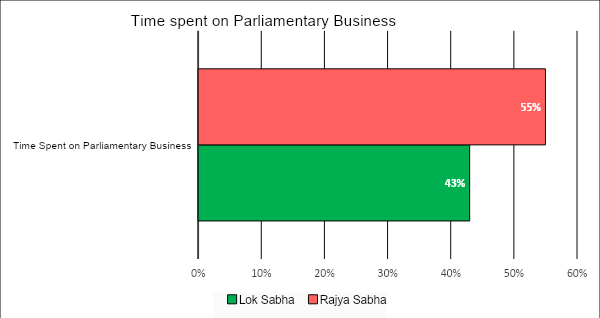 Average time spent on Question Hour per day: 10 minutes (in Lok Sabha) and 17 minutes (in Rajya Sabha).
Percentage of starred questions answered: Only 9% (in Lok Sabha) and 28%t (in Rajya Sabha) of questions listed for oral responses were answered.
Percentage of Bills introduced and passed in this session: 56%
Number of Bills passed within an hour of discussion in Lok Sabha: 20 (out of 22)
Number of Bills referred to standing committees in this session: Three (out of 25)
Average time taken for passing Bills in this session: Eight days
Source: PRS legislative research
The condition of state assemblies has worsened. During 2022, the average number of days in which 28 state assemblies convened was only 21.
The decrease in the number of sittings has a ripple effect on other parliamentary business such as passing of Bills and private members' business.
The chart below underscores a concerning trend depicting the diminishing significance of state legislatures over the last three years.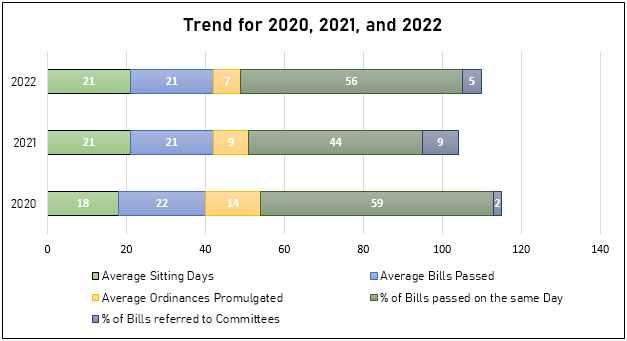 Source: Annual Review of State Laws for 2020, 2021, 2022 published by PRS Legislative Research
In situations where our elected bodies fail to participate in meaningful discussions, the will of the political executive takes precedence over the concerns of the general public.
As the diminishing space for civil society becomes increasingly evident, what is even more alarming is the lack of constructive engagement among elected representatives themselves who seek to amplify the voices of those whom they represent.
Conclusion
In essence, the evolving landscape of civil society in India raises compelling concerns about the contraction of its space and the subsequent implications for democracy, human rights and social progress.
The intricate tapestry of civil society, woven by diverse non-governmental organisations, activists and citizens, has undeniably played a pivotal role in shaping India's democratic discourse and fostering positive change.
However, recent trends suggest a worrisome narrowing of this vital space, which demands critical attention from both domestic and international stakeholders.
Furthermore, instances of crackdowns on dissenting voices, curtailment of peaceful protests, and the branding of activists as threats to national security contribute to an environment of intimidation, dissuading individuals from engaging in civic participation.
These trends not only erode the foundations of our democracy but also weaken India's global image as an open and pluralistic society.
Yet, a notable counterforce to this narrowing trend emerges through the efforts of women's groups, farmers' organisations, minority advocacy groups, the media community and even prominent sports figures.
Their collective actions embody the essence of #WeThePeople, demonstrating unwavering resolve in the face of considerable external pressures.
Chinmay Bendre is a Senior Research Associate at the MIT School of Government, MIT World Peace University, Pune.
Neelam Pandit is an assistant professor at MIT, Pune. She is also a social activist, and vice president of Yuvak Kranti Dal, Pune city.
The views are personal. 
Get the latest reports & analysis with people's perspective on Protests, movements & deep analytical videos, discussions of the current affairs in your Telegram app. Subscribe to NewsClick's Telegram channel & get Real-Time updates on stories, as they get published on our website.
Subscribe Newsclick On Telegram