What do 76 Years of Freedom Mean to Sanitation Workers
India has made a lot of progress. We are sending Chandrayaan-3 on the moon. Yet, why is there no mechanisation of sewer and septic tank cleaning. Why does manual scavenging exist even in the 21st Century?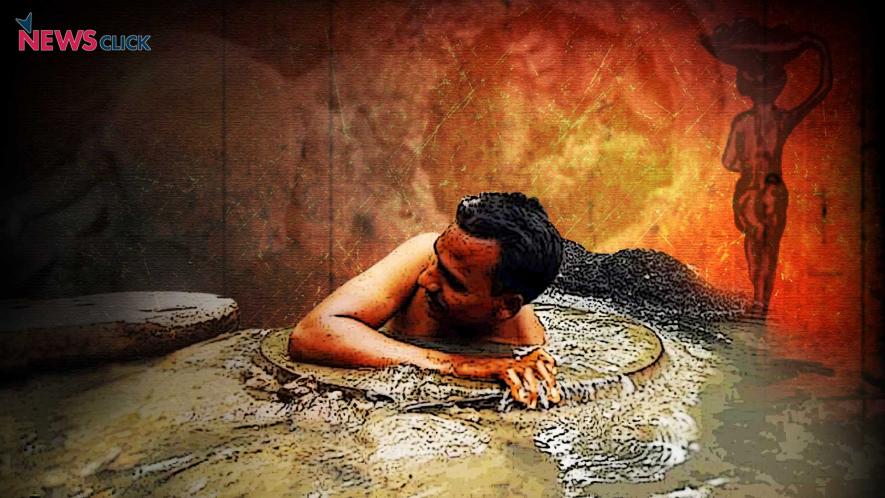 India is celebrating Azadi Ka Amrit Mahotsav (75 years of Independence) these days. At the initiative of the government, a 'Har Ghar Tiranga' campaign is also being carried out, appealing to people to hoist the national flag in their homes. But amidst all this, we, the manual scavengers, are still living like slaves due to untouchability and casteism.
We are forced to pick up human excreta with our bare hands, enter sewer and septic tanks to clean them. So, how can we say that we are free? How can a manual scavenger whose human dignity is at stake due to casteism and untouchability even think of celebrating Amrut Mahotasav of freedom? What do 76 years of freedom mean to us?
Recall the words of Baba Saheb B R Ambedkar: "Even after attaining Independence, if we still remain untouchable, then of what use is such freedom to us?" (Dr. Baba Saheb Ambedkar Writing and Speeches, Vol.5)
Every other day, we see reports in newspapers of men dying while cleaning sewers. In a press release, the Safai Karamchari Andolan (SKA) has stated that it is unfortunate, government has once again lied about the deaths in sewer and septic tanks. How can the government claim there is no manual scavenging when people continue to die in sewer and septic tanks. (SKA release attached)
SKA has objected to the data tabled by the Union Minister of State for Social Justice and Empowerment, Ramdas Athawale, on the number of persons who died while cleaning sewer and septic tanks in 2023. The Minister has reported that nine people died in 2023. SKA has said that figures are grossly incorrect. This year from January to till now (July 26, 2023), 58 citizens lost their lives while cleaning sewer and septic tanks, while the government has reported this figure to be just nine. SKA has placed the deaths of these 58 persons in public domain.
The Union Minister has also under-reported the data of the deaths in sewer and septic tanks for the last five years at 399. SKA, in a press release on July 26, once again contested these numbers, saying these are not factual and reflect the government's apathy to such deaths of vulnerable citizens of this country. 
Last year, the SKA also ran a nationwide campaign #StopkillingUs from May 11, 2022, demanding a stop to these "murders" in sewer-septic tanks. It has demanded that the government must make mechanisation mandatory for cleaning sewer-septic tanks. Smart cities are not possible without smart sanitation.
Ravita Khairwal, a resident of Chandigarh and leader of the manual scavenging community associated with SKA, says, "75 years of independence do not matter to us. We have been running the "Stop Killing Us" campaign across the country for more than a year, but the government is ignoring us. Even today, deaths are taking place in sewers. The families of the deceased are neither getting compensation nor jobs. They are struggling for their livelihood."
The practice of manual scavenging should be completely ended. Those who are engaged in this work should be rehabilitated by giving them dignified employment.
Also, 75 years after Independence, our sisters and daughters are being raped in the name of caste. Our children do not have the right to drink water from public places, even in schools. In such a situation, freedom does not matter to us.
If we look at today's Independent India, tribals-dalits-backward-minorities are continuously being exploited by so-called upper castes. They are being discriminated against. Gang-rapes and murders of our women and girls are still rampant.
Is this truly a free India?
We do not feel free, that's why we need freedom, freedom from Manuism (upper caste followers of Manusmriti) , freedom from brahmanism, freedom from casteism, freedom from patriarchy, freedom from fascism, freedom from capitalism and so on.
Media is called the fourth pillar of democracy. But, at present, due to the nexus between corporate media houses and the government, the mainstream media is not highlighting the issue of manual scavenging. Only small newspapers, news portals, magazines and social media are playing the role of the fourth pillar, by highlighting issues of such workers and other marginalised people. 
Sanitation workers can never get justice in a caste-driven society.  Baba Saheb said, "A society based on equality, liberty, fraternity and justice should be built." In one of his famous speeches, he said that as long as India does not achieve social liberty, whatever freedom is accorded to its citizens by the law will be of no use. People should have fraternity without caste, religion, region and gender. They should respect each citizen of India as equal human beings. Most importantly, they should respect the Constitution and democracy, only then can India truly feel proud of 75 years of Independence.
Get the latest reports & analysis with people's perspective on Protests, movements & deep analytical videos, discussions of the current affairs in your Telegram app. Subscribe to NewsClick's Telegram channel & get Real-Time updates on stories, as they get published on our website.
Subscribe Newsclick On Telegram