What Explains Unpaid Employees and Neglect of HEC?
It is evident the government is not keen to revive this industry despite its crucial role.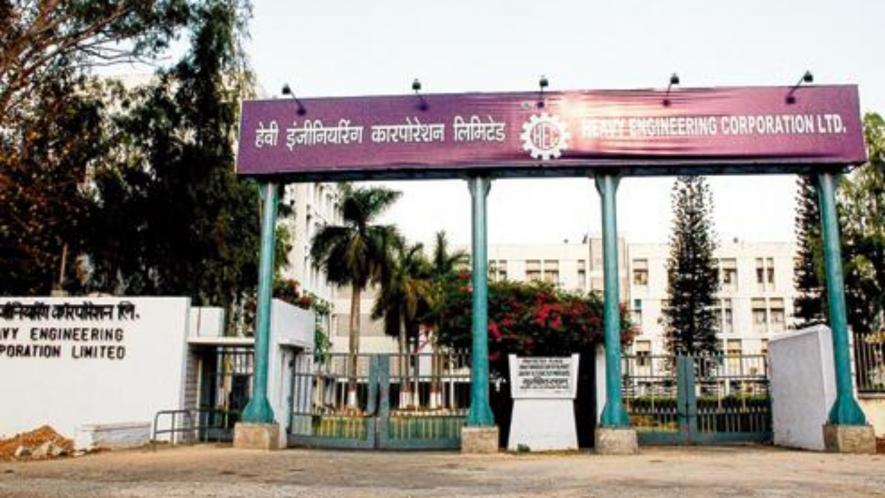 Will the Ranchi-based Heavy Engineering Corporation (HEC), which played a key role in making India self-sufficient in steel and technology, in the process of being wound up?
The writing is on the wall. Starved of funds and with unfulfilled vacancies in most top official slots, it is obvious the central government has kept it gasping for breath. Perhaps, it is only because the services of its engineers are required to keep high-profile and prestige projects going until it can be disposed of.
Only a week before the launch of the Aditya L1 spacecraft, sent into space to observe the solar atmosphere, scientists from Sriharikota sat with engineers of HEC, completing key parts of the rocket launcher. "These were then rushed to Sriharikota to be fitted in so that the launch could take place on September 2," says a HEC official, on condition of anonymity.
The launching pad for the Chandrayaan-3, India's successful moon-landing mission, was also built by the engineers at HEC, also it did for the earlier two Chandrayaan missions. While the pad was designed by engineers at another public sector unit, Metallurgical and Engineering Consultants (India) Ltd, also known as MECON, which is facing neglect by the central government.
In fact, HEC has been at the forefront of building equipment for the Indian Space Research Organisation (ISRO) since 2000. These have included mobile launching pads, electric overhead travelling cranes to build the rocket assembly, re-positionable platforms, cyclone locks and special sliding doors to prevent rain water from entering these modules before they get fired into outer space.
HEC manufactures defence equipment and accessories for the Defence Research and Development Organisation, and a crucial "cyclotron" used in the nuclear energy field. When late President of India Abdul Kalam Azad visited the HEC, he emphasised India's need for an organisation like it, and many more, especially to create a stronger manufacturing base.
Why, then, has the institution that helped manufacture India's impressive network of steel plants, including at Bhilai, Rourkela, Bokaro, and Visakhapatnam, fallen into so much disfavour? Why has the Prime Minister Narendra Modi government not stepped in to ensure the payment of salaries to HEC's 3,500-strong workforce, who have been waiting for eighteen months for their pay?
HEC employees are struggling to make ends meet and forced to spend their only formal retirement savings—their provident fund deposits—and have even taken out loans from informal sources just to survive.
Amal Pandey, an activist with the Ranchi-based NGO Sajha Manch, believes the government's neglect is deliberate. "The general opinion in Ranchi is that the prime minister is waiting for the 2024 election before the HEC is handed over to a favoured private business group," he says. According to Pandey, earlier this month, 1,632 contractual workers at HEC lost their jobs. "They were providing crucial inputs but got sacked anyway," he says.
In 2016, the central government set up a multi-member Committee of Experts, headed by Niti Aayog Member Dr Vijay Kumar Saraswat, former DRDO secretary. It analysed HEC's prospects based on a "modernisation and revival plan" that HEC had prepared with MECON.
The Saraswat Committee strongly recommended the revival of HEC. These included automation of the plant to make it competitive with similar plants in the world. "Start the old system of bank guarantees to ensure HEC has working capital and finally the immediate appointment of a managing director and directors," Saraswat's report said.
In other words, it recommended that the central government withdraw its order stopping the State Bank of India from providing HEC with bank guarantees. Once this facility was withdrawn, the HEC was forced to raise capital from the market, which came at an exorbitant cost, worsening the company's financial crisis.
Bhawan Singh, a former HEC worker, and president of the Hatia Mazdoor Union, affiliated to the Centre for Indian Trade Unions (CITU), says it approached the Minister for Heavy Industries, Mahendra Nath Pandey, in February 2023, and handed over a memorandum seeking revival and modernisation of HEC.
"The HEC needs a working capital of just Rs 1,200 crore for its revival. If the central government is unwilling to make this financial allocation, the money could be raised by selling some land on which we are located. Meanwhile, the Prime Minister's Office has not responded to our emails [seeking revival of HEC]. Nor has it responded to our attempts to meet officials who deal with this sector," says Singh.
Ironically, the HEC has pending orders of over Rs 1,500 crore from a variety of organisations, which it is unable to fulfil because of the lack of funds. The primary reason is that some crucial equipment needs urgent upgrading.
The question arises, if the HEC is so short of capital, how could it execute the recent projects for ISRO and DRDO?
"Scientists from those organisations come [to HEC] after having arranged the material [required] in advance. Our job, then, is restricted to executing the task given to us," says a HEC engineer, speaking on condition of anonymity.
"If given a free hand, we could easily raise this money and much more but, sadly, our hands are tied," says another senior official, speaking on condition of anonymity.
Parts of HEC's extensive 5,000-acre plus land holdings were sold to build a "Smart City", a Legislative Assembly, a High Court and a judicial academy of the Jharkhand state government.
These land sales were part of the first phase of the implementation of the recommendations of the Dr Saraswat Committee. As the 57th Committee on Petitions (2018-19) of the Ministry of Heavy Industries & Public Enterprises, noted in a report tabled in the Lok Sabha in December 2018: "Cabinet, in its meeting dated 31.03.2017, permitted HEC for the return of 675.43 acres of land to the State Government of Jharkhand for raising Rs 742.98 crore to liquidate the employees related statutory dues and other liabilities of the Company to help... its revival".
However, the sentiment among HEC staff is that if the state government gains from future land transactions, the benefits must reach the coffers of the company. This has not been their experience so far.
"Our job was to prepare plants and infrastructure for big industries and special institutions. The orders were received by the central government—our task was to execute them. The money for this work would be handed over to the central government, which would also decide how much would be paid for these projects," said a retired HEC official. "HEC has never enjoyed any autonomy," he says.
But if the government divests from HEC, it will hike the costs of all its defence, space and atomic energy projects. The failure to modernise and revive HEC could lead to imports and privatisation at exorbitant costs.
The fate of several public-sector plants is hanging in the balance. Not long ago, the Cabinet Committee for Economic Affairs (CCEA) cleared 100% "strategic" disinvestment of central public sector giant Rashtriya Ispat Nigam Ltd (RINL), also known as the Visakhapatnam Steel Plant. Facing massive resistance and criticism, the government seems to be on the back foot, and it is unlikely the sell-off will materialise soon.
The question is, what is the government planning for HEC—the workers, who have been protesting for months, demand both—answers, and their pending pay.
The author is an independent journalist. The views are personal.
Get the latest reports & analysis with people's perspective on Protests, movements & deep analytical videos, discussions of the current affairs in your Telegram app. Subscribe to NewsClick's Telegram channel & get Real-Time updates on stories, as they get published on our website.
Subscribe Newsclick On Telegram