What Kind of Political Candidates Did Gandhi Hope Voters Would Support?
Certainly not those who are electioneering today in the name of religion, caste, and creed.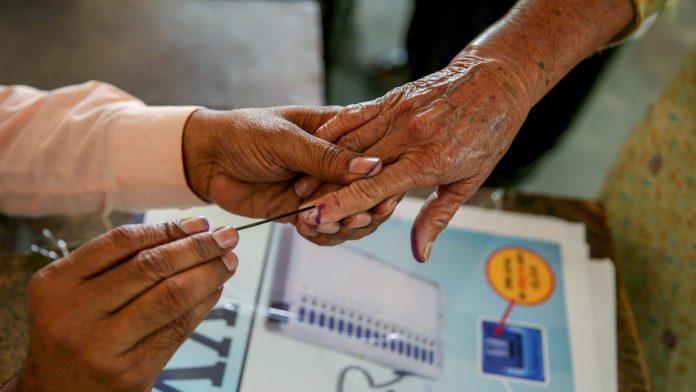 Representational Image. Image Courtesy: PTI
The high-voltage campaigns of political parties are underway in poll-bound West Bengal, Assam, Tamil Nadu, Kerala, and Puducherry. As political parties seek votes and a clear mandate, it is worthwhile to recall a question put to Mahatma Gandhi in the erstwhile Madras province in 1925: "What is the duty of the voters in the coming elections to the Legislative Council?"
Gandhi's responses are of critical significance to voters of the currently poll-bound regions and the rest of the electorate. "If I were a voter and if I exercise the right to vote," he said, "I will first of all scan the candidates from top to bottom."
It is instructive that Gandhi prioritised examining the candidates thoroughly before voters decide whom to vote. Next, he wished to find out who, among all candidates, was accustomed to dress entirely in khadi. If there is no such contestant, then, Gandhi said, he would refrain from voting altogether. If voters can trace a Khadi-sporting candidate, he would ask if his attire was a habit that he maintained at home and outside. He said he would not vote for even that candidate should his answer be negative.
Gandhi's next question would be: "Do you also spin for the sake of the masses at least for half an hour?" If he was satisfied with the answer he would ask, "Do you believe in Hindu-Muslim-Parsi-Christian-Jewish unity?"
To the indefatigable Gandhi, acceptable responses paved the road to even more probing queries. "Do you believe in the removal of untouchability?" "Do you favour total immediate prohibition even though every one of our schools will have to be closed for want of revenue?" Is the candidate sound on the Brahmin-non-Brahmin question? And so on.
Satisfactory answers to each would surely convince him to vote for the fortunate contestant. His questions clearly revealed that his voting behaviour was not guided by religious or caste considerations. This is unlike in the present when both have quite an influence on voters.
The questions that Gandhi suggested voters should ask were illustrative and not exhaustive. He wanted people to perpetually seek answers, refuse to be satisfied until all had been satisfactorily tackled by those who sought popular support and the mandate to govern.
Gandhi's Questions bear special

s

ignificance
It is noteworthy that among all his questions, those about khadi got the most significance. For, spinning khadi generated tremendous employment for people who depended on agriculture, which could not provide work round the year.
Handloom sector, still has the potential to provide additional livelihoods across rural India. Unfortunately, political regimes have aided a massive decline of the handloom sector and aggravated the economic woes of those who depend on agriculture.
Former professor K Srinivasulu of Osmania University, currently Senior Fellow, Indian Council for Social Science Research, believes Gandhi's views on khadi and electoral contestants raise contemporary questions about the economic ruin that besieges India's villages and towns. As handloom created livelihood and work opportunities for millions of people, Gandhi's questions for candidates on Khadi were wedded to livelihood concerns. Such an approach has even greater significance in our time, which is marked by mounting economic hardships.
Also of special significance is Gandhi's query about candidate's ideas on the unity of all religious communities in India. Majoritarianism is growing in India. Several leaders are promoting polarisation, for example, by shouting Jai Shri Ram slogans to taunt people belonging to the minority community. In West Bengal, members of the Muslim community are fearful of such slogans, which they say are designed to dominate them and deny their right to pursue their faith.
A political leader recently said that if West Bengal Chief Minister Mamata Banerjee wins the election, the state would become a "mini Pakistan". The remark demonstrates the divisive and communal politics that now prevails in India. Politics based on exclusion is being peddled, while nationalism is being conflated with Hindutva by politicians who occupy high positions in the governance machinery. Voters must remember that Gandhi exhorts them to reject candidates who do not believe in communal unity.
Divisive 'Love Jihad' and 'Land Jihad'
It is shocking that the narrative of "love jihad" is becoming central to the campaign plank of the BJP in several states. The essence of love jihad is to promote acrimony and bitterness among Hindus and Muslims. It prevents individuals from exercising their freedom to marry someone of their choice—whatever their religion—even though the Parliament has enacted the Special Marriage Act for all couples, especially those who profess different faiths.
Several BJP-ruled states now have love jihad legislations that primarily target interfaith couples and take punitive measures against the Muslim spouse. When political regimes headed by the BJP and its top leaders use the instrumentality of law to prevent interfaith unity for electoral politics, voters would need to rethink. They must decide if they would vote those who openly promote disunity among Hindus, Muslims, Parsis, Christians, Jews, and Sikhs.
Now, "land jihad" is being given a prominent place in the election manifesto of the BJP in Assam. An election campaign that mobilises votes by spreading communal poison and breaking interfaith harmony is a dangerous trend. While speaking in Calcutta [now Kolkata] on 1 May 1925, Mahatma Gandhi had said, "I do not want to interfere with the politics of Bengal or India today", and referred to Hindu-Muslim unity which to him meant the unity of all races that inhabited India. He thus appealed to "Hindus and Mussalmans"—"If it is at all possible for you without shedding a drop of blood, do come together and embrace each other as brothers in arms."
Hindu-Muslim

u

nity hardly ever invoked
It is tragic that no political leader—fearing the loss of Hindu votes—is invoking a vision of unity and fraternity between faiths today. Such is the poisonous impact of majoritarianism and polarising forces that define the political and electoral narrative today. In "Beware of Ourselves", published in Young India on 26 January 1922 Gandhi wrote, "Whether we are Hindus or Mussulmans or what, does not matter. The spirit of democracy which we want to spread throughout India cannot be spread by violence whether verbal or physical, whether direct, indirect or threatened."
The way democracy is getting shaped in twenty-first-century India through majoritarian and polarising forces has given rise to violence and assaults on freedom and civil liberties. That is why India is now called "partly free" and an "electoral autocracy." Can the political leaders of India appeal, like Gandhi, did in 1925, to voters not to choose those who do not plead for "Hindu-Muslim-Parsi-Christian-Jewish" unity? Or as Gandhi put it on 22 March 1925: "If the Hindus and Mussalmans do not unite reasonably, they will unite forcibly, because one party cannot lead this country; and so long as there are some Hindus and some Mussalmans with whom the unity of all the races is an article of faith, I have every hope that we shall unite and unite whole-heartedly."
India has had many who believe in the unity of all people regardless of faith. Their vision is enshrined in the Constitution and will triumph over polarising and majoritarian tendencies. The inclusion of non-violence in the Preamble of the Constitution, as suggested by the Chief Minister of Odisha Naveen Patnaik can be a step to stem the rising tide of divisive and polarising politics.
The author was Press Secretary to President of India late KR Narayanan. The views are personal.
Get the latest reports & analysis with people's perspective on Protests, movements & deep analytical videos, discussions of the current affairs in your Telegram app. Subscribe to NewsClick's Telegram channel & get Real-Time updates on stories, as they get published on our website.
Subscribe Newsclick On Telegram