When Saffron Infractions are Soft-pedalled
To brand people in trouble as 'former' members or associates is an old habit of Hindutva outfits.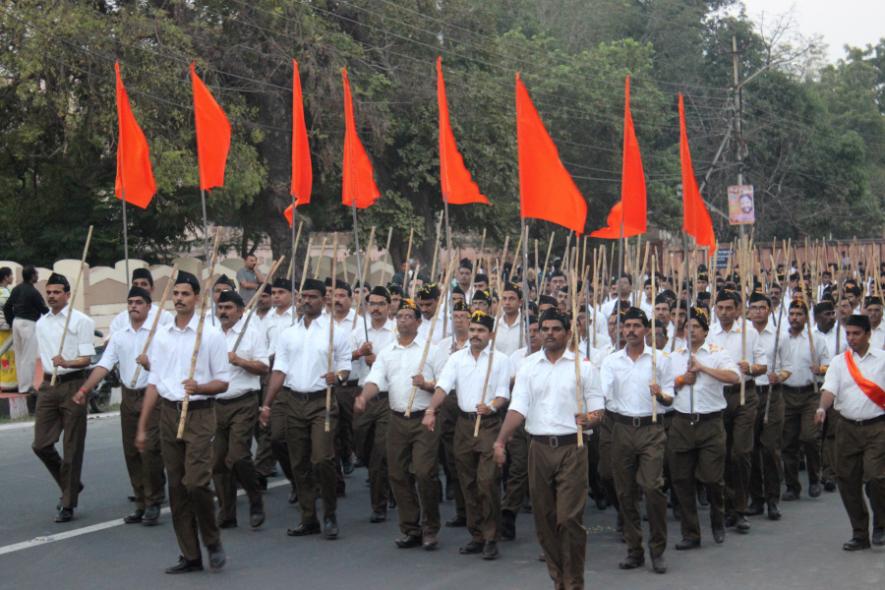 Representational image. | Image courtesy: Wikimedia Commons
Who killed Sunil Joshi? The killing of this "former" pracharak or volunteer of the Rashtriya Swayamsevak Sangh (RSS) in 2007 at Dewas in Madhya Pradesh is still a mystery. Two aspects of this event are significant. It occurred in December, two months after the Ajmer bomb blast in which three people died. Once Joshi's name cropped up as an accused, doubts began to be expressed about whether he was a pracharak or "former pracharak", one who had left the fold long before the allegations against him surfaced. It's another matter that the guilty in the Ajmer blast included two other members of Hindutva organisations. Nevertheless, Joshi once dominated the right-wing ecosystem in the Malwa region of Madhya Pradesh and was also accused of killing the well-known Congress leader Pyar Singh Ninama. 
Claiming someone is a "former" member proves helpful whenever immediate association with the RSS is impossible to deny. This tactic proves beneficial when it is inconvenient to own up to the actions or accusations against such a (former) member. For example, the RSS distanced itself from Nathuram Godse, the assassin of Mahatma Gandhi, a claim that is now widely disputed based on fresh evidence. Another example is Aseemanand, who faced charges of terrorism (of which he was eventually cleared). A senior leader of the RSS had declared in a press conference held in Delhi in the second week of February 2011 that Aseemanand had left the group "a few years back". This was when news of his alleged crimes were making headlines nationally. 
Then recently in the Reasi district of Jammu and Kashmir, alleged Lashkar-e-Taiba operative Talib Hussain Shah's arrest has also sparked charges, which the BJP has denied, that he was connected with members of the ruling dispensation and participated in its activities. Shah and his 'associate' Faisal Ahmed Dar—who were carrying rifles and explosives—were caught by villagers and handed over to the police, for which the Union Territory administration has rewarded them for bravery. 
Sheikh Bashir, head of the BJP's Minority Morcha in Jammu and Kashmir, has admitted that Shah had worked with the BJP. According to reports, Shah was briefly in charge of the morcha's social media cell on 9 May, but quit on 27 May. Ravindra Raina, president of the party's state unit, whose purported photograph with the alleged terrorist has gone viral, has denied any association with Shah. 
According to the Jammu and Kashmir Police, "over the last 2-3 years", Shah masterminded terror activities in the Pir Panjal area, which includes the border districts of Rajouri and Poonch. It is possible to speculate the Laskhkar operative had managed to infiltrate the BJP's programmes, as the party claims. The BJP has also claimed his association was brief, lasting less than three weeks. But it has also claimed that he was posing as a journalist, and issued a show-cause notice to Bashir to explain the appointment. Considering these developments, should there not be an overhaul of the party's enrolment, membership and participation rules? After all, on his Facebook page, the alleged terrorist has published photographs not just carrying the BJP's banner but also of sharing the stage with people who appear to be its national and local leaders.
The two Muslim fanatics who killed a Hindu tailor, Kanhaiya Lal, allegedly for his support to Nupur Sharma, have also presented before the BJP many inconvenient moments. Photos have gone viral where one accused in the Udaipur incident, Mohammad Riaz Attari, is seen participating in what seem to be BJP activities. Attari's pictures with BJP MLA from Udaipur, Gulab Chand Kataria, have surfaced on social media. 
Arguably, anybody can be photographed with a leader of a political outfit, and it does not necessarily establish there is an acquaintanceship, leave alone association, between the leader and the person under a cloud. As Mohammad Sadiq Khan, head of the BJP's Minority Morcha in Rajasthan, has said, such photos do not evidence that the accused was a member of the party. But equally, demands from the Opposition to widen the probe must be heeded to settle all doubts on such serious issues.
The responsibility to come clean lies with the party's central leadership and trickles down to its lowermost rungs. After all, it has often claimed to be the only party with "internal democracy" in its organisation. Then even more so, the top leadership should strive to come clean on whether its regional satraps are flirting with dubious elements, which is shaking its self-professed claims of nationalism? Judging from experience, to distract from such charges, the party is more likely to indulge in rhetoric about how so-and-so was a "former member" and raise the bogey of "rival parties plotting against the Indian State".
The problem is the vast chasm between how the dispensation ruling at the Centre responds to alleged acts of omission or commission in Opposition-ruled states and the States it is heading. Imagine if similar pictures of an alleged terrorist with an Opposition party leader turn up. Think what would happen if an alleged criminal's connection with any party in the Opposition makes the headlines. Indeed, all investigating agencies and the embedded media would have swooped on that Opposition-ruled state or leader and reported on the incident endlessly. The exclusivist agenda relies on the media's support. (Such tricks were deployed to stigmatise reputed academic institutions like the Jawaharlal Nehru University and Jamia Millia Islamia.) 
In a 2017 case, the Madhya Pradesh State Anti-Terrorist Squad (ATS) busted an alleged spy ring that had sold sensitive information about military deployments to the Pakistan Inter-Services Intelligence agency ISI. The suspected leader of the ring whom the ATS caught was Dhruv Saxena, who called himself a member of the IT cell of the Bharatiya Janata Yuva Morcha (BJYM). Here too, the BJYM denied any association with Saxena or the ten other arrested alleged spies, despite independent revelations that indicated close association. Despite the grievous charges, the Madhya Pradesh government did not apply the sedition charge in this case, a practice it seems to instinctively follow when it comes to ordinary citizens or members of Opposition parties. All the accused in this case are out on bail.
Will there be a course correction by the ruling dispensation to avoid charges of being duplicitous when it claims to pursue nothing but national interest? After all, the allegations are of a serious nature. More importantly, will people who seem fascinated by muscular nationalism start to question its claims and narratives as the allegations pile up?
The author is an independent journalist. The views are personal.
Get the latest reports & analysis with people's perspective on Protests, movements & deep analytical videos, discussions of the current affairs in your Telegram app. Subscribe to NewsClick's Telegram channel & get Real-Time updates on stories, as they get published on our website.
Subscribe Newsclick On Telegram