When Will Pavan Varma and Abdul Khaliq's Conscience Prick Over CAB?
The craving for syncretic India should go beyond daydreaming in opinion columns.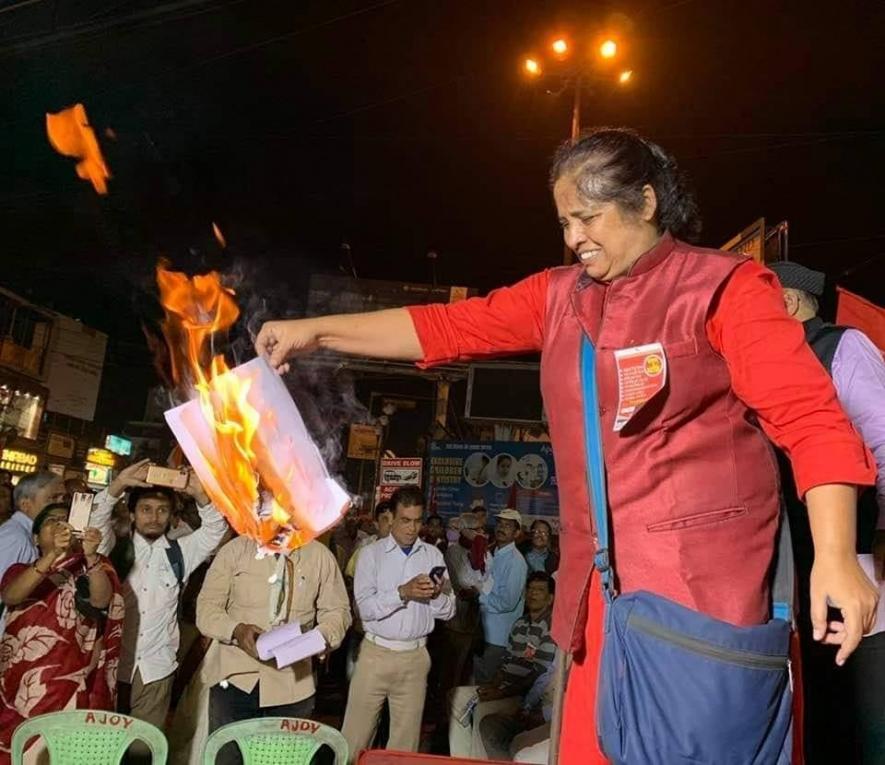 A draft copy of the CAB being burnt in West Bengal
The Union government's insistence on enacting the Citizenship Amendment Bill into law provides yet another opportunity to Pawan K Varma, the general secretary of the Janata Dal (U), and Abdul Khaliq, the secretary general of the Lok Janshakti Party, to uphold, through action, the principles they articulate in their journalistic writings. Both, with minor variations in emphasis, subscribe to a secular, syncretic, multicultural India and bemoan the rise of a self-conscious, aggressive, homogenising Hinduism.
Judging from their articles, Varma and Khaliq have the necessary analytical skills to fathom the dangers that the Citizenship Amendment Bill poses to the idea of India. The Bill shifts the basis of granting citizenship from birth to religion and denies as natural the claims of Muslims to India. This exception demonises Muslims, a tendency that both Varma and Khaliq have repeatedly denounced in their opinion articles.
Both are also politically savvy, networked into Lutyens' Delhi and presumably read newspapers. They will know that the Citizenship Bill is linked to the Bharatiya Janata Party's agenda of preparing an all-India National Register of Citizens, which Home Minister Amit Shah, every passing fortnight, threatens to implement. With the Bill proscribing the detention and deportation of non-Muslims from Afghanistan, Bangladesh and Pakistan, apprehended without valid travel documents, only the Muslims will suffer in case they are unable to prove their bona fide citizenship.  
Yet neither Varma nor Khaliq will care to mount pressure on their parties to vote against the Citizenship Bill. They will, presumably again, say they lack the requisite clout to compel their parties to alter its position, or that they gallantly tried but failed. Varma was quoted in the Times of India, dated 8 December, saying, "As per party's last stand known to me, party members in the Lok Sabha will vote in favour of the CAB [Citizenship Amendment Bill]."
Varma, obviously, was not asked whether his party's position on CAB violated his cherished ideals and if he felt anguished as a result of this dissonance. But had he been asked, Varma, in the manner of politicians, would have claimed that he is a loyal party person. 
Surely, there is a point where loyalty becomes servility. Surely, there is a point where even the most supine is required to mix a bit of iron in his or her decision.
Varma's decision to sail the boat flying the CAB flag, even as he sings paean to India's syncretism, is startling as he is not a career politician. A former Indian Foreign Service officer,  he was made, on his retirement in 2013, advisor to Chief Minister Nitish Kumar and then had a two-year stint in the Rajya Sabha, between 2014 and 2016. If he cannot live up to his ideals, can he expect to inspire others through his writings, as seems to be his aim? No.
His readers can only cite to Varma snatches from his writings, to chart his free fall to him. In his most recent article, Varma wrote, "…Ideology is even more dead than it was in the past. Parties adhere to the glue of power, not attachment to principles. In fact, the greater the ideological compromise, the more principles are invoked to justify the betrayal." 
Varma, indeed, displays tremendous passion for a pluralistic India. On 21 July 2018, Varma wrote, "After over 70 years of resolving ourselves to be a modern, democratic and secular republic, the only agenda being virulently posited before the voters is simply this: are you a Hindu or a Muslim? This is reprehensible for several reasons." 
Of the reasons that Varma cited, two are of utmost relevance—that "it demonises Muslims"; and that "it privileges faith over citizenship, thereby eroding the very foundations of our plural republic." The motive behind constructing the Hindu-Muslim binary is to camouflage government deficit and consolidate Hindu votes, Varma noted, adding, "But, to infuse society with communal venom solely for such reasons is, quite frankly, unpardonable."
Frankly too, CAB will infuse venom in Indian society, month by month. But what he considered "unpardonable" in his article is now pardonable, a sport, a ploy to consolidate Hindu votes, via the BJP, in Bihar, which will have its Assembly election in 2020.
Varma, quite insightfully, illuminates his pieces with his eclectic reading of Hinduism and the awesome attributes of its deities. In his piece of 23 July 2019, Varma joined issues with those responsible for distorting the venerable image of Rama. "Ultimately, Hindus themselves will have to fight against those who are doing this kind of disservice to their religion."
In a 22 June 2019 piece, Varma wrote of discordant notes that "militate directly against the PM's assurance of sabka saath, sabka vikas, sabka vishwaas. India, as a nation and a civilisation, can only survive if there is respect for all faiths. The Constitution proclaims that we are a secular Republic. The opposition has its work cut out to ensure that this is followed in practice."
This seems a profound, prescient, courageous advice from a person whose own party has formed a coalition government with the BJP. Might it be asked of Varma whether secularism is the work of only the opposition or also of parties caught in the no-man's land between the ruling and Opposition parties? Varma needs to answer this question in the edit page of The Times of India, where he is often published. 
Khaliq, a former civil servant, pops out of the Indian Express, albeit not as frequently as Varma does in the ToI. Yet, whenever Khaliq does, he dwells on the Hindu-Muslim relationship, the erosion of secular values, and the precarious situation of Muslims, who are marginalised, tormented and frightened.
His emotions, at times, have got the better of him. For instance, in 2014, Khaliq turned teary before The Hindu's Vidya Subrahmaniam while disclosing that the Lok Janshakti Party entered into an alliance with the BJP only because the Congress did not offer seats to his leaders after making them wait inordinately long. From his perspective, the desertion of the LJP from the secular camp was the fault of the Congress.
Mercifully, Khaliq, since then, has not turned indifferent to the plight of Muslims, at least not in his newspaper articles.
He passionately argues for comforting Muslims and bats for their rights, as he did in a 23 September piece. In that piece, Khaliq was critical of the NRC: "The entire exercise is clearly aimed at hounding undocumented Muslims and will, inevitably, punish even those among them who are Indian but have no documentary proof of birth or citizenship. This exercise to declare people "non-citizens" based on religion as one of the criteria, will go down in history as one of the most unrighteous state-sponsored acts in a democracy."
India has embarked on the path of unrighteousness. Yet both he and Varma remain content taking lofty moral positions, even as they and their parties are complicit in the unraveling of the idea of India that they, judging from their articles, are so passionate about. When will Varma and Khaliq's conscience prick over CAB and make them opt out of the project to turn India into a Hindu rashtra and Muslims into second-class citizens? Their resignation from their parties will have history, over which they display such mastery, at least record, even if with a sigh of futility, that CAB broke the manufactured, self-serving consensus in the National Democratic Alliance.
Ajaz Ashraf is an independent journalist. The views are personal.
Get the latest reports & analysis with people's perspective on Protests, movements & deep analytical videos, discussions of the current affairs in your Telegram app. Subscribe to NewsClick's Telegram channel & get Real-Time updates on stories, as they get published on our website.
Subscribe Newsclick On Telegram