When Will Society Hold Men Accountable for Patriarchy
The black bands women wrestlers wore signifies a darkness in our society.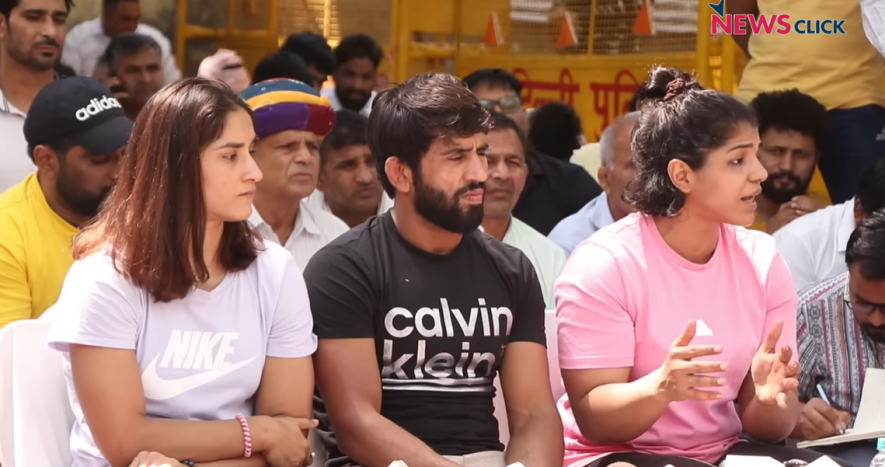 Every woman faces hardship, prejudice, and stigma. To leave family and live in a new space, as college students do, is daunting for anybody but far more challenging for women. On the one hand, we see women wrestlers protest for a month without an adequate response from the State and on the other, we saw utterly misogynist scenes unfold at women's colleges during fests again this year. Both show that even educated women who excel in their fields are seen as evil and denied funds, or caste and so-called security concerns are turned into obstacles in their path.
The first unacceptable reality first came into view on 28 March at the Indraprastha College for Women campus at the University of Delhi when many men forcefully crashed the festival and harassed and injured women. The college gates were closed at 3 pm to stop more people from entering, but an enormous crowd pushed them open through sheer force, injuring numerous young women. Some fainted due to overcrowding and shock, while some were hurt in the stampede. Amidst the chaos, men chanted, "Miranda-IP hamarey hain—Miranda and IP College are ours!" This shameful act is rape culture, and the inaction and silence of the college administration and Delhi Police fuel this fire.
And now, renowned women wrestlers, including Sakshi Malik and Vinesh Phogat, have been seen for an entire month, firmly standing by their protest at Jantar Mantar in Delhi. They are asking why the government has turned a blind eye to them. An essentially ailing system is evident from the utter delay in proceeding with a proper inquiry.
Who are we trying to save? Indeed, the black band the women wrestlers wore last week signifies the darkness we as a society are moving towards, where most women are systematically and culturally denied a voice, and those who raise it are ignored at the least and shamed or even penalised at worst. 
This author witnessed a similar scenario unfold at Miranda House College for Women during last year's Diwali celebrations. Seeing the campus overcrowded with men proudly gesturing inappropriately, shouting misogynist remarks and stalking women, my friends and I left within minutes. 2020 also saw drunk men "join" the Gargi College festival and grossly misbehave with women. The event was stopped, and women were told to leave—while the raiding parties of men hooted at them.
The inherent objectification of women underlines these incidents very clearly. What has been happening at the University of Delhi and in sports reflects society's general trend. The fetishisation of fests in women's colleges represents the social reality that it is acceptable for men to assume control over public spaces by robbing women of agency. The responses to such unfortunate events range from restricting the entry of "outsiders" to cancelling the programmes to forcefully confining women to hostels and other "safe" spaces. None of these steps touches the men whose behaviour is at odds with basic decency. 
The media pushes the "security" narrative with passive reports headlined: 'College Fest Disrupted by Goons' or with references to "outsiders" creating chaos. The gendered aspect of these attacks—the attackers are always men—is never highlighted. Even after numerous statements by women students and staff, and multiple videos and photographs of the violent and aggressive scenes, including of women recuperating in hospitals, the attacks are depicted as "alleged" violators. There is no purposeful mention of who was responsible. The media attention on the wrestlers—as opposed to Brij Bhushan Sharan Singh—signifies the same power imbalance favouring men. When will we hold men accountable for their patriarchy? 
In response to the indifference of the college administration and the police's failure to take timely, appropriate actions against a man who assumes he could traumatise sportswomen and get away with it, women have admirably fought back. Earlier, they marched and protested around the college premises on the streets under the banner of "Azadi March, Reclaim the Streets, Reclaim DU". Then, they raised their voice at Jantar Mantar. Hearteningly, both sets of women found solidarity in men who worked, studied and played with them. But in both cases, they have been met with police personnel in numbers, barricades, and detention buses. If only such a timely and rugged response were for the offending men. 
Society finds it easier to silence and suppress women, cage them in the name of protection, and threaten them when they resist. The parents of Shambhavi, a second-year student of IPCW, received a call from the administration for having protested. She told The Indian Express, "My parents got a call from somebody from the administration, saying that your daughter has been a part of protests in college and that in future, there can be an FIR filed against her, after which she can also be arrested. This is your responsibility. We are just warning you to get her out of this." Imagine the plight of her parents worried for their daughter; imagine her rage against this low act to silence her and her mates.
The issues here are not merely safety and security; they are agency and the willingness to change. The concerns here are not simply "law and order", which can be fixed through appropriate "administrative action" and "policy intervention". The problems here are the deep-rooted rape culture and its manifestations, which don't let women feel like they belong in any space. The matter is not of women's sufferings alone but misogynist-patriarchal audacity. It is about collective shame, and we have shut our eyes and ears to it. That is why, time and again, women come out on the streets to scream they are in pain, that their bodies are not public property, and they have the right to lead a peaceful and safe life.
It is incredibly harmful and traumatising to endure such pain and prejudices daily. Every assault on a woman becomes a psychological threat to every other woman. Life in persistent danger is not liveable, and this should stop. Our lives have been reduced to a battleground where we jump from one fight to another. When do we rest?
 It is high time the burden shifts from women to men. If coercion signifies rape culture, so does silence over assaults and mistreatment of women. Men raised in this culture assume they can overpower women, that their wishes are superior to those of women, and they own women's bodies. Despite hardships, women are expected to fight for justice, teach men, and forgive them while carrying on with their lives. Women have not asked for either, whether it is the burden of proof or the responsibility for change. We must bring men back into this narrative and question them about toxic masculinity, their trolling and silencing of women, the growing incidence of heinous crimes, and the death and rape threats against women who speak their minds.
Men should be held accountable and many more need to join women in their fight against patriarchy. Audre Lorde once said that when women are expected to educate men, the oppressors maintain their position and evade responsibility for their actions. The bottom line is that women have a right to a peaceful and calm life. And it is everyone's responsibility to make that possible.
The author is a PhD scholar in political science at the University of Delhi. The views are personal.
Get the latest reports & analysis with people's perspective on Protests, movements & deep analytical videos, discussions of the current affairs in your Telegram app. Subscribe to NewsClick's Telegram channel & get Real-Time updates on stories, as they get published on our website.
Subscribe Newsclick On Telegram