Whither Kashmir?
Authorities still profess a muscular approach rather than ask themselves why three decades of military suppression has not "transformed the will and attitude of the people".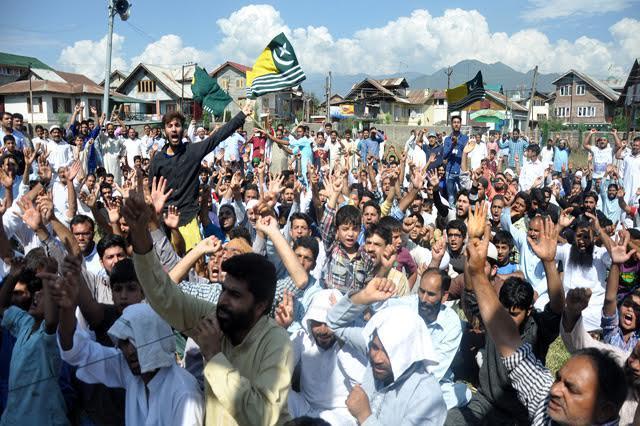 Image Courtesy: Greater Kashmir
Right before our eyes we are witness to a military suppression in Kashmir, in line with Indian army's objective to "transform the will and attitude of the people", and yet it has not stirred the conscience of opinion and policy makers in India.  With the Government of India pursuing a no-holds-barred hard-line approach to the seven-decade old conflict over Kashmir, it appears that Bhartiya Janata Party wants to out-perform military suppression of the 1990s. 'Operation All Out' being carried out by the Indian armed forces has been combined with oppressive policing methods that involve cordon and search operation, arbitrary detentions, torture in custody, filing of trumped up charges, and banning of Jamaat-e-Islami (JeI) and JKLF. The ban was imposed without even bothering to comply with law under which the ban was imposed. For instance, it is mandatory under Unlawful Activities (Prevention) Act, to provide the "grounds" or cases/facts or FIRs filed in the immediately preceding year/s against the organisation sought to be proscribed.  A judgment of the Supreme Court in JeI versus Union of India, 1994, laid stress on this while dismissing the ban imposed on JeI by the PV Narsimha Rao Government. In Kashmir's case too, no grounds were provided in the official gazette notification banning the two organisations. Indeed, the authorities could not care less to follow the law. Here, rule by diktat is the operative rule. All this is taking place at a time when one of the most decisive elections in country's history is taking place to elect the 17th Lok Sabha.
What is the consequence of this muscular approach? Thousands have overnight become "criminals" because they are related to someone who is a member of, or is somehow associated with the banned organisations which were otherwise working legitimately for most of thirty years. It's easy picking now to paint someone as "suspect" and an adversary of India. It is nothing but the Indian State terrorising its own citizens. Even Kashmiri officials are under scrutiny for their links with the banned organisations. And those in authority trivialise the grave threat experienced by Kashmiris and/or express their disdain for Kashmiris.
Lawless Government
When the government does not follow the law that they enforce on people and Constitutional freedoms remain virtually suspended, it makes Kashmir into an area of darkness and lawlessness. Neither does the Rule of Law prevail as in non-conflict areas of the country, nor does Rule of War operate in what has been a "Disturbed Area" for past three decades. It is this that should be a cause of concern because a region said to be "integral part of India" smacks of being ruled as though it is an alien land peopled by "proxy warriors", rather than fellow citizens who are alienated and desperate for a political resolution.
Neither infiltration, which is in double digits only, nor the number of militants (a few hundreds, indigenous and foreign), can justify a huge deployment of army, central para-military forces, J&K armed police backed by former rebels who are now SPOs, to fight militancy. That too in a land area 60 km long and 40 km wide. The increased deployment of 100 companies of CRPF in the past six months, and restrictions imposed on movements of people with more bunkers, checkpoints, camps to house the soldiers, makes Kashmir a highly militarised  zone, crowded with security camps.
To make this harsh reality more bitter, authorities recently imposed a ban on civilian vehicles on the National Highway on Wednesdays and Sundays, reserving it for military vehicles. This is reminiscent of the British colonial ruler's habit of imposing collective punishment on people whenever things went out of their control or they feared losing control. This is what is being imposed on Kashmiris by the "nationalist" BJP led Government. Interestingly, banning civilian vehicles is something which was never attempted even at the height of insurgency in 1990s. The Army protested the recent ban saying that they were not consulted and that they will ply their vehicles every day of the week barring Friday. In fact, on Monday April 16th, Army personnel stopped all civilian vehicles and beat up the SDM of Dooru (district Anantnag) near Dalwach Square near Qazigund along with his four colleagues who were travelling in an official car while on election duty. So, between two-day ban by Indian government and local level restrictions on plying of vehicles by the military personnel, Kashmiris are being squeezed from both sides. This affects every routine activity including attending schools, rushing to hospitals, attending work, visiting market, or going for business, etc. It is said that this prohibition will last until May 31, but by then a people already suffering from military suppression would have experienced manifold greater pain. 
It is worth recalling that more than half of the Kashmiris suffer from PTSD, that armed forces enjoy legal immunity for whatever they do, that justice is denied to civilians who are victims of egregious violations by armed forces, and even Kashmiris in state services are treated with suspicion and they are slowly getting side-lined. It is evident that there is a deliberate policy to ratchet up coercion on ordinary people to force them to give up their demand for "azaadi". What will this escalation of repression on Kashmiris do to their pent-up anger and resentment when every door has been shut and all possibilities of normal redressal ruled out, is not too difficult to imagine.
Pitfalls of Prolonged Deployment
That thirty years after making J&K "Disturbed Area" and extending legal immunity through AFSPA, the armed forces still claim to be fighting a "proxy war" reminds us of when the apex court wondered: does the fact that an area remains "disturbed" for decades on end and normalcy still escapes being restored imply that army has failed to do its job or that the Government has failed to make use of opportunities created by the armed forces? As earlier pointed out, it is when we look at actual numbers we discover the utter futility of the policy of military suppression. By targeting civilians at home in the name of cordon and search operations or targeting civilian protestors at encounter site and funerals, the armed forces may succeed for a while. But to believe that Kashmiris can be silenced now, when the same failed for three decades of "Disturbed Area" and AFSPA is to believe in the unbelievable.
Even more alarming is what the Army's own Doctrine of Sub-conventional Operations pointed out - something they ought to be aware of. It argues that in such operations there is "blurring" of distinction between fighting the 'enemy' and 'fighting his own people' as well as there is "blurring" of distinction between "front and rear; strategic and tactical; combatants and non-combatants". In other words an army whose primary duty is to defend the country against external threat in which it requires its 'rear' i.e. hinterland to be secure, has been engaged in operations in the hinterland fighting the people for past three decades, thus, compromising on its primary task which requires a secure and friendly 'rear'. This vulnerability of the Army, India's primary force to defend our borders, is presented as strengthening "national security"!
Indian army is fond of claiming that it wages its operations mindful of protecting civilians. Yet, not only had the Indian Army chief and other potentates come out in support of Major Gogoi for the "human shield" incident, considered a war crime under international humanitarian law, they even described it as an "innovative" method. It appears that the army chief sent a message to his rank and file to do as they will, without a care for the consequence, whereas the message sent to Kashmiris was that every method fair or foul will be used against them unless they surrender. In this situation, for police and administration to carry out repression in the name of curbing unlawful activities of JeI and JKLF members/supporters  carries the message that non-violent politics has no future. If to this is added the poison of BJP's hate-filled rhetoric against Kashmiris the message being driven across is that official India does not care what is done to Kashmiris because either they are proxies for Pakistan or by insisting on "azaadi" they have forfeited the right to their life and liberty. There is no stomach to rigorously examine the role played by successive Indian governments in the making of the crisis in Kashmir and a largely apathetic Indian society, in turning Kashmiris away from India, and for both caring little for sanctity of Kashmiris Muslims life and liberty.
Worrying Development
It is this that should worry Indians. Because Indian government's policy of military suppression is not driving Kashmiris away from militancy but towards it and that too, to a more virulent form. Officials themselves claim two abortive suicide bombings in past few weeks. In one instance the bomber panicked at the last minute thus averting a major calamity. So, with all doors closed, and the armed forces carrying out 'Operation All Out', hatred of ordinary Kashmiris has increased and hostility towards them is openly expressed. All this makes for a incendiary situation.                              
The singular achievement of BJP led government of India in Kashmir in the last five years has been its shrill campaign that everything-is-Pakistan's-fault when the facts on the ground show that truth is otherwise. It is the utter failure of BJP led government which is evident. Three decades down the line, authorities still profess a muscular approach rather than ask themselves why three decades of military suppression has not "transformed the will and attitude of the people" which is what army's objective was. So, what is it that makes BJP government feel that they will succeed when wise army veterans have repeatedly warned the Indian public that there is no military solution to Kashmir dispute and what is required is a dialogue between all stakeholders? And when the damage being inflicted will only fortify the resolve of those who are desperate and know all options are closed, how can this dismal state of affair be in "nation's interest"?
Get the latest reports & analysis with people's perspective on Protests, movements & deep analytical videos, discussions of the current affairs in your Telegram app. Subscribe to NewsClick's Telegram channel & get Real-Time updates on stories, as they get published on our website.
Subscribe Newsclick On Telegram