Who's Protecting Terror Cult Sanatan Sanstha?
Even as the Sanstha continues to openly target those who expose it, why is the BJP government shying from taking any action? Shouldn't all terrorists be treated with the same law?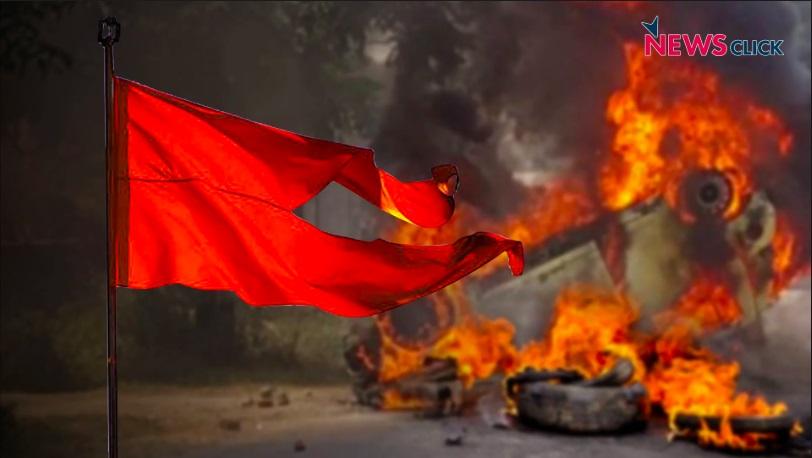 Not long ago, I woke up in the middle of the night with my phone ringing endlessly. I thought it could be an emergency, but when I picked up, an unknown caller abused me and hung up. The phone calls continued through the night. Next morning, someone told me that Sanatan Sanstha had posted my number on their website. The threats and harassment continued for several days after that.
Sanatan has now posted the numbers of India Today reporters and threatened their life, after the channel did a damning investigation on two of their Sadhaks. In the sting operation, one of them conceded his involvement in the New Bombay bomb blast, and the other admitted carrying bombs, detonators, and pistols. Both of them had been arrested after the blasts in Thane and New Bombay, but the courts acquitted them for lack of evidence.
Frankly, the disclosures do not surprise me. Recently, one of their members was raided in Nalasopara, and the police found eight bombs and detonators, pistols at his place. Their members have been arrested for bomb blasts in Panvel, Madgaon as well. They have published crossed out photos of people they do not like on their websites. People closely linked with Sanatan are accused of murdering four rationalists. Sanatan is beyond repair, and let there be no astonishment over their terrorism.
The biggest revelation in the India Today sting is that the Sadhaks said they divulged all the information to the police, but they did not accept it.
Maharashtra's Minister of State (Home), Deepak Kesarkar, has said this is a new piece of evidence, and we will take note of it. But our Chief Minister, Devendra Fadnavis, who is so vocal on the arrests of supposed Maoists, is in 'Pushpak 'mode over the India Today investigation. Our Union Home Minister Rajnath Singh, who promptly issues a statement over Hurriyat or Popular Front of India, has not said anything about Sanatan. The swiftness with which the police arrested 10 activists, or the speedy action of the state against Zakir Naik seems to disappear when it comes to Sanatan.
In the second half of the sting, a police officer in Goa has accepted political interference in this matter. The Goa police had called for a ban on Sanatan after the Madgaon blasts, but it fell on deaf ears. Two of Goa's leaders with the Gomantak Party, Sudeen and Deepak Dhavlikar, have always backed the Sanatan Sanstha. Sudeen is in Chief Minister Manohar Parrikar's cabinet. His wife is a Sanatan sadhak, and it is allegedly said that  he has not let the police do their job.
Sanatan's headquarters is in Fonda, Goa. The local residents, too, have filed complaints against it. On the border of Goa and Karnataka, Sanatan provides arms training in the forests. It has been reported in the past with photographs. But the police cannot raid the ashram. Such is their influence.
The Maharashtra Anti Terror Squad (ATS) submitted the first confidential report to the Centre in 2011, asking for a ban on Sanatan. The then Home Minister P Chidambaram and later Sushil Kumar Shinde sat on it. Two more reports were sent to the Centre after Narendra Modi came to power. But the file hasn't moved.
This is totally understandable. Modi and Rashtriya Swayamsevak Sangh (RSS) think of Sanatan as an ally. In 2013, a huge gathering of Hindu Janjagriti Samiti had transpired in Goa. It is an umbrella organisation for all the violent Hindutva organisations. Sanatan is one of them. Modi had sent his best wishes to the gathering, and a few BJP leaders even attended it.
Funnily, Sanatan or Abhinav Bharat don't consider RSS or BJP a friend. They accuse them of being moderate in their Hindutva. When slain Maharashtra ATS chief Hemant Karkare was investigating Col Purohit, he found out that the Abhinav Bharat had planned to bump off RSS supremo Mohan Bhagwat. Yet, the current government doesn't seem keen on nabbing them.
The Bharatiya Janata Party's ally in the state and at Centre, Shiv Sena, has always tried to downplay Sanatan's extremism. Shiv Sena MP Sanjay Raut, in fact, felicitated Sanatan lawyer Sanjeev Punalekar on the same day when India Today sting was aired. Even the Congress-Nationalist Congress Party leaders have shied away from taking a hard stand against Sanatan.
Sanatan's response to the sting is expected. They have said the sadhaks stung are not members of the organisations. This is an age-old trick being used right from the time of Gandhi's killer Nathuram Godse. Sanatan also put photographs of India Today reporters on their website calling them terrorists. This is their way to threaten the media. They lodge bogus cases against investigators to put pressure on them. This is going on for more than a decade.
If the government and investigating agencies are sincere about nabbing Sanatan, they must start with its chief Jayant Athavle. Their ashrams should be locked and the keys need to be thrown into the ocean. Recently, the Food and Medicine Administration recovered objectionable drugs from their Panvel ashram. ATS doesn't seem to have taken note of it.
Eventually, terrorists must be treated with the same law. Sanatan is not a spiritual organisation, it is a murderous cult. The sooner we understand this, the better it is for our democracy. Sanatan has a long list of targets.
Get the latest reports & analysis with people's perspective on Protests, movements & deep analytical videos, discussions of the current affairs in your Telegram app. Subscribe to NewsClick's Telegram channel & get Real-Time updates on stories, as they get published on our website.
Subscribe Newsclick On Telegram