Why Adivasis Didn't Celebrate World Tribal Day This Year in Poll-Bound Madhya Pradesh
Tribal groups instead took out protests to express their anger with the Forests Act, growing atrocities in the BJP-ruled state and Manipur violence.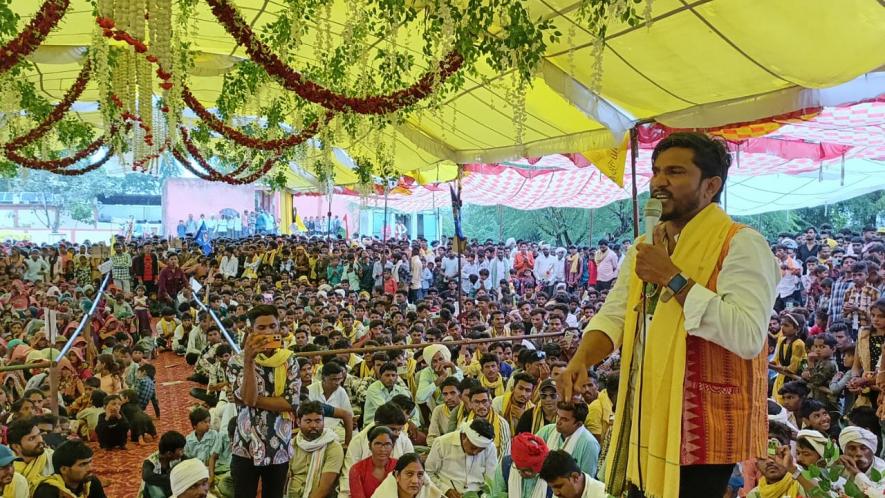 Bhopal: Unlike every year, tribal groups in Madhya Pradesh didn't celebrate World Tribal Day on August 9 this year. Instead, on that day, tribal outfits protested against the ongoing violence against the Adivasi community in Manipur, the Forest Conservation Amendment Bill 2023 and the Chief Minister's announcement of adding the Keer community into the Scheduled Tribe (ST) list.
In Barwani district, 350-km south from state capital Bhopal, a group of tribals – men and women – gathered near the old collectorate. Holding placards, banners and with hard-hitting slogans, they protested against the ongoing violence in Manipur and demanded peace. They also burnt the effigy of Manipur chief minister N Biren Singh and took out his ShavYatra. 
Almost 500-km away from Barwani, in Seoni district, the community carried out a procession under the banner of Serv Adivasi Samaj opposing the Manipur violence and slammed the government's "anti-tribal policies".
"Even after months, the powerful Prime Minister and Home Minister failed to restore peace in Manipur. The violence against tribals continues unabated. Instead of debating and chalking out a plan to restore peace, the PM is mocking the Opposition in Parliament," said Sumer Singh Badole, a youth tribal leader, addressing protesters in Barwani. 
"Would he have cracked a similar joke if areas dominated by the upper castes were subjected to the ethnic violence?" he asked.
Badole, who is associated with Jay Adivasi Yuva Shakti (JAYS) held half a dozen such rallies in tribal-dominated districts, such as Khargone, Dhar and Barwani against Manipur violence and other anti-tribal policies in the past two months.   
Voices against the ongoing Manipur violence, atrocities on tribals in the state and the anti-tribal policies of the government are becoming louder in poll-bound Madhya Pradesh.
This became evident on World Tribal Day when dozens of rallies, marches and protests were held across tribal hamlets of the state, instead of celebrating the Day.
Like Barwani and Seoni, protests were also carried out in various pockets of Madhya Pradesh, including Dhar, Betul, Khargone, Burhanpur and in Mahakaushal region in Mandla, Dindori, Anuppur among others.   
"World Tribal Day is not just to celebrate, dance or cherish tribal culture but to be aware, educate and unite, as the government is not only taking away tribal rights but also our forests," said a youth tribal leader Sumer Singh Badole, while addressing a rally in Barwani district. "We didn't celebrate it but paid homage to the tribal victims and registered our disappointment," he said,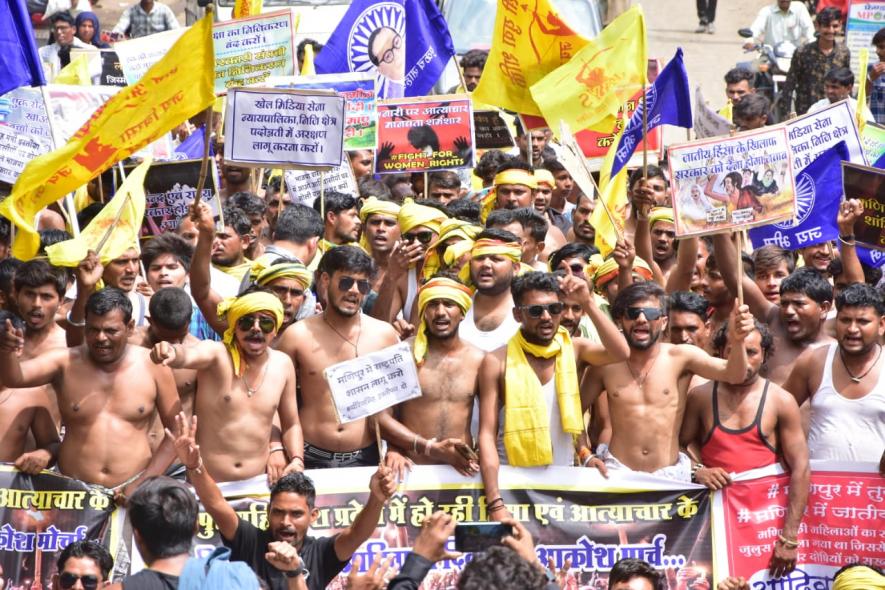 Hitting out at Chief Minister Shivraj Singh Chouhan, Badole said, "CM Chouhan wants to create a Manipur-like conflict in Madhya Pradesh. He recently announced that the Keer community will be included in the ST category which may trigger protests across the state."
On July 29, 2023, Chouhan had said in a Keer Samaj Sammelan held at the CM's house that, "Apart from the construction of a grand statue of Veerangana Maa Puri Bai and formation of Keer Samaj's welfare board, after a re-survey, the state government will send the proposal with recommendations to the government of India to include the Keer community in the Scheduled Tribes."
The tribal community in the state is also upset with the controversial Forest (Conservation) Amendment Bill 2023 and the recent incident of urination on a 35-year-old tribal in Sidhi district, as also the surge in cases of atrocities against tribals, which they say, is the highest in the country.
Sharad Singh Kumare, a tribal activist, told NewsClick, "By passing Forest (Conservation) Amendment Bill 2023, the government is planning to throw tribals out of the forest which has been their home for centuries. The new Act will also overpower the 5th schedule, PESA Act and Forest Rights Act 2006. "Jungle ke alawa hamare paas kuch nahi hai. Shahron me hamare pass na zeemen hai na shiksha. Jo hai sirf jungle ha, wo bhi cheen lenge to humare pass kya bachega," (we have nothing but the jungle to call our own, if they snatch away that too, what will we be left with?) he said in Bhopal, adding that the community needs to unite before the government snatches their rights and lands.
In Seoni, where two tribals were lynched by alleged Bajrang Dal men in 2021 on suspicion of cow slaughter, the community put-up posters across the city, shut shops and ran a social media campaign saying that 'Tribals are not Hindus' which faced stiff opposition from the Hindu outfit Bajrang Dal.
"India will never become a Hindu Rashtra, it will be governed by a Constitution," said Arjun Singh Kakodiya, addressing tribals in Seoni. Kakodiya is a tribal leader and sitting legislator of the Congress party from Barghat Assembly seat of Seoni.
After 14 men of the Right-wing organisation were accused of lynching two tribals on suspicion of cow slaughter in 2021, Kakodiya had demanded a ban on Bajrang Dal and demolition of the home of the accused. Instead, the government transferred the Seoni Superintendent of Police. 
Some Hindu outfits, on the contrary, announced a shutdown in Seoni against Kakodiya's statement, the following day. But their call did not get support from local residents.
Bhaiyalal Kunjam, a tribal who took part in the World Tribal Day procession in Seoni, said, "The Centre as well as state government is constantly attacking the essence of the Constitution. They are tweaking laws to get absolute power. Secularism is under threat and there are attempts to make India a Hindu Rashtra."
"Tribals are being framed as Naxalites, and Muslims as terrorists," he lamented in local dialect, wearing a yellow turban and tribal outfit.  
The tribal community is at the helm of Madhya Pradesh's politics after they inclined towards Congress in the 2018 Assembly polls. With state elections three months away, both the key parties are trying to consolidate tribal voters. On one hand, the ruling Bharatiya Janata Party (BJP)  is trying to win back its lost tribal votes, while on the other, Congress is trying to hold tribal voters within its fold.
After 18 years of BJP rule, the 22% tribal population of Madhya Pradesh is struggling with unemployment, migration, malnutrition, atrocities and corruption, which the party tried to cover up with a slew of announcements after returning to power in March 2020, after toppling the 15-month Congress government.
In the 2018 elections, of the 47 reserved ST seats, BJP managed to win 16 seats as opposed to 31 ST seats it had won in the 2013 Assembly elections.
To pacify tribal voters' anger, the BJP tried to cover up all those issues by renaming railway stations, bus stands, colleges after tribal icons and also undertook development of tribal worship places. The party, which ruled the state for almost two decades, only implemented PESA 1996 in 2022.
Madhya Pradesh has the highest tribal population (22%) in the country. The state has 46 recognised Scheduled Tribes, of which three are Particularly Vulnerable Tribal Groups (PVTG) spread across 52 districts.
 A tribal BJP leader, Ramkhelawan, told NewsClick that it's a big effort to bring all tribal voters on one platform. "With various events and schemes, the party is trying to pamper and keep their loyalist voters close to it ahead of elections," he said.
But the Sidhi urination incident by an alleged BJP leader has badly hit the party's efforts in the past two years to set a narrative that the Shivraj government "truly cared" for the welfare of tribals.
On the other hand, the Congress is offering to reinstate the holiday on World Tribal Day (August 9) which the party declared in 2019, but the BJP government scrapped the following year after coming to power.
The party is also offering to fill the reserved backlog posts, and improve the health and education infrastructure in 89 tribal blocks, clear the pending cases of Forests Right Act 2006 and strengthen PESA rules enacted by the BJP last year.   
"The issue of recent cases of atrocities on tribals, the involvement of BJP leaders and government's attempt to protect the accused, are gaining ground among tribal voters," said tribal leader Vikrant Bhuria, who is also president of MP's Youth Congress.
Bhuria, along with Ramu Tekam, state head of Congress' tribal wing, carried out a 20-day-long 'Aadivasi Swabhiman Yatra' touching over 40 tribal dominated seats of the 18 districts culminating on August 7 in Jhabua.
"A BJP man urinated on a tribal in Sidhi. Son of a sitting BJP MLA from Singrauli opened fire on a tribal and it took police six hours to lodge an FIR. In Nimawar block of Dewas district, five tribal men were butchered and the incident of a tribal dragged on the back of a truck in Neemuch have enraged the indigenous community," he said adding that "The incidents unfolding in Manipur are adding fuel to the fire."
Mandla-based advocate-turned-activist Vibhuti Jha, told NewsClick, "Youths are unhappy with Vyapamgate and non-fulfillment of reserved backlog seats. The labour class is unhappy with corruption, migration and non-payment of MGNREGA work. Besides, the cases of atrocities are taking tribals away from the ruling government."
Get the latest reports & analysis with people's perspective on Protests, movements & deep analytical videos, discussions of the current affairs in your Telegram app. Subscribe to NewsClick's Telegram channel & get Real-Time updates on stories, as they get published on our website.
Subscribe Newsclick On Telegram