Why is BJP Losing State After State?
That BJP has effectively lost in the sixth state since last year, despite winning the Lok Sabha elections in May, shows that it is unable to provide its much-hyped 'good governance' and 'vikas'.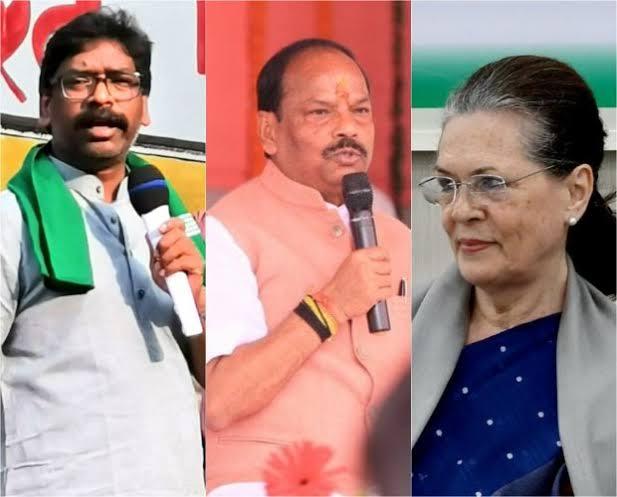 The BJP has lost the Jharkhand Assembly elections with even its outgoing chief minister Raghubar Das suffering a stinging defeat. In an 81-member Assembly, it has managed to retain 27 seats down from 37 last time. A pre-poll alliance of Jharkhand Mukti Morcha (JMM), Congress and Rashtriya Janata Dal (RJD) has won 44 seats. With the support of a few other parties that are opposed to Bharatiya Janata Party (BJP), a non-BJP government will be installed in this largely tribal state.
A few months ago, BJP ceded Maharashtra, despite a slew of dirty tricks to retain power. Its erstwhile ally, Shiv Sena, now leads a government along with Congress and the Nationalist Congress Party (NCP). 
In Haryana, BJP lost its majority but managed to cling on to power by roping in a local party, the Jananayak Janta Party (JJP). Last year, in December, it lost Rajasthan, Madhya Pradesh and Chhattisgarh.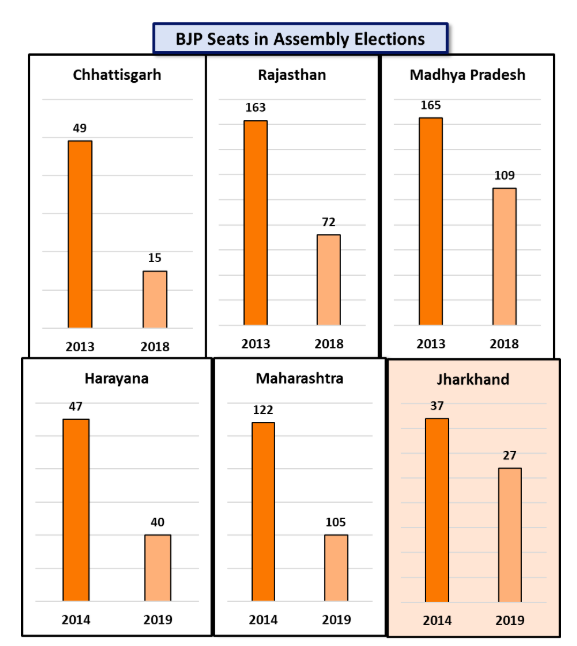 This decline of BJP in the states is a definite trend. It is not a coincidence that five states in three successive rounds have delivered this verdict over one year. So, there has to be a common factor across these states.
This trend is puzzling because in the midst of this slide in states, BJP swept the Lok Sabha elections in May this year, and formed the second successive government at the Centre under Prime Minister Modi. So, what's going on? 
'Vikas' is Failing on the Ground
The chief reason for increasing disillusionment with the BJP at the state level is that it has been singularly incapable of addressing and resolving some of the most pressing economic problems that people are facing. Unemployment, falling incomes, price rise, farming crisis, land-related issues, etc. have all reached unbearable proportions across the country. If you take these five states only, joblessness was recorded by Centre of Monitoring Indian Economy at around 7% on an average at the time of elections, with Jharkhand being especially bad at around 10%. 
Farmers' incomes have suffered immensely in all these states because of the Modi government's refusal to increase Minimum Support Prices (MSPs) to the desired level of 50% more than the total cost. In any case, procurement has been below the mark making a mockery of even the declared MSPs. In all the states, except Haryana, land acquisition by corporates has led to huge discontent among farmers as they resent loss of their only means of livelihood. 
Industrial policies that are hostile to workers have pushed their lives into ever declining living standards with wages stagnant or declining (in real terms) and workloads increasing. Job security has been eroded completely by contractualisation and is set to be institutionalised with the new labour laws that are set to be implemented. 
These policies have led to less buying power in the hands of people causing a cascade of effects – industrial slowdown, retrenchments and more job losses, more cuts in wages, and so on. All this is fuelling increasing disenchantment from the BJP.
So, Why Not Central Government?
This unmitigated economic crisis has been primarily caused by the Narendra Modi-led central government. But the expression of anger and rejection is appearing first at the state level because it is these governments that have – like sheep – been following the leader, and people experience this first-hand. 
Modi and his government are still a distant phenomenon for most people in the hinterland. They are perhaps still taken in by all the razzmatazz about his 'clean' image, his schemes for the poor and his 'commitment' to upholding the country's honour. 
On his part, Modi, too, has ensured that every scheme is entitled "Pradhan Mantri" -so-and-so-Yojana. All the media blitzkrieg is about him. The Raghubar Das's, and Devendra Fadanavis's and the earlier Shivraj Chouhan's and Raman Singh's are seen as mere postmen or delivery men. In Modi's presence, they are just bowing and scraping courtiers.
This is a double-edged sword. It elevates Modi but it denigrates the satraps. It puts all the 'achievements' at the doorstep of Modi but simultaneously, it leaves the satraps responsible for all the distress, corruption and nepotism. 
The states generally have become more dependent on the central government during the Modi years with a large share of economic crisis passed on to them, while resources have been squeezed out of them through Goods and Services Tax. States have no leeway, no independence to chart a different path while remaining tied to the Centre's disastrous policies. This applies to all states. But, for the BJP- ruled states, things are worse. They are not only tied by the fiscal architecture but also bound by the shackles of the grossly neo-liberal approach of the Modi government, which includes public sector sell-off, foreign capital opening up, squeeze on public expenditure, etc. Even cronyism and corruption have become centralised, many believe. 
Also, at the state-level, alliances and alternatives are more visible and viable compared with at the country level. This Opposition unity creates its own force and momentum. Of course, the unity is driven by pressure from the ground to eject the ruling BJP.
As a result, when state Assembly elections happen, people get rid of non-performing and corrupt governments in quick time. But this is a dire augury for the Modi-led central government, too. Its base is fast eroding from under its feet. It won't take long for this tide of discontent to start knocking at the doors of the central government too.
Get the latest reports & analysis with people's perspective on Protests, movements & deep analytical videos, discussions of the current affairs in your Telegram app. Subscribe to NewsClick's Telegram channel & get Real-Time updates on stories, as they get published on our website.
Subscribe Newsclick On Telegram