Why Does Bonded Labour Still Persist in India?
While we may have entered the 21st century, bonded labour is still a reality in India. Manav Gupta and Kashish Gupta analyse the laws in India to probondtect from bonded labour and comment on the inadequacy of State initiatives to curb this menace.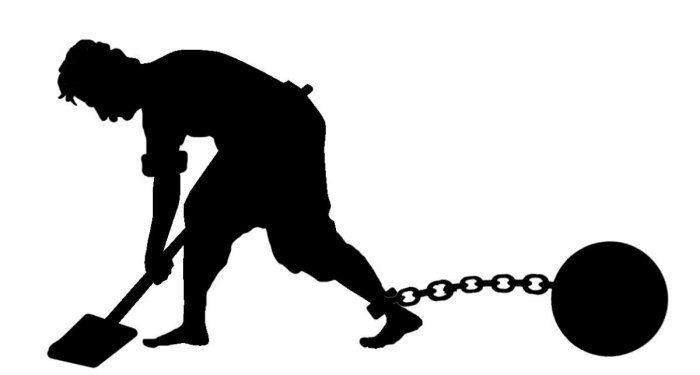 Image credit: The Leaflet
Last month, a man was booked by police in Palghar district's Mokhada for allegedly putting a tribal villager who had borrowed Rs. 500 from him into bonded labour. According to the police, a tribal named Kalu Pawar borrowed the amount from the accused, Ramdas Ambu Korde, because he needed money to perform the last rites for his son, who died in November last year.
In return, Korde allegedly ordered Pawar to work on his property and take his animals for grazing.
Pawar began working at Korde's residence after performing his son's funeral rites, but his pay was not fixed. Korde used to feed him one bhakri (unleavened bread made of jowar, bajra, or other wheat) every morning, followed by a supper at night but no lunch. Korde would scream at Pawar and scare him with grave repercussions if he begged for money.
According to the complaint, Mokhada police have filed a case against Korde under the Bonded Labor System (Abolition) Act and section 374 of IPC. This is a recent case, but there are many instances where either police have not registered the case or the victim themselves do not file a lawsuit due to lack of knowledge and financial resources.
What is bonded labour?
Bonded labour, also known as Peonage or debt slavery, is the promise of a person's services as security for the repayment for a debt or any other commitment, where the terms and conditions of the repayment are not clearly or reasonably stated, and the person who is holding the debt thus has some control over the labourer.
We can trace the origins of bonded labour back to ancient Hindu society, which was divided into different caste systems. The marginalised caste strata lacked the means to support themselves. Therefore, they were forced to rely on dominant castes for their own existence.
As a result, enslaved people are pitifully destitute, with little or no assets other than the ability to sell themselves in times of dire need and to fulfil societal obligations such as customs and marriages. This gives unscrupulous employers an unfair edge in restricting and removing the freedom of poor labourers through debt, threat, and surveillance.
Legal safeguards
Under Article 23 of the Indian Constitution, human trafficking and forced labour have been explicitly prohibited. Further, Article 21 secures the rights to life and to personal liberty.
Apart from these constitutional provisions, specific consonant legislation has also been enacted to prohibit bonded labour. The Minimum Wages Act of 1948 establishes a minimum wage for specific defined occupations and mandates that anyone working over the 'normal working day' be paid overtime. Similarly, the Bonded Labour System (Abolition) Act 1976 stipulates a maximum sentence of three years in prison and a fine of Rs. 2,000 for those who force someone to perform bonded labour and those who advance the bonded debt. Section 374 of the Indian Penal Code also recognises the crime of unlawful compulsory labour and punishes it with a sentence of imprisonment up to one year, a fine, or both.
Other statutes also deal with the subject at hand, such as the Inter-State Migrant Workmen (Regulation of Employment and Conditions of Service) Act, 1979 and the Contract Labour (Regulation and Abolition) Act, 1970.
The Supreme Court of India has frequently construe legislation meant to bar bonded labour broadly so as to extend protection meant by them to the maximum possible extent. For instance, in its judgment in the case of Peoples' Union for Democratic Rights vs. Union of India (1982), which dealt with the work conditions of labourers working on Asiad projects, the apex court construed Article 23 to hold that "a person who has been forced to work as a bonded labour and a person who is working as labour at a rate less than the minimum wage should be treated equally."
Next, in its judgment in Badhua Mukti Morcha vs. Union of India (1997), the Supreme Court stated that the right to live in dignity, inherent in Article 21, gets its lifeblood from Part IV of the Constitution that prescribes the Directive Principles of State Policy, particularly Articles 39(e) and (f), 41 and 42.
The court then enumerated some of the minimum standards that must be met for a person to be able to live with dignity. It further provides that no government, either at the union or state level, has the authority to take any action that would deprive a person of these basic necessities.
Why the problem persists
Despite several safeguards, the menace of bonded labour still exists. As a report on bonded labour in South Asia by the international human rights organization Anti-Slavery International points out, after the enactment of the Bonded Labor System (Abolition) Act, thousands of bound labourers were identified, released, and rehabilitated with the help of state and judicial action in the late 1970s and early 1980s.
However, this process of identification and release slowed substantially during the 1990s, with officials downplaying the magnitude of bonded labour. They were oblivious to new forms emerging. This was because, as per this report, in the cases where progress had been made, the drive for change came from grassroots and civil society pressure rather than from governmental leadership.
Consequently, many of those released were reportedly denied rehabilitation due to corruption, mismanagement, and local political opinions that primarily represented the views of local elites and employers, despite initial rehabilitation efforts providing ex-bonded labourers with access to a variety of government services.
Most of the time, the training and compensation provided as part of rehabilitation packages were insufficient to meet the needs of bonded labourers who had been released. Furthermore, the State neglected to recognise family members' bonded status. Women were not provided release certificates and were denied state benefits since labourer-employer contracts had been negotiated with the head of the family, that being the husband.
Thus, while there has always been some sort of state intervention, it has neither sustained nor is comprehensive.
Inadequate government efforts
At some level, this reflects the State's failure to adopt a systematic and long-term strategy to the abolition of bonded labour, which begins with identification of bonded labourers, and continues till steps are taken to ensure that those who are released are not re-enslaved.
In India, bonded labour results from poverty, social marginalisation, and the government's unwillingness to address the practise and its underlying causes. Moreover, the tendency of reducing labour protection in the face of globalisation has increased governments' unwillingness to act proactively against bonded labour in recent years. As a result, protections are weakened, giving unscrupulous employers more opportunities to restrict and remove poor workers' freedom through debt, surveillance, and threats.
In addition, a glance at the total budget and expenditure for rehabilitation of bonded labour points towards the government's lack of seriousness towards this issue. While the overall funds released for bonded labour rehabilitation were Rs. 664.5 lakh in 2017-18, they dramatically decreased by 61% the following year to Rs. 253.3 lakh. Surprisingly, the Ministry of Labour and Employment spent not a single rupee on their rehabilitation in 2019-2020.
Such data raises concerns regarding not just the plight of such labourers in our country, but also the willingness of the government to protect and aid them.
Labour laws, which have emerged out of a long period of struggle, aim to ensure power parity between employers and employees. While the shape and form of such laws have changed over time, the central idea has remained the same, which is, in Dr B.R. Ambedkar's words, to ensure the "rights to life, liberty, and pursuit of happiness."
Despite various legal safeguards, the spectre of bonded labour still plagues our nation. Since governmental forces have access to resources and power, and civil society organizations have grassroots connections and understand the seriousness of the situation better, they would have to act in tandem to uproot the menace of bonded labour.
(Manav Gupta and Kashish Gupta are second-year B.A., LL.B. (Hons.) students at Jindal Global Law School, O.P. Jindal Global University, Sonipat. The views expressed are personal.)
Get the latest reports & analysis with people's perspective on Protests, movements & deep analytical videos, discussions of the current affairs in your Telegram app. Subscribe to NewsClick's Telegram channel & get Real-Time updates on stories, as they get published on our website.
Subscribe Newsclick On Telegram