Why Does Gehraiyaan Have a Muslim Name for a Character?
The film may be on-trend with the male lead given a sweet-sounding Arabic name. Yet his negative role reminds of the politics of name, naming and renaming.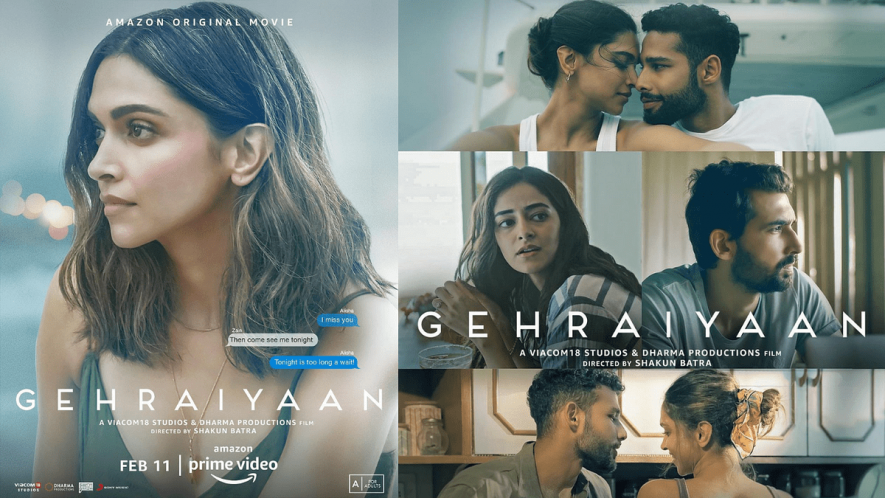 Image Courtesy: The Quint
The film Gehraiyaan seeks to engross viewers with twists in its plot, including one at the end that leaves viewers wondering what fate Alisha (Deepika Padukone) would eventually meet. Yet, even as we applaud the team of writers (Shakun Batra, the film's director, Ayesha Devitre, Sumit Roy and Yash Sahai) for their ingenuity, the film still leaves us with the question: Why did they choose to name a pivotal character Zain?
This question pops up because Gehraiyaan, to put it simply, is a love story gone awry. Religion does not concern the film's four principal characters—Alisha, Karan (Dhairya Karwa), Tia (Ananya Panday), and Zain (Siddhant Chaturvedi). Only physical and emotional intimacies do. Nor does Gehraiyaan allude, let alone tackle, the theme of inter-faith relationship.
It is, therefore, surprising, and inexplicable, why the writers of Gehraiyaan chose an Arabic name for its character. Zain means beauty or grace or adornment. It is possible the writers are reflecting an emerging trend among the cosmopolitan middle class to borrow names from other cultures, often Arabic or African, to give their children.
Zain is depicted to possess a beauty so magnetic as to sweep lithesome, sculpted Alisha off her feet. But his physical grace conceals a dark side. Therein lies the rub: Gehraiyaan, subliminally, reinforces stereotypical images of the Muslim.
This does not seem to be the intent of writers. Yet, given the Hindi film industry's storytelling tradition, can the traits of a character with a Muslim name be completely autonomous of those popularly, even though erroneously, associated with their community? There is, after all, the politics of name, naming and renaming to contend with.
As a rule, Hindi films dealing with inter-faith romances give a Muslim name to girls and Hindu names to boys. This tradition is followed to ensure that Hindu sentiments are not offended. Remember the storm Padmavat raised? To this rule, though, films like Kedarnath, My Name Is Khan, and biopics like Padmavat and Jodhaa Akbar are exceptions.
Muslim names are also given to characters enacting the role of Islamic terrorists or dons operating from Dubai. Or they are assigned to actors essaying a Muslim role. Otherwise, Hindi film writers stick to using Hindu names for roles they etch out, understandable, in some ways, as the Hindus are 80 per cent of India's population.
The politics of naming permeates our everyday existence. We hear a person's name and know their religious identity. The name, in fact, constitutes our initial sense of the person. There is no escaping the cultural baggage inherent in a name. As in the past, so now, a Hindu girl and a Muslim boy, even on their first date, are acutely aware of the social complexities they would encounter in case their acquaintance flowers into a relationship.
Names matter in India. It is for this reason the Bharatiya Janata Party (BJP) renamed Allahabad as Prayagraj, an alteration the media was quick to adopt. Allahabad conveyed a Muslimness the BJP desires to efface from India. Hindu vigilante groups identify inter-faith couples, opting to marry under the Special Marriage Act, by their names—and torment them when they come to the court to tie the nuptial knot.
It seems the writers of Gehraiyaan are completely oblivious of the politics of names. It cannot be the case that they were consciously departing from the Hindi film industry's tradition of naming characters, for Gehraiyaan, ultimately, depicts Zain to possess attributes generally considered negative. To understand why, here is the story, in brief, of Gehraiyaan.
The film is largely about Alisha, a yoga instructor, caught in a dead-end relationship with Karan, who has quit his advertising job to write a novel. Into their humdrum existence enter Alisha's wealthy cousin Tia and her partner Zain, who is a realtor on the rise. Passion and love drive Alisha and Zain into a clandestine romance.
When they decide to go public with their relationship, Zain runs into financial problems. Only Tia's family can bail him out. Zain cannot but stay with Tia until he can tide over the financial setback. This is unacceptable to Alisha, not least because she is pregnant with Zain's child. Caught in a cul de sac, Zain is incited to kill Alisha. Will Zain succeed? The film, thereafter, zips with one twist after another.
Zain is in a relationship with Tia but takes to flirting with Alisha within a couple of scenes of their meeting. Alisha responds. Her infidelity is rationalised by her empty-shell marriage; her choice influenced by her traumatic childhood experience. Such explanatory reasons are not provided for Zain, who cheats Tia, well, because of his uncontrollable libido, a familiar trope in the Hindu Right's construction of the stereotypical Muslim.
Zain is not your creative Karan, nurturing the dream of writing a novel. His obsession is money and a luxurious lifestyle. It is moot whether his feelings run deep for Alisha, as he is persuaded to kill her. There is only darkness in the gehraiyaan—depths—of his soul.
This interpretation of Zain is further reinforced as Tia's mother reminds her: Can she trust Zain to mortgage the family's property to bail him out of his financial distress? Zain is wealthy because he enjoyed the formidable backing of Tia's father. This point the writers hammer several times. And yet, the man with that Muslim name turns out to be ungrateful, blithely slipping into a rollicking affair with Alisha.
Did Zain ever love Tia? Or did he fake love to exploit her family's wealth and network to build a flourishing career? Well, it would seem from Gehraiyaan that if it is not for conversion, then Muslim men feign love for Hindu women for their money.
This is not to suggest that the writers consciously scripted a film to demonise Muslims. Yet they seem to have so deeply internalised the Hindutva ideology that their portrayal of a character with a Muslim name ought to delight Hindutva ideologues.
Contrast Gehraiyaan's depiction of the childhood experiences of Alisha and Zain. Alisha thinks her mother hanged herself to escape a loveless marriage, for which she blames her father. But, as Gehraiyaan unfolds, we are told that Alisha's mother was responsible for her failed marriage. This twist underscores yet another stereotype: It is always the woman to blame for the absence of domestic bliss.
Violence defined Zain's childhood. His father was habituated to beating Zain's mother, once even breaking her arm. And an enraged Zain pummelled his father—and left home. Did you not know that Muslim men are born violent? They do not even spare their fathers.
Perhaps, as already said, the decision to name Zain reflects the new trend among upwardly mobile couples to give sweet-sounding Arabic names to their children. This only shows that the writers of Gehraiyaan view Muslimness as little more than exotica. Its deemed foreignness is, ironically, underscored as Zain is often addressed in the film as Zane. Wish Naseeruddin Shah and Rajat Kapoor, both of whom play memorable cameos, with immaculate Urdu diction, had pointed out to the film crew that Zane strips Zain of grace and beauty.
The author is an independent journalist. The views are personal.
Get the latest reports & analysis with people's perspective on Protests, movements & deep analytical videos, discussions of the current affairs in your Telegram app. Subscribe to NewsClick's Telegram channel & get Real-Time updates on stories, as they get published on our website.
Subscribe Newsclick On Telegram