Why Does the Modi Government Target NRI Journalists?
Indian-origin journalists find overactive missions ready to promote complete obedience to the ruling party and its government in their country of origin.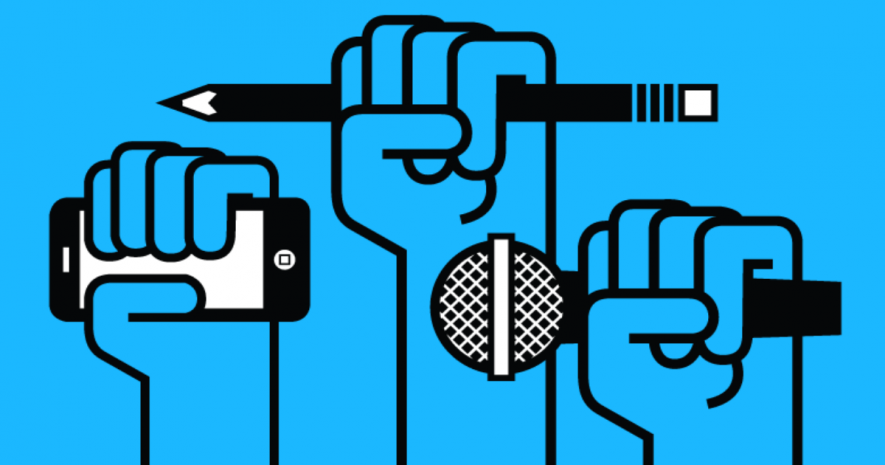 A few days ago, Angad Singh, an American citizen of Indian origin and journalist, was sent back from the IGI airport within three hours of landing in Delhi. Angad's family apprehended that his journalism may have prompted the government of India to deport him. Angad covers South Asian affairs for Vice News, an American company. He made a documentary on the Shaheen Bagh protests and reported on the government's shortcomings during the COVID-19 pandemic, such as the frequency of funerals zooming during the second wave, medical oxygen supplies falling severely short, and COVID-19 deaths in rural India.
Angad's family claims that some time back, he had applied for an Indian visa to make a documentary on Dalits in India, which was rejected. This time, he had come to India for personal reasons, not work. A journalist associate of Angad's says Vice News also produced documentaries under his supervision during the farmers' movement. Last year, Angad wanted to visit India to work on a documentary on the farm movement but was denied a visa.
After Angad, it has come to the fore that the Modi government not only puts pressure on Indian media institutions and journalists but also makes every effort to ensure overseas Indian media institutions and journalists don't criticise it. There have been multiple cases like Angad's among Indian-origin journalists settled abroad or working in foreign media outlets. Journalists associated with the NRI media accuse the Narendra Modi government of insisting, via its embassies, that media organisations overseas do not criticise the Indian government. The pressure on many media outlets has increased so much that they have fired journalists who do their work correctly. The victimised journalists say that there was similar pressure even during the previous United Progressive Alliance (UPA) government, but the situation has worsened since Modi's Bharatiya Janata Party (BJP) government has come to power.
The first such case, of journalist Gurpreet Singh in Surrey, Vancouver, came to light in 2014. The Indian Embassy pressurised his radio owner for shows favouring Prime Minister Modi. At that time, Modi was on a visit to North America. Gurpreet was instructed not to criticise Modi during this visit. He had to resign after he gave a detractor of Modi, who was planning to launch protests against the Indian Prime Minister, an opportunity to speak on his show. The radio channel's owner did not like it. This writer was also the Indian representative of the same radio network at that time. When Gurpreet had to resign, this author also resigned in protest.
Gurpreet says, "Embassy officials still try to create hurdles in my independent journalism. On many forums, they adopt a hateful and contemptuous attitude towards me. In 2018, an embassy official and I were invited to a program in Surrey organised by an outfit working for Kerala flood victims. When it was my turn to speak at this event, the consular officer warned the managers that he would leave if I addressed the gathering. The managers stopped me from speaking. The wonderful thing is that you [the Indian government] are silencing people in India and also crushing our right to speak in countries like Canada.
A similar story is of Canadian journalist Tejinder Kaur, who prepared a radio report titled 'Gujarat Massacre 2002' during Modi's visit. His radio and the Indian embassy objected to this report. Tejinder alleges, "I was targeted for raising human rights issues and participating in protests against Modi's visit to North America. I was also given strict instructions regarding the use of social media. I was given instructions about what to write and not write on social media. I was told not to criticise Modi. I clearly said social media is my personal medium. After this, my employer suggested I go on leave. I took a stand—either allow me to do the show, or I would resign. Eventually, I had to leave the outlet."
Gurvinder Singh Dhaliwal, former head of the Punjabi Press Club in British Columbia, has faced opposition from both the previous UPA government and the current BJP-led National Democratic Alliance government. In 2011, when he won the Shiromani Award for Literary Journalism awarded by the Department of Languages, Punjab, his multiple-entry visa was cancelled. It took him two years to get a visa again, and that too, after officials of the Punjabi University, Patiala, intervened on Gurvinder's behalf that he needed to be at the university for work related to his PhD.
Gurvinder says, "I was formally questioned by officials as if I am anti-India. For example, was I ever part of any Khalistani movement?" He says, "I have tried to do fact-based journalism. I believe I will continue to raise human rights issues, whether it is the 1984 Sikh massacre or the 2002 Gujarat massacre." Gurvinder believes that under pressure from local organisations, embassy officials try to silence journalists, and when journalists still do not bow down, they are personally targeted. He was denied a visa even when the BJP came to power in 2014. "Whether the government is of the Congress party or the BJP, if you raise issues, you are targeted. This trend has flourished during the time of the Modi government," he says.
The editor of an expatriate weekly, speaking on condition of anonymity, said he was embroiled in a "visa case" several times for his journalism. In 2007, like Angad in 2022, he was deported from the Delhi airport. In 2015, he was to come to Punjab to attend a family function but was still denied a visa. These journalists say they are not on any "black list" but are still targeted and humiliated. The fear of cancellation of their visas or being put on the "black list" is an effective weapon to make overseas Indian journalists buckle under pressure. NRI journalists are emotionally attached to their native land; most of their family members and properties are in India, so they want to stay connected with their origins. "A written complaint by five people is enough to have a visa cancelled", an embassy official told me three years ago.
But what is this "black list"? Canadian journalist Gurpreet Singh explains, "Actually, the Indian government has not defined it. Anybody with a different tone from the government's, be they leftist, Khalistani or liberal, are put on a black list. It is used to throttle free thought." Gurpreet Singh also calls the claims and promises of cancelling the "black list" of Sikhs living abroad by the government of India from time to time blatant hypocrisy.
The challenges for journalists who live in India and work for NRI media outfits are no fewer. In 2016, this writer became a target of the government's ire. At the time, I used to work for Red FM, a well-known Canadian radio. My job was to analyse the news of Punjab and India. First, I was told by my fellow host not to criticise the Prime Minister. I was also told to address Narendra Modi with the suffix 'ji' and not by his name. My argument was that when Canadian Prime Minister Justin Trudeau is called 'Trudeau', Barack Obama is called 'Obama', why do we need to say 'Modi ji'? The radio owners also objected to me raising the issues of minorities and human rights in India.
One day, while reporting on Kargil Diwas, the radio owners told me listeners had expressed displeasure with my show, and it would be better if, after three months, I joined their new programming. Later, the radio staff stopped responding to my phone calls. When my Canadian friends met with the Radio CEO on this issue, they were told they had to take this action for criticising Modi and the Indian Army. This issue has also been raised with the Canadian Broadcasting Authority.
In 2020, a Canadian media group published the news that the Indian Intelligence Agency, RAW, is creating an environment through an Indian journalist-editor to pay Canadian leaders to favour the Indian government. The Quint later referred to this report in an article published on 17 April 2020. Another North American journalist says, "There is a nexus between the overseas media [in Canada], the Indian Embassy and the units of Indian political parties. Political leaders from India and their political units want to maintain good relations with the Indian embassy, so when a journalist is in trouble, no voice in India is raised in their favour. The character of the Indian state is clearly visible abroad." A Toronto-based radio show host narrated his grief, saying, "Some time ago, when I presented a program on Kashmir, the embassy officials called and instructed me not to do such 'anti-India programs' in the future."
Harbans Singh, the editor of "Sarokaran Di Awaaz", a newspaper published in Toronto, says, "The Punjabis settled here are more interested in events occurring in Punjab and India than local issues. Over the last ten years, the diaspora media's influence has increased in Punjab's politics, be it the rise of Manpreet Badal in 2012 or the Aam Aadmi Party winning four Lok Sabha seats in Punjab in 2014. For this reason, Indian political parties have started taking particular interest in the NRI media. During Lok Sabha and Assembly elections, political parties give advertisements to the NRI media."
Under the Modi government, the influence of the Indian Embassy has increased in the diaspora's temples, gurdwaras, and other cultural centres. Because advertisements from temples, gurdwaras, and other such institutions are the source of income for the migrant media, they can be controlled when these institutions are managed.
When Indian journalist Rana Ayyub visited Canada in 2017, she was not allowed to speak at the historical Gurdwara in Surrey due to pressure from Indian authorities. It was argued that Ayyub's speech would threaten fraternal harmony. At the same time, Modi was warmly welcomed in this gurdwara in 2015. When social activist Teesta Setalvad reached Canada in 2018, the overseas media were instructed not to cover it, and as a result, the mainstream Canadian press covered Teesta Setalvad while the overseas Indian media's coverage was minimal.
Satnam Singh Khalsa, the editor of Punjabi newspaper 'Sade Lok' published in California, says, "When we publish news about the killing of minorities in India in the name of cow protection or write critical editorials related to Modi or the Sangh, we face problems from the embassy. Embassy officials use their influence to pressurise the organisations that advertise with us. There has been a 50% reduction in advertisements from temples in my newspaper."
The CEO of New York's Punjabi TV channel, TV 84, Dr Amarjeet Singh, gives a similar impression of the situation. Due to the embassy's influence, many gurdwaras and temples have stopped advertising for his channel.
Like trolls who attack journalists in India, a new trend has arisen in the foreign media for radio or TV hosts. If the talk show criticises the government of India or Modi, people associated with the Sangh and BJP start calling and messaging them with derogatory remarks. When Pakistani-origin Canadian Punjabi journalist Haroon Ghaffar questioned the atrocities committed by the army against women in Kashmir during a press conference, Purushottam Goel, president of the Laxminarayan Mandir in Surrey and associated with the BJP, started abusing Haroon. The local media opposed this too.
Overseas journalists are bitter about the Indian government pressuring the overseas press in every way (like it does the Indian media). A section of the overseas media also tries to work with the Indian government, and when one of them faces these attacks, even India's democratic and journalist organisations do not take particular notice.
The author is an independent journalist based in Punjab. The views are personal
Get the latest reports & analysis with people's perspective on Protests, movements & deep analytical videos, discussions of the current affairs in your Telegram app. Subscribe to NewsClick's Telegram channel & get Real-Time updates on stories, as they get published on our website.
Subscribe Newsclick On Telegram