Why Drought-hit Marathwada Farmers Are Demanding Fodder Camps
Drying greenery and water scarcity are hitting crop production hard. As fodder rates shoot up, farmers who want to sell their animals are not getting buyers even at lower rates.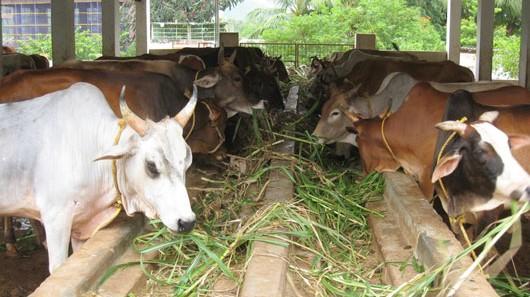 Image for representational use only. Image Courtesy: Daily Pioneer
Pune: In search of greener grass, Vijay Shingan along with his two cows and one bull has come three kms away from his village Pakharsangvi near Latur. For the past few weeks, he has been struggling to get greener areas so that his animals can graze. Due to drought, all the greenery in Marathwada has dried up, leaving animals to struggle for food. Shingan says he cannot afford to buy fodder that has become expensive lately.
This year, the Marathwada region, a drought-prone area having eight districts in Maharashtra, received 534mm rainfall against the average of 768mm. Thus, the area received 22% lesser rainfall than it generally gets.
On October 31, the Maharashtra government declared 26 out of all the 36 districts as drought- affected and all the eight districts of Marathwada are included in the list. A total of 151 talukas have been declared drought affected, of which 47 are in Marathwada. In all, 44 out of these 47 talukas are 'severely' drought affected, while the remaining three fall in the category of 'medium' drought affected.
Though not all the talukas have been declared 'severely' drought affected, the condition is quite bad everywhere. As many as 90% of borewells in the area are not functional due to the depleted groundwater level. Dams, too, have water below 20%.
Due to lack of water, farmers could only manage only 50% production in the Kharif season and could not sow in the Rabi season. Generally, farmers in the region use the remaining part of millets and maize as fodder for animals. But due to production falling, the rates of fodder have shot up. Besides, the availability of fodder is also at a low. This has forced farmers to ask the government to start fodder camps.
Suman Baile, a woman who survives on her six animals -- two bulls and four buffalo --- said, "I have two acres of farm, but I use that mostly to grow fodder and millet for home. I am finding it hard to manage water and fodder every day for my animals. I survive on milk produced by the four buffalos, but I cannot afford to buy expensive fodder every day. A pack of fodder that is generally available for Rs 5, costs Rs 15-20 now. How can we survive with this?"
Baile said, "Though the cost of one buffalo that produces milk is over Rs 30,000, but if I decide to sell, I will not get more than Rs 15,000 at present. Later, if it rains, the cost will go up and I will have to pay Rs 30,000-40,000 for a buffalo. So, I cannot even sell. If the state sets up fodder camps like it did back in 2013, it will be of great help to us."
The problem is that many people who want to sell their animals for want of fodder, are not getting buyers even at lower rates.
This why farmers have been demanding setting up of fodder camps but the state government has not set up a single one as yet, despite making an announcement that such camps will be set up.
Pandurang Narale, a farmer from Mamdapur Patoda village in Ambejogai Taluka of Beed district, said, "I have two cows and two bulls. But now it has become difficult to get water for them every day though I have fodder that will last for one more month. At present, I buy 500 litres of water for Rs 100-150. But water will not be available for long. The government needs to set up fodder camps, as selling animals is not a good option for us."
As per the Department of Animal Husbandry, Dairying and Fisheries, Maharashtra, the region has over 36 lakh big cattle, such as cows, bulls and buffaloes, over 19 lakh goats and sheep and over 11 lakh small animals, such as chicken. Thus, there are over 67 lakh animals in the region.
Big animals require 6kg fodder per day, medium ones need 3kg and smaller ones need 600 grams per day. Overall, animals in the region require 26,330 tonnes of fodder per day.
As per calculations based on figures of sowing given by the State Agriculture Department, 55.9 lakh tonnes of fodder is needed till June, when the rains are expected to begin. However, the region can provide only 41.69 lakh tonnes of fodder. To avail the remaining fodder is a huge challenge as the whole received lesser rainfall this year. 
Hence, the Animal Husbandry Department launched two schemes this month. It has decided to give maize seeds ar Rs 460 subsidy to farmers having little water to grow fodder per 10 gunta. The other scheme entails growing fodder around dams where the land is wet.
However, farmers do not think these schemes will be of any use to them, as getting water to drink remains a daunting task.
What then is the way out in this situation?
H M Desarda, an expert and social activist, said instead of setting up fodder camps, farmers and should be provided fodder at their doorsteps "If fodder camps are set up, one member of each family will have to stay in the camps for keeping watch on their animals. Thus, one person cannot earn livelihood. Instead, fodder should be provided at villages or at doorsteps," he said.
On the acute water crisis, Desarda said, "The government should immediately stop water supply to sugarcane and other cash crops and industries, and instead reserve drinking water for people and animals. And whatever sugarcane is in the farms, should be given as fodder to animals instead of growing and later selling to sugar mills."
As per the Animal Husbandry Department's estimate, there is need of over 600 fodder camps in the region. However, officials from the Revenue Department refused to divulge when and where these camps will be set up, saying that the government had not come up with any resolution or notification in this regard.
(Varsha Torgalkar is an independent journalist based in Pune)
Get the latest reports & analysis with people's perspective on Protests, movements & deep analytical videos, discussions of the current affairs in your Telegram app. Subscribe to NewsClick's Telegram channel & get Real-Time updates on stories, as they get published on our website.
Subscribe Newsclick On Telegram