Tried, Tested, Failed: Why Farmers are Against Contract Farming
Farmers fear they will have to engage with big traders and agribusinesses on an unequal playing field where these giant corporations will be dictating the terms of engagement.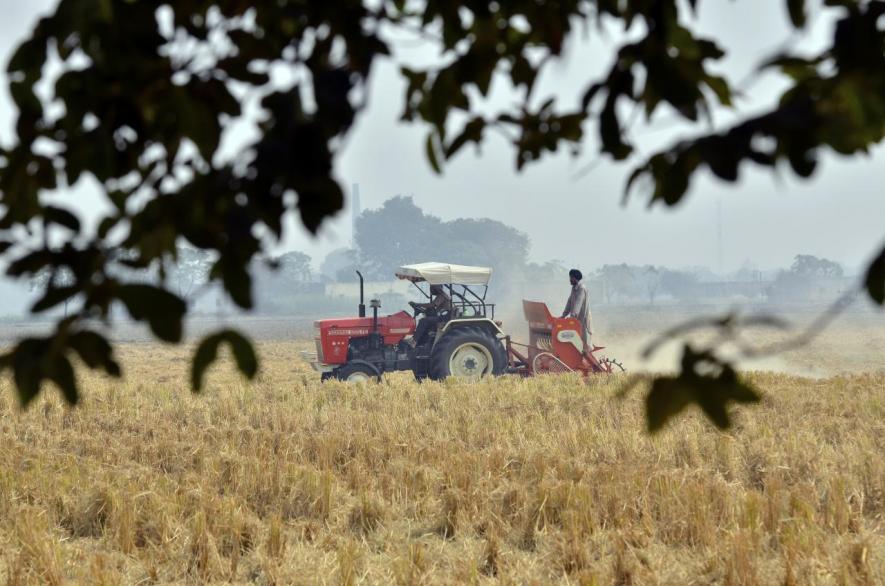 Approved by the government of India in 1988, the Pepsi project was launched to initiate a second agricultural revolution in Punjab. The effects of the first agricultural revolution had faded. Yields of major crops were low. A joint venture among PepsiCo, Voltas and the Punjab Agro Industries Corporation, the project was supposed to bring about diversification of agriculture by moving farmers away from cultivation of paddy and wheat to that of vegetables and fruits of various kinds. This venture was, in fact, brought in with large support from  the Bharatiya Kisan Union and the Akali Dal in 1988. By early 1990s, contract farming was put in place in Punjab with the entry of Pepsi Foods (a subsidiary of PepsiCo) into production of tomato and chillies. A local firm, Nijjer Agro Foods, had started tomato cultivation as well. By the late 1990s, the Pepsi Project had already disillusioned its former supporters and stakeholders – the Bharatiya Kisan Union, Akali Dal, Punjab Agro Industries Corporation and Voltas.  
After selling off its tomato facility to Hindustan Lever (HLL), Pepsi entered potato contracting in late 1990s. After having worked with hundreds of tomato and chilly farmers until 1997, Pepsi now worked with only about a few dozen farmers in chilly and potatoes each. It's potato procurement from contract growers was restricted to a mere 10% of its total procurement. It was argued that the soft drink component of the project was to set up a total of seven bottling plants in Punjab. In the end, only one such plant was set up in the state. The farmers working with Pepsi also found that the seeds supplied by the company were inadequate in quantity. They also reported that the pesticides recommended by the company were both costly and poor in quality. 
In case of HLL, the contract growers complained that the company sold its seedlings to non-contract farmers despite the contract farmers producing in surplus. Eventually, in case of over-contracted acreage or good yields, the companies reportedly refused to procure from the farmers a number of times. 
The above-mentioned experience of contract farmers in Punjab with large agribusinesses like Pepsi points to the reason behind the aversion of the farmers' movement to contract farming. 
One of the three recent, controversial farm laws – Farmers (Empowerment and Protection) Agreement of Price Assurance and Farm Services Act, 2020 — is aimed at promoting contract farming. It has been argued by the farmers' movement that this legislation will result in farmers becoming wage labourers on their own lands. They say the law will make them engage with big traders and agribusinesses on an unequal playing field where these giant corporations will be dictating the terms of engagement – cropping patterns, quality and prices. 
Sajjan Singh, aged 68, said, "Direct contracts with corporates will not work for small farmers like me." He added, "For a year or two, corporates may offer good rates. Then they will control the market and the prices." Singh has travelled to Delhi from his village in Tarn Taran district of Punjab, 430 kilometres from the national capital. 
Labh Singh, Pradhan of the Dehaati Mazdoor Sabha at Kohali village in Amritsar, explained why farm labourers and small farmers from his village have come to Delhi to attend the protest. A landless labourer himself, Singh comes from the Scheduled Caste community. He said, "We understand that after these legal changes enable large corporates to come in, when small farmers and cultivators try to buy farm inputs like seeds, it will be out of our reach. Big corporate houses will loot us. They will soon determine crop prices and harass the poorest among us."
Thousands of farmers and peasants who have been marching towards Delhi to demand the repeal of the three farm laws, come with decades of lived experience. Neither agribusiness firms nor the seemingly enticing concepts such as contract farming are new to them. As is clear from the experiences cited in the beginning of this article, for the farmers of Punjab, contract farming is a tried, tested and failed experiment. In 2002, Punjab was the first state in the country to introduce a contract farming scheme, scrapped a decade later in 2012. 
Contract farming is defined as a system of cultivation and supply of agricultural goods based on an agreement between farmers and processing and/or marketing firms, frequently at predetermined prices. In such an agreement, the purchaser (typically agribusinesses and large corporations) provides supply of inputs – seeds, fertilisers, pesticides, etc. and technical know-how to the farmers. The farmer is required to provide the required commodity in the quantities and at the quality standards determined by the purchaser. Modern contract farming evolved as a system in the United States where corporatisation of agriculture had reached an advanced stage towards the end of the twentieth century with multinational corporations dominating the entire chain of agricultural production and distribution.  
In 1986, under Chief Minister Amarinder Singh, the state government in Punjab had constituted an expert committee on diversification of agriculture under the chairmanship of S.S. Johl. The committee recommended that 20% of area under wheat and paddy farming be replaced by other commercial crops such as fruits and vegetables. Again, in 2002, the committee recommended that a total of one million hectares of area under wheat and paddy cultivation be replaced for cultivation of commercial crops. As a result, the Punjab government launched the contract farming scheme in 2002. The Punjab Agro Foodgrains Corporation (PAFC) was designated as a nodal agency to promote and coordinate contract farming in the state – provide farmers with inputs, technical supervision and to procure the produce of the farmers for the market. 
Apart from PAFC, many agribusiness firms had started contract farming directly with the farmers in the state. As early as in 1989, PepsiCo had installed a tomato processing plant in Hoshiarpur district of Punjab. Subsequently, PepsiCo abandoned tomato procurement and focussed on procurement of potatoes for potato chips. In its initial phase, contract farming in Punjab was considered to be a success in terms of diversification of agriculture and improving farmers' incomes. However, soon, it met with lull and declined in the 2000s. Prominent economist, Jayati Ghosh has explained that this happened due to the growing disaffection amongst the farming community, which had been affected by these contracts. Numerous studies have reported the manipulative practices employed by contracting companies. In case of low market prices, these companies (PepsiCo and others) find ways to renege the contract and refuse to buy the produce from the farmers citing issues with quality of the produce. Sometimes, the produce is bought at a lower price than that decided under the contract.
On several occasions, the PAFC had to step in as the guarantor of last resort as the transactions between the farmers and purchasers could not go off smoothly. In a number of instances, the PAFC was forced to step in and buy the produce that was rejected by contracting companies. 
In 2012, owing to lack of interest from the new state government, marketing problems and lack of support from the Centre, the contract farming scheme in Punjab was scrapped. Commenting on the scrapping of the contract farming scheme, farmer leaders said, "when the government, which works on no profit, no loss formula, could not continue it successfully even for a decade then how can they (farmers) trust the private players whose main motive is only earning profit at the cost of farmers."
Studies from Punjab and Haryana reveal that farmers taking up contract farming face innumerable problems – undue quality cut, delayed deliveries at the factory, delayed payments, increased cost of production due to natural causes, etc. Professor Sukhpal Singh from the Indian Institute of Management, Ahmadabad, highlights that while the contracts protect the interests of the company at all costs, farmers' interests and risks of production are not covered. Thus, in case of contingencies such as crop failure or a steep drop in market prices, farmers end up suffering extreme losses. 
Singh also says that most firms venturing into contract farming with farmers prefer to work with large and medium farmers. This bias in favour of large/medium farmers had resulted in the practice of reverse tenancy in regions of Punjab where contract farmers (Large/medium) leased in land from small and marginal farmers. It is only in case of labour-intensive crops such as gherkin (pickle cucumber) that this dynamic had changed and small farmers were engaged in contracts.
Andhra Pradesh is another state offering lessons on the impact of contract farming on the contracting farmers. Studies highlight that given the requirement of higher investment in contract crops, generally, the wealthier farmers are chosen over small and marginal farmers. In Andhra Pradesh, it was observed that firms largely engaged into contracts with farmers having higher landholding size and better irrigation facilities. 
Examples from the state showed an increase in total income earned by contract farmers as well as increase in requirement of labour and employment. Despite these short-term positives, concerns regarding monopsonist behaviour of firms are inevitably raised by researchers. Monopsony is a market condition where a single buyer substantially controls the market as the major purchaser of goods and services offered by many sellers. 
The Commission on Farmers' Welfare set up by the state government of Andhra Pradesh in 2004 noted that the strategies adopted by the Central and state government in the previous decade had systematically reduced the protection afforded to farmers. Further, it had destroyed important public institutions and exposed farmers to market volatility and private profiteering without adequate regulations. The brunt of these policies had fallen disproportionately on small and marginal farmers, tenant farmers and landless adricultural labourers. 
In India, about 70% of rural households still depend on agriculture for their livelihood and close to 82% of them constitute small and marginal farmers, holding less than 2 hectares of land. Professor Sukhpal Singh highlights that the agrarian situation in Punjab is severe and small farmers are in severe crisis. He says, "The per acre debt is more on small peasants, and it is the small and marginal farmers who are dying by suicide. The small farmers and cultivators fear getting 'de-peasantised' or phased out as a social group, and they fear the loss of access to farmland." 
Having experienced exploitation and manipulation at the hands of giant agribusinesses and monopolies for three decades, the farmers are well-versed with the crisis and issues facing them. They have been demanding assured remunerative price, assured procurement and freedom from indebtedness. Rather than thrusting them into the unequal playing field of the market dominated by multinational corporations, the government ought to respond to these long-due demands to mitigate the farm crisis in the country.
(The writer is an author and a researcher with Tricontinental: Institute of Social Research. Views expressed here are personal. She can be reached on Twitter @ShinzaniJain.)
Get the latest reports & analysis with people's perspective on Protests, movements & deep analytical videos, discussions of the current affairs in your Telegram app. Subscribe to NewsClick's Telegram channel & get Real-Time updates on stories, as they get published on our website.
Subscribe Newsclick On Telegram