Why Are Farmers Marching to Raj Bhawans Today, What Are Their Demands?
Farmers under the Samyukt Kisan Morcha banner are marching to Raj Bhawans across the country on Saturday.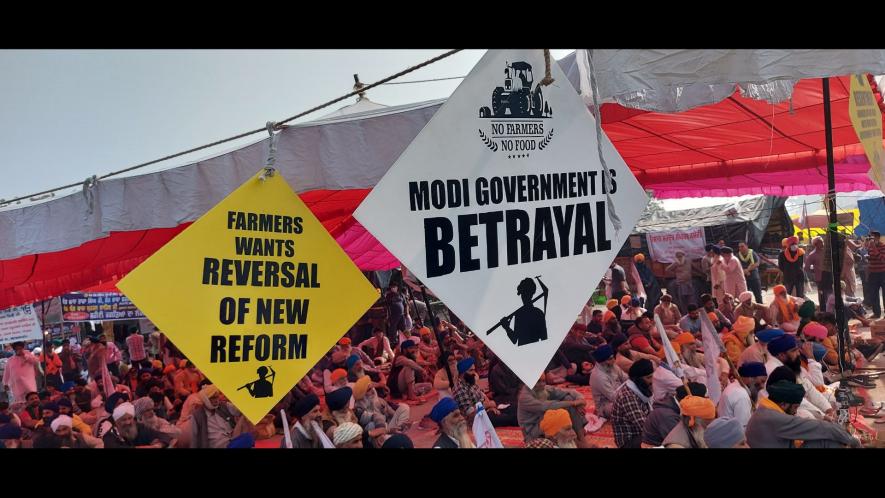 On Friday, farmers under the Samyukt Kisan Morcha banner are marching to Raj Bhawans across the country. In 2020 and 2021, the SKM, a grouping of 50 large farm unions and many smaller ones, led lakhs of peasants and farmers to a massive protest against the Centre's three new farm laws. It suspended this protest in November 2021 after Prime Minister Narendra Modi called off his government's laws. However, the suspension was conditional. Farmers want the Centre to clear a law to guarantee and extend the Minimum Support Price or MSP system and compensate those who died during the agitation, among other demands. However, the government has not fulfilled these demands. Joginder Singh Ugrahan, leader of the Bharatiya Kisan Union (Ekta-Ugrahan), one of the biggest unions in Punjab, the State whose farmers spearheaded the 2020-21 protests, spoke to NewsClick on farmers' pending demands and what form the farm movement could take.
What are farmers' demands, and why are you marching to Raj Bhawans today? Can you detail what the hierarchy of these demands is?
When we started our protests against the three farm laws in 2020, farmers were not demanding a law to guarantee Minimum Support Prices (MSP). However, we knew that if the Centre implemented its three laws, it would amount to undermining the MSP system. This would severely hurt the interests of farmers. That is how the demand for guaranteed MSP made its way into the farm movement. However, instead of a committee to examine this demand, the government set up an utterly non-serious committee. Instead of legislation, the government impeded and blocked any discussion on MSP. That's why we feel the demand for MSP is our biggest struggle. All farmers across the country are behind this demand. They see guaranteed MSP as essential to survival.
And we want justice for those killed at Lakhimpur Khiri. Nobody in Delhi is willing to talk about this case, and the actions we demanded against the leaders responsible [Ajay Kumar Mishra, MoS, Home] have not been taken. This is a crucial demand for us too. We also want compensation for those farmers who gave their lives during the farmers' protest on the borders of Delhi. And we want justice for the farmers who have been put inside jails.
What actions are you planning to take to make your demands heard?
On Friday, 26 November, farmers from Uttar Pradesh, Madhya Pradesh, Maharashtra, Odisha, Karnataka, Uttarakhand and numerous other states will join marches to Raj Bhawans. All the farmer groups in the SKM are part of this action.
You also plan a meeting in the first week of December to thrash out the programme for the SKM. Will there be mobilisations as two years ago, when you marched toward Delhi?
We cannot expect that every time there is a protest, it will take the same form and shape as an earlier movement. What happened the last time was not just a protest of farmers but a jan-andolan, a people's movement, joined by women, workers, and numerous others. But as we plan our next steps again, we must remember how the government had hit out at our peaceful mobilisations. It employed every possible tactic to undermine and end our struggle. That is how governments operate—by trying to divide people. Do not presuppose that those tactics are a thing of the past. The government is still using the same methods.
In what way is the government doing so?
During the movement in and around Delhi, the government had tried to divide us into State, community, region, language, and caste. They even called us separatists and played the Hindu-versus-Muslim card. And they are still doing these things. For example, if you see just in Punjab, the issue of separatism is being raked up regularly by the State. The government is stoking the flames of language divide and nationalism across the country. The Hindu card is being played openly. And this is the most dangerous thing. Earlier, it tried to divide Punjabis and Haryanavis, for example, over the Satluj-Yamuna Link Canal issue. Can you think of a canard the State had not levelled at farmers during our protest in 2020-21? It is this that our union has to go to the people with now, once again. We have to alert them to these divisive attempts.
Why is this awareness crucial to have a guaranteed law for MSP, or your other demands?
It is one thing for a protest to raise the issue that the farm laws were wrong. But it is entirely different when we set out to raise people's concerns about unemployment, water scarcity, pensions, against electricity reform, loan waiver, air pollution, privatisation of public sector units, how small businesses are being undermined, and the problems labourers have with the new labour codes—along with new legislations that undermine farming, environment conservation and livelihoods. These are all crucial issues for us—it is about laying out an alternative for people to understand clearly and support.
Will the SKM not invoke a march to Delhi again, then?
We farmer organisations get our support from the people. So what we should do or not, what form our protests should take or not, that, too, is a decision of the people. Whatever decisions the SKM takes, whatever we decide to implement, is after addressing the concerns and issues of everybody in the morcha. In that context, everybody can raise the problems they consider crucial, including the form our protests take. That movement of farmers, our march to Delhi, was historic. Have the same circumstances arisen is another aspect we must consider.
As you are reaching out to people, what is the sense you get—what are people ready for? What is possible in this protest in the coming months?
The model of the BKU (Ugrahan) protests is in the hands of the people. We, as a union, want hands that are prepared to do the work. Some say that if we move toward Delhi, the government will agree to our demands within five days. But we know ours is a struggle that will take years. It is not that [marching to] Delhi has been ruled out. It could happen; such a proposal may arise.
Will the Assembly elections matter to the courst of action?
Some do want to keep track of the political direction in the country. Some unions felt that we must strike since an election was on in Himachal Pradesh, and one is due soon in Gujaratt. However, we also have the [sobering] experience of those from the farm movement who decided to go to West Bengal to raise farmers' issues during the Assembly election. I want to emphasise that everybody in the farm movement or SKM doesn't need to agree completely. However, we feel that it is not a small task to create awareness among people about the issues of farmers and inform them about the impact of the government's denials and delays. To face disappointment and demand improvement is not an insignificant achievement!
But the government also says that fulfilling farmers' demands requires resources, which, after the Covid-19 pandemic, it does not have.
The government could say it does not have the resources to assure MSP to farmers. But this is precisely how it misleads people. It has the money to write off corporate loans worth Rs. 10 lakh crore. So why does it not have the cash to fulfil just the farmer's demands? Why did large corporate houses earn their profits even during the Covid-19 pandemic? And why is it that the poor lost money during that same phase? What is it about Covid-19 that affected only the poor while the rich became even more wealthy? Why is it that the poor who suffered alone from the privations of that period continue to suffer even today?
We have also given the government different options to make farming less onerous for farming families. For example, we have said it should reduce the costs of farm inputs. After all, the farmer makes the same effort to grow crops on his fields, whether the crop prices rise or fall and the prices of inputs rise or fall. So, if the government makes input costs cheaper, would it not be a massive relief to farmers? But the government does not even take this small step. After all, those who manufacture farm inputs are also corporations whom the government wants to favour.
For now, what are the actions you have agreed on?
In Punjab, across the country, or after dividing it into zones, we will march to Raj Bhawans, or Parliament, and so on. We meet to decide on 8 December, with the main concern is that whatever we do, whichever actions we take, we must be very clear about the benefits we hope to gain from them.
Get the latest reports & analysis with people's perspective on Protests, movements & deep analytical videos, discussions of the current affairs in your Telegram app. Subscribe to NewsClick's Telegram channel & get Real-Time updates on stories, as they get published on our website.
Subscribe Newsclick On Telegram