Why have Farmers Rejected Govt.'s 'Offers'?
Key fears of farmers remain unaddressed by the Modi government, forcing the farmers to plan escalation of the movement.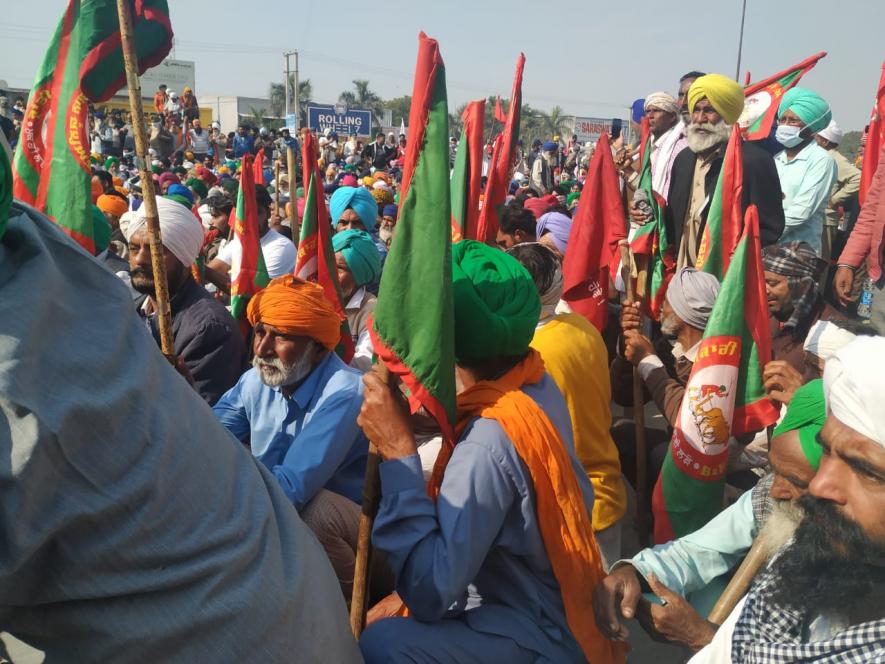 Farmers at Singhu Border on 29th Nov
As feared by many, the Narendra Modi government has opted for a war with the farmers rather than settling their grievances. After a last ditch show of 'negotiations' by no less than the home minister Amit Shah, the central government sent written proposals to the farmers' organisations as their final word, at this point of time. These turned out to be a repetition of what the government had already been saying in previous talks. 
In essence, the government offered:  written assurance that Minimum Support Prices (MSP) system will continue; registration of traders operating outside the APMC (Agricultural Produce Market Committee) mandis and levying of equivalent taxes/cesses on them by state governments; dispute resolution process to be shifted from SDM/DM level to civil courts; contract farming corporates or other entities cannot take loans against farmers' land or attach it; to allay fears about scrapping of electricity subsidies under the new Electricity Amendment Bill, an assurance that there will be no change in present system; and, on law against stubble burning, an assurance that a suitable solution will be found.
The Samyukta Kisan Morcha, that collectively represent over 500 farmers' organisations from across the country, discussed the proposals and rejected them altogether. They have announced a series of protest actions including strengthening the blockade of highways entering Delhi, making all toll plazas toll free on December 12, protests and indefinite dharnas at all district headquarters in the country, and a call for farmers from all North Indian states to start moving to Delhi simultaneously. Clearly, this represents considerable ratcheting up of pressure on the beleaguered government.
The central and most crucial demand of the farmers – the fulcrum of this movement – is scrapping of the three new farm laws. What the government is offering is some changes in some provisions, supplemented by a couple of written assurances. Hence, there is no meeting ground.
Also read: Farmers' Stir Echoes in Delhi: Will Government Blink?
Part of the reason for this chasm is that the government appears to be thinking (or pretending) that MSP is the most crucial issue. So, they presumably think that offering a written assurance that the system will continue, should be enough. Similarly, they think, presumably, that if it is provided that contractors will not be able to take over the land, it should allay fears of corporatisation.
In this thinking, the government is either displaying its complete naivete or it is dissimulation of the highest order. Either way, it shows that this government, which has no experience or motivation to engage with peoples' movements, is still groping for solutions, while all the time sticking to its original loyalty to the three laws. This naivete/hubris is what has forced farmers to remain camped outside Delhi for two weeks, and maybe for an indefinite time in the future.
Why Govt. Offers Were Rejected
The worry about MSP among farmers is not about the declaration of MSP periodically by the government. It is about produce being sold at least at MSP levels, if not more. Just declaring MSP and not procuring it is no solution. The new law is heading towards that dire scenario because it enshrines private traders "outside" the designated mandis for buying up produce. If government does not back procurement through its agencies, farmers will be forced to sell to private traders. They are not bound to buy at MSP – only the government is bound to buy at MSP. That's why the fear that private traders' entry will destroy procurement and hence MSP. The case of Bihar, where APMCs were scrapped is a living example of this process – every year MSPs were declared but there was no procurement worth its name, and prices were always below MSP. Recent reports suggest that in Madhya Pradesh and Uttar Pradesh, too, the mandis where government procurement used to take place have collapsed and kharif produce prices have crashed well below MSP.
So, just saying "MSP will continue" is not enough. Either it should be made a legal right or, at the very least, the permission to private traders to set up parallel mandis and pick up essential food grains from everywhere should be scrapped. In other words, the new law should be scrapped because this is the essence of the new law.
Similarly, offering the farmers the sop that contractors cannot take loans or attach the farmers' land in case of a dispute is not addressing the issue at all. The second law relating to contract farming permits various entities including companies to have an agreement with farmers for cultivating a certain crop, and a promise to buy it at a certain price, etc. Experience shows that all kinds of issues of quality and standards are brought in at the time of final purchase, causing huge losses to farmers. More importantly, the farmer becomes dependant on contractors for prices in the future. Even if disputes are taken to civil courts, which farmer (specially a small/marginal one) has the resources to carry out a 10-20 year long battle in courts with a big industrial conglomerate? All these fears are well grounded and since the whole law is geared around this, it needs to be scrapped, say the farmers.
Also read: Farmers' Protest: Land is not Just an Economic Affair, but an Emotional One Too
The third law, which amends the Essential Commodities Act, opens the way for unlimited stocking by purchasers of agricultural produce, in other words, big agri-business. The law even lets them fix prices freely, except in some emergency situations. This is just to facilitate the operation of previous laws, so that big traders and food processing giants do not stumble at the last step of the chain. No commitment has been given on this.
The laws also need to be scrapped – and farmers are also deeply aware of this aspect – because they will pave the way for erosion of the whole public distribution system, as enshrined by the National Food Security Act. These three laws will bury this food security related law and sound a death knell for millions across the country who depend on subsidised food grains for survival. 
The farmers are thus fighting for their own survival and for the survival of the country's vast impoverished population too. In their perception, the three laws have to be abandoned by the government. Clearly, after today's development, the battle has been joined between the corporatocracy and its flag bearers on the one hand, and the toilers on the other.
Get the latest reports & analysis with people's perspective on Protests, movements & deep analytical videos, discussions of the current affairs in your Telegram app. Subscribe to NewsClick's Telegram channel & get Real-Time updates on stories, as they get published on our website.
Subscribe Newsclick On Telegram