Why it Has Become Normal to Oppress Women in India
Women who are heroic achievers are accepted and applauded; women who challenge the patriarchy-driven system are reviled and denounced.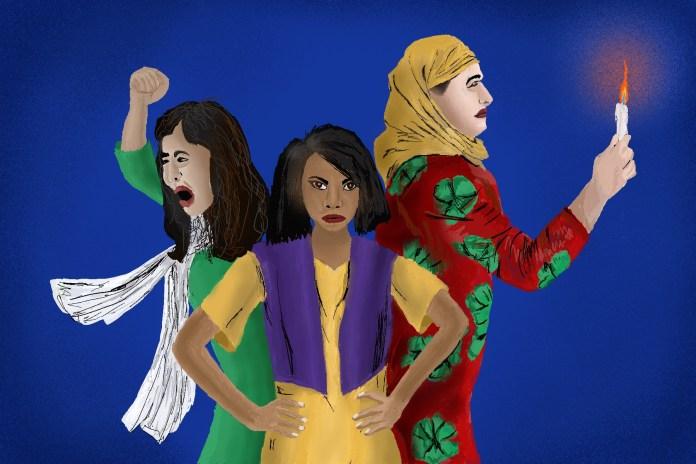 Solidarity Against Violence by Aasawari Kulkarni. Image Credit: Aasawari Kulkarni/Feminism In India
"I spoke against separate electorates, against slave labour and [said] untouchability should be banned by an ordinance. I was asked by the party—Indian National Congress—to withdraw it as it was going to be one of the articles of the Constitution soon," wrote Dakshayani Velayudhan about her first speech in India's Constituent Assembly on December 19, 1946. A Gandhian and an Ambedkarite, Velayudhan was among the youngest members, one of the only fifteen women, and the lone Dalit woman in that august Assembly.
After a fierce personal-political struggle in Kerala battling caste prejudices, gender discrimination and institutional shaming—her college laboratory instructor had not allowed her to touch equipment—Velayudhan graduated, worked as a teacher and took to active politics. In all spheres, she spoke her mind. Facing hundreds of members of the Constituent Assembly, she vehemently argued in favour of Article 11 of the Draft Constitution—eventually Article 17 of the Constitution—that sought to abolish untouchability and make it punishable by law. "We cannot expect a Constitution without a clause relating to untouchability," Velayudhan had stated.
When India threw off the yoke of the British and the momentous midnight is widely remembered for Pandit Jawaharlal Nehru's speech to the Assembly, two women played unforgettable parts in that Assembly: Sucheta Kripalani, later India's first woman chief minister, acceded to the Chairman's request to sing the national anthem and Vande Mataram, and Hansa Mehta handed over the tri-colour to the Chairman with the words: "It is in the fitness of things that this first flag that will fly over this august House should be a gift from the women of India". 
These women of the 20th century must be recalled in the 21st especially in the Republic Day week in Prime Minister Narendra Modi's digital India, when elected governments and honoured judges steadily question or curtail freedoms, rights and liberties of Indian women. A state which symbolises this is Uttar Pradesh, where Kripalani took oath as chief minister in 1963, when her husband Acharya JB Kripalani sat on the Opposition benches. 
In the last two months, Uttar Pradesh brought in a law to curb inter-religious marriages between Hindu women and Muslim men, and has begun a project to track women in public places using Artificial Intelligence. This sits at odds with gut-wrenching incidents such as the Hathras rape-murder case and with statistics that show a staggering increase of 66.7% in crimes against women between 2015 and 2019—almost thrice the national average for the same period—but the state administration is more keen to be a party in a few inter-faith marriages and regulate women's movements or behaviour in public places.
In the Supreme Court, the Honourable Chief Justice of India (CJI) Sharad A Bobde, while hearing petitions regarding the controversial Farm Laws and farmers' protests, asked the advocates representing farmers, "Why are women and elders kept in the protest?" and suggested that they be "persuaded" to return to their homes. "At some time, we might say in the order that old people and women need not be there in the protests," he added. 
The remarks infantilising women and protecting the elderly fly in the face of facts: women are farmers as much as men; women comprise 42% of the agricultural labour force though they own only two percent of farmland, according to National Council for Applied Economic Research; two-thirds of women workers are either farmers of agricultural labourers, as per Census 2011. 
The learned judge could have opened this page to see women as farmers from his home state Maharashtra or any of these pages.
UTTAR PRADESH, THE ANTI-WOMEN LAB
On 28 November, Uttar Pradesh's government headed by chief minister Yogi Adityanath promulgated an ordinance against "love jihad", a fantasy phenomenon of the Sangh parivar that its political arm, Bharatiya Janata Party (BJP), gave legal framework to. The law claims to prohibit unlawful religious conversion but is designed to criminalise inter-faith marriages of Hindu women with Muslim men who, as the Sangh parivar claims, are lured into relationships and converted to Islam. The cases registered so far would put self-respecting governments to shame. But the government pretends that this, rather than the jaw-dropping rate of crimes against women, needs its urgent attention.
The state government took another anti-woman step this month. Its capital Lucknow is being fitted with Artificial Intelligence-equipped CCTVs to track women's expressions of distress or fear and alert this to the nearest police station. This is to reduce incidences of stalking, threats and sexual harassment from locations with a high number of complaints, the city's police commissioner stated. This turns the issue neatly on its head. A patriarchal administration will monitor women to "protect" them from harassers and stalkers, but will not create conditions or put in place systems to prevent the stalkers and harassers—men—from stalking and harassing. 
These developments made many furious and led to protests, then the protests gave way to other concerns. In any case, we live in a media-determined environment in which there are a larger number of contemptible issues than our capacity for outrage at any time, we transfer outrage from one issue to another. But here's the thing: every misogynistic issue, statement, action or decision of governments, even an utterance from the highest court, cumulatively creates an atmosphere in which women can be casually stripped of their agency, rights, identity, even citizenship. 
This leads to one of the two inevitable approaches: women are reduced to either helpless beings in need of protection by the powerful patriarchal State or courts which will guard them and their interests against real or imaginary predators (men), or worthy of slander and abuse by powerful and patriarchal non-State agencies such as khap panchayats and their variants across communities, elected representatives, right-wing women leaders and so on. Women who cross the proverbial Lakshman Rekha are deemed fit for "retribution". 
NORMALISATION OF ANTI-WOMEN FRAMEWORK
Over the last year, there have been numerous instances in which women, well-known or faceless, have been at the receiving end of social and official misogyny. A television news channel ranted about Congress working president Sonia Gandhi as a bar dancer as if it were a proscribed profession, a retired Supreme Court judge linked high unemployment to increasing incidences of rape and how sex was "a natural urge in men", an actor reiterated the Rashtriya Swayamsevak Sangh chief's sentiments about the household as women's natural domain and linked #MeToo cases to women working outside. 
The list is long: a minor issued rape threats to cricketer Mahendra Singh Dhoni's five-year-old daughter after Dhoni's team lost to a rival in the IPL tournament; actor Anushka Sharma is routinely subjected to misogynistic comments after husband Virat Kohli's poor show at the crease; Bollywood's icon Amitabh Bachchan makes a causal sexist comment about Gita Gopinath, chief economist of International Monetary Fund, on a popular television show and what's worse, Gopinath gushes about him in her reply; a 77-year-old Member of Parliament from Chhattisgarh states in Lok Sabha that "there's no need for Mumbai and Kolkata girls…(girls) of Korba and Chhattisgarh are becoming tana-tan"; and the list goes on. 
With each remark and decision, the needle shifts subtly to normalise anti-women politics, gradually erase women from public places, delegitimise their presence or participation as equal stakeholders in socio-economic and political life. If they must appear in public, it is as super-achievers "despite being women" or as beneficiaries of a state decision or action. 
Women who are heroic achievers are accepted and applauded; women who challenge the patriarchy-driven system are reviled and denounced. That is why women of Shaheen Bagh who were at the forefront of the anti-Citizenship Amendment Act through December 2019 were treated with scorn by the patriarchal State; that is why women are not seen as farmers and their protest is deemed unnecessary. 
SOME WOMEN DO NOT MAKE THE CUT
Like protesting women, hardworking and struggling women do not make the cut either. Those who want protesting women to return home did not display concern when lakhs of women migrants were forced to walk hundreds of kilometres back home from cities last year when Prime Minister Modi suddenly declared a nation-wide lockdown. The plight of the migrants—men, women and children—reached the Supreme Court but that did not help. 
On the eve of Republic Day, however, the Modi government declared 16-year-old Jyoti Kumari as one of the recipients of the Pradhan Mantri Rashtriya Bal Puraskar. Kumar had cycled nearly 1,200 kilometres from Sikandarpur in Haryana to her home in Bihar's Darbhanga district with her ailing father on the rear seat. The Prime Minister has not shown remorse for the untold hardship caused to nearly 10 million Indians during the abrupt and severe lockdown, nor did the Supreme Court push the government to do more then. 
The months of lockdown witnessed a rise in domestic and intimate-partner violence across India, accompanied by an increase in women's workload across the board and more women pushed out of the labour force. These issues did not cause concern in state or non-state agencies, none of the patriarchal power structures displayed concern for women or even sought to address these issues. The Uttar Pradesh Chief Minister did not apply his mind, no judge offered advice. 
To see these and similar instances as random occurrences is to miss the pattern of the paternalistic, patronising and patriarchal State, which seeks to dismiss core life issues of women, gradually erase women from public domains, applaud them only as worthy achievers, use the binary of protect-and-guard or abuse-and-malign depending on women's political affiliation, justify, and thus normalise, anti-women decisions or actions. Every increasing inch of such normalisation divests women of their agency and political place; an about turn from the days of Velayudhan, Mehta and Kripalani. 
NO SITA IN RAM RAJYA
In the Ram Rajya that the BJP and Chief Minister Adityanath constantly refer to, Sita has no place. A recent poster illuminated this. Brought out by Yogender Singh Chhonker, an office bearer of BJP's Yuva Morcha, it shows Adityanath as Lord Hanuman carrying Lord Rama on his right shoulder and Lakshman on his left; photo-shop morphing has rendered them as Modi and Amit Shah respectively. Chhonker lauds the "hard work of the three leaders in taking UP towards Ram Rajya". Party president JP Nadda unveiled Lord Rama's statue in BJP's Lucknow office this month; the warrior stands in resplendent glory, but alone. 
During and since the Ram Janmabhoomi movement, the affectionate greeting or invocation, "Jai Siya Ram", which acknowledged Sita before her husband and recognised him together with her, was replaced by the macho and aggressive political war-cry, "Jai Shri Ram". Hindutva warriors have invoked the battle cry while committing the most heinous crimes such as lynching, murder, and torture of Muslims, Dalits and Christians. The popular depiction of Ram was changed from a beatific god standing with Lakshman and Sita on either side to an angry warrior with his bow drawn, as if for battle. 
In the under-construction Ram Rajya, Sita has slowly been eased out of her husband's life and relevance in India's socio-politics. Her visual and verbal erasure from popular discourse coincides with the paternalistic and patronising attitude towards women—especially Hindu women—in the Modi-Shah-Yogi governments. This, they want us to believe, is the new normal. It is not, and should never be.
The author is a senior Mumbai-based journalist and columnist who writes on politics, cities, media and gender. The views are personal.
Get the latest reports & analysis with people's perspective on Protests, movements & deep analytical videos, discussions of the current affairs in your Telegram app. Subscribe to NewsClick's Telegram channel & get Real-Time updates on stories, as they get published on our website.
Subscribe Newsclick On Telegram