Why Jaitley Needs to Study the Link Between RSS and Fascism
"The RSS inspired by one flag, one leader and one ideology is lighting the flame of Hindutva in each and every corner of this great land." This slogan of one flag, one leader and one ideology was directly borrowed from the programmes of the Nazi and Fascist parties of Europe.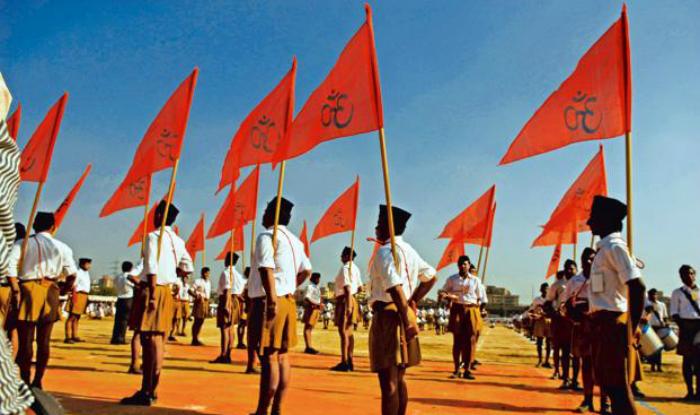 In the second of a three-part series of his article 'The Emergency Revisited', Arun Jaitley has pointed out the similarities between Indira Gandhi and Adolf Hitler. Stating that the two "never abrogated the Constitution…[and] used a republican Constitution to transform democracy into dictatorship,". The rest has been reported elsewhere. Supporting Arun Jaitley's viewpoint, Prime Minister Narendra Modi re-tweeted him and asked people to read his blog post detailing this view.
While the BJP minister is making comparisons between Indira and Hitler, it is also necessary to shed some light on the relationship of the Rashtriya Swayamsevak Sangh (RSS) with Fascist Italy under the regime of Mussolini, and Nazi Germany under Hitler to find out how the Hindutva project took inspiration from them.
Read More: Manuvadis' Bunch of Thoughts
In 1940, MS Golwalkar said, "The RSS inspired by one flag, one leader and one ideology is lighting the flame of Hindutva in each and every corner of this great land." In his article in The Indian Express, Dr. Shamsul Islam points out that the slogan of one flag, one leader and one ideology was directly borrowed from the programmes of the Nazi and Fascist parties of Europe.
Excerpts from Marzia Casolari's article in the Economic & Political Weeklyillustrate the relationship between the RSS and the fascist regimes of Italy and Germany.
Casolari writes, "The first Hindu nationalist who came in contact with the fascist regime and its dictator was B.S. Moonje, a politician strictly related to the RSS… Between February and March 1931… Moonje made a tour of Europe, which included a long stop-over in Italy. There he visited some important military schools and educational institutions. The highlight of the visit was the meeting with Mussolini."
"The idea of fascism vividly brings out the conception of unity amongst people...India and particularly Hindu India need some such institution for the military regeneration of the Hindus… Our institution of Rashtriya Swayamsewak Sangh of Nagpur under Dr Hedgewar is of this kind, though quite independently conceived", Moonje had written in his diary.
Read More: Saints in Schools?
It is well known that M S Golwalkar, the second supreme leader of RSS, idolised the Holocaust and thought that it to be an effective way to deal with the minorities of India. In We or Our Nationhood Defined, he wrote,"To keep up the purity of the Race and its culture, Germany shocked the world by her purging the country of the Semitic Races — the Jews… Germany has also shown how well-nigh impossible it is for races and cultures, having differences going to the root, to be assimilated into one united whole… a good lesson for us in Hindustan to learn and profit by."
Golwalkar's treatment of minorities and foreigners in the 'Hindu Rashtra' bears striking resemblance to Hitler's ways. The following paragraph from Golwalkar's book highlights this resemblance. He writes, "It is worth bearing well in mind how these old Nations solve their minorities [sic] problem. They do not undertake to recognize any separate element in their polity. Emigrants have to get themselves naturally assimilated in the principal mass of the population, the National Race, by adopting its culture and language and sharing in its aspirations, by losing all consciousness of their separate existence, forgetting their foreign origin. If they do not do so, they live merely as outsiders, bound by all the codes and conventions of the Nation, at the sufferance of the Nation and deserving no special protection, far less any privilege or rights. There are only two courses open to the foreign elements, either to merge themselves in the national race and adopt its culture, or to live at its mercy so long as the national race may allow them to do so and to quit the country at the sweet will of the national race. That is the only sound view on the minorities [sic] problem. That is the only logical and correct solution. That alone keeps the national life healthy and undisturbed. That alone keeps the nation safe from the danger of a cancer developing into its body politic of the creation of a state within a state."
As noted by Palash Ghosh in his article in International Business Times, apart from Golwalkar, "Perhaps there was no greater admirer of Hitler and Mussolini in India than Vinayak Damodar Savarkar, another leading member of RSS."
In a speech delivered (page 81) in 1940 to the members of Hindu Mahasabha, Savarkar had said, "There is no reason to suppose that Hitler must be a human monster because he passes off as a Nazi… Nazism proved undeniably the savior of Germany under the set of circumstances Germany was placed in."
Read More: There Can be No ''Mirror of Truth'' For the RSS
In 1938, during the time of accelerating anti-Jewish legislation in Germany, Savarkar suggested a similar fate for India's Muslims. "A nation is formed by a majority living therein," he declared. "What did the Jews do in Germany? They being in minority were driven out from Germany."
Palash Ghosh further states:
"Marzia Casolari, an Italian scholar who studied Indian politics, once wrote of RSS' connections with European fascism: The existence of direct contacts between the representatives of the [Italian] Fascist regime, including Mussolini, and Hindu nationalists demonstrates that Hindu nationalism had much more than an abstract interest in the ideology and practice of fascism. The interest of Indian Hindu nationalists in fascism and Mussolini must not be considered as dictated by an occasional curiosity, confined to a few individuals; rather, it should be considered as the culminating result of the attention that Hindu nationalists… focused on Italian dictatorship and its leader. To them, fascism appeared to be an example of conservative revolution."
While the article started out with Arun Jaitley's comparison of Indira Gandhi with Adolf Hitler, it never really picks up on that and focuses entirely on RSS' similarities with Mussolini and Hitler's ways, which is fine. However, I think a few concluding lines should be added to bring it all together, perhaps explaining why it is, as mentioned earlier, "necessary" to highlight these similarities.
Get the latest reports & analysis with people's perspective on Protests, movements & deep analytical videos, discussions of the current affairs in your Telegram app. Subscribe to NewsClick's Telegram channel & get Real-Time updates on stories, as they get published on our website.
Subscribe Newsclick On Telegram