Why Parties Promise the Moon to Farmers in Poll-bound Heartland
Support prices, indebtedness and sheer dependence on agriculture are key political motivating factors when it comes to farmers.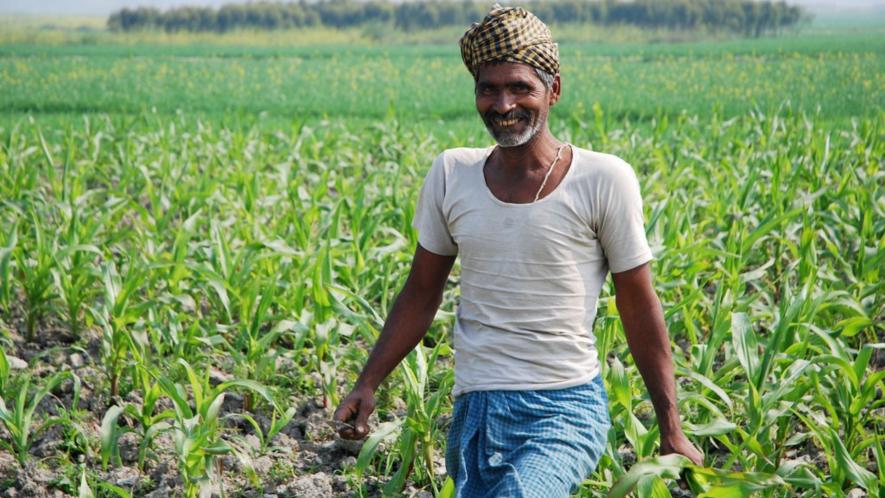 Representational Image. Image Courtesy: Flickr
With five states voting in their Assembly elections in November, political parties are making a variety of promises, hoping to appeal to different sections of society. Of all social groups, it is the farmers who account for the highest proportion of the population in all the poll-bound states. In Madhya Pradesh, 66.40% of households are engaged in farming, and this figure is 74% in Rajasthan, and 66.80% in Chhattisgarh. 
Therefore, it should surprise nobody that although farmers do not constitute a social strata in the sense of a caste or religion, being the biggest occupational category, all contesting outfits fervently vie to win them over. 
Political parties are devising schemes and making commitments to get farmer's votes. Therefore, it is crucial we try to understand the situation of farmers in the poll-bound states where the demand for higher Minimum Support Prices (MSP) is a regular feature of economic and political life, namely, Madhya Pradesh, Rajasthan and Chhattisgarh. 
The share of Madhya Pradesh in the total output value of cereal, pulses, and oilseeds was 8.93%, 18.64%, and 11.77%, respectively. Rajasthan placed second in cereals and pulses and first in oilseeds, after Madhya Pradesh, while Chhattisgarh was third among the three states in all three major MSP crops.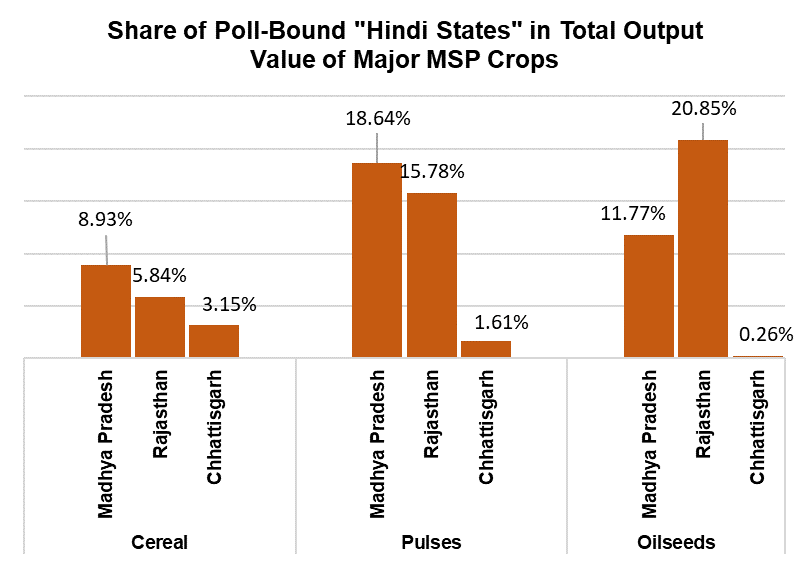 Congress has promised a MSP for paddy at Rs 2,500 per quintal in Madhya Pradesh and Rs 3,200 in Chhattisgarh. This is a hundred rupees higher than the Rs 3,100 per quintal promised by the Bharatiya Janata Party (BJP) in Chhattisgarh.
Both national parties are offering considerably higher prices to the paddy growers of Chhattisgarh than the nationwide MSP of Rs 2,183. Although Chhattisgarh accounts for only 3.15% of the total output value of cereal, its major crop production is concentrated on paddy, and paddy-producers in the state are "more satisfied" than those of Madhya Pradesh. This is based on the "situation assessment" survey of agricultural households, the last of which was conducted by the government in 2019. It found that in Chhattisgarh, 892 out of 1,000 paddy-producing households were satisfied with the sale of paddy. This number was 617 in Madhya Pradesh. 
In Chhattisgarh, farmers received a higher price for paddy sold to government agencies. For the 2002-23 crops, they were paid Rs 2,640 for common paddy and Rs 2,660 for grade 'A' paddy. The rate included the then nationwide applicable MSP and the bonus of Rs 600 offered by the state government.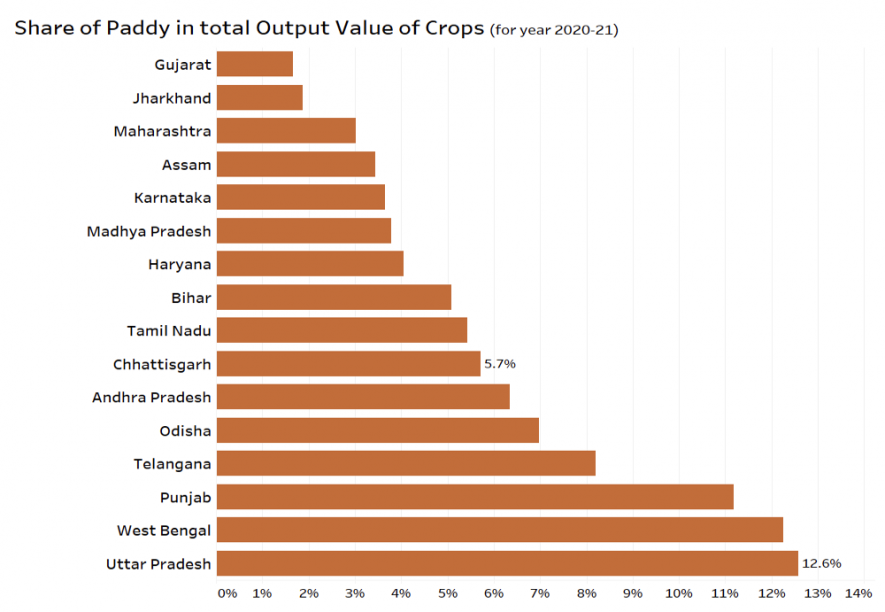 Chhattisgarh is ranked number eight in paddy production but it is placed at three in terms of procurement.
At Rs 9,156, the average monthly income of an agricultural household in Rajasthan is the highest among three poll-bound Hindi belt states. However, the income from crop production was the second-most significant source of earnings after income from wages. 
Since the present rankings have been computed from the data related to only Rajasthan, Madhya Pradesh, and Chhattisgarh, they speak of something other than overall ranking. That said, the income break-up for Rajasthan may well reflect a nationwide trend that experts have delved deeper into, relying on all-India data, which points to the tendency that the average Indian farmer is becoming more of a labourer today.
Chhattisgarh ranked second in terms of the average monthly income of farming families, and Madhya Pradesh placed third. Another interesting trend relates to Madhya Pradesh. Here, the primary source of income for an agricultural household is, indeed, crop production. But this income, as mentioned, is lower than the monthly average income of an agricultural household in Rajasthan and Chhattisgarh.
The 2019 Situation Assessment Survey of Agricultural Households reveals that the average monthly income of an agricultural household in Madhya Pradesh hovers around Rs 6,756. Notably, this state predominantly focuses on MSP crops, and contributes 8.9% to the overall output value of cereals. Taken together, these figures highlight the challenging circumstances for farmers in Madhya Pradesh.
Rajasthan mainly grows oilseeds, whose MSP has not risen considerably. However, in the ongoing Assembly election campaign in the state, the farm-related issues have revolved around farm loan waivers. The Congress party had promised a complete loan waiver in the Assembly election held in 2018 as well. The party maintains that loans acquired from cooperative banks were entirely forgiven. It clarified that it could not excuse the loans farmers had taken from nationalised and other banks, though they are the source of the majority of farm loans in Rajasthan. The party said doing so needed cooperation from the central government.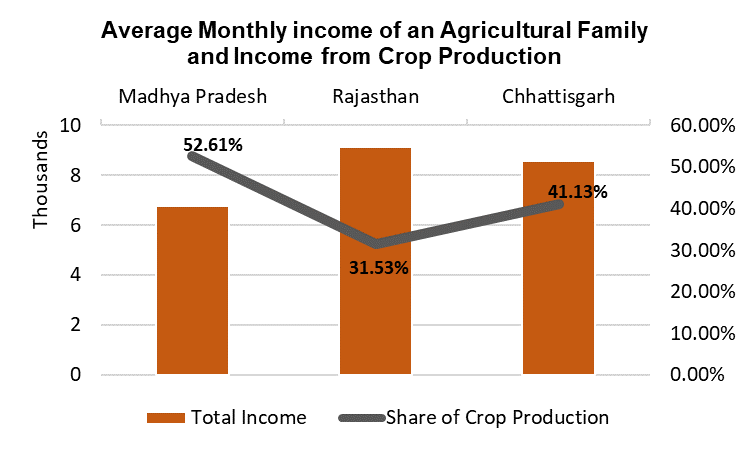 To place the loan waiver in context among these states, Rajasthan has the highest percentage of agricultural households that are indebted. Its agricultural households are also among the highly indebted states in India. 60.3% of agricultural household in Rajasthan are in debt. This number for Madhya Pradesh and Rajasthan is significantly lower, though still high, at 48.4% and 31.2% respectively.
But are farmers satisfied with the earnings from the sale of their crops? The agricultural households of Chhattisgarh are the most satisfied among three poll-bound states under consideration, with 685 out of 1,000, as mentioned above. This number declines to 648 per 1,000 agricultural households in Rajasthan and 522 in Madhya Pradesh.
The author is an independent journalist. The views are personal.
Get the latest reports & analysis with people's perspective on Protests, movements & deep analytical videos, discussions of the current affairs in your Telegram app. Subscribe to NewsClick's Telegram channel & get Real-Time updates on stories, as they get published on our website.
Subscribe Newsclick On Telegram