Why Politicians and Policymakers Don't Want to Stop Illegal Mining
A well-known environmentalist and lawyer says a national movement led by citizens can hold those who allow illegal mining and unplanned construction to account.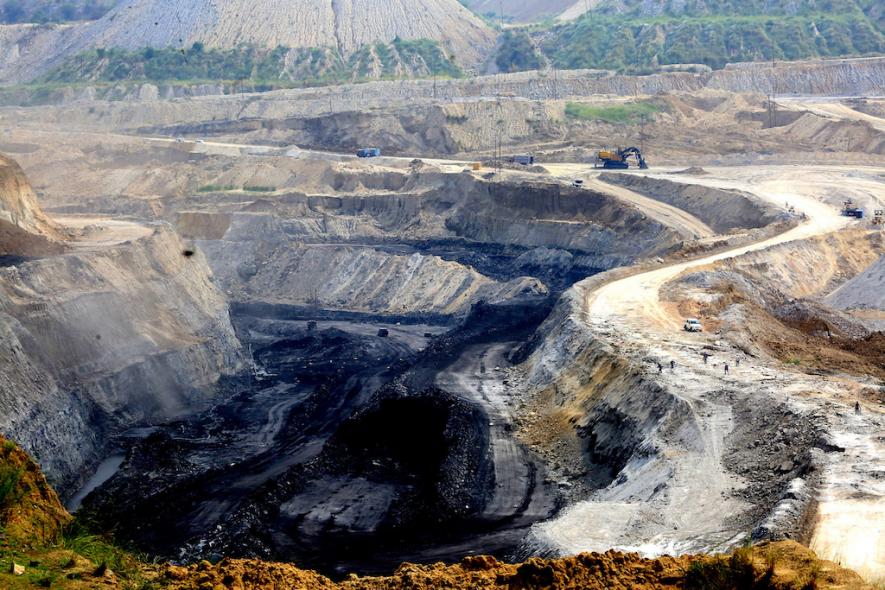 Lawyer Reenu Paul has devoted two decades to stopping Uttarakhand's environmental degradation, especially in the Doon Valley. The Uttarakhand High Court disallowed the state Forest Department to dilute the definition of forests in 2019 and stayed the de-notification of the Shivalik Elephant Corridor as a result of Public Interest Litigations (PILs) she pursued. Paul spoke to NewsClick about the Aravalli Range, stretching across 700 km in Rajasthan, Gujarat, Haryana and Delhi, threatened by illegal mining and unplanned construction. She says state governments are 'unimaginative' in seeking revenue streams other than excise duty and mining royalties but take refuge in claims of pursuing development at the cost of the ecology and peoples' health. Edited excerpts:
While illegal mining in the Aravalli Range is frequently criticised, the damage it causes to the environment is rarely noticed. What can be done about this?
The Supreme Court was shocked to learn that one-fourth of the Aravalli hills have disappeared due to illegal mining and the real estate construction lobby levelling off one hillock after another. The authorities justify their inaction by citing increasing population, traffic congestion, growing tourism and the need to create livelihood opportunities, all of which are dubbed 'development'. The Haryana government had gone to the extent of denying the very existence of the Aravallis. The state government recently filed an affidavit in the Supreme Court, claiming they are not hills as they are not mentioned in revenue records. But there is no notification saying 'these are the Himalayan mountains' or 'this is the Brahmaputra river', so such an interpretation is entirely baseless.
When the Supreme Court learned that Rajasthan earned over Rs 6,000 crore from mining activities, it said pollution was killing millions every year. Yet state governments make no effort to stop it. Why is it so?
State governments are extremely unimaginative and sluggish in devising revenue-generation methods. Excise duty and mining are their significant sources of revenue. Both have emerged as major sources of election funding. It is one of the main reasons why politicians and policymakers favour the mining lobby. Last year, the Chief Secretary of Uttarakhand talked about a one-time settlement for all those caught doing illegal mining to pay a fine and be let off. But this is against the law.
The flattening and levelling of hills appear to have become a nationwide phenomenon. The Taljai hills in Pune, located in a biodiversity park, had been flattened with authorities not even aware. Why is there no deterrence?
The Forest Department itself does not respect the provisions of the Forest Conservation Act, 1980. They themselves are trying to exploit reserve forests and wildlife parks commercially. Look at the concretisation of many reserves in the name of beautification. This happened in Taljai Hills in Pune and the Jim Corbett National Park in Uttarakhand. Reserves should be fiercely protected and remain no-go zones as they are significant water sources. The authorities should use municipal wastelands to grow new forests and leisure ecotourism activities.
In 2020, the courts took a tough stand against a real estate developer for flattening a hill in Powai near Mumbai. But it went to the media and claimed he had taken all due permissions. A former Environment Minister was accused of being an "environmental terrorist". What is the way out?
Ultimately, there has to be a national movement led by citizens to bring accountability to those responsible for growing environmental degradation. Sadly, the contrary seems to be taking place, and crucial laws such as the Forest Conservation Act and Environment Protection Act, 1986 are being amended and decriminalised. 
But this destruction is happening the fastest in Uttarakhand. Dehradun and the areas around it have changed due to the flattening of hills, and Haldwani and Kotdwar towns are next. Why is all this happening under the nose of the authorities? 
Uttarakhand is speedily destroying its natural resources because the state government and National Highway Authority of India (NHAI) have set the precedent of clearing, digging, slicing and, at some places, eliminating hills and hillocks in the name of four-laning roads. This destruction is despite Supreme Court and High Court rulings prohibiting the destruction of natural and community resources. In Hinch Lal Tiwari vs Kamla Devi, a 2001 case, the Supreme Court observed, "...the material resources of a community like forests, tanks, ponds, hillocks and mountains are nature's bounty. They maintain delicate ecological balance." These resources are necessary to sustain life. The forests, hills, wildlife and rivers provide Uttarakhand with its unique identity, but the state government is guilty of relaxing norms to allow JCBs [heavy machines] to do indiscriminate hill-cutting or constructions on slopes steeper than thirty degrees. The land and mining mafia are taking advantage of this laxity by doing away with all building and environmental conservation norms.
Along the hills next to the Rispana and Tons rivers, construction activities have caused massive landslides. In other places, developers grab 100 acres where they have permission to construct on one acre. You have filed a PIL in the Nainital High Court to stop this. What has been the result?
The Uttarakhand government has a 'foothills policy' and has identified and framed guidelines for foothill areas, but these are openly being violated. These foothills have steep slopes and are watershed areas rich in biodiversity and wildlife corridors. But since these slopes are unmeasured (benaap), the land mafia targets them. Their modus operandi starts by taking a small patch of village land and then cutting entire slopes to reclaim flattened hills and hillocks. This process destroys waterways, rivers, and rivulets, which provide natural drainage.
And this has activated many new landslide zones?
A recent comparison of geological mapping of Dehradun done by IIT Roorkee in 2011 and 2021 has revealed that landslide-prone areas have increased from 20 to 100 in the last decade. I filed a PIL on implementing the foothills policy and building norms before the Nainital High Court and provided many satellite images to prove my case. In its interim order, the court directed the state authorities to examine and report on this matter. The state produced a shoddy report, and the court sternly rebuked it. We are now awaiting the judgment. Meanwhile, hill-cutting continues unabated.
Many rivers, including Banas, Luni, Sahibi and Sakhi, originated in the Aravallis and are now dead. The rivers in the Doon Valley, such as Bindal, Rispana and Tons, are crucial to its ecosystem but also dying or have become garbage dumps. Can this be reversed?
The Shivalik Range and the Himalayas are watershed areas with fragile natural ecosystems. But our society never highlights its natural history or makes efforts to protect it. We had the rare Karst caves topography in Dehradun created by the chemical weathering of limestone, but these were encroached and destroyed. The Shivalik Hills had fossils, as documented in HG Walton's British Garhwal: A Gazetteer. Many other documents detail the history and topography of these mountain ranges, but no effort has been made to conserve them.
Now, the land mafia is diverting water courses and encroaching on river catchment areas. In hundreds of instances, even riverbeds have been encroached and built upon. The state government plans to build elevated roads on the Rispana and Bindal rivers. Both are part of the Ganga Basin, and Namami Gange funds are being spent on cleaning them. Sadly, nothing substantial has been done to tap waste water channels and clean the 177 drains that discharge sewage and pollutants into smaller rivers such as Song, all of which flow into the Ganga. The same is happening with the tributaries of the Yamuna since Dehradun town is also expanding westwards.
The Ministry of Environment is decriminalising environmental laws so polluters can get away with fines that the executive authority—and not the judiciary—will determine, as in the past. What is your view?
With this proposed amendment, the stigma of criminal action will also go. Already, the Forest Department has seldom registered a case against an offender. They issue only a 'challan', which any offender can pay and absolve themselves. Only in rare cases has the Forest Department taken a tough stand. The result is for everyone to see. The latest University of Chicago report shows that worsening air pollution is robbing a decade out of the life expectancy of people living in Delhi, while Indians, on average, are losing about five years.
Recently, the Uttarakhand government requested the Centre to withdraw the 1989 Doon Valley notification that provides strong legal protection to conserve Doon's environment. This protection has been diluted, but they [really] want to do away with it altogether.
(Rashme Sehgal is a freelance journalist.
Get the latest reports & analysis with people's perspective on Protests, movements & deep analytical videos, discussions of the current affairs in your Telegram app. Subscribe to NewsClick's Telegram channel & get Real-Time updates on stories, as they get published on our website.
Subscribe Newsclick On Telegram