Why Punjab is Angry with All Political Parties
There is pressure from the peasantry on all parties, not just the BJP, to spell out their position on issues
related to farmers. What was a social boycott is now turning into a political snub too.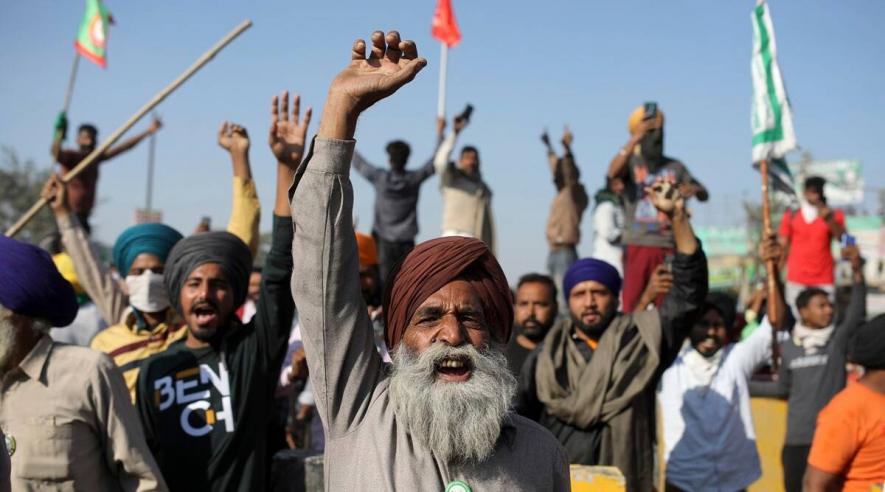 Image for representational purpose. Credit: The Indian Express
Less than five months are left before Assembly elections are held in Punjab. After breaking ties with the
Bharatiya Janata Party (BJP) and forging an alliance with the Bahujan Samaj Party (BSP), the Shiromani
Akali Dal (SAD) has kick-started its election campaign. It is already announcing the names of its
candidates for constituencies. Strengthening its weakened grip is a big challenge for the Akali Dal.
Meanwhile, an internal tussle is on in the Congress party, but it seems likely to resolve soon. The party
may hold on to its strong position in the state. Consolidating the party is still a big headache for the Aam
Aadmi Party (AAP), the third pole in Punjab politics. The party high command has not yet decided whom
to project as a chief ministerial candidate. It fears doing so may induce a split.
While all three major parties of the state are gearing up for the Assembly election, the people of Punjab
are not at all enthused about it. It seems their attention is devoted entirely to making the peasant
movement succeed. The situation is such that the Punjabis are opposing the BJP as well as other political
parties. There is a perception among people that all political parties are almost the same. First, people
boycotted the BJP's political and social programs in Punjab. Now, they are questioning the leaders of the
Akali Dal, AAP and Congress as well. Along with boycotts of their political programs, in villages, people
have put up posters that declare, "Political parties are forbidden to enter this village". They have also
started putting up boards that say, "No elections till the Delhi protests are on".
About 200 villages in the predominantly agricultural Malwa region have put up such "warnings". In them,
it is clearly written that no political leader of any party should step into their village. The Bathinda district
is at the forefront in putting up these warnings. More than 30 villages of Bathinda have taken this step so
far. In village Jangirana of the same district, political parties are even prohibited from putting up their
posters. Strict decisions have also been taken in Bathinda's Nangla, Bahman Jassa, Burj Mahma and
Chatthewala villages. So far, more than 25 villages in Mansa district have "warning boards" up. Major
Singh, a farmer leader from Govindpura village in district Mansa says, "There is a lot of anger against all
political leaders among the youth and farmers. In the villages, we feel no leader has supported us."
Of course, the Samyukta Kisan Morcha (SKM) had decided to boycott only the BJP leaders and it has
said that other parties must answer some tough questions on the new laws. However, the villages seem to
have woken up on their own to the notion that they will not put their trust in political formations until they
see a resolution to the farmer's protest. In around 20 villages in the Barnala district, people have gathered
and passed resolutions and then placed flex boards on the main roads to their villages daring any leader of
a political party to enter. In village Jodhpur, BKU (Kadiyan) and BKU (Dakonda) have met and passed a
proposal to boycott political parties. Udham Singh, a farmer leader in the area, says, "No leader has
turned up at our villages ever since the decision [to put up the sign boards]."
At least 15 villages of district Muktsar have passed similar proposals. In village Rahuriawali of the same
district, three "warning posters" have been put up by the youth, farmers and labourers in which political
leaders have been warned not to enter. Similarly, dozens of villages of district Moga, Firozpur, Sangrur
and Patiala are on the same path. Rajinder Singh Deepsinghwala, senior leader of Kirti Kisan Union, says,
"The [three new central] farm laws have awakened the people whom various regimes had kept occupied
with or entangled in difficulties. The flame of the historic struggle against the farm laws will give a new
direction to Punjab. If this wave catches on, it will be difficult for leaders to campaign for the coming
election."
Undoubtedly, the ongoing peasant struggle in Punjab has made people politically alert. An example is
Gurnam Singh, a 70-year-old farmer from the Bathinda district. He says, "I have been associated with the
Kisan Morcha from the very beginning. From the speeches of farm leaders and scholars, I learned that all
parties, including the BJP, exploit people and are puppets of corporate houses or work for their benefit.
The BJP is not the only one responsible for these farm laws. Other parties are also not free from blame.
They also made false promises to people. Just as the Congress party did not fulfil its promises of ending
drug addiction, giving jobs in every home; similarly, the Akali Dal also supported these agricultural laws
in the beginning, as did the Aam Aadmi Party. All these political parties deserve the disdain of the
people."
In many places, the confrontation between the people and the political parties has also come to the fore in
a sharp form. Every village sarpanch is silent on this matter. Because everyone is afraid of inviting the
displeasure of farmers. Punjab Congress chief Navjot Singh Sidhu has faced peasant fury. Many MLAs of
the Aam Aadmi Party have had to run away from fear of questions people were asking. In the first week
of September, when farmers were protesting at an Akali Dal rally in district Moga, they were fiercely
lathi-charged. The SKM has told political parties many times that they should not do political activities
before the elections are formally announced. On 10 September, representatives of 32 farmer organisations
of Punjab held a meeting with all parties except the BJP, in which the farmer leaders clearly said that any party that holds political rallies before the announcement of elections would be considered an "anti-
farmer" party.
Rajeev Khanna, a senior journalist who has a grip on Punjab's politics, says, "The farmers' movement is
not just a movement for the people of Punjab, but a university in which they have learned a lot and they
are also trying to put what they have learned into practical form. The movement has taught people how
political parties and big corporates are [working] in harmony. The peasant movement has created fraternal
unity and political consciousness among the people." Political parties understand that movements are
tough to sustain and cannot last forever. That is why, especially during elections, they attempt to divert
attention from important issues by using power and money as bait. "But political parties are wrong," says
Khanna. According to him and other Punjab-watchers, the 2022 Assembly election will not be an
ordinary one. This time, political parties will have to communicate with the public on issues related to
farmers and common people.
The author is a freelance journalist. The views are personal.
Get the latest reports & analysis with people's perspective on Protests, movements & deep analytical videos, discussions of the current affairs in your Telegram app. Subscribe to NewsClick's Telegram channel & get Real-Time updates on stories, as they get published on our website.
Subscribe Newsclick On Telegram