Why Rawat's 'Ripped Jeans' Remark Shouldn't be Seen in Isolation
A host of BJP leaders in office have made misogynist and sexist remarks. All in keeping with the Sangh Parivar's world view on women.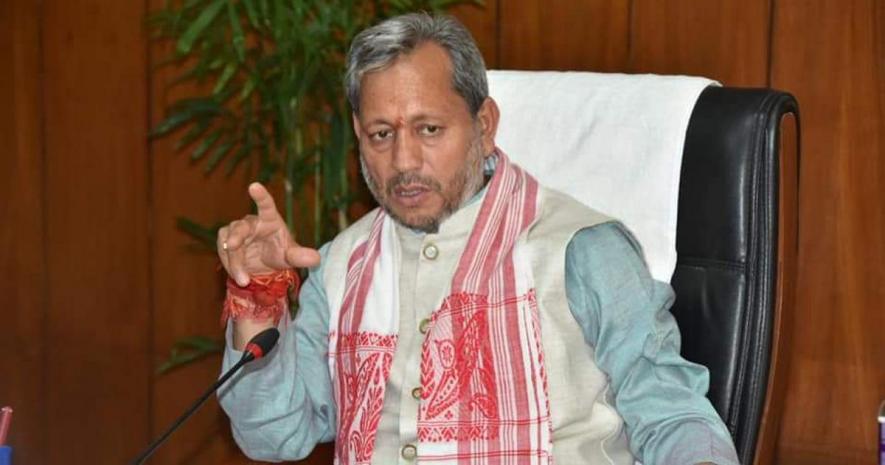 New Delhi: Newly sworn-in Uttarakhand Chief Minister Tirath Singh Rawat, at a recent event in Dehradun, flayed women for wearing jeans ripped at the knees, expressing his displeasure at the kind of "sanskar" or values such women impart to their children.
Rawat was quoted as saying: "If this kind of woman goes out in the society to meet people and solve their problems, what kind of message are we giving out to society, to our kids? It all starts at home. What we do, our kids follow. A child who is taught the right culture at home, no matter how modern he becomes, will never fail in life."
The Uttarakhand Chief Minister went on to give an example of a woman who ran an NGO and was wearing ripped jeans, adding that he was "concerned" about the example she was setting for society.
Rawat's comments have since invited a lot of ire from women and men on social media as well as from Opposition parties.
However, the question is: Will the social work being done by a woman and the impact of her work on society now be determined by the clothes she wears? Also, can't a woman decide on what clothes to wear?
Shiv Sena MP Priyanka Chaturvedi also raised this issue in Rajya Sabha on Thursday, and tweeted:
Ripped Jeans aur Kitab.
The country's 'sanskriti' & 'sanskaar' are impacted by men who sit and judge women and their choices. Soch badlo Mukhyamantri Rawat ji, tabhi desh badlega. #RippedJeansTwitter pic.twitter.com/qYXcN88fY6

— Priyanka Chaturvedi (@priyankac19) March 18, 2021
Who is Tirath Singh Rawat?
Tirath Singh Rawat is a leader of Bharatiya Janata Party (BJP) and has been an RSS pracharak from 1983 to 1988. Moreover, this is not the first time a BJP leader has commented on women's attire or their colour.
Earlier, too, several BJP leaders have commented on women's attire, including Prime Minister Narendra Modi.
BJP/RSS leaders who made sexist, misogynist remarks
During his two-day visit to Bangladesh in June 2015, while addressing an event in Dhaka University, Modi, while praising Bangladesh Prime Minister Sheikh Hasina's policy against terrorism, used the words "despite being a woman". He had to face a Twitter storm after this.
In 2012, when Modi was the Chief Minister of Gujarat, in an apparent reference to Sunanda Pushkar, the late wife of Congress MP Shashi Tharoor,  as a "Rs 50 crore girlfriend".
"Wah kya girlfriend hai. Apne kabhi dekha hai 50 crore ka girlfriend?" (What a girlfriend?. Have you ever seen a 50-crore girlfriend), Modi said at an election rally.
#DespiteBeingAWoman she did not fight for her rights as his legally wedded wife nor for the respect accorded to a PM's wife in 7 RCR.

— Rana Ayyub (@RanaAyyub) June 8, 2015
So why is anyone surprised with this #DespiteBeingAWoman statement that the PM made?Reflects the majority of our populace,no? #DemocracyDay

— Sona Mohapatra (@sonamohapatra) June 8, 2015
#DespiteBeingAMan I can't think of a single wise crack to use the #DespiteBeingAWoman hashtag.

— Omar Abdullah (@OmarAbdullah) June 8, 2015
Despitable me https://t.co/9MyoWMw61I @parodevi on #DespiteBeingAWoman stereotypes, and why we must call out sexism like #SmitaSabherwal

— Kavita Krishnan (@kavita_krishnan) July 5, 2015
According to a report in National Herald, BJP parliamentarian from Chhattisgarh, Bansilal Mahato, made a derogatory remark on girls of Chhattisgarh on camera, saying that they were becoming "Tana-Tan".
Yet another BJP stalwart in this list is Giriraj Singh, currently Union Minister and MP from Begusarai in Bihar. In 2015, Singh made a racist remark while attacking the Sonia Gandhi's leadership of Congress. He said "Had Rajiv Gandhi married a Nigerian woman and if she was not a white-skinned woman, would the Congress have then accepted her leadership?" There was a huge backlash after this because of which Singh had to apologise in Lok Sabha.
Then there is another BJP leader from Uttar Pradesh who made sexist remarks against Congress leader Priyanka Gandhi Vadra. Addressing a gathering during the campaign for the 2019 Lok Sabha elections, Gupta referred to Priyanka as "skirt wali Bai" who has now "started wearing sarees", though later he denied the statement.
Jayakaran Gupta, BJP, in Meerut: Congress ke ek neta to badi jor-jor bolte hain, acche din aaye? Unhe acche din dikhayi nahi dete. Are skirt waali bai saari pehenkar mandir mein shish lagane lagi, gangajal se parhej karne waale log gangajal ka acchman karne lage. (02.04.19) pic.twitter.com/SHfoXPWPC2

— ANI UP (@ANINewsUP) April 3, 2019
BJP's Jayakaran Gupta, Meerut: I've not made a comment at anyone. I had said 'skirt waali bai jinko mandir jaane se parhez tha woh saree pehenkar mandir-mandir ja rahi hain'. Many people are doing that. Now, you need to see who fits under that description. pic.twitter.com/4FVoLtUW01

— ANI UP (@ANINewsUP) April 3, 2019
BJP spokesperson Gaurav Bhatia, a familiar face on TV, during a debate also made sexist slur when he asked Opposition leader Rohan Gupta to "wear bangles and petticoats", thereby implying that women are weak and ineffective.
Well done @RubikaLiyaquat . So.proud of you. Gaurav has just lost it. He has disgraced the art of debating. Always. What a shame.. https://t.co/hFIhdGq5cS

— Abhisar Sharma (@abhisar_sharma) March 6, 2019
BJP spokesman @gauravbh slanders women/opposition saying:"Wear petticoat..." and doesn't stop or apologise even after anchor objects to his abusive tirade. pic.twitter.com/6iv3p2726j

— TheAgeOfBananas (@iScrew) March 5, 2019
Haryana Chief Minister Manohar Lal Khattar, too, made objectionable remarks against Kashmiri women soon after abrogation of Article 370. At a "Beti Bachao Beti Padhao" event, he apparently said women from Kashmir could be "brought to Haryana" for marriage now that Article 370 had been scrapped. Though he later claimed he was misquoted and it was a 'joke", there were audio clippings of his remarks doing the rounds.
Then there is a BJP member of Parliament from Unnao in UP, who thinks that women are made just for producing children.
The Common Thread in this Regressive Mindset
So, is wearing ripped jeans a problem? Or is eating chowmein a problem? And are women made for only producing children?
These remarks are not mere statements or problems. These reflect a fascist tendency to limit individuality and delegitimise the credibility of women in a bid to control society and a social system that fits the Right wing world view. These statements are propaganda tools being used to push a regressive agenda. The thought process of most of the BJP leaders cited above has been nurtured by the Sangh Parivar.
What does Rashtriya Swayamsevak Sangh(RSS), BJP's mentor, think about women? The RSS swears by Manusmiriti, wherein rules and regulations have been laid out for women, with Manu dictating how to physically control women. For instance, day and night, a woman must be kept dependent on males (of) their (families), and, if they attach themselves to sensual enjoyment, they must be kept under one's control;
Two, a woman's should be under her father's protection in childhood, her husband's protection in (her) youth, and in her son's protection in old age. Basically, a woman is never fit to be independent.
Three, let the (husband) employ his (wife) in the collection and expenditure of his wealth, in keeping everything clean, in (the fulfilment of) religious duties, in the preparation of his food, and in looking after household utensils. Basically, keep her engaged in mundane, mindless work.
Patriarchy and RSS
Patriarchy is at the root of all such problems being faced by women in every society, every institution across the world. But, the RSS views on women are an extreme in this day and age and go against the very grain of the Constitution of India. The current RSS chief Mohan Bhagwat's remarks in January 2013 that a woman is bound by a contract to look after her husband, is just one example of what the Sangh Parivar thinks about women.
"A husband and wife are involved in a contract under which the husband has said that you should take care of my house and I will take care of all your needs. I will keep you safe. "So, the husband follows the contract terms. Till the time, the wife follows the contract, the husband stays with her, if the wife violates the contract, he can disown her," Bhagwat told a rally in Indore.
On February 16 in 2020, Bhagwat said that the reason behind divorce is "education and affluence".
Bhagwat's remarks on women and her 'place' in society are very similar to Manu's law for women. So, why is Manusmriti so important for RSS? Because the idea of nationalism propagated by RSS was inspired by Germany during the Second World War, based on purity of race, and Manu was in favour of the varna system or a caste-based social structure where a woman is restricted to playing a crucial role in the family and thereby needs to be physically controlled.
There is, therefore, a close interconnection between caste and gender hierarchy in an upper caste-controlled social order, says an article by historian Uma Chakraverti.
Turkish anthropologist, Nur Yalman, rightly pointed out 1962 (in his essay, Ceylon and Malabar) that "the sexuality of women, more than that of men, is the subject of social concern". He points out that a fundamental principle of Hindu social organisation is to construct a closed structure to preserve land, women, and ritual quality within it. And, RSS and its offshoots epitomise this principle to the hilt.
Get the latest reports & analysis with people's perspective on Protests, movements & deep analytical videos, discussions of the current affairs in your Telegram app. Subscribe to NewsClick's Telegram channel & get Real-Time updates on stories, as they get published on our website.
Subscribe Newsclick On Telegram