Why School Dropout Rate Is So High at Char Villages in Assam?
While the literacy rate at 19.31% is lower than the state's 63%, there are only 1,872 schools in region that make 0.07 school per capita, according to the Socio-Economic Survey.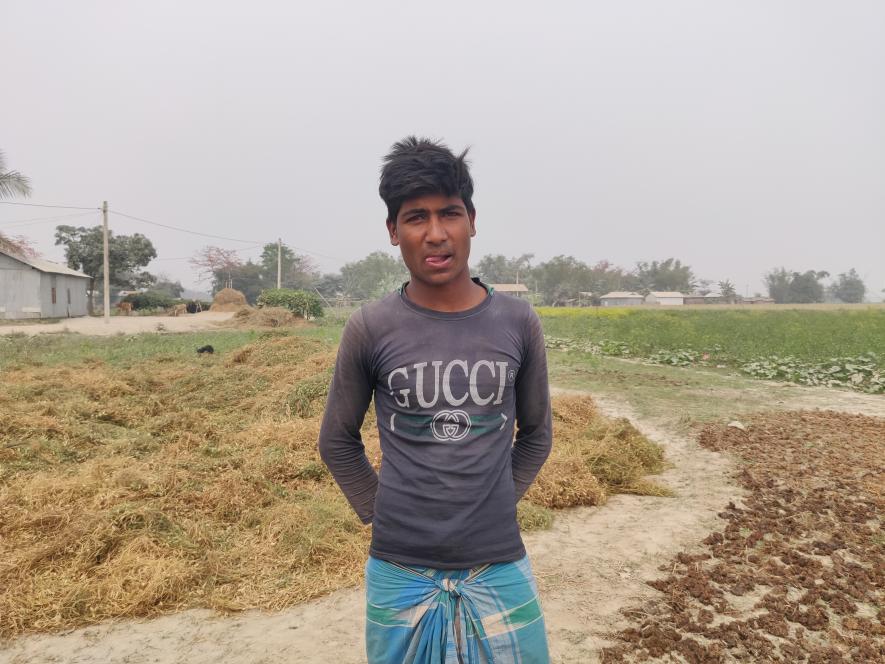 Aslam Shaikh has been working as a labour since childhood leaving school due to poverty. 
Dhubri: Morjima Ali (name changed), 19, mother of a baby and resident of Baghmari, a char village in Bilasipara block of Assam's Dhubri district, dropped out of school at the age of 14. There was no school nearby and she had to walk 2-3 km and then travel 20 mins by boat to reach the nearest school.
No other girl in the vicinity went to school for Morjima to travel with. As such, her parents asked her to leave school as soon as she started menstruating. They married her off when she was 16. She is not alone. Nine out of ten girls in Baghmari leave school before they complete their 10th standard.
What are Chars?
Char or chapories are villages on sandbars or islets made by deposition of silt or sand carried by the Brahmaputra or its tributaries. They are subjected to erosion on their upstream and deposition on the downstream. There are 2,251 char villages in 14 districts along the Brahmaputra in the state, with an approximate population of 24,90,097, as per the Socio-Economic Survey of 2003-04 which is the latest data available. The population density of chars is very high at 690 per sq. km against Assam's 340 per sq. km.
Cultivable land per capita is just 0.24 acres and the literacy rate at 19.31% is lower than the state's 63%. The below poverty line population is 67% of the total. There are only 1,872 schools in region that make 0.07 school per capita, according to the Survey. The majority population consists of the minority community.
Also read: Climate Change Turned Residents of Assam's Char Villages Solely Dependent on Summer Crop
Aslam Shaikh, 27, who used to work as a construction labourer at Guwahati, is currently staying at his native village in Mayarchar, since his return due to the pandemic. Standing at the farmland of his neighbour at the bank of the river, Aslam told NewsClick, "My parents were landless and worked as labourers. I have three brothers and three sisters. My parents sent me to work as a labourer at a tea shop when I was 12-13. I have been working since then. There is no way they could afford to send me to school. None of my brothers has studied beyond 6th or 7th standard."
Children in Mayarchar have to go to Gutipara at a distance of approximately 4 km to attend secondary school (8th to 10th).
Reasons for school dropout
Char villages generally have only primary schools where children can study till either 4th or 7th standard. There is only one secondary school for 4 or more villages. In the absence of pucca roads, children have to walk long distances on kachcha roads which are full of silt and sand for major part of the year. Sometimes they have to cross rickety bamboo bridges, risking their lives, or even travel by boat for 15-20 mins. They need to pay Rs 5-10 for the boat.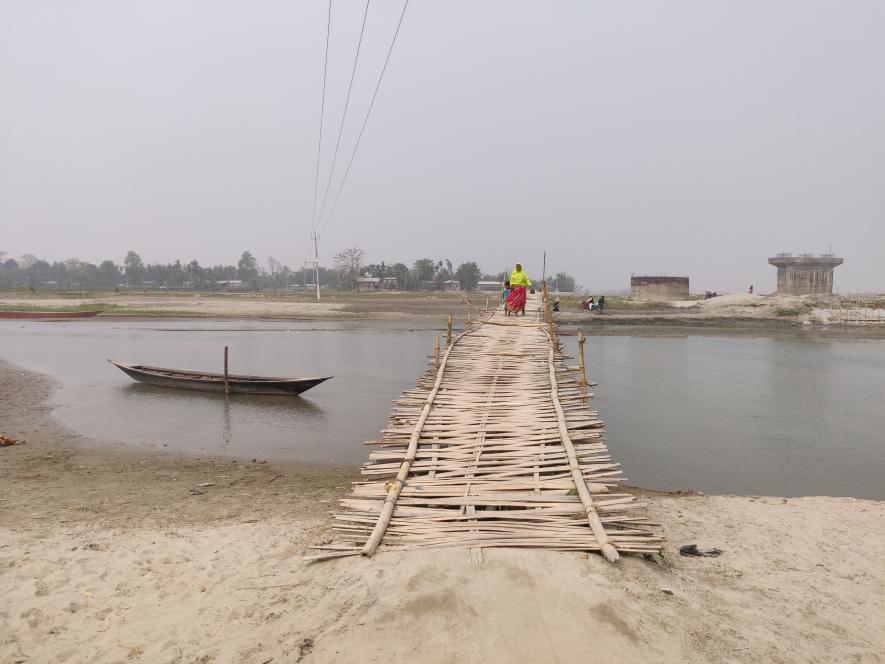 Kids have to cross these bamboo bridges to go to school 
Parents with marginal incomes cannot afford to spend Rs 10 per day on each child. As a result, children often drop out after attending primary school due to various difficulties they have face to reach the school daily.
"One can imagine why parents don't allow girls to study. It can get late while returning from school. Parents don't feel safe. Besides, there are hardly any female teachers in the schools here. Their only option is to marry the girls off," said an anganwadi worker on the condition of anonymity. 
She added, "Ninety per cent of women in Char villages are married before they reach 18 and remaining are married before 20. If mothers are illiterate or hardly educated, how can they teach their kids? This cycle continues."
Zakaria Shaikh, 21, who is one of the few graduates from Gutipara, belongs to a comparatively well-off family and owns a cycle. He described that even with his cycle, it has been very difficult to reach his college. "We have a school till 10th in the Gutipara village and I could study there. But I had to cycle 5-6 km daily to reach Mahamaya, where the college is located. I would often miss 1-2 classes. I would get drenched, my notebooks would get wet while going by boat to Mahamaya during the monsoon. There was no way I could attend college during the floods season."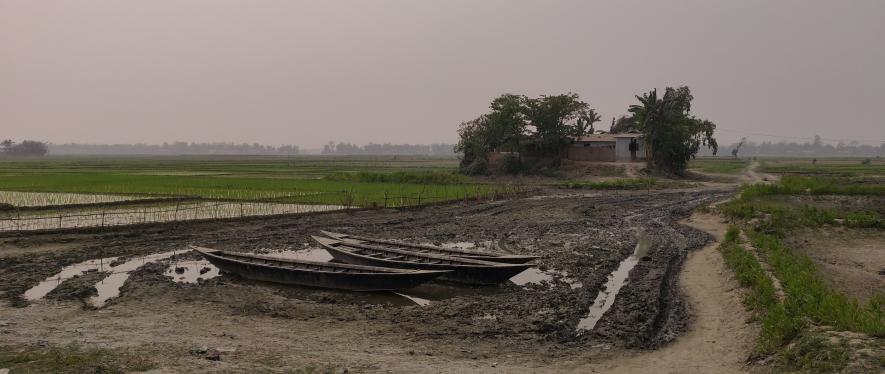 They go to school by boat during monsoon. 
"People who own land engage in farming and those who are landless work as labourers. They produce for consumption, as often they don't get good rates for the produce. There is no way that the people can increase their income. As people are so poor, they don't have money to spend on education of their children. Though education is free at government schools, they require money for books, uniforms, and so on. Instead, they prefer to send kids to work as labourers in metro cities," said Abdul Mannan, a social activist who runs Xeuji Foundation, one of the very few NGOs working in the area.
Also read: Assam: Ahead of Polls, is Govt-Run Madarsa Closure Another BJP Polarisation Bid?
A considerable proportion of children attended the madrasa schools, Muslim religious institutions, that are abundant in the area. Many offer residential schools mainly for boys. Abu Hanifa, one of the madarsa teachers, said, "Parents admit their children at the madrasa because they find it difficult to educate kids at regular schools. However, religious education can hardly bring any jobs for them. They end up becoming farmers or labourers."
Meanwhile, the incumbent Assam government's decision to convert all madrasas to general schools have now put a question mark on the continuation of even these schools in the area.
Several Govts Have Failed to Develop Char Areas
Dr Bibhab Talukdar, a social activist from Guwahati, blames the government for poor illiteracy and poverty in the char areas. He said, "There are many schemes including better education for char area on paper. But they are hardly implemented. This is the failure of the government."
Meanwhile, residents of the char villages are demanding secondary schools in each village and also colleges in the vicinity so that their children can access education.
There has been no reply to an email asking reasons for the astonishingly less number of secondary schools, high dropout rates and high illiteracy in char areas to the Secondary Education Department of Assam and Directorate of Char Areas Development Authority. There were no response to calls made to either department.
(The author is a freelance journalist.)
Get the latest reports & analysis with people's perspective on Protests, movements & deep analytical videos, discussions of the current affairs in your Telegram app. Subscribe to NewsClick's Telegram channel & get Real-Time updates on stories, as they get published on our website.
Subscribe Newsclick On Telegram