Why Sri Lanka is Headed for a Period of Instability
By dislodging Ranil Wickremesinghe and swearing in Mahinda Rajapaksa as the new PM, President Sirisena has plunged the island nation into a constitutional crisis.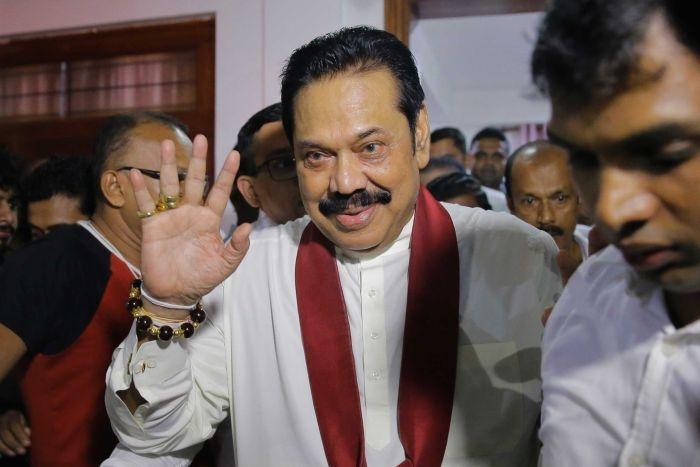 In hindsight this was inevitable. President Maithripala Sirisena sacked Prime Minister Ranil Wickremesinghe and replaced him with Mahinda Rajapaksa as the new Prime Minister on Friday triggering a political tsunami in Sri Lanka.
The coming together of traditional rivals, the United National Party (UNP)and a faction of the Sri Lanka Freedom Party in 2015, with the one point agenda of keeping former president Mahinda Rajapaksa out, was a quick-fix solution to an immediate problem. There was never a meeting of minds. That it lasted so long was a major achievement.
The unlikely coalition was backed by India, the United States and its Western allies, all of whom wanted Rajapaksa out of the scene. While the West was ready to see the back of Rajapaksa for widespread human rights violations, during the last stages of the campaign against the LTTE (Liberation Tigers of Tamil Eelam), India was worried about his closeness to China. The idea was also to ensure that the Tamil minorities would  be given their due by the new coalition government. But not much has happened on that front. Sirisena's decision to induct Rajapaksa as the new Prime Minister would awaken latent insecurity of the Tamil population who want him to be tried in the International Court of Justice for war crimes.
The breakaway faction of the Sri Lanka Freedom Party, led by Sirisena and Prime Minister Wickremesinghe's UNP had reached a breaking point. The two had been bickering for months. The grounds were laid when  Mahinda Rajapaksa emerged from the ashes and swept the local elections this February, winning an overwhelming majority of sea. The grounds were laid for a major political battle as an increasingly isolated Sirisena looked around for help.
It was obvious to all who follow Sri Lanka's politics that something had to give, sooner than later. Wickremesinghe has always been regarded as a friend of India.  Ahead of his visit to Delhi last week, there was talk of a bizarre RAW (India's Research & Analysis Wing) attempt at an assassination plot against the President. Little is known about that. But Sirisena was on the phone to Prime Minister Narendra Modi the next day denying reports in the local media that he had alluded to an India-backed plot against him.
By swearing in Rajapakse as the new Prime Minister last evening, Sirisena has plunged the island nation into a constitutional crisis. A shell-shocked  Wickremesinghe claimed he could not be dismissed and would take the matter to the courts when they open for hearing on Monday. "I am addressing you as the Prime Minister of Sri Lanka," Wickremesinghe told reporters at a nationally televised press conference on Friday, adding "I remain as Prime Minister and I will function as the Prime Minister." 
Soon after the telecast of this press conference, Rajapaksa's jubilant storm- troopers marched in and tried to storm the state-run Rupavahini television studios, which is seen as supporting Wickremesinghe. The television went off air.
The island nation will now be wracked by a period of instability. In all this, Rajapaksa will play a pivotal role. What most foreign commentators forget about the former President is his continuing popularity among ordinary Sinhalese. The people have not forgotten that he was the man who crushed the LTTE, and are grateful to him for that.
To the rest of the world and to Tamil minorities of the island nation, Rajapaksa is seen as a major human rights violator. But to Sinhala Buddhists, who form his core support base, he remains  a hero. The Buddhist clergy hold him in high esteem.
Rajapaksa, who ruled Sri Lanka with an iron hand with his two brothers and promoted his family, did not tolerate any opposition. Kidnappings and killings of opponents was common during his time. The coalition victory of Sirisena and Wickremesinghe was welcomed as a new beginning by many eager citizens. Unfortunately, the attempt at cohabitation did not work.
However, the former strongman's return will be viewed with mixed feelings. Many people, fed up with the daily squabble between the President and the Prime Minister and an administration almost paralysed, may welcome the latest development. But Wickremesinghe is unlikely to give in easily. He will fight tooth and nail to regain his position.
Delhi will be watching developments in Colombo with growing concern. Modi's  'neighbourhood first' policy, which was much praised in 2014, has been a major disappointment. Forget Pakistan, where things have steadily gone from bad to worse, there has been little improvement with other countries in the region. Bangladesh has been a good friend, but that may come under strain as the Modi's Bharatiya Janata Party (BJP) stokes the issue of illegal migration from that country. BJP president Amit Shah has termed the so-called illegal migrants as "termites'' that are eating into the vitals of the country.
Modi's visit to Nepal soon after assuming office was a major success. People loved the new Indian Prime Minister who touched the right buttons during his speech to lawmakers in Parliament. But as Delhi batted for the Indian origin Madhesis when the new Republican Constitution was announced and resorted to a economic blockade of the land-locked nation, ties with Nepal took a serious knock. A desperate Nepal turned to China. Ordinary Nepalese were angry because of the hardship they faced. There was no kerosene, no oil, no cooking gas, and shortage of medicines. This besides other necessities. Once the crisis was over, India is alleged to have ensured that the pro-China Prime Minister K.P.Oli was removed. Unfortunately for Delhi, Oli came back with a massive majority. India now has to begin wooing Nepal all over again, for its short-sighted policies. In Bhutan, too, the Prime Minister who was seen as close to India, has been defeated.    
Rajapaksa's return to the centre-stage will be seen as another pro-China leader in India's immediate neighbourhood. India's security establishment love the 'string of pearls' cliché when it comes to China trying to hem in India with ports in the vicinity.  So it is Gwadar in Pakistan, the Colombo Port Project and Humbantota in Sri Lanka, a deep sea port in Myanmar, and its large footprints in the Maldives.
India once regarded Rajapaksa as a friend. During Sri Lanka's campaign against the LTTE, Delhi went out of its way to help the then President. The Indian Navy kept vigil and reported every movement of the LTTE in the Arabian Sea and the Indian Ocean. Intelligence was passed on to the Sri Lankans though Delhi refused to help with lethal arms. It was only after reports of human rights violations during the last days of the military campaign trickled out that India gradually changed its views. With Delhi cooling off and a cash-rich China ready to fund massive infrastructure projects in Sri Lanka, the Indian establishment changed its support for Rajapaksa. Analysts in India keep raising the point about Rajapaksa giving the Humbantota project to China. Most forget that Humbantota port was first offered to India. There were no takers here.
As former Indian foreign secretary Shiv Shankar Menon once pointed out, as both India and China develop, they will "circle each other's neighbourhood'' and establish their presence in the vicinity. As Delhi seeks out Vietnam and Japan, China will work towards exploring Sri Lanka, Nepal, Maldives and other countries. China with its ready cash flow and a reputation of delivering projects in time will certainly score in the neighbourhood.  
(Seema Guha is a senior journalist covering foreign policy and was posted in Sri Lanka for three years. The views expressed are personal).
Get the latest reports & analysis with people's perspective on Protests, movements & deep analytical videos, discussions of the current affairs in your Telegram app. Subscribe to NewsClick's Telegram channel & get Real-Time updates on stories, as they get published on our website.
Subscribe Newsclick On Telegram