Why Udhayanidhi's Sanatan Dharma Remarks Should not Surprise BJP
BJP's stand against the DMK leader on Sanatan Dharma negate the vision of Vivekananda, Gandhi and Ambedkar.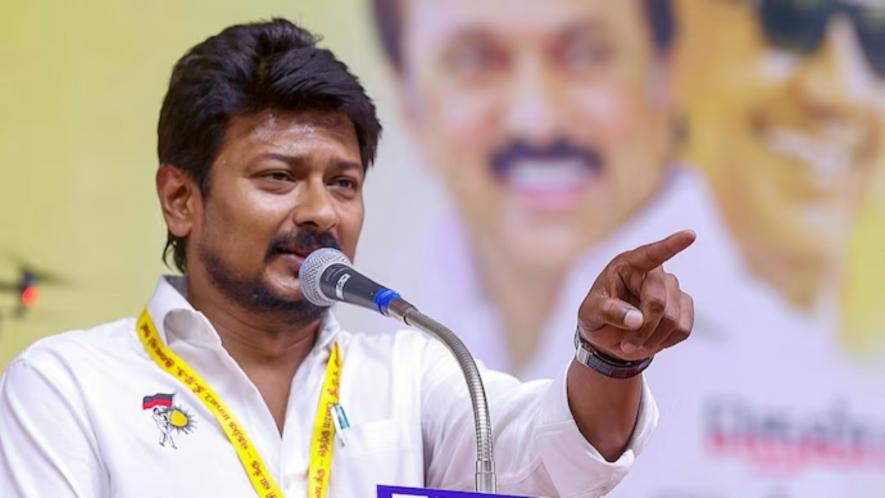 Tamil Nadu minister Udhayanidhi Stalin. Image Courtesy: PTI
On 2 September, Dravida Munnetra Kazhagam (DMK) leader and Tamil Nadu Youth Welfare and Sports Minister Udhayanidhi Stalin addressed the 'Sanatana Ozhippu Maanadu' or Sanatana Abolition Conclave, organised by the Tamil Nadu Progressive Writers and Artists Association. At the event, he congratulated the organisers for their bold stand on 'eradicating Sanatana Dharma', a radical departure from their earlier approach to opposing Sanatana Dharma.
"There are certain things," Udhayanidhi said, "which we have to eradicate and cannot merely oppose." In this context, he said, "Mosquitoes, dengue, corona [virus] and malaria are things we cannot oppose—we have to eradicate them. Sanatanam is also like this. Eradication, and not opposing, Sanatanam has to be our first task," he asserted.
The sharp words caused a stir, but they were in sync with the theme of the conference, organised every year. This year, the association decided that instead of opposing Sanatan Dharma, it would emphasise its eradication to address persistent centuries of problems it has created, such as degrading the status of women and condoning the brutal discrimination of those born on the lower rungs of the caste hierarchy.
Rigid Sanatan Dharma Targets Women and Non-elite Castes
Udhayanidhi said that since Sanatan Dharma is "eternal" and immutable, therefore, as the core of Hinduism, it has attained an exalted status, which none can interrogate or alter. Such rigidity stifled people within the bounds of caste, perpetuated inequality and oppression, and snuffed out liberality.
Sanatan Dharma, he explained, "...pushed women who lost their husbands into the fire [the erstwhile practice of Sati]... tonsured widows and made them wear white saris" and upheld child marriages.
BJP Stand Against Udhayanidhi Political
The BJP and its leaders criticised Udhayanidhi for drawing a parallel between Sanatan Dharma and "mosquitoes, dengue, corona and malaria" and demanding its eradication. BJP's IT cell chief Amit Malviya gave his remarks a bizarre twist, saying it was a call for the "genocide" of Sanatanis, who, according to him, is "80% [of the] population of Bharat".
Union Home Minister Amit Shah said in a speech at a rally in Rajasthan that Udhayanidhi's words about Sanatan Dharma reflect the views of the opposition alliance, INDIA, of which the DMK is a member. "For vote bank and appeasement politics," Shah said, "These people have called for the eradication of Sanatan Dharma". He described the remarks as an "insult to our culture, history".
Even Prime Minister Narendra Modi urged his ministers to respond to the Sanatan Dharma "debate", and reportedly, FIRs have been filed against Udhayanidhi in Uttar Pradesh.
The BJP's aggressive response aims to mobilise people in the Hindi heartland on religious issues to create a Hindu monolith for electoral purposes while perpetuating the differences and discriminations in the name of Sanatan Dharma in the daily life of those who subscribe to Hinduism. There's no doubt that caste barriers have caused deep fault lines within Hinduism, but these cannot be filled up unless the discrimination inherent in caste hierarchy is removed.
Tamil Nadu BJP president K Annamalai also accused Udhayanidhi of making statements that amount to destroying temples and killing followers of Sanatan Dharma. He rejected the charge that Sanatan Dharma never stood for caste rigidities and, oddly, attributed caste to Christianity.
Udhayanidhi has stood by his remarks and clarified that the Dravidian Movement is based on equality and social justice, ideas central to governance in Tamil Nadu, and sharply contrasting Hindutva based on Sanatan Dharma.
DMK Always Opposed Sanatan Dharma
It is quite strange that the BJP is targeting the DMK and the INDIA alliance for expressing views which are well-known and not new. It seems the BJP has developed selective amnesia over its 1999 alliance with the DMK, which brought the southern party into the National Democratic Alliance (NDA) fold when Atal Bihari Vajpayee was prime minister. The stand of the DMK against Sanatan Dharma can be traced to the Dravidian Movement, which commenced in the early 1920s. The DMK has consistently supported upholding equality, equal opportunities and social justice for all, regardless of caste, gender and faith.
Therefore, the BJP leadership targeting Udhayanidhi and his party over his remarks against Sanatan Dharma reveals its partisan and shallow approach.
Swami Vivekananda's Stand
Udhayanidhi's remarks on Sanatan Dharma remind of Swami Vivekananda, Mahatma Gandhi and Dr. BR Ambedkar, who made highly critical observations about its customs and beliefs. The shastras, or scriptures, constitute the foundation of Sanatan Dharma. One of them is the Manusmriti, which Ambedkar burnt to reject its endorsement of discrimination against non-elite castes and women.
Possibly, the BJP would not have spared celebrated Hindu monk Vivekananda, who extolled the many attributes of Hinduism (often equated with Sanatan Dharma) but never lost an opportunity to criticise how it degraded a section of its followers. In a letter from the United States on 18 August 1893 to his disciple Alasinga Perumal, Vivekananda wrote, "No religion on earth preaches the dignity of humanity in such a lofty strain as Hinduism". But he bluntly observed, "No religion on earth treads upon the necks of the poor and the low in such a fashion as Hinduism."
Had Vivekananda been writing in India in 2023, the BJP's IT cell would have issued a note condemning him precisely as it has Udhayanidhi.
Gandhi on Sanatan Dharma
The Prime Minister takes pride in saying when he is abroad that he is from the land of Gandhi, but he would have asked his ministers to tear into Gandhi for these words of his: "I will raze to the ground the fort of Sanatanists with dynamite if all the untouchables are one and united."
Gandhi also said, "I want that the entire untouchable community should unitedly rebel against the Sanatanists." Those were his remarks on 22 September 1932 during a discussion with Dr BR Ambedkar on separate electorates for the Depressed Classes, which Gandhi opposed. Nevertheless, the Hindutva brigade and BJP leaders would have thrown many FIRs and threats to his life if he had spoken in 2023.
Gandhi's remarks resonate in Udhayanidhi's beliefs about the need to wipe out Sanatan Dharma.
Indeed, Gandhi called himself a Sanatani Hindu while relentlessly campaigning against untouchability on that ground. He fought for Dalit entry into temples and respect for all faiths. He often said that if untouchability persists, Sanatan Dharma would be wiped out.
On many occasions, Gandhi was physically attacked for pursuing his ideals. In a letter to Amritlal Thakkar, he wrote, "Let Hinduism perish if the so-called sanatanists fail to wake up and, in their vanity, resort to goondaism with the help of the masses."
Gandhi's words assume greater significance in the context of the threats to Udhayanidhi, including the announcement that Rs 10 crore would be paid for beheading him.
BR Ambedkar on Sanatan Dharma
In 1937, Dr BR Ambedkar wrote his historical speech, "Annihilation of Caste", published a year later, along with the statement that "dynamite" should blow up the scriptures which constitute the foundation of Sanatan Dharma. He said that reformers who used reason and morality to change society along progressive lines have found that the defenders of caste cannot explain if it is in accordance with reason and morality.
Ambedkar, therefore, wrote, "If you wish to bring about a breach in the system, then you have got to apply the dynamite to the Vedas and the Shastras, which deny any part to reason; to the Vedas and Shastras, which deny any part to morality." "You must destroy," Ambedkar wrote, "The religion of the Shrutis and the Smritis."
Had Ambedkar been alive today, he would have, apart from facing court cases under stringent provisions, received threats to his life.
Annihilation of Caste specifically asks to eschew Sanatan Dharma and accept alterations to bring it in tune with social change and progress. He believed Hindu society's progress must be anchored in the evolution of its traditions. He said, "The Hindus must consider whether the time has not come for them to recognise that there is nothing fixed, nothing eternal, nothing sanatan; that everything is changing, that change is the law of life for individuals as well as for society."
"In a changing society," Ambedkar said, "There must be a constant revolution of old values, and the Hindus must realise that if there must be standards to measure the acts of men, there must also be a readiness to revise those standards."
These powerful observations from the mid-1930s resonated in Udhayanidhi's statements that Sanatan Dharma, with its unchangeable attributes, made the Hindu social system rigid and perpetuated inequality and oppression through caste, which remains immune to annihilation for it is considered as Sanatan.
Of late, BJP leaders, including Prime Minister Modi, have embraced Ambedkar and claim that while the Congress marginalised him, they have given him a pride of place in contemporary history. Can Modi pay heed to Swami Vivekananda, Gandhi and, above all, Ambedkar, who criticised Sanatan Dharma's inequality and injustice?
Those who opposed changes to Sanatan Dharma even opposed the reforms initiated in the nineteenth century by stalwarts like Raja Rammohan Roy, Swami Dayananda Saraswati, Narayan Guru and many others. By opposing Udhayanidhi's statements on Sanatan Dharma, the Prime Minister is taking a stand against India's constitutional vision and the world view of great reformists, including Swami Vivekananda, Mahatma Gandhi and B R Ambedkar.
The author was Officer on Special Duty to President of India KR Narayanan. The views are personal.
Get the latest reports & analysis with people's perspective on Protests, movements & deep analytical videos, discussions of the current affairs in your Telegram app. Subscribe to NewsClick's Telegram channel & get Real-Time updates on stories, as they get published on our website.
Subscribe Newsclick On Telegram