Why it is Wrong and Unfair to Label Abbas Siddiqui as Communal
By aligning with the Indian Secular Front leader, the Left has been quick to identify the socio-political phenomenon he represents.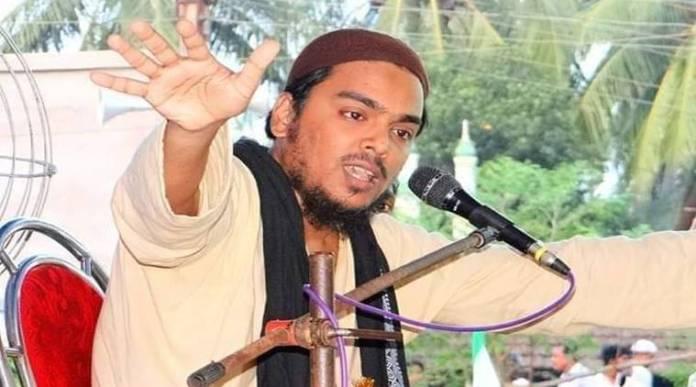 Abbas Siddiqui. Image Courtesy: The Indian Express
The political emergence of Abbas Siddiqui, one of the pirzadas or custodians of the revered Sufi shrine of Furfura Sharif, in West Bengal's Hoogly district, has evoked a stereotypical response. Siddiqui was quick to be dubbed as communal, as were also those who have entered into an electoral alliance with him—the Left and the Congress—for the forthcoming West Bengal Assembly election. The sharpest barb came from Congress leader Anand Sharma: "Congress cannot be selective in fighting communalists but must do so in all its manifestations, irrespective of religion and colour."
Irony died a thousand deaths when Rantidev Sengupta, the editor of Swastika, a Bengali organ of the Rashtriya Swayamsevak Sangh, said, "What the Left has done [aligning with Abbas] is unpardonable. They have created space for a fundamentalist and regressive force in mainstream politics…" For an organisation that has a long history of fomenting communal polarisation, the RSS and its affiliates, including the Bharatiya Janata Party, cannot possibly certify who is communal or secular. Few have pointed to the Sangh's duplicity on this count.
The growing dominance of Hindutva has spawned a political climate in which anyone bearing a Muslim name, sporting a beard and skull cap, and wishing to participate in politics is invariably labelled communal. Abbas is acutely aware that he runs the risk of being stereotyped. In a recent speech directed at Hindus, he asked: Did Muslims ever view West Bengal Chief Minister Mamata Banerjee or her predecessor, Buddhadeb Bhattacharjee, as Hindu? No, Muslims never did, Abbas said.
He then asked another question: "So today, will you only consider me a Muslim because I wear a skull cap?" He said his religious belief warranted that he wear the skull cap. "I have entered politics and I am inviting non-Muslims, the poor, Dalits and adivasis [to join me]. They are responding to my call. Some people are branding me as Muslim, isolating me and furthering the division in the society," he explained.
The skull cap has become one of the defining symbols of communalism in contemporary politics. This begs the question: What is communalism? To put it simply, communalism has one religious community strive to appropriate the rights of another religious group, either by subjugating or terrorising its members.
Communal politics exists in relation to another community. It is a form of politics that deliberately crafts or aggravates conflicts between religious groups. A person's religiosity does not make him or her communal. Mahatma Gandhi was religious—but not communal. He regularly invoked religious symbols to mobilise the masses, and quoted from the sacred texts of all religious communities to build a harmonious India.
It is from this perspective Abbas needs to be evaluated, whether he is communal or a religious leader who has chosen to enter politics. Such an exercise must take into account the Furfura Sharif tradition, which his great grandfather, Abu Bakr Siddiqui, inaugurated. Born in 1846 in Furfura Sharif, Abu Bakr received the bateni or spiritual knowledge from "Sufi Master" Sufi Syed Fateh Ali Waisi, and then went on to establish the Silsila-e-Furfura or the Order of Furfura Sharif, which emphasised Khidmat-e-Khalq or serving the people.
The Furfura tradition
In a fascinating account, "Pir Abu Bakr of Furfura Sharif: His role in the Socio-Religious Reform of Bengal", academician Abdul Matin identifies four areas in which the saint from Furfura had an enduring impact. He was an educationist who established a string of madrassas and patronised more than a dozen Bengali weeklies and socio-religious journals, all of which discussed hot-button contemporary issues such as the menace of dowry, exploitation of agriculture labour by landlords, the importance of girl education, rights of women, etc. These interventions earned him the sobriquet of muzaddid or reformer.
Bakr redefined the politico-religious consciousness of Bengali Muslims. Certain Islamic sects had forbidden the offering of Friday and Eid congregational prayers on the grounds that British India was Darul Harb or the land of infidels, not the land of Islam or Darul Islam, where congregational prayers, according to them, were only permissible. No, argued religious leaders like Bakr, who said India was Darul Aman or the land of peace, where all religious communities lived together harmoniously. He took to organising congregational prayers in rural Bengal, thus bolstering the idea of composite nationalism. Bakr also participated in the Khilafat movement. Matin quotes from one of his speeches thus: "India is like a giant tree, Muslims, Hindus and Sikhs are the roots of the tree. If any community is not safe the country won't be safe."
Bakr's most enduring legacy was his construction of a religious-linguistic identity for Muslims in Bengal. A Muslim in Bengal spoke and wrote in Bengali, in contrast to their brethren elsewhere in the country, barring Tamil Nadu and Kerala, adopting the Urdu language as their mother tongue. An editorial in Nabanur, a newspaper patronised by Bakr, noted, "Those who want to make Urdu the mother-tongue of Bengali Muslims are trying to attain the unattainable."
As in Tamil Nadu so in Bengal, the choice of language also had a caste dimension. The Ashrafs, or the upper-caste Muslims, patronised Urdu. The Ajlafs, or lower-caste converts to Islam, conducted their business of life in Bengali. At Partition, both the Urdu- and Bengali-speaking elite Muslims migrated to East Pakistan (now Bangladesh), leaving the Furfura Sharif with followers largely drawn from Bengali-speaking lower castes.
It is hard to tell whether political expediency has had Abbas to try through his India Secular Front to establish solidarity between Muslims and Hindu lower castes and adivasis. The ISF has as its president Simul Soren; all the ten organisations represented in the Front articulate the interests of subaltern Hindu groups. Yet it can also be said that Abbas's quest to forge unity between Muslim and Hindu marginalised groups, both Bengali speakers, is in sync with the Furfura Sharif tradition, obviously, repackaged for electoral politics.
Shades of grey
Abbas has acquired notoriety for his controversial statements. For instance, he said Nusrat Jahan, the Trinamool MP and actor, earned money by "showing [her] body." The reprehensible nature of his chauvinism was rightly condemned.
Abbas was also derided for wishing that the Novel Coronavirus epidemic should kill crores of Indians, although he claims the unedited video shows him saying that the virus was a disease sent by god, and that he beseeches god to save the poor and the weak—and kill those who oppress and loot them. Before he entered politics, Abbas would, quite incredibly, harp on the reality of miracles and exalt Islam, forgetting that his own religion frowns upon hereditary succession to religious leadership of which the pirzadas, including him, are products.
Conservatism, a dash of obscurantism and intemperance are not unique to Abbas. The Indian political class has a remarkable array of men given to issuing statements that demean women, communities and professions. Union Minister VK Singh had made it a habit of referring to journalists as "presstitutes." A string of BJP leaders have often equated Muslims with Pakistanis. During last year's lockdown, there were many who believed the epidemic could be neutralised by beating thalis and lighting candles.
Such citations are not designed to carp at the critics of Abbas, but to point out that their portrayal of him as communal glosses over the fact that he represents the disquiet among the Muslims regarding their lack of representation, marginalisation and the failure of the Opposition to counter the BJP.
His rhetoric, his politics
An analysis of his speeches shows Abbas depicts the BJP as an "enemy" of both the Muslims and the country. In an interview to SNAP TV, he said the BJP is bad not only for Muslims but also for farmers, Dalits, poor Hindus. His opposition to the BJP, therefore, should not be construed as a battle between Muslims and the BJP, he argued.
Abbas often blames Chief Minister Mamata Banerjee and her Trinamool Congress for allowing the BJP to strike roots in West Bengal. She participated in Muslim religious congregations and visited devotees offering Eid prayers. These are the activities of maulanas and muftis, he argues. Instead of engaging in such tokenism, her government should focus on generating jobs, health and educational facilities. "It is because of her politics of appeasement the Hindu brethrens have acquired wrong ideas about Muslims," he said in one speech. Her actions created a Hindu-Muslim fissure, which the BJP has exploited.
A video of Abbas's speech at Diamond Harbour has him ask those in the audience who had voted for the Trinamool in the last election to raise their hands. He tells them that they too are to blame for Hindutva's rise, as the MLAs they elected have deserted the Trinamool and joined the BJP. A tourist in a new place would be lost without a guide. So would have been the BJP in West Bengal without Mamata's guidance, Abbas says.
The ISF leader has accused Banerjee of belying the promises she made to the community—for instance, opening up educational institutions in Muslim-dominated areas, and implementing the 15% reservations that the Sachar Commission had proposed for Muslims. At an India Today conclave, he said Muslims constituted just 3.2% of teachers in the University of Calcutta and 4% in Vidyasagar University, Paschim Medinipur, nowhere near West Bengal's Muslim population of 27%.
But refreshingly, Abbas sees the denial of adequate representation through the prism of class. Sample this statement of his: "Of all the poor in India, the Hindus are the largest group in terms of absolute numbers. Muslims are only 14%. Why are they poor? They have not been deprived by any Muslim. All the CMs and PMs have been Hindu, then why are our Hindu brothers poor. The Hindu-Muslim binary is used to divide the people."
Tapping Islam
Abbas's rhetoric to cement unity between Hindus and Muslims is filtered through the Islamic religious tradition. In one speech, he says, "If you believe Allah is one, then you must believe that every creation is the creation of Allah. Serve Allah's creation and Allah will be happy. Love everyone, care for fellow humans."
This is an example of harnessing religion to unite rather than divide people. In a political meeting of the Indian Secular Front, Abbas said its politics should animate with Rashtra Seva (service to the country) and Rahstrabashir Seva (service to countrymen), highlighting the dimension of constructive social work in politics. Service, as is clear, does not mean working for Muslims. In a sense, his ideas rejig those of his great grandfather, Abu Bakr.
There are often references in his speeches to Prophet Mohammad asking Muslims to do good deeds, which, according to Abbas, should have them contribute 5% of their daily income to ensure no person sleeps hungry. With the informal sector ravaged by the Covid-induced lockdown and the economy shrinking, his suggestion to take care of the hungry is designed to appeal to the workers in the informal sector.
It is ethereal that a man such as Abbas should venture into politics. The pirzadas of Furfura Sharif, in the past, had largely kept away from participating in politics, preferring to back secular parties, often communicated by word-of-mouth to its followers, and focussing on religious sermons and social work. The break came with Toha Siddiqui, a grandson of Abu Bakr and uncle of Abbas. He openly aligned with Mamata 10 years ago, and still remains hitched to her bandwagon even though occasionally critical of her policies. Abbas has swung to the political pole represented by the Left.
The generational rift
Abbas has, however, gone a step further than Toha: He thinks, as his speeches testify, that religious leaders do have a role in the socio-political life. He harps upon community representation, but locates it in the matrix of class politics. Indeed, Abbas speaks of bhagidari or share not only for Muslims, but also for Hindu lower castes. In a 24 January meeting, he invoked Ambedkar to exhort the Matuas, other Dalit subgroups and Muslims to unite—and to also oppose the three new farm laws.
The rupture in the Furfura Sharif is generational. Toha represents the older generation that believed in fostering a patron-client relationship with the party ruling West Bengal. It was a lot about the government providing security to Muslims, and a token representation in employment.
The emerging Muslim consciousness regarding representation and equity is linked to the protest against the Citizenship Amendment Act. Around the country, a group of educated Muslim youth stepped forward to spearhead that protest, filling the leadership vacuum and quickly mastering the grammar of oppositional politics.
Abbas is just 34 years old, precisely the generation that constituted the vanguard of anti-CAA protests. He, more than Toha, embodies the rising aspirations of young Muslims, who want a stake in governance, without diluting their Muslim identity—and by forging alliances with other marginalised social groups.
Abbas is an enigma, as any person vaulting from the purely religious realm to the fuzzy political arena would be. For one who spoke in religious idiom, he has overlaid his rhetoric with the political, the latter increasingly taking precedence over the former ever since he entered into the alliance with the Left. On the touchstone of what is communal, his politics does not warrant such a label, as his claims to rights are not at the expense of other religious communities. Abbas represents a new phenomenon that the Left was quick to identify and bring under its umbrella.
Ajaz Ashraf is a freelance journalist based in Delhi. Zaad Mahmood is Assistant Professor, Presidency University, Kolkata. The views are personal.
Get the latest reports & analysis with people's perspective on Protests, movements & deep analytical videos, discussions of the current affairs in your Telegram app. Subscribe to NewsClick's Telegram channel & get Real-Time updates on stories, as they get published on our website.
Subscribe Newsclick On Telegram