Will Entry of 2 New Parties Tilt the Caste Balance Ahead of MP Assembly Polls?
The emergence of these parties, led by ex-bureaucrats, dent the vote bank of all political groups in several regions.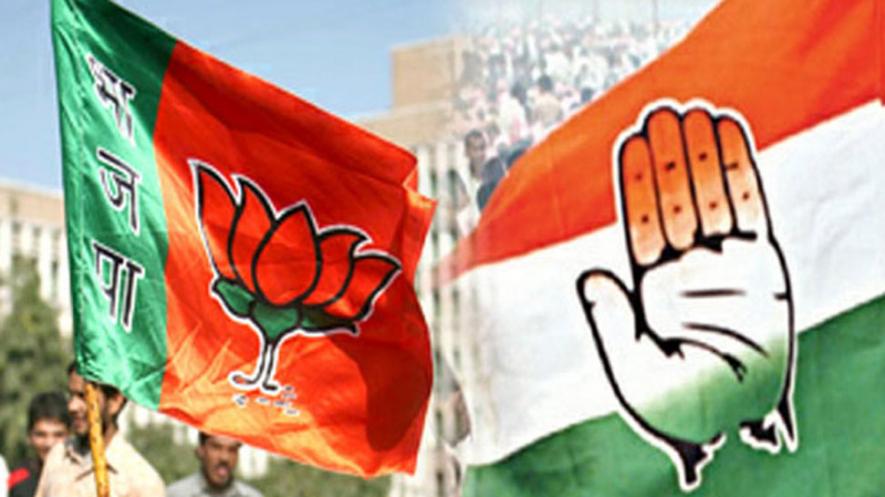 Two caste-based political parties – Jai Adivasi Yuva Sangathan (JAYS), led by a former AIIMS doctor, and Samanya Pichhda Alpsankhayak Kalyan Samaj (SAPAKS), led by former bureaucrats – will contest the upcoming assembly elections in Madhya Pradesh.
 
JAYS is a Tribal outfit party founded in 2012. It claims to have 10 lakh members in Madhya Pradesh, Odisha, Chhattisgarh and Jharkhand, and is reportedly planning to contest election from 80 seats in the Tribal-dominated areas. SAPAKS, which is led by mostly retired upper caste government officers, has been protesting against the amendment in SC/ST Atrocities Act, and claims to have six lakh volunteers and massive support from among the 54 per cent upper caste voters – including general, OBC and minority. It has announced to float the political party on October 2.
The entry of these two political parties into the state politics has caused the veteran parties from the state – the BJP and the Congress – to raise the eyebrows.
SAPAKS
With an eye on a strong upper caste vote bank, and to show strength before the election, SAPAKS held a rally in the state capital on September 30. They announced their entry into the political arena of the state, and announced to fight election from all 230 seats in the state. Its supporters, in huge numbers, thronged the venue of the rally, donning black clothes and side caps with the slogan 'hum hai maai ke laal (we are brave sons)'.
The outfit has been protesting against both the Bharatiya Janata Party (BJP) and the Congress for their stand on SC/ST Atrocities Act. Earlier, SAPAKS had made its strength felt with a bandh on September 6, and subsequently had organised a rally in Ujjain.    
 
Speaking at the rally, without taking name of any political party, SAPAKS patron Hiralal Trivedi said, "Those who do not listen to us will not rule in MP and in Rajasthan. We need equal rights as granted by the Constitution. We are not against SC/ST Atrocities Act, but (we are against) the amendments made to it."  
Speaking to Newsclick, Trivedi said, "We are focussing on anti-reservation votes and those among reserved class, who are deprived of reservation-based benefits due to vested interests of the creamy layer class. Apart from the upper class, there are 6.6 per cent minority votes and a few per cent of underprivileged, who have been denied their rights."
JAYS
JAYS first grabbed the limelight in 2013 when it held country's first ever Facebook panchayat in Alirajpur district followed by a similar event in Barwani in 2014.
The party, on October 2, is going to organise a Kisan Mahapanchayat at Kukshi in Dhar district where former Congress MP and Bollywood actor Govinda is expected to participate.
JAYS is likely to announce the first list of its candidate at this panchayat. Bollywood actor Mithun Chakraborty and Nana Patekar have also agreed to address public meetings of JAYS in the near future, claimed a party leader.
"We are using the slogan 'Abki baar, Adivasi Sarkar (This time, it will be a Tribals' government)' and would form the next government by fielding candidates on 80 seats," said Dr Hiralal Alawa, convener, JAYS, who works as an assistant professor of rheumatology at AIIMS, New Delhi.
When asked how the party will achieve the minimum count of 116 MLAs to form the government, Dr Alawa said the they that would seek support from the like-minded parties except for BJP, which according to him, did not offer any development to the Tribal areas that were plagued with problems like malnutrition, migration, lack of jobs, education, health crises and dearth of power supply in the last 15 years.
He added that the ethnic population had around 21 per cent vote share in MP and 47 Assembly seats were reserved for the ST community; the community also has a representation of more than 40,000 at 40 unreserved seats.
"We plan to contest 80 seats in MP. An alliance with the Congress was discussed, but they have, so far, not taken any positive step. We gave them time till October 2. Now, we are ready to hit the ground," said Dr Alawa.
Attacking the Shivraj Singh Chouhan-led BJP government for distributing shoes and slippers laced with cancerous chemicals among the Tribals, the organsiation demanded that FIRs be filed against officers responsible for the goof-up.
Alleging that the BJP government hasn't offered Tribals their due Constitutional rights and possession of land under the Forest Land Rights Act, Dr Alawa claimed that the Tribal land was handed over to Birla group in Dhar. He added that hundreds were displaced in Barwani and Khargone. He further alleged that in Hoshangabad, several people were dislodged on the pretext of a tiger reserve.
"Of the 47 reserved seats, BJP has won 32 seats, but did nothing for the Tribal community. On the World Tribal Day, he had visited Tribal areas and had lured the voters with their fake claims, but no one will fall in his trap now," he said.
Will it be a game-changer?
The emergence of these organisations could make a serious dent in the vote bank of all political groups in regions like Bundelkhand, Chambal, Vindhya and parts of Malwa, Dhar, Balaghat where caste-based politics plays a big role rather than local issues in deciding fate of candidates.
However, "The BJP believes in development and do not support caste-based politics. The Congress always plays caste politics and this time too, it is trying to provoke caste groups against the BJP. But, voters are aware of the development agenda of the BJP, and will not favour any organisation, even SAPAKS, fighting elections on the basis of caste," said BJP state spokesperson Deepak Vijayavargiya.
He said the BJP also supports the reservation facility given to the marginalised and underprivileged through the Constitution, and would continue to support and advocate the same.
According to the party sources, the election office has agreed to issue a temporary election symbol to SAPAKS for the assembly elections.
Sources said that with the involvement of regional leaders, equation has changed, ahead of the assembly elections. Government employees and their family members, who constitute almost 1.5 crore, have launched a statewide campaign against the party making anti-reservation struggle as its main plank.
However, political analyst Girija Shankar refuted all the claims by both the parties. He said, "Before every election, such parties emerged, and made tall claims, but it will not have much effect on the election."
With BSP losing 6.5 per cent vote share in the last assembly polls, as the Gondwana Gantantra Party, with representation among the Tribals pocketed 1 per cent vote share, JAYS throwing its hat in the ring might not be a good news for the BJP.
Get the latest reports & analysis with people's perspective on Protests, movements & deep analytical videos, discussions of the current affairs in your Telegram app. Subscribe to NewsClick's Telegram channel & get Real-Time updates on stories, as they get published on our website.
Subscribe Newsclick On Telegram