Will the Koreas be Able to Ignore the United States?
Both North and South Korea are unlikely to take orders from Washington, but the Trump administration is not making it easy to build peace on the peninsula.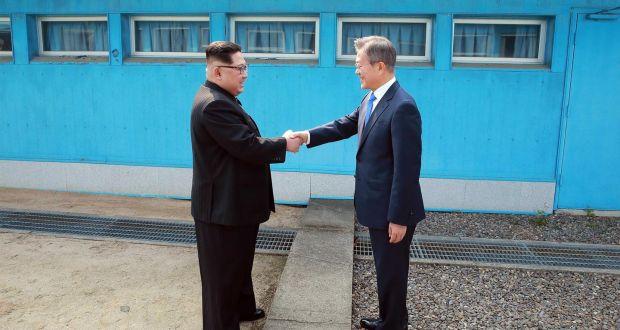 SEOUL (South Korea): A former South Korean diplomat, an old friend who spent a generous amount of his career in the world of trade and development, meets me in his home in Seoul. A consummate diplomat, he does not want to go on record because – even though he is retired – he has not been authorised to speak.
I am interested in the ongoing process to bring down the tension across the Korean peninsula (for context, see the Dossier from Tricontinental: Institute for Social Research). Last time I met my friend, North Korean premier Kim Jong-un and US President Donald Trump were in a war of words. Trump threatened to send a fleet of US warships to garrotte the North Korean regime. It was a terrible time, but he cautioned me then: war is not on the horizon. Nor now, he says, as freedom of movement across the demilitarised zone has opened up and as mine-fields are being unearthed.
At a Wall Street Journal conference last week, US national security advisor John Bolton fumed about North Korea. Bolton has often called for a US military strike on the north, including a decapitation strike against the leadership. This is serious stuff. Bolton is a hard-headed man who wants the United States to go to war against Iran and North Korea, Venezuela, Cuba and Nicaragua. This is in addition to the ongoing US operations in several other countries, including Afghanistan – the war that does not end. At the conference, Bolton said of North Korea, 'They have not lived up to the commitments so far'. A second Trump-Kim meeting – if it is to happen – will include, Bolton said, a discussion about the fate of the agreements made in Singapore in June 2018.
Bolton's comment disturbed sober-minded people like my friend. He felt that this sends precisely the most bellicose message to both North and South Korea. There has been serious de-escalation, he said. If the national security advisor says that nothing is happening, and if things are happening, it suggests that there is no point in doing anything. The incentive for the North whittles down to nil and the hawks in the South are emboldened. There are, against all logic, hawks in South Korea who do not want any talks or any de-escalation. For them, says my friend, the only thing is a precipitous fall of the North Korean government and the seizure of the territory by the South. Neither is this going to occur, nor will it be allowed by China, which does not want what is essentially a US proxy state on its border.
In August 2018, US Secretary of State Mike Pompeo chose an automobile executive Stephen Biegun to be the Trump administration's point person for the negotiations. Biegun's counterpart in North Korea is supposed to be the Vice Minister for Foreign Affairs, Choe Sun Hui. When Biegun went to Pyongyang (North Korea) in October, Choe Sun Hui was in China.
My friend says that North Korea understands that its link to China and Russia is its shield. Neither the Chinese nor the Russians will permit the United States to conduct military action against North Korea. I ask if the Russians or the Chinese might send in aircraft as the Russians did in Syria in 2015. He believes that neither Moscow nor Beijing would like the situation to escalate so far. They will use all back channels to make it clear to the United States that they will not permit a major attack on the North.
One of the downsides of the slowed talks between the United States and North Korea is that it is unlikely that Kim Jong-un would come to South Korea to pursue bilateral talks. Pressure on South Korea's liberal government of Moon Jae-in is quite fierce, says the retired diplomat. He empathises with President Moon, whose agenda is full – including tackling a serious problem of poverty amongst South Koreans over 65 years of age (half live in poverty) and an equally serious problem of the corrupt nexus between the state and corporations. Moon and his government, however, are totally committed to the peace process. It is unlikely that they will take their orders from Washington. But the Trump administration is not making it easy to build peace on the peninsula.
Get the latest reports & analysis with people's perspective on Protests, movements & deep analytical videos, discussions of the current affairs in your Telegram app. Subscribe to NewsClick's Telegram channel & get Real-Time updates on stories, as they get published on our website.
Subscribe Newsclick On Telegram