'Will not Forgive,' say DU Students, Teachers Demanding Judicial Probe Into Ad-hoc Teacher Displacements
The students and teachers remembered Samarveer Singh, an ad hoc teacher who committed suicide after displacement.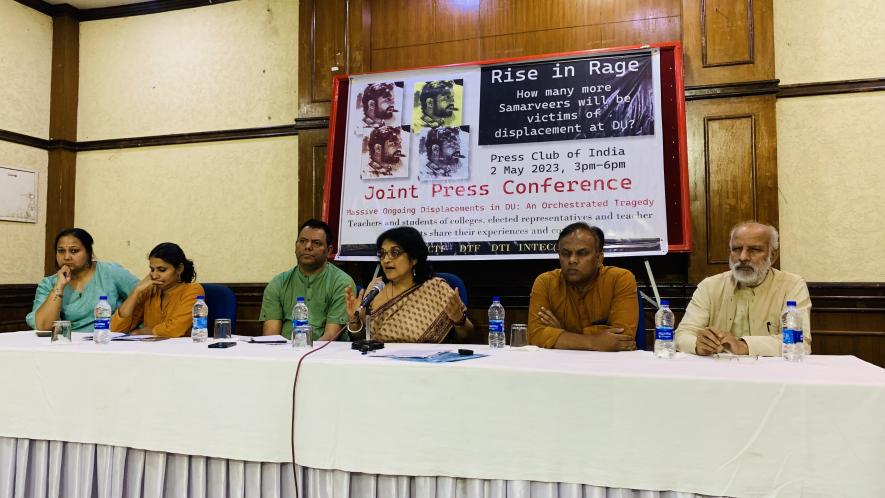 Delhi: The students and teachers of different colleges of Delhi University demanded a judicial probe into the displacements of ad-hoc teachers amid allegations of favouritism and large-scale corruption. The teachers' bodies maintain that 465 out of 615 interviewed teachers were displaced in the latest round of interviews.
Addressing a press conference here at the Press Club of India, teachers alleged that candidates with affiliation to the Bharatiya Janata Party and Rashtriya Swayamsewak Sangh are being cleared in two-minute interviews, putting serving candidates with years of teaching experience at peril. 
Remembering Samarveer Singh, an ad hoc teacher who served at the Hindu College for six years and later committed suicide after displacement, the teachers maintained that the current Delhi University administration, in connivance with principals, has created human tragedy beyond repair and turned Delhi University into a mediocre place of learning.
The tragedy was evident in the words of Rusham Sharma and Keshavi, students of Samarveer Singh who remembered him as a teacher committed to the discipline of philosophy. "We hear stories from our teachers that the university was where police could not gather confidence to enter campus. Today, we ask ourselves, if we ever enter academia, what stories would we tell our students? Will they be able to read about Gandhi, Bhakti Movement, Sufi tradition and Charvak?" Sharma said.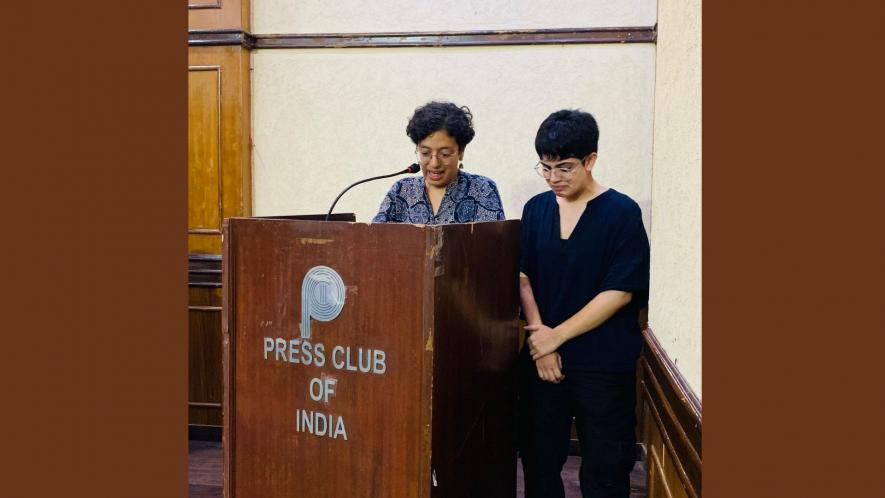 "He would ask us to see films. How could he tell that when he was broken from the inside after being ousted from his job twice? All I can say is that we will not forgive and forget what college administrators did," he added.
Keshavi said that the students organised a condolence cum protest meeting in the college after they heard the news, and added, "No permanent faculty came to express his grief, let alone solidarity."
Ratan Lal, Associate Professor at Hindu College, said that there is a crackdown on dissenting voices with suspension and debar notices. "We are seeing that the principal lost a basic sense of sensitivity and danced at the annual festival Mecca with students. It was happening at a time when a person lost his life!"
He added that there is a pattern where ex-MLAs and teachers affiliated with the RSS are being picked as experts to select candidates during interviews.
Khushboo, a teacher at Hindu College and former colleague of Samarveer Singh, told media persons that he had informed college administrators that he was taking medication for depression. Yet he was not told that he was being enrolled for twenty days in the second phase of recruitment. "We are being told about the loss of academics in the university. Is there a bigger loss than human life? The ad-hoc teachers tolerate abuses of the teacher-in-charge because they fear for their livelihoods. I am longer interested in teaching at Delhi University. The damage has already been done, and it has been turned into a mediocre place of learning," she said.
Nandita Narain, Former President of the Delhi University Teachers Association (DUTA), said that the change in the UGC regulations giving 100% weightage to interviews, unlike in the past when teachers were given points for teaching experience and academic records, points to the intention to provide the Selection Committees full powers to orchestrate displacements.
She added, "It is evident that the Selection Committees are mostly working to further the interest of the ruling establishment. Professors from DU depts are being sidelined and the opinions of teachers-in-charge are being ignored in the decision-making process. Interviews do not last more than two minutes and often border on the absurd with little or no academic content."
"Candidates are humiliated by being asked insane questions. The same set of experts, many with negligible academic merit, are being sent to all colleges. There have also been many allegations of moral turpitude and related misdemeanours. Teachers and students demanded from the University authorities that an enquiry be instituted into these serious allegations and the guilty be brought to book," Narain said.
N Sachin from Dyal Singh College, CTF, said, "The institutional murder of Samarveer Singh cannot be allowed to fade from public memory, and we demand justice for him and others who have lost their jobs. All displaced ad-hoc and temporary teachers must be absorbed against vacancies on which no teacher is currently working. Finally, all speakers agreed that the only acceptable solution is the absorption of all ad-hoc and temporary teachers keeping the constitutional provision of reservation and the reservation roster in mind."
In a joint letter addressed to Vice-Chancellor Yogesh Singh, teachers wrote, "There are very serious allegations of severe politically motivated nepotism and unfair interview process that often borders on the farcical. Candidates have been humiliated during the interview process, mocked and have been asked questions which have no relevance to their academic discipline. Department professors have been sidelined, and the opinion of teachers in charge are ignored, and their opinions are not being taken into account."
The letter added, "The same set of experts is being sent repeatedly to Selection Committees, raising questions about the intent. These issues must be thoroughly investigated, and action must be taken against the culpable. Students across colleges have been protesting against the displacement of some of the best teachers, and this unrest is bound to spread if this mass displacement continues."
The teachers also alleged that there is a blanket ban on ad-hoc appointments without any written instructions, which increases the vulnerability of ad-hoc teachers. The letter further said, "Ad-hoc appointments are not being made against regular vacancies, ostensibly on the basis of verbal instructions by the university. This is totally unacceptable. While the attempt of the institution should be to recruit teachers on a permanent basis against vacancies, ad-hoc appointments should be allowed against leave vacancies, retirements or vacancies which are against variable workload."
"In effect, we are looking at a scenario where guest appointments against full-time posts have become the norm. This is not acceptable as it is neither in favour of institutions nor teachers. While full-time teachers remain available to students and contribute to college through their work on committees, guest faculty are paid for a fixed number of lectures and are not necessarily available to students outside the classroom because of the nature of their appointment," it added.
Get the latest reports & analysis with people's perspective on Protests, movements & deep analytical videos, discussions of the current affairs in your Telegram app. Subscribe to NewsClick's Telegram channel & get Real-Time updates on stories, as they get published on our website.
Subscribe Newsclick On Telegram