Withdraw NEP, It Will Ruin School and Higher Education in Delhi: AIFRTE
The students of different universities, along with their teachers and parents, marched on the streets of the national capital to protest the National Education Policy (NEP) under the banner of the All India Forum for Right to Education (AIFRTE).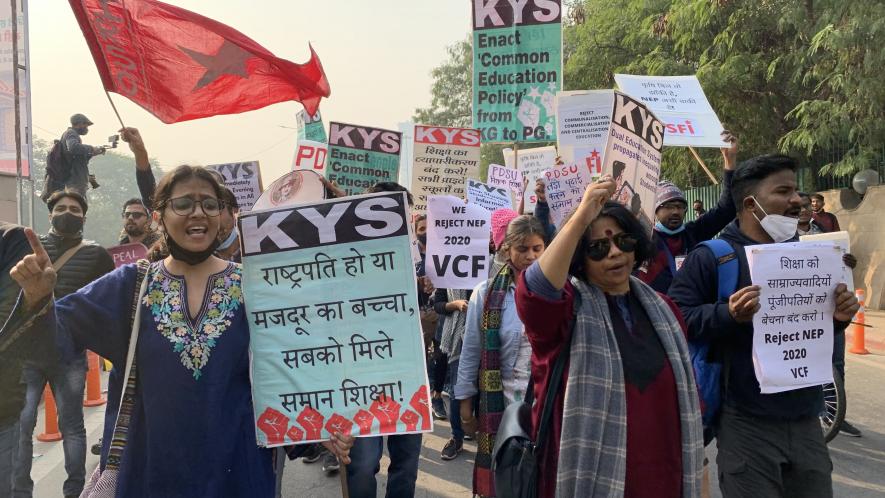 The students of different universities, along with their teachers and parents, marched on the streets of the national capital to protest the National Education Policy (NEP) under the banner of the All India Forum for Right to Education (AIFRTE). The participants, holding colourful banners and placards, maintained that the policy overrides the country's federal structure and encroaches on the territory of state governments. The policy was neither discussed with state governments nor tabled in parliament for any discussion. The framers of the policy did not even discuss such document of national importance to students, teachers and parents.
Firoz Ahmed, who has been teaching the primary students, is concerned that the new education policy overlooks the set precedents of affirmative actions in promotions and imposes a new problematic order.
"For years, We have been seeing that the teachers were promoted due to their seniority, eligibility or constitutional provisions like reservation in promotions. Now teachers were promoted either if they attained seniority or were qualified enough in their education. Suppose I have passed M.Sc. So, I am eligible for PGT promotions automatically. This policy asks the administrators to evaluate teachers on their commitment to the institution. I think it is absurd and problematic to evaluate teachers on these lines. How can somebody be evaluated for his commitment to the institution? It's giving administrators a free hand to hunt down teachers who may not agree to implement agendas of the government. The second problematic aspect is the blended mode of teaching in school education through digital mediums. Our digital education experience remained horrific. Many students were out of formal education and did not learn a single letter because their parents could not afford smartphones or laptops! It is asking for more digital methods in education now," Ahmed said.
Rustom Chauhan, a parent who travelled from neighbouring Sonipat district in Haryana to be a part of the protest, said that lockdown wreaked havoc in daily livelihoods and sending children to private schools became difficult as the schools wanted to recover losses from parents with hefty fees.
"We were already broken when the pandemic hit us. The parents are in a fix now. They do not have money to send children to private schools. If they choose government schools, they look at understaffed classes where a teacher is attending a class of hundred children! To me, the single point of concern remains the absence of word reservation from the entire document. Does this government think that it can do away with Reservations and nobody will speak a word?"
Aarti shared her experience of getting educated through open learning and new education policy, cementing pre-existing inequalities.
"I pursued my graduation and post-graduation in Delhi University through the school of open learning, and I know the humiliation when we were treated like second class citizens in these classes and premises. Four hundred students were attending a crammed classroom where the teacher was inaudible. When you go to other centres in regular colleges, you find shut toilets. With this background, when we hear that NEP is not opening up new colleges, you are hurt. For years, the Delhi University kept cut-offs highest, and it could accommodate 80,000 students only, whereas the applicants were 3,00,000. They applied because they wanted to learn, but governments termed them Nikkame. I say that it is the government which is inefficient and could not open up new colleges to accommodate Dalit, Adivasi, Muslim and omen students."
The memorandum submitted to the Delhi Government officials at Secretariat building in ITO after much protest and resistance read, "NEP 2020 was introduced without any prior consultations with state governments although education is in the concurrent list of the Constitution. NEP was brought into the public domain without any deliberation in the parliament. It was passed during the lockdown, in which all resistance was suppressed. No debate was held with teachers' associations or students' unions, yet the policy is being implemented through administrative and executive orders. It has been used to compound the misery of the working-class people of India. The dictatorial centralisation which has been strengthened by NEP needs to be overturned to establish decentralisation and states' legitimate rights. This requires returning education to the state list."
It added, "Students and teachers bear the brunt of an irresponsibly prolonged school and university closure and struggle for the reopening of their campuses, the NEP makes clear that a major focus of education will be on instruction through digital mode on a regular basis. UGC's notice to conduct 60% learning on digital mode for several courses and the open-ended declaration in the NEP implementation document about having 40% online transaction in school education is part and parcel of the larger plan in NEP. Digitalisation will limit access of the marginalised sections to meaningful education… Instead of showing the way for instituting, enlarging and strengthening the right to education for children below six years and above 14 years, NEP 2020 dilutes the somewhat progressive elements of the RTE Act, such as the 'no-detention policy' ensuring school education till 14 years (class 8) by creating `exit' points to caste-based vocational training at class 3, 5 and 8. It institutes distance learning and centralised exams even for elementary classes. All the talk about early childhood and pre-primary education is empty words which, without ensuring public funding, in fact, amounts to handing over this education to the market forces."
Get the latest reports & analysis with people's perspective on Protests, movements & deep analytical videos, discussions of the current affairs in your Telegram app. Subscribe to NewsClick's Telegram channel & get Real-Time updates on stories, as they get published on our website.
Subscribe Newsclick On Telegram