A Woman of Substance – Remembering Ahilya Rangnekar
On Ahilya Rangnekar's 97th birth anniversary, the Indian Cultural Forum remembers an indomitable fighter for the equality of women, and for all citizens' rights. As a tribute to Rangnekar, we republish Githa Hariharan's piece written a month after Rangnekar's death in 2009.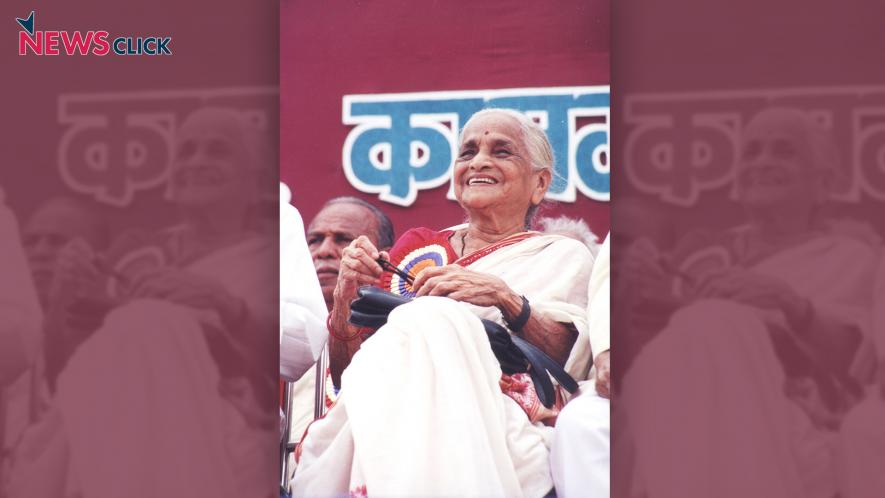 Reading about the death of the veteran activist, Ahilya Rangnekar, in Mumbai last month conjured up several scenes of history — to do with an individual life, but also with reference to the freedom struggle, the growth of workers' and women's movements, and the efforts of a city to divide its opportunities equally among its citizens. One good place to begin this visit to Mumbai's history of political action is Parel, especially because of the deceptive veneer the place has now acquired.
On a recent visit to Mumbai, I went to see a film at one of the multiplex theatres in Parel. Though the film was one of those hyped ones, I've forgotten it entirely. What remains is the shock of seeing a Parel changed so much since my youth that it looked like someplace else. It was very glamorous; but I could not shake off the suspicion that it was delusion. And perhaps this delusion in the present — a Parel that pretends to be all glass and air-conditioned multiplex and corporate park — can only be borne because the mind is capable of a split screen that lets you see the 'then' along with the 'now'. The images of an earlier time, however unglamorous, give the place a sense of history, of soul, of human endeavour; a sense that is somehow woefully lacking in a corporate park or a mall. In short, there is an image, a collective memory, that we should never let go of even if we live in a time when the Phoenix Mills have been transformed into a mall called High Street Phoenix: this hub of textile workers was an important location for progressive ideas and action.
Ahilya Rangnekar was among the most significant activists to play a role in this particular world we need to recall for guidance and inspiration.
In 1943, when she finished her college course, Bombay was a centre of the trade union movement. The Girni Kamgar Union, led by the communists, was well-established in the working-class areas, especially among the textile workers. Ahilya Rangnekar and her fellow activists involved themselves in trade-union work, as well as in a larger political struggle for freedom and democracy. There was also a specific task some of the women activists set themselves; and this was building the foundation of a progressive women's movement. The result was the Parel Mahila Sangh, an organization that brought together, through its working-class membership, pressing issues of class and gender. For example, maternity benefits and higher wages were among the demands that the Sangh won for its members; but it also mobilized them to protest against the rise in prices of common consumer goods.
The leaders and members of the Mahila Sangh also had more dramatic political experiences. During the 1946 Mutiny of the Royal Indian Navy, the trade unions in Bombay called for a strike to express solidarity. The Mahila Sangh women offered more concrete help in the form of the dabbas of cooked food they took to the jetty at the Gateway of India to be smuggled across in boats. And in 1946, when the police opened fire on unarmed textile workers who had gathered from different parts of the city to demonstrate in Parel, Ahilya's sister Kusum Ranadive was hit by a bullet in the leg; so was her friend, Kamal Donde, who later succumbed to her injury.
The years following independence did not see any signs of flagging in the Mahila Sangh's involvement with important issues. One specific experience resonates for us with a rather sad sense of continuity. Led by Ambedkar, a broad front of women's organizations worked to mobilize support for the Hindu Code Bill of 1950 to prohibit bigamy. The conservative sections of the Hindu community — mainly the upper castes and the Rashtriya Swayamsevak Sangh, including Golwalkar — were opposed to the bill. In an interview to Parvathi Menon, Ahilya Rangnekar recalled, "We conducted our campaign from room to room, and floor to floor in Bombay's chawls" even if "conservatives accused us of being against religion." In a heart-warming detail that may cheer many a woman victimized by the likes of the Ram Sena today, Rangnekar describes how a group of angry Mahila Sangh women taught some RSS men a lesson for breaking up a public meeting in support of the bill. The women pounced on some of these men and pulled off their khaki chaddis.
The Parel Mahila Sangh evolved into the more broad-based Shramik Mahila Sangh, which then affiliated itself to the All India Democratic Women's Association. The causes continued to involve a fight for the rights of workers, women, Dalits, slum-dwellers and contract-workers; in short, all sections of the oppressed. And Ahilyatai, as she was popularly known, continued to bring a range of people together on various issues, whether it was through her work for the Mahila Sangh or her work as a corporator in Bombay for 19 years along with her friend and comrade, the socialist leader, Mrinal Gore.
The first time I saw Ahilya Rangnekar, I didn't know who she was. It was 1979, and I was on the streets of Mumbai, or what used to be Bombay. I had never been to such a large public rally before. I felt passionately about the reason for the rally — a protest against the rape of a girl called Mathura by a policeman. But I was a little self-conscious about shouting slogans; I felt some discomfort as if I was only on the margins of the real body of protesters. I covered up my nervousness by looking at the scene with an assumed professional air through my camera every now and then.
I forgot to look through my camera once the unknown woman climbed on to the lorry leading the rally. She looked exactly like any other small-built, middle-aged woman on the streets. But the minute she spoke, it was clear she was, in fact, a very unusual woman. I asked someone standing near me the speaker's name, and this is how I first heard of Ahilya Rangnekar.
In the years after, I was to learn a great deal about this indomitable woman. But in a way, I am glad I was ignorant of her reputation when I first saw her. When I now think of ideas and events that politicized me, I always include that image of a strong little woman standing on that lorry, calling a whole stream of people to action. She was an icon of strength and sound political sense tempered with compassion. I felt, that day in Bombay, a direct link being forged between her and me as she inspired me to respond to her call in whatever way I could. Which is why all these years later, when the world has changed, and not necessarily for the better, I do not want to write an obituary for Ahilya Rangnekar. She lives on in those who admired her, and even more, those she worked for and whose causes she championed. We cannot write obituaries for her and let her go, because if we do that, how will we remember the real definition of a 'woman of substance'?
Githa Hariharan has written fiction, essays and columns over the last three decades. Her most recent book is "I Have Become the Tide". For more on the author and her work, see githahariharan.com.
First published in The Telegraph on 31 May 2009. Republished here with permission of the author.
Get the latest reports & analysis with people's perspective on Protests, movements & deep analytical videos, discussions of the current affairs in your Telegram app. Subscribe to NewsClick's Telegram channel & get Real-Time updates on stories, as they get published on our website.
Subscribe Newsclick On Telegram