Women Aren't Just Giving 'Bhagidari ' but 'Aguvaai ' to Farmers' Struggle: Harinder Kaur Bindu
The BKU (Ekta Ugrahan) leader says Punjab changed because women struggled, and they won't give up on farm protest either.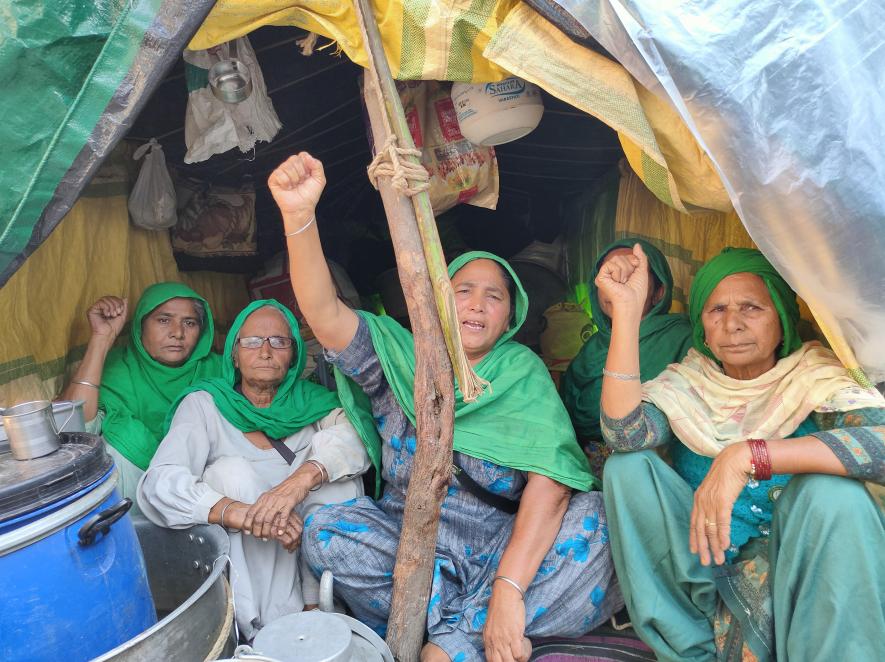 On Monday, January 18, farmers will observe Mahila Kisan Diwas on the borders of Delhi on the call of the Sanyukt Kisan Morcha. Their protest against the three farm laws introduced by the Narendra Modi government has been going on for nearly two months. Among the people at the forefront is Harinder Kaur Bindu, who heads the women's front of the Bharatiya Kisan Union (Ekta Ugrahan).
On April 9, 1991, when Bindu was around 13 years old, her father ,Meghraj Bhagtuana, was killed by armed militants in Sewewala village in Faridkot, Punjab. Bhagtuana had floated the Front Against Communalism and State Repression, one of whose slogans was "Na Hindu raj na Khalistan, raj kare mazdoor-kisan—Neither Hindu rule nor Khalistan, we demand workers' rule".
Bindu spoke to NewsClick at her union's sprawling protest site in Bahadurgarh, Haryana, near the Tikri Border, about the role of women in the ongoing protests and allegations that it has been infiltrated by Khalistanis, separatists, anti-nationals, and so on. Edited excerpts: 
What have you planned to mark Mahila Kisan Diwas?
January 18 is a big day for us. We expect a number of prominent people, including activist Medha Patkar and Navsharan Kaur, daughter of famous Punjabi playwright Gurcharan Singh, to visit. We have organised a theatre performance by famous Punjabi theatre artists, Anita and Shabdeesh.
The day is especially important for women because these protests have reversed gender roles: Men are doing what was seen as women's work, and women are delivering rousing speeches on the black [farm] laws. This is for the first time that hundreds of women have travelled so far from their homes to live for weeks at protest sites. Women have also started signing up as volunteers for our tractor-rally on January 26. 
There is a perception that women have been 'brought' to the protest sites; they are here not of their own volition. How would you dispel this notion? What has been the role of women in mass movements in Punjab and what connection do they have with farming?
It is a very big development that women have come in large numbers to protest. They are here because for a long time they have been involved in mass movements of Punjab. At this particular site [Pakoda Chowk, Bahadurgarh] the women participants are largely with the BKU Ekta-Ugrahan. Being part of the union means they have had the opportunity to understand every issue that affects them and realise the importance of protest.
Our union has been organising women since 2000 and that is how women have reached a point where they could play a significant role in the rail-roko [blockade of railway trains in Punjab] late last year. We went from door to door telling women about the new farm laws and how they hurt farmers and agriculture. Our slogans roused women to struggle alongside men. 
But is it commonplace for women to participate in such struggles in Punjab?
Yes, it is. Women participate in struggles in Punjab not just for farming related issues, such as farmers suicides, against land acquisition and for cotton compensation. They also fight electricity boards, against privatisation, and many other issues. This did not start today; it has picked up over several decades. For example, in 2013, women fought tooth and nail against a business house's (Trident) takeover of farm lands. They do not just participate in the sense of going to a protest site. When there are police crackdowns, women face beatings too. In 2005, horses were used  to attack women protesters. 
Your biggest ally in this movement  is farmers of Haryana, but in that state many women still wear parda and ghunghat (are veiled).
In Punjab, too, parda existed, but things changed because of struggles against it. Progressive movements raised the consciousness of people and spread awareness. Initially, those who were involved with these movements got rid of parda within their homes. The women of these families were then encouraged to join these movements. Their struggles were a big contributor to improvements in Punjabi society. 
What about participation of women in farming and the work they do at home?
Women have complete participation in farming households. Their contribution is critical to farming. They take care of farm animals, cut and carry fodder... A lot of their work is invisible. Taking food to fields or working in the house are work, but not recognised or paid.
Who is doing this work now that you are here?
In some families, when the man is at home, he takes care of all the household and farming duties. And when women are home, the men take over at the protests. If entire families have come to Delhi to protest, their relatives take care of their land and animals. During this struggle, men have started doing the work women used to do. Many families still have men working only on farms who do no rasoi—kitchen or household work. Now these men are doing all the work in kitchens too. We have seen men kneading dough, rolling out chapatis, cooking vegetables, and we were stunned. 
So, this movement has added a further dimension of change to family life in Punjab?
Yes. 
What about the share of women, not just their equal participation in terms of workload? Their ownership of farmlands, for instance, is far less than males. How is your union addressing this?
The real issue is that women are enslaved—by men and society. She bears the brunt of both kinds of slavery. We do struggle against this; it is a long-term struggle to bring women together to end oppression. The union has helped organise oppressed women, taken them along... There is a great need for this, and that is why we have come here with male partners. However, this is not what the present movement is about. Right now, we are protesting for the laws to be repealed and for women's equal share in it. 
But the media in Delhi expresses great surprise that women are protesting. Do you feel it is a very big thing that women are here?
Sure, it is a big thing. In the sense that women are often confined to the home space and with this movement they have come outside in huge numbers, as full partners in a protest. They are not just offering bhagidari but aguvaahi too—not just partnership but leadership too.
Will women stay on to protest for as long as the men will?
Yes, yes, they will. 
If the Centre pleads with women protesters, implores them to give in to some provisions of the new laws in return for some changes as per the demands of the movement, will women be tempted to agree?
No. No, we will not compromise. Women who come to participate in a movement do not do such things. 
Why not?
Because we have experiences with past struggles. We have participated in many movements so we know movements succeed. 
In what way is BKU (Ekta Ugrahan) different from other unions engaged in these protests?
We may have ideological differences, but all the unions have come with only one agenda to Delhi: we are demanding the revocation of these black laws. There is no disagreement on this basic demand. 
How many women have come here?
Our union has come with 1,500 women; sometimes more are present. Women keep going and coming, though many have been staying here permanently.
Has there been such a movement before?
This is the first experience in which women have been staying outside their homes for such an extended period. 
What difficulties are women facing here?
Earlier there were quite a few problems; sleeping, toilets and so on. But the people of Haryana have been of tremendous help. They have opened up spaces at petrol pumps, marriage palaces, in malls. In urban areas, arrangements have been made for mobile toilets etc. Quite a few families have opened their doors to us and shared their clothes, medicine, hot water, and are even prepared to share money with us. They are even arranging to wash and iron clothes. Yes, it is cold, but women have come prepared. One has to come mentally prepared to face the cold and we have done that.
How would you react to protesting farmers being called separatists, Khalistanis?
When the Khalistan movement was going on in Punjab and Hindus were being attacked, at that time an anti-communal front was launched. Those days, the government was oppressive and militants were killing people too. Our organisation was opposing both the government and the militants and raising awareness about real issues; that if there are demands they should be raised with the government—why are you [militants] killing people? On April 9, 1991, my father, Meghraj Bhagtuana, and several of his friends and allies were killed by Khalistanis for doing this work.
Note that even those days, women would join movements against Khalistanis. Mata Sada Kaur was one such woman, who told [militants] why are you killing just men, kill me too, I have come with them. Congress was in power those days. We had only gathered people together to remove the Hindu-Sikh divide. We were bringing out the fact that both government and Khalistanis are wrong and the real issue was berozgari—joblessness. The government did not resolve this issue, instead it raised emotional topics that [divide] people. Today the government is again raising similar [emotive] issues with the farmers' movement going on. We know those in power will call us all kinds of things. They said these things about the Shaheen Bagh sit-in too.
But people from Shaheen Bagh have supported you. How did you feel about that?
We feel good. When there was a sit-in at Shaheen Bagh against  CAA (Citizenship Amendment Bill) , we had also gone and stayed there twice.
But many people feel if Muslims are seen to support them, it will alienate the government and a section of people. Did you not have this concern?
Not at all.
Do women at the anti-farm law protests see Shaheen Bagh as an inspiration?
Yes, we do.
What kind of inspiration?
Just like today Punjab is inspiring other states like Haryana and Uttar Pradesh [to oppose the farm laws], so in those days [December 2019], Shaheen Bagh inspired us women. We held massive movements against CAA in Punjab. Shaheen Bagh brought women together against   CAA, and now it is lighting the path for the farmers' movement. We—women, workers, farmers—stayed at Shaheen Bagh for a few days in January and February 2020. That is when Yogi Adityanath [Uttar Pradesh's Chief Minister] and other leaders had said that the people at Shaheen Bagh are part of some 'tukde-tukde gang', Pakistani agents, and much worse.
Get the latest reports & analysis with people's perspective on Protests, movements & deep analytical videos, discussions of the current affairs in your Telegram app. Subscribe to NewsClick's Telegram channel & get Real-Time updates on stories, as they get published on our website.
Subscribe Newsclick On Telegram