Women as the Hindu Nationalists View Them
The need they feel to impose restrictions on women for their own safety, exposes the extremely vulgar and misogynistic mindset of the Hindutva brigade.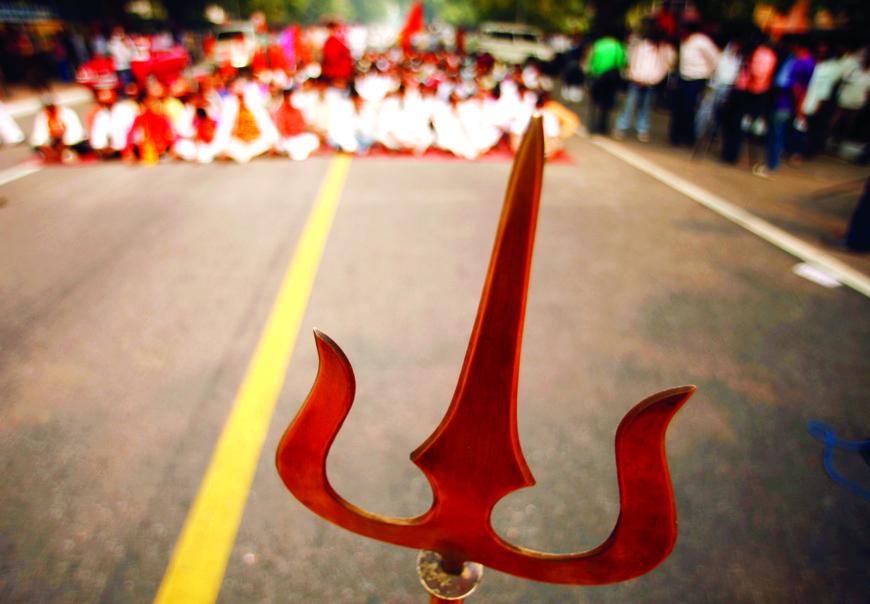 Image Coutesy: Countercurrents
The BJP and the Hindutva brigade have a very clear view on women. However, this is in no way homogeneous. Their view on Muslim women is very different from their view of Hindu women. However, what is common is that they see the role of women in society, to be merely an auxiliary for men. The following is an attempt to paint a picture of the women through the lens of a Hindu nationalist.
Following the horrific rape and murder of the eight-year-old Gujjar Bakarwal girl at the hands of 8 men, Hindu Ekta Manch, an RSS/BJP offshoot, staged a rally in protest of the arrest of those accused. This rally was attended by two BJP MLAs. Given the barbarity of the case and the amount of public attention it drew, Prime Minister Narendra Modi, who otherwise conveniently keeps his mouth shut, expressed feelings of 'sympathy' for the victim and her family, while at the same time, he claimed 'rape is rape' and that it shouldn't be politicised. Well, how apolitical can it be when the members of the ruling party attend a rally carried out in favour of the accused? It must be understood that the barbarity of this rape had a political motive behind it. The Bakarwals are a marginalised Muslim nomadic community. This incident, as is revealed by the chargesheet, was an attempt at ethnic cleansing – to drive out the Bakarwals from their village.
In fact, the BJP and the hoard of Hindutva outfits that support it, view rape as a political tool against the 'enemy'. V Savarkar, who our ex-pracharak prime minister sees as a guru, in fact showed great disdain for Hindus for being too virtuous and docile. He held that for centuries, Muslim invaders have been cruel to Hindu women, and doing the same to Muslim women is just vengeance. This vulgar mindset came to the fore when gang rapes and molestations were used as a political tool in Gujarat and Muzzafarnagar, and disgusting propaganda was done on rape extensively. In instances like these, the patriarchal mindset is exposed, when women are seen as a 'symbol of honour' of the community, and mass rapes become a celebration of the defilement of the enemies' honour.
The BJP also has appointed Yogi Adityanath as the chief minister of Uttar Pradesh. Yogi, in 2016, had expressed opposition to the women's reservation bill of 2010 in one of his essays. He wrote that "women need protection, not independence". He further claimed in his essay that giving women independence will make them masculine, which would unleash their rakshasa. What Yogi writes here is in fact aligned with the laws of Manu (Manusmriti), where women are supposed to be protected by their fathers, husbands and sons. This disgusting and archaic viewpoint seeks for women to perpetually be at the beck and call of men. Following the horrific December 16 Nirbhaya gang rape case, RSS chief Mohan Bhagwat had interesting claims to make. While addressing a rally, he said, "Crimes against women happening in urban India are shameful. It is a dangerous trend. But such crimes won't happen in Bharat or the rural areas of the country. You go to villages and forests of the country and there will be no such incidents of gang rape or sex crimes." But he clearly forgets about the countless barbaric rapes of Adivasi women, in rural areas and forests of Bastar, that are done at the hands of the state, in the name of ensuring national security. The Sangh has clear views about the role of a woman in a family. Talking about marriage, Bhagwat had said in a rally in Indore in 2013: "A husband and wife are involved in a contract under which the husband has said that you should take care of my house and I will take care of all your needs. I will keep you safe. So, the husband follows the contract terms. Till the time, the wife follows the contract, the husband stays with her, if the wife violates the contract, he can disown her."
Interestingly enough, Hindu outfits do have women's orgaisations, such as the 'Durga Vahini' – the women's youth wing of the Vishwa Hindu Parishad (VHP). What they teach the 'yuwatis (young women)' further exposes Hindutva's patriarchal mindset.  The values of 'Matrutva, Kartutva, Netruva (Motherhood, Efficiency and Leadership)' are firstly inculcated in these young women. They are taught to serve their family, the cow and the nation. They are taught to use arms to develop feelings of self-confidence; they are advised to wear proper clothes so that 'men won't ogle at them', as the National Convener of Durga vahini, Mala Rewal had said. They are also taught about the evils of Islamic and Christian influences, and they have played an active role in even the Ram Janmabhoomi movement. This aside, the VHP in 2016, opposed the campaign to allow women's entry into the Sabarimala temple in Kerala.
In the case of this temple, the norm is for women from the age 10 to 50 years to be prohibited from entering the temple. The reason was explained by a VHP leader, who said that since the deity is sworn to celibacy, young women might incite feelings of desire in him. This clearly exposes how  women are considered as mere objects to fulfil the sexual desires of men. Sadhvi Prachi, a VHP leader, while addressing a rally in 2015, appealed to the Hindu women to produce four children each, in order to counter the growing population of Muslims in the country. Are women supposed to be machines that produce babies for men, while giving up on their own heath, well-being and desires?
Meneka Gandhi, the union minister for women and child development had said in 2017 that colleges should implement a curfew for women's hostels. She remarked, "When you are 16 or 17, you are also hormonally very challenged. So to protect you from your own hormonal outbursts, perhaps a lakshman rekha is drawn." This clearly implies that restrictions need to be imposed on women for their own safety, which exposes the extremely vulgar and misogynistic mindset of the Hindutva brigade.
Another outrageous theory formulated by these Hindutva forces is of love jihad. They believe that Muslim men conspire to entice Hindu women into their trap by marrying them. There have been innumerable cases of Hindu vigilante groups forcing Hindu women to leave their husband or partner because he's a Muslim, while attacking them. Sadhvi Prachi had said, "That is love jihad conspiracy of Arab nations which give Rs 7 lakh for marrying a Brahmin, Rs 5 lakh for a Vaish, Rs 3 lakh for a Thakur and Rs 2 lakh for a Shudra." She also said that Hindus must marry women from other religions to fight the Muslim threat.
What can be understood from the statements made by prominent leaders of the Hindutva brigade, is that they have an extremely regressive and patriarchal view of women, where they feel women are protectors and professors of culture and identity on one hand, and objects to fulfil sexual needs on the other. If their dream of a Hindu Rashtra is realised, women would have to face all kinds of oppression, where everything from what they should wear to what they should say will be decided by men.
Get the latest reports & analysis with people's perspective on Protests, movements & deep analytical videos, discussions of the current affairs in your Telegram app. Subscribe to NewsClick's Telegram channel & get Real-Time updates on stories, as they get published on our website.
Subscribe Newsclick On Telegram