Women's Organisations Protest Govt Move to Increase Legal Age of Marriage to 21
Mere raising of legal marriage age will not empower women or help improve nutrition, education, maternal and infant mortality levels, say women activists.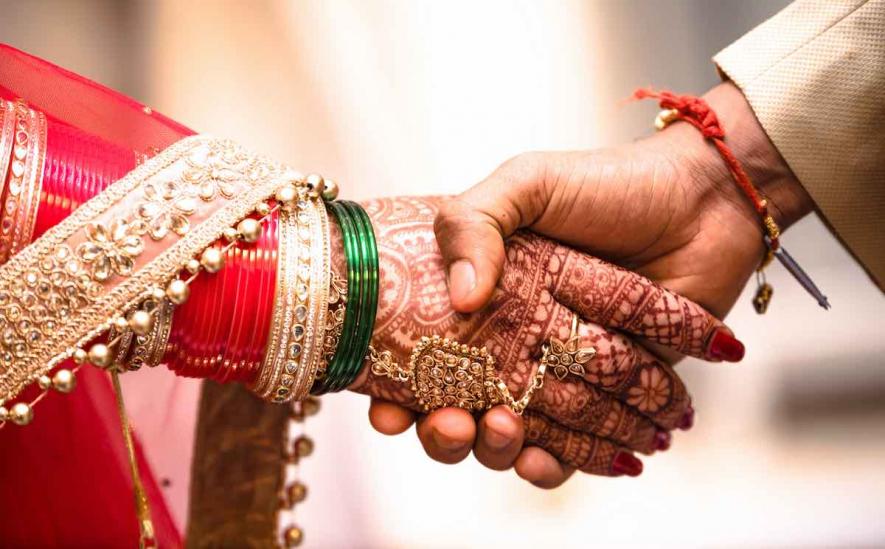 Image Courtesy: The Leaflet
New Delhi: Women organisations are unhappy with the Centre's proposal to raise the legal age of marriage of women from 18 years to 21 years, aimed at "decreasing maternal mortality and under-nutrition". The government is likely to move legislative amendments in the concerned Act during the ongoing Winter session of Parliament. 
However, women's organisation, such as the AIDWA, APIWA and NFIW as well as youth organisation DYFI have expressed strong disagreement with this move, saying it will be totally ineffective in a situation where the government has failed to meet even the most basic nutritional, educational and employment needs of the people.
In a statement released on Thursday, the All India Democratic Women's Association (AIDWA) said: "The move will in fact be counterproductive since raising the age of marriage for girls will result in further targeting of choice marriages. It will act as a way to control the sexuality of a young girl, who already faces an uphill task to marry someone of her choice."
The statement pointed out that studies have shown that criminalisation of consensual sexual activity between young persons has often led to charges of kidnapping, rape and other crimes. It added, "Such a measure will therefore result in affecting the basic constitutional rights of women to privacy and autonomy." 
In an open letter addressed to the Prime Minister, the National Federation of Indian Women (NFIW) said: "While on the face of it this proposed law seems quite pro-women and progressive however it is our assessment that this form of State action does not align with its stated intent of empowerment of women particularly of nutrition, education, maternal and infant mortality levels to be improved. These issues cannot be remedied by merely increasing the legal age of marriage." 
The letter highlighted that there are deep contradictions between stated objectives and structural provisions, which disable quality education, especially for the girl child and those from the margins of the society. "Access to higher level education is almost impossible for these categories. Rural government schools with classes up to the 10th standard are running with inadequate teaching staff. Lakhs of girl students are suffering due to these structural deficiencies and have not been able to reach even 10th standard," it added. 
The letter further said, "The non-implementation of existing legislations, has created hurdles in the path of empowerment of women. The state of the economy today marked with jobless and job-loss growth is severely affecting the possibility of economic empowerment of young women." 
NFIW urged the Union government and Parliament to urgently discuss why, in spite of progressive legislation like the Prohibition of Child Marriage Act 2006, passed by Parliament, 23% of marriages (of girls) are of below 18, and even below 15 years in India. The Dowry Act is seldom invoked. "The Parliament and the government need to review the reasons why legislation cannot be used by women in need of protection and justice. NFIW firmly believes that sincere and truthful correction of these issues will lead to increase in age at marriage voluntarily to a great extent," it said.
The All India Progressive Women's Association (AIPWA) said in a statement, that "The Cabinet proposal to raise the age of marriage for women to 18 is ill advised and should be withdrawn." 
It added, "If we hold 18-year-olds to be adults who can choose a government and decide the country's future, we must accept that they are old enough to decide their own future, and choose if, when, or whom to marry." 
All the organisations have demanded that the Cabinet withdraw its proposal; and instead amend existing laws to respect the right of all adults, that is, all individuals above the age of 18, to enjoy full autonomy in all spheres of their lives, including decisions about whom to love or marry. 
In Kochi, the  Democratic Youth Federation of India (DYFI hit out at  the Union Cabinet's decision to raise the marriage age for women, saying it was an attempt to curtail personal liberty. 
DYFI national President, A A Rahim, in a series of tweets, said the ruling dispensation has displayed an unhealthy obsession with the marriage choices of people.      
"DYFI disagrees with the Union Cabinet's decision to raise the age of marriage for girls. There are strong reasons to suspect malfeasance on the part of the Union Govt; their track record, actions & utterances make a case," he tweeted.      
Rahim said, if parity and gender equality were the goals, the Union Government should have reduced the marriage age, as the 18th Law Commission had recommended. He said instead the government has opted to meet the demands in the petitions filed by BJP leader Ashwini Kumar Upadhyay before the Supreme Court. 
"We believe that it is one more effort targeting choice marriages. The ruling dispensation has so far displayed an unhealthy obsession with the marriage choices of people. They've never hesitated to encroach on personal freedoms & often turned a blind eye towards vigilante groups," Rahim said.
The proposed bill may also seek to make consequential changes to various personal laws relating to marriage of different communities to ensure a uniform marriage age, according to him.
As of now, the legal age of women to get married is 18 while that for men is 21 years.
"We should not underestimate the complexity of the issues involved, just because the government has cloaked it as "women empowerment". Their doublespeak needs to be exposed and the move must be criticised for what it is; an attempt to curtail personal liberty," Rahim said.
(With inputs from PTI)
Get the latest reports & analysis with people's perspective on Protests, movements & deep analytical videos, discussions of the current affairs in your Telegram app. Subscribe to NewsClick's Telegram channel & get Real-Time updates on stories, as they get published on our website.
Subscribe Newsclick On Telegram