Women Workers Body Resolves to Safeguard Rights in Informal Sector
Tamil Nadu women workers collective resolves to fight sexual harassment in the workplace.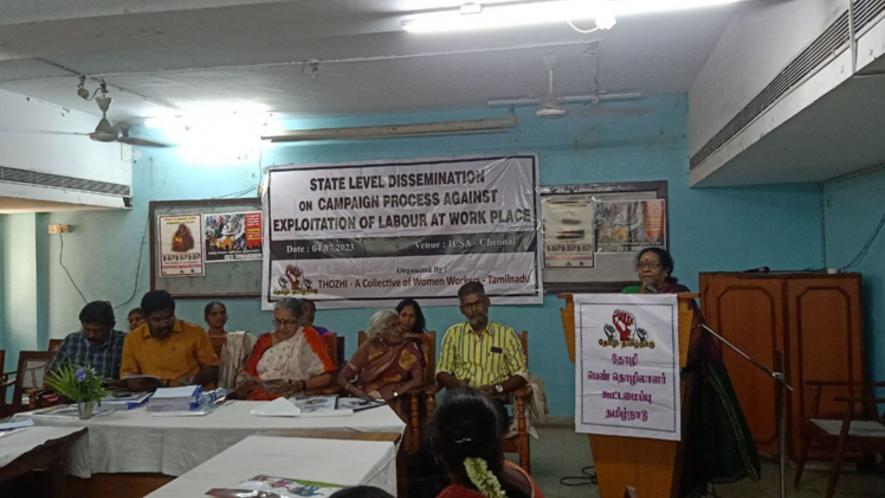 Tamil Nadu State Commission for Women chairperson AS Kumari stresses the importance of an Internal Complaints Committee at the workplace.
Thozhi, a collective of women workers in Tamil Nadu, has resolved to fight for the safetyof informal women workersinthe workplace,overtime payment, job security and safe accommodation.
During a state-level dissemination campaign against the exploitation of labour at the workplace held in Egmore, Chennai, on Tuesday,Thozhi (the female word for comrade)also resolved to hold the system/government accountable for poor working conditions with a focus on women workers.
The participants also resolved to ensure eight hours of work for women, paid leaves, weekly offs, hurdle-free ESI, PF and gratuity payment,insurance and accident compensation, and fight against sexual harassment and extended apprenticeship.
Chief guest and Tamil Nadu State Commission for Women chairperson AS Kumarisaid "When I was appointed to the Commission, I did not know this job would be so challenging. I travel to many companies to overlook the working conditions.Most workers are unaware of the Internal Complaints Committee (ICC)."
"In Kerala, a company without ICC is penalised Rs 50,000. We need it to implement it in Tamil Nadu too," she added.
Responding to one of the resolutions, she said, "Thousands of migrant workers are stuffed into hostels with poor living conditions. We are looking into it."
Releasing the campaign memorandum, Kattumannarkoil MLA and Viduthalai Chiruthaigal Katchi (VCK) general secretaryM Sinthanai Selvan said, "Unfortunately, women who work full-time are considered jobless, but men who work outside the house are recognised as workers."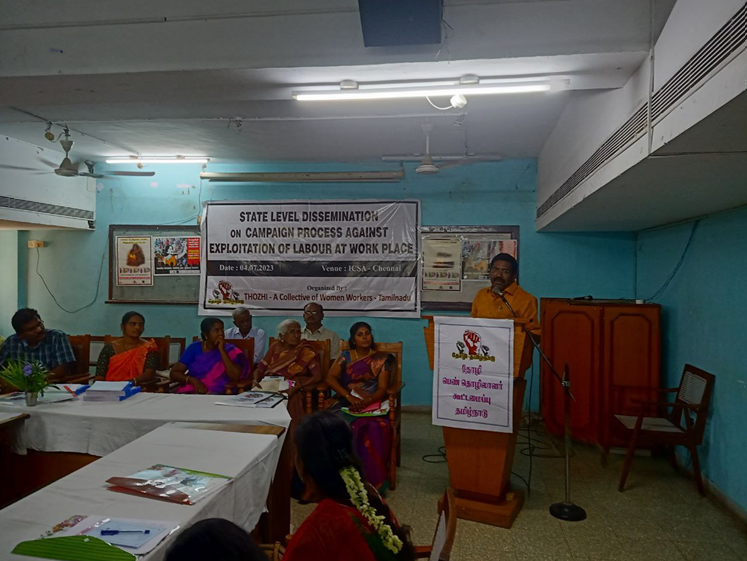 Kattumannarkoil MLA and VCK general secretary M Sinthanai Selvan addresses the campaign.
"Girls are discriminated form birth. It is a common mindset that they are born to serve others. This must change," he said. "Although there are laws to safeguard the rights of workers, marginalised people, women and children, they are practised only ritualistically."
Referring to the proposedamendments to the Factories Act, he said, "We opposed the Bill placed by our alliance partyon the last day of the Assembly. We thought if our alliance party is placing it, it would be pro-workers—but we were wrong. We had no time to discuss the Bill. CPI(M) MLA Nagai Maali and I quickly compiled the points on the Bill, opposed it and staged a walkout. This was possible because we contested the election on a separate election symbol and not under the alliance party (DMK)."
All India Democratic Women's Association (AIDWA) national vice-presidentU Vasuki delivered a special address. Opposing the Uniform Civil Code (UCC), she said, "The ruling party at the Centre wants to implement a Uniform Civil Code citing the Directive Principles of our Constitution. But do they really care about the Directive Principles? What about the principle that workers should be involved in the management of workplaces? What about basic pay?"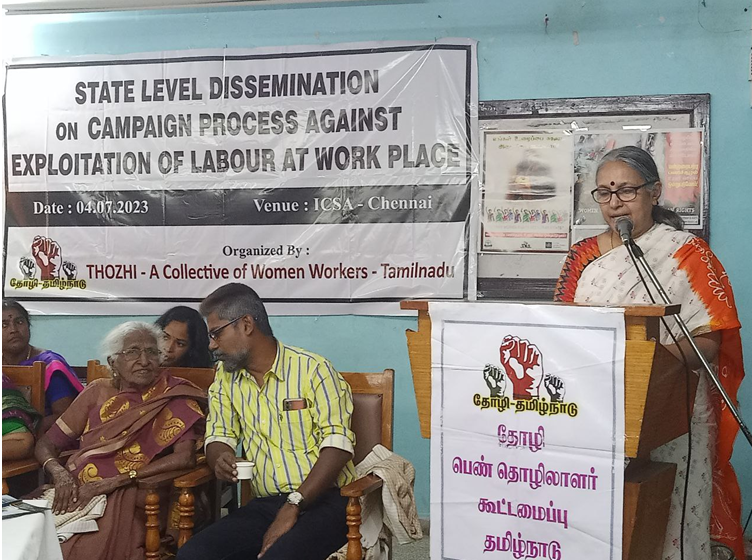 AIDWA national vice-president U Vasuki addresses the participants.
Vasuki said that women face three types of problems. "You face domestic violence, harassment in public spaces and abuse at the workplace. The neoliberal economic policies are against our needs and demands. We face issues like inflation and caste discrimination. These are political issues. Therefore, our struggles are also inevitably political."
Citing the recent Madras High Court ruling that said wives have equal rights over the property bought by husbands after marriage, she said, "Women work at home throughout the week, which should be acknowledged. We accept the DMK's decision to provide Rs 1,000 recognising women's labour. We urge the government to provide it to the maximum number of women."
On AIDWA's behalf, she promised to take forward the united struggle to fulfil the resolutions passed at the meet.
People's Health Movement, India, national co-convenerAmeer Khansaid, "The demand for menstrual leave must be added to the resolutions."
Tamil Nadu does not need an AIIMS, he said."Our state government hospitals are good enough. What we require is ESI hospitals."
Devaneyan, director of Thozhamai(solidarity), a humanrights NGO, said, "It is a shame that child labour persists in a developed state like Tamil Nadu. It is common in the 15-18 age group, predominantly girls."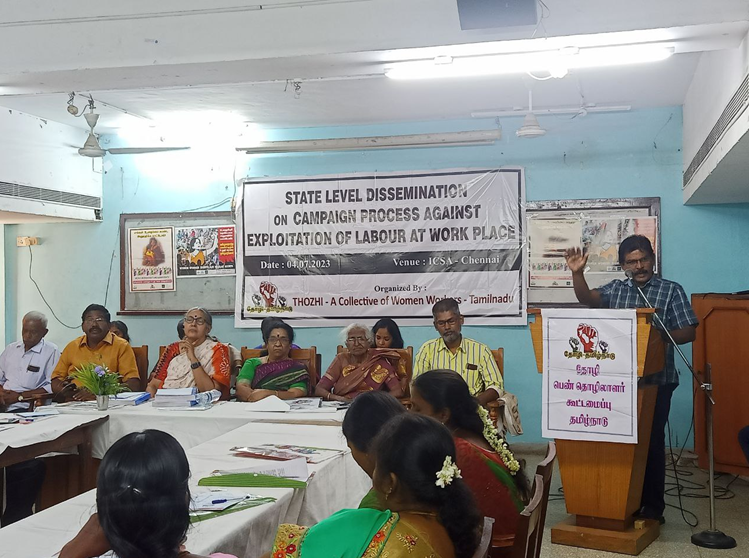 Devaneyan, director of NGO Thozhamai, speaks against child labour.
"The government says 15-18-year-olds can work and earn money. But can they deposit the money earned in a bank account? Can they buy a plot of cent with it? Can they get a driving licence?  Can they vote? Then, how can they be allowed to work?" he asked.
"The condition for allowing people under 18 to work is that it shouldn't be dangerous. Girls who work in textile stores stand for 12 hours daily and develop varicose vein issues 10 years later. The health impact may not be felt immediately but that does not mean such work is not dangerous for minors," he added.
Instead of considering migrant workers as people who can be exploited, they should be recognised as guest workers just as Tamil people who migrate across the globe for work are considered, he insisted.
Kohila, from CIVIDEP, an organisation committed to labour rights, said, "Women workers in leather, garment and mobile parts assembling industries work for little pay.They are hired on contracts without social security. PF money is deducted but not paid. They are neither paid bonus nor leave allowance."
She also mentioned the plight of home-based workers "who do difficult labour likeleather stitching and receive only Rs 5-Rs 6 per piece, but the finished goods are sold for thousands of rupees in the market".
ABOUT THOZHI
Thozhi, a collective of women workers in the unorganised sectorfounded in 2015, is an association of 10,000 women workers in 500 collectives.
It aims for a violence-free working environment, work with respect, minimum wages, implementation of labour laws,education of workers on relevant laws, and policy change.
In the past three years, Thozhicampaigned for the establishment of ICCs at workplaces and ensure that they are functional.
Thozhi consists of 170 NGO partners in 15 districts of Tamil Nadu. The NGOs include SHED India, SWORD, SEEDS, WORD, TREES, R K Foundation and Hope. 
Get the latest reports & analysis with people's perspective on Protests, movements & deep analytical videos, discussions of the current affairs in your Telegram app. Subscribe to NewsClick's Telegram channel & get Real-Time updates on stories, as they get published on our website.
Subscribe Newsclick On Telegram