Worker-Peasant Rally Throws Formidable Challenge to Modi
A mammoth rally in Delhi on September 5 announced a programme of escalating actions in coming months to press for change in policies and change in government.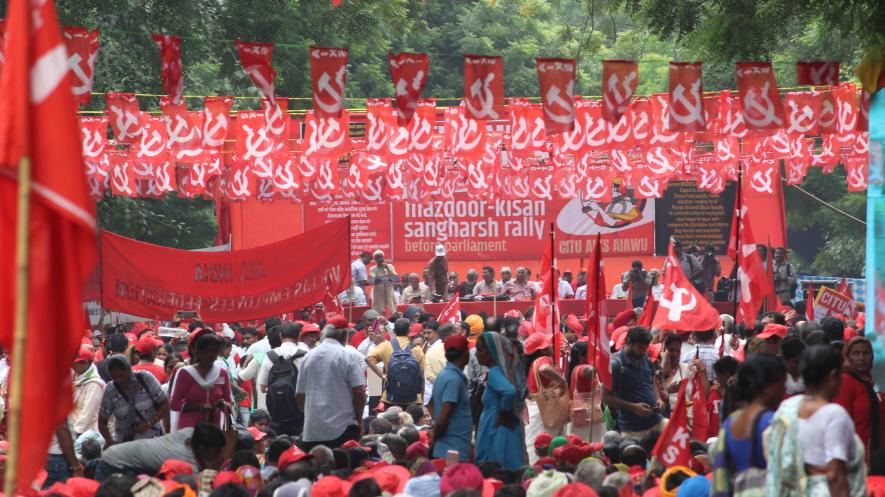 "Ye ghirte kale badal aur ye laal samudra, Modi Sarkar ke liye chunauti hai!" [These swirling dark clouds and this sea of red is a challenge thrown to the Modi government] These words, spoken by a flag-waving steel worker from Chhattisgarh, summed up the mood of the historic protest march in Delhi today by an estimated three lakh workers, employees, farmers and agricultural workers who had travelled from all corners of the country. The mood was angry and restless, the resolve was steely and the desire for change, fierce. The Mazdoor Kisan Sangharsh Rally was organised by the Centre of Indian Trade Unions (CITU), the All India Kisan Sabha (AIKS) and the All India Agricultural Workers Union (AIAWU).
Under an overcast sky with a brief spell of sunshine, the protestors marched from Ramlila Grounds to Parliament Street, near the seat of the Indian government, their slogans reverberating through the high-rise office buildings and sprawling government complexes. Slogans and placards showed their demands – more jobs, better wages, land for the landless, better prices for crops, loan waivers, control on prices, social security, education and health for all, end to contractorisation and privatisation, and hands off labour laws.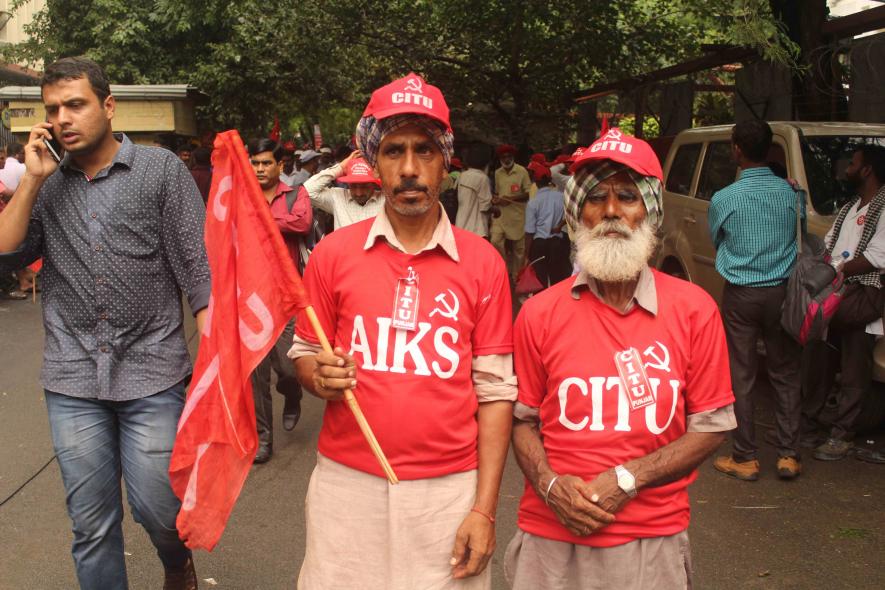 Unity and Policy Change
A key feature of this landmark rally was that for the first time, a four-month long joint campaign by workers and peasants was followed by this joint rally in the Capital. This development will have a lasting effect on Indian politics as the combination of three labouring classes – workers, farmers and agricultural labourers – make up over three quarters of the country's population. The unity also – expressly – decried the attempts of RSS/BJP and its multiple associates to divide people on religious and caste lines.
Another key element in today's rally was that the participants were pressing for change in the whole panoply of policies that make up the hated neo-liberal package. Evidently, working people do not want some concessions here and there – they were demanding that the whole framework of pro-corporate pro-rich policies should be abandoned by this – or any future – govt.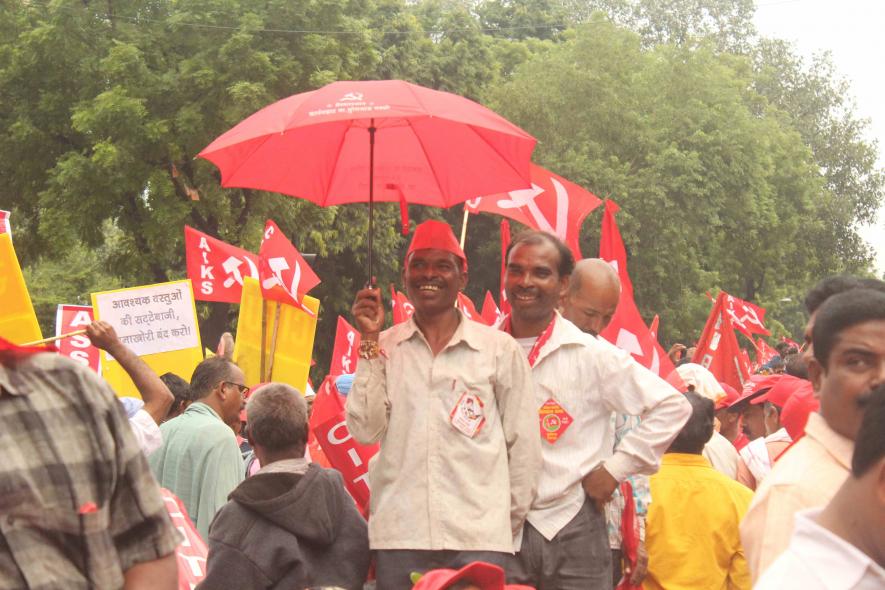 Action Plan for Coming Months
At the culmination of the rally, leaders announced a future course of action that should give the ruling BJP sleepless nights. Already besieged by growing discontent among people and political isolation, the Modi government is now faced with a series of massive protests that have the potential of cutting the ground from beneath their feet. On September 28, an all trade union convention has been scheduled, which will give a call for a two-day industrial strike, probably some time early in 2019. Meanwhile, a joint front of diverse farmers and other mass organisations has called for a Long March which will end in a massive three-day occupation of Delhi on November 28-30 this year. The declaration of this programme of action was greeted with thunderous cheers.
Speakers Highlight Modi Govt Failures
Ashok Dhawale, president of AIKS, warned that struggles will continue and "we will see the end of the Modi government". He pointed out that four lakh farmers have committed suicide since the 1990s and "there has been a 42% increase in suicides in four years of Modi rule".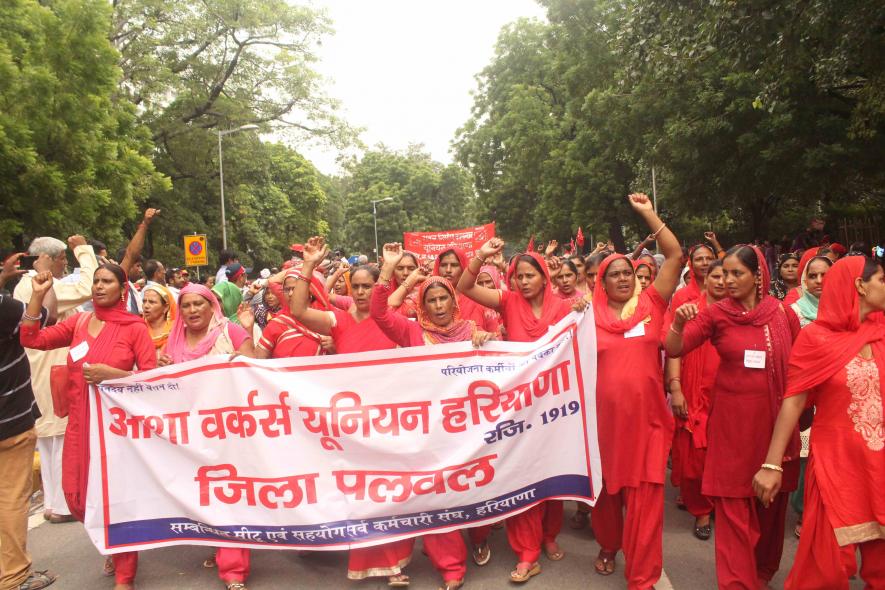 Dhawale reminded the gathering that "Today is the anniversary of Gauri Lankesh's death. She and other leaders were murdered by the Sanatan Sanstha. This is not the first time. They also assassinated Gandhi. We must never forget their history".
Tapan Sen, general secretary of CITU, spoke emphatically of the importance of workers and peasants joining hands. "The challenges posed by neo-liberal policies are such that they are destroying all working people's lives. Hence they need to be fought by this unity."
President of CITU K.Hemalatha attacked the government for its poisonous divisive politics which is meant to "break people's unity, using religion and caste". She said that anybody who criticises the government is dubbed 'anti-national' whereas the real anti-nationals are RSS/BJP and their government, which is selling off national resources and assets and encouraging bloodshed among people.
Highlighting the plight of agricultural workers in the country, Thirunavakarasu of AIAWU said that their numbers have risen to 15 crore, they are getting work only 30-40 days, that too a very low minimum wage. He criticised the Modi government for holding back "57% of funds for MGNREGA so that wage arrears of four to six months have built up for poor agricultural workers". He also said that Modi had excluded lakhs from social welfare schemes and 17.5 lakh ration cards had been cancelled.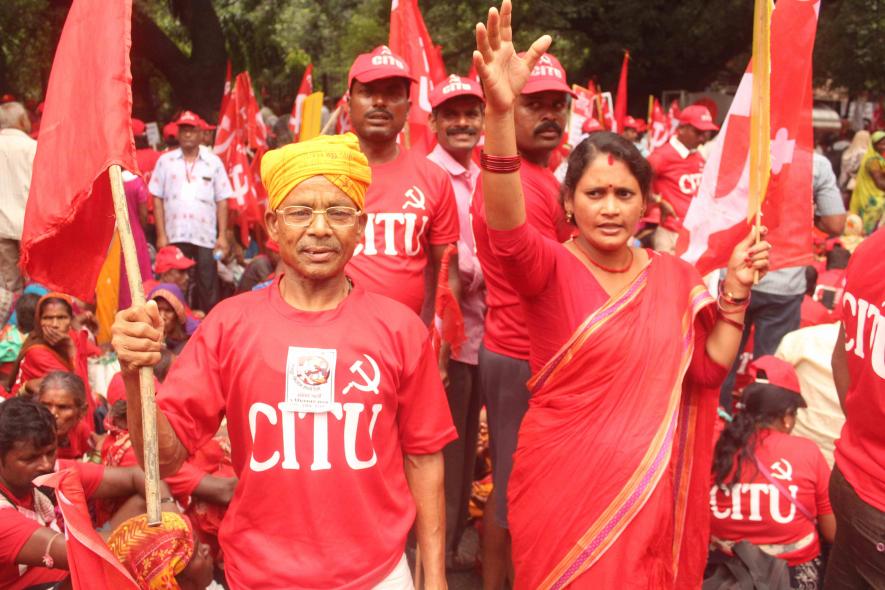 "We cannot allow Modi to return the second time. We will defeat Modi who will not do anything for us," he declared.
Brijlal Bharti, also from AIAWU, highlighted the anti-Dalit and anti-adivasi policies of thegovernment, and said that "government has only spread the politics of hate".
"Will you ever say you'll be on the side of workers as opposed to that of capitalists? Instead you side with the capitalists and exploit the workers. We accept your challenge and will intensify our struggles," he added.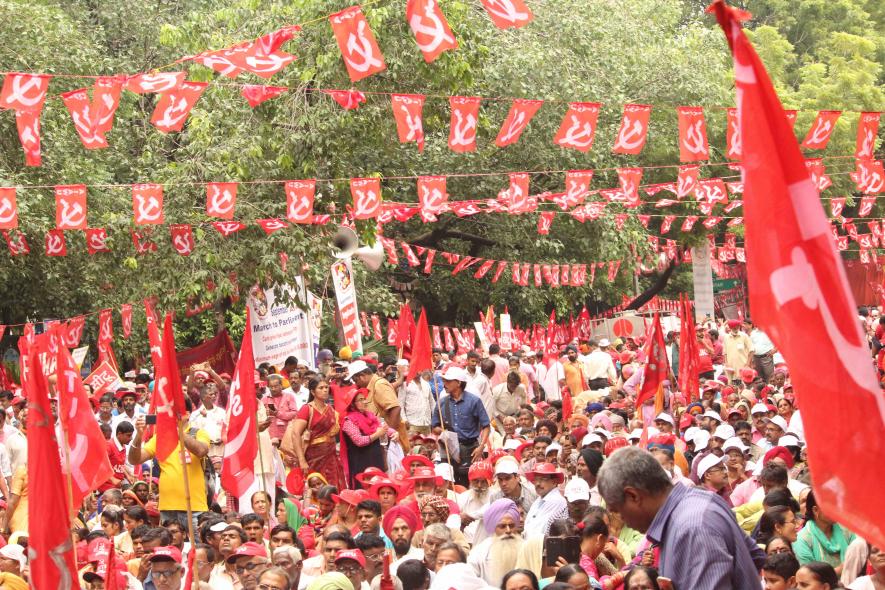 Leaders from a wide range of unions participating in the rally also expressed their solidarity. These included representatives of: All India State Government Employees' Federation, All India Federation of Anganwadi Workers and Helper, Confederation of Central Government Employees and Workers, BSNLEU (telecom), AIIEA (insurance), BEFI (bank), Construction Workers Federation of India, All India Beedi Workers Federation, FMRAI (medical sales), ASHA (health workers), School Teachers Federation of India, All India Road Transport Workers'. Federation, EEFI (electricity), Midday Meal Workers Federation, Coal Workers Federation of India, Steel Workers Federation of India, Water Transport Workers' Federation, All India Plantation Workers' Federation etc.
Speaking at the end, Amra Ram, the well known kisan leader from Rajasthan, said the rally is a "historic moment in the unity of farmers, workers and agri workers" and it has thrown a challenge to the Modi regime.
Photos by Subin Dennis, Tricontinental: Institute for Social Research
Get the latest reports & analysis with people's perspective on Protests, movements & deep analytical videos, discussions of the current affairs in your Telegram app. Subscribe to NewsClick's Telegram channel & get Real-Time updates on stories, as they get published on our website.
Subscribe Newsclick On Telegram