#WorkersStrikeBack: The Invisible Lives of Delhi's Home-Based Workers
As industrial workers gear up to prepare for a nationwide strike on January 8-9, here's a glimpse into the life of workers who are not recognised under any labour law, majority of which are women.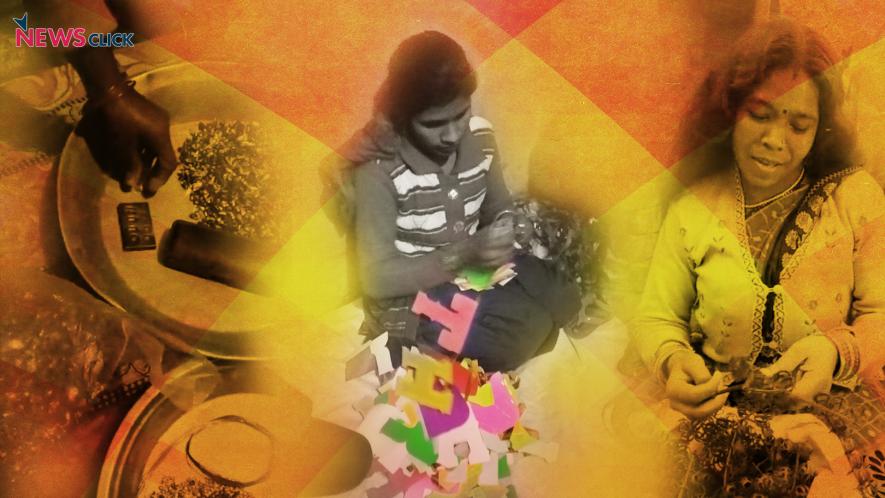 Newsclick Image By Nitesh Kumar
[As lakhs of workers go on a historic All India Strike on January 8-9, called for by 10 central trade unions, NewsClick brings to you glimpses of the lives of industrial workers in different parts of the country.] 
In the narrow alleys of Sonia Vihar in Delhi, in a dimly lit basement, 28-year-old Soni along with her children staple together 'Happy Birthday' banners. Speaking with NewsClick, she said, "I get paid Rs. 40 to assemble a hundred pieces and I spend almost all day making them."
Soni making banners in a dimly lit room
In another lane, 40 year-old Neelam is engaged in the breaking down of over 8 kilos of plastic flowers per day, while being paid a meagre Rs. 3 per Kilogram.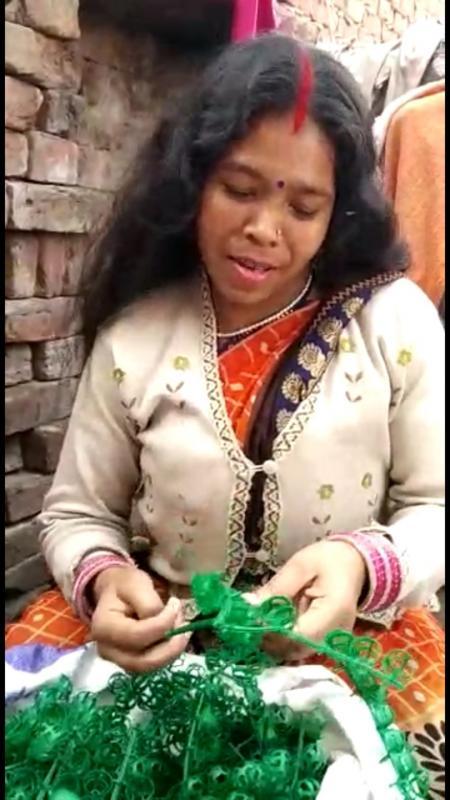 Neelam breaking down plastic flowers
Speaking with NewsClick, she said, "I am the only one who does this in my family. Alongside this, I have to take care of the household as well. Whatever money I make from this, I use it for the house."
In the national capital itself, thousands of men and women work for contractors, smaller factories and even bigger labels such as Zara from their houses, and despite the work they do, these workers are often rendered invisible in the realm of law and policy.
The International Labour Organisation's (ILO) (2013) definition of home-based workers includes all workers who carry out remunerative work within their homes or in an adjacent location or in any location that is not the workplace of the employer. Home-based workers can be further categorised as (i) self-employed workers (ii) homeworkers and (iii) employees differentiated through type of contract and nature of remuneration.
This year's India Exclusion Report documented different tasks or types of home-based work, some of them contributing to the production of the same good or product. The list included, stitching and embroidery, assembling components of plugs, bulbs, bead and glass work, making rakhis (wristbands), making and adorning bangles and bindis (an accessory worn in the middle of the forehead), rubber cutting, keychain and brush-making, sticking price tags to be put on branded garments, assembling and packaging toys.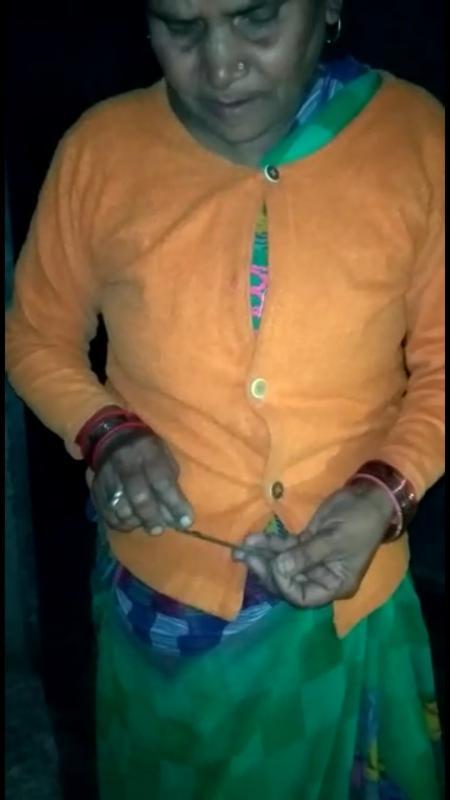 Sushila who is engaged in the making of file covers
Nandini Dey, author of the chapter 'Switches and Stitches' dedicated to home-based work in the India Exclusion Report, said, "Imagine someone managing to make as less as Rs. 40 per day! To us the magnitude of the problem came as an utter shock."
Gendered Nature of Oppression
Home-based workers remain invisible to the state's policies and programmes as well as to the public eye. They don't feature anywhere in the popular understanding of productive labour. Since most women home-based workers work out of their home, what work they do and the effort and time spent are not noticeable. In this sense, the gendered nature of oppression becomes starker as the nature of this work is intrinsically connected to the patriarchal notion of women needing to be guarded and kept inside homes, restricting their social mobility. Speaking with NewsClick, Usha Amma said, "Bahar agar kaam karenge toh aapne dekha hai kya hota hai, woh humare liye theek nahi manajata, isliye hum ghar main hi rehte hai (If we work outside, it is deemed unfavourable for us, this is why we stay at home)."
Maimoona Mollah of the All India Democratic Women's Association (AIDWA) told NewsClick, "The work that these women do in their houses is left absolutely invisible in the eyes of the law and our policy makers, primarily as these workers are not even recognised as workers." She added, "We conducted a survey across Delhi and even gave identity cards to the workers, but the exercise cannot hold ground without action from the state. We even conducted a survey which put forth shocking details of the health hazards experienced by women, most common of which were the problems of eyesight and backache."
The India Exclusion Report also pointed out that garment workers and weavers experience abdominal pain and miscarriages due to continuous pedalling. Postures and poor lighting conditions result in eye problems and joint pains among garment workers and pottery workers. Also, constant inhaling of agarbatti fumes cause persistent cough, cold and bronchial problems. Similarly, in the handmade paper sector, workers face immense health risks due to the chemicals they are exposed to during their work.
Home based workers remain at a serious disadvantage in comparison to most other workers, even those who fall in the category of unorganised sector. The workers are isolated within the home, with limited opportunities to interact with other home-based workers, leading to lack of unionisation. As a result, the workers lack the ability to hold any bargaining power with the contractors,
These workers were the worst hit with the ill thought out demonetisation policy of the Modi government. Maimoona Mollah added, "The prime demands of home-based workers are to seek recognition of their existence and the acknowledgment of their work. To collectively free them from the exploitating clutches of the corporate houses and contractors, efforts are being made to unionise them further. However, it will not yield results until the state does not shed its political apathy."
Read More | #WorkersStrikeBack: Why Are Workers Striking for Better Wages?
Get the latest reports & analysis with people's perspective on Protests, movements & deep analytical videos, discussions of the current affairs in your Telegram app. Subscribe to NewsClick's Telegram channel & get Real-Time updates on stories, as they get published on our website.
Subscribe Newsclick On Telegram