#WorkersStrikeBack: In MP, Workers Set to Vent Anger Against Labour Law Changes
Fifteen years of BJP government did nothing for workers' rehabilitation and welfare, say union leaders.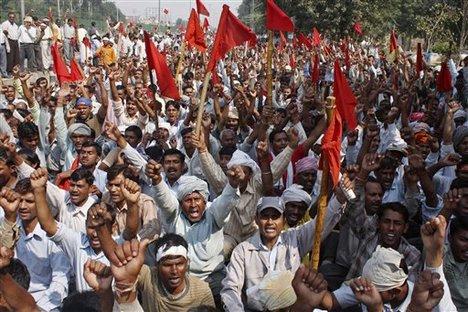 Representational Image. | Image Courtesy: Libcom.org
[As lakhs of workers gear up for a historic All India Strike on January 8-9, called for by 10 central trade unions, NewsClick brings to you glimpses of the lives of industrial workers in different parts of the country.] 
BHOPAL: Madhya Pradesh is gearing up for the country-wide general strike on January 8-9, called by various trade unions against the anti-worker polices of the Narendra Modi-led National Democratic Alliance government.
Industrial workers and employees, from the organised and unorganised sectors, including bank and power are participating in the strike.
Demanding an increase in monthly minimum wage to Rs 18,000, regularisation of contractual and outsourced employees from state and central government departments are two major demands of two-day strike.
Ten central trade unions, including Centre of Indian Trade Unions (CITU), All India Central Council of Trade Unions (AICCTU), Indian National Trade Union Congress (INTUC), Hind Mazdoor Sabha (HMS), Trade Union Coordination Committee (TUCC) and United Trade Union Congress (UTUC), All India Trade Union Congress (AITUC), has given the strike call along with their supporters and state labour unions. However, the ruling BJP supported Bharatiya Mazdoor Sangh has distanced itself from the strike.
Between December 26 and 30, union leaders from the joint platform conducted a Prachara Jatarlu, a campaign across villages, reaching out to workers and their families, and appealing to them to join the strike. Workers not associated with any trade union are also being approached by leaders to take part in the strike.
Attacking the erstwhile BJP government, Madhya Pradesh CITU president, Pramod Pradhan, said, "The condition of employees and labour in Madhya Pradesh is pathetic. Bharatiya Janata Party (BJP) rule – 15 years in the state and 4.5 years in the  Centre -- has only damaged the labour laws and pushed workers on the verge of starving."
Pradhan claimed the BJP was a "pro-industry party" and had turned a blind eye to the enforcement of labour laws, inspection of industries or factories, Minimum Wages Act, working hours, accidental deaths and labour rights. And weaken the labour department by leaving major post vacant.
"Labour and employees account for 43% of the total 7.26 crore population of the State, as per a 2011 survey. However, the BJP government has done nothing for their rehabilitation and welfare. The party even scrapped Madhya Pradesh Industrial Relation law which was a pro-labour policy and introduced pro-industry law last year. It allotted on an average Rs 180-200 crore a year to the labour department in last five years, most of which was unspent," said Pradhan.
On the preparation for the general strike, Pradhan said, "All trader associations and unions are angry with the ruling dispensation, so, the state will see a blanket bandh on January 8-9."
According to the 2011 census, out of 7.26 crore gross population of the state, 43% (3.15 crore) are labour, including factory workers. Of which, 1.14 crore are women and 7.2 lakh are child labour.
Out of 3.15 crore total labour, only 8.85 lakh people work in the organised sector in 15,881 registered factories of the state. While rest of the 3.7 crore are in the unorganised sector.
However, the state government has hardly paid any attention to the welfare of around four crore population.
Funds allocated to MP Unorganised Labour Board by the BJP government

| Year | Fund allocated (₹) | Expenses (₹) |
| --- | --- | --- |
| 2013-14 | 2,15,000 | 10,233 |
| 2014-15 | 4,18,727 | 14,560 |
| 2015-16 | 7,75,000 | 49,131 |
| 2016-17 | 1,35,000 | N/A |
| 2017-18 | 5,16,200 | 4,90,000 |
Besides, the minimum wage in various categories ranges from Rs 274 to 400 per day, according to the state labour department's latest notification. But, workers are being paid only Rs 150-250 and there is no one to look into it, say union leaders.
The previous chief minister Shivraj Singh Chouhan claimed that Madhya Pradesh was a 'no strike zone' and was doing good in the 'ease of doing business' index. However, according to the Union Ministry of Labour, MP had 20 strikes between 2013 and 2015.
In 2016, the state government launched new labour laws, which were termed by labour organisations as "anti-worker". Subsequently, strikes have taken place at a major confectionary unit in Gwalior, in garment, cotton thread and engineering units in industrial estates of Malwa and Nimar regions, and an export unit of Dewas also. Bhartiya Mazdoor Sangh, affiliated to the Rashtriya Swayamsevak Sangh, also took part in the strike.
"After the new labour laws of MP were passed, 99.9% factories have gone out of the ambit of the labour department. Labourers are harassed and they have no option but to strike to raise their demands," said working president of Hind Mazdoor Sabha, Jitendra, adding that in Chindwara, the president of a garment manufacturing unit was sacked because she raised workers' demand during a strike.
"The labour laws were amended to bring investment, but the government has failed to do that," he added.
Some of the key amendments include easing retrenchment norms, three months' compensation to retrenched workers, raising overtime hours and night shift for women.
After the amendment, companies employing up to 300 workers can retrench or shut shop without government approval. Earlier, only companies employing up to 100 workers were allowed this. However, employers will have to pay higher compensation, three months' notice and at least three months' salary in the event of retrenchment.
Not only the Left and Congress trade wings, even BMS has been vehemently opposing the new laws because the laws were amended without any discussions with labour unions. Trade unions wanted a meeting of representatives of trade unions with the labour advisory board.
While state president of INTUC, RD Tripathi said, "Owing to flawed labour laws, more than 50 factories have been closed in the state, even the Bhopal New Textile factory is on the verge of closing."
The upcoming strike will be historic because there is a massive anger among the workers because of BJP's "anti-workers polices, flawed implementation of GST and demonisation."
Get the latest reports & analysis with people's perspective on Protests, movements & deep analytical videos, discussions of the current affairs in your Telegram app. Subscribe to NewsClick's Telegram channel & get Real-Time updates on stories, as they get published on our website.
Subscribe Newsclick On Telegram