#WorkersStrikeBack: Workers Resolve in Delhi to Stand Unhindered for Their Rights
The workers put forth their 12-point demand charter. One of the key demands was increment in daily wages to a minimum of Rs 18,000 per month.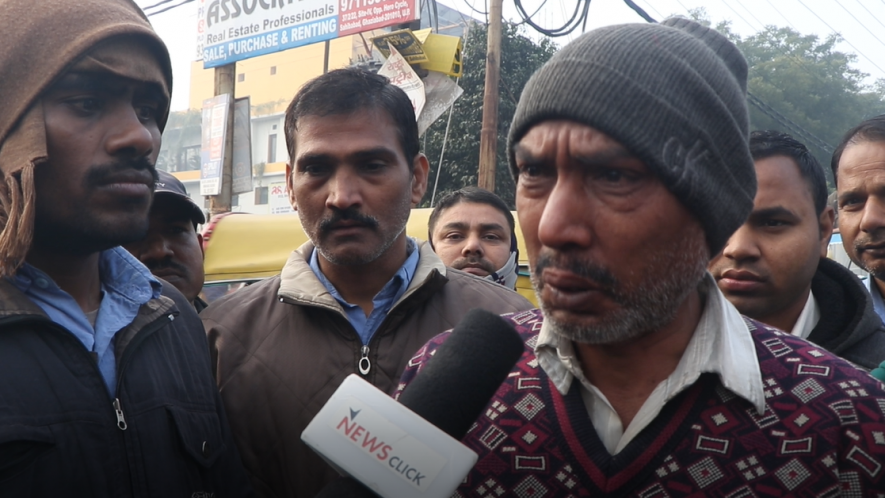 Waking up in the wee hours of Tuesday, bearing the frigid cold of Delhi, Jai Naresh cycled to his factory in Sahibabad, to register his protest outside his factory – Radiant Polymers.
He told Newsclick, "I have worked at this factory for over 19 years. I get paid so less that I could not even pay for my mother's funeral. I had to gather funds from multiple places to save my children's lives when they caught an infection. Even after being employed, I can't provide for my family, and I couldn't save their lives, because this job does not pay me enough."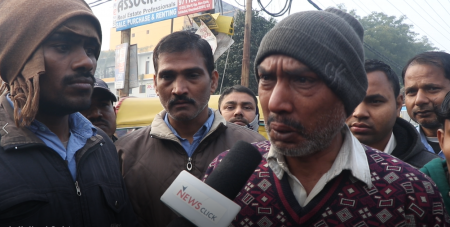 Like Naresh, many other industrial workers, cutting across spectrums, participated in the two-day general strike, against the anti-labour and anti-people policies of the BJP-led NDA government.
The strike which kicked off from the midnight of January 7, has witnessed massive participation from across spectrums. Apart from industrial workers, unions and associations of agricultural workers, plantation workers, scheme workers, construction workers, vendors etc. also participated in the strike.
In the Delhi NCR region, the industrial strike overall is estimated to have managed to garner support of over 80 per cent of the workers, while the percentage is estimated to be 100 per cent in case of the banks and Life Insurance Corporation.
The effect of the strike was palpable in the regions Sahibabad, Wazirpur, Patparganj, Bawana and Nangloi. Slogans such as "Inquilaab Zindabad", "Humari maange puri karo" (Fulfil our demands) and, "Modi sarkar, hosh mein aao" (Modi government, come to your senses) were heard across industrial areas of Delhi. 
To avoid confrontation with the protesters, many factory-owners from Wazirpur had got the factories locked from the inside. It was also suspected that there are workers working against their will inside some of the factories. Outside the factory, the workers were seen chanting "Aaj Wazirpur band hai" (Wazirpur is closed today). Members of the trade unions, workers – escorted by a few policemen – went from one factory to another, calling other workers to join them for the strike. The workers had gathered at 7 in the morning, forming a queue behind the banner of  All India Central Council of Trade Unions (AICCTU).
The workers put forth their 12-point demand charter. One of the key demands was increment in daily wages to a minimum of Rs 18,000 per month.
 
Urgent measures for containing price-rise through universalisation of public distribution system and banning speculative trade in commodity market
Containing unemployment through concrete measures for employment generation
Strict enforcement of all basic labour laws without any exception or exemption and stringent punitive measures for violation of labour laws.
Universal social security cover for all workers
Minimum wages of not less than Rs 15,000/- per month with provisions of indexation
Assured enhanced pension not less than Rs.3,000/- p.m. for the entire working population
Stoppage of disinvestment in Central/State PSUs
Stoppage of contractorisation in permanent perennial work and payment of same wage and benefits for contract workers as regular workers for same and similar work
Removal of all ceilings on payment and eligibility of bonus, provident fund; increase the quantum of gratuity.
Compulsory registration of trade unions within a period of 45 days from the date of submitting application; and immediate ratification of ILO Conventions C 87 and C 98
Stoppage of Pro Employer Labour Law Amendments
Stoppage of FDI in Railways, Insurance and Defence
In addition to these the central trade unions are also demanding the withdrawal of the Land Acquisition amendment bill/ordinance.
Harish Chandra, a worker at Radiant Polymers in Sahibabad, who earns a meagre Rs 12,000 per month said, "All my life, I've been barely surviving somehow. Where I need to buy a kilogram of something, I have to settle for half a kilogram. My good years are now almost over, but I have come today in order to ensure better future of my children."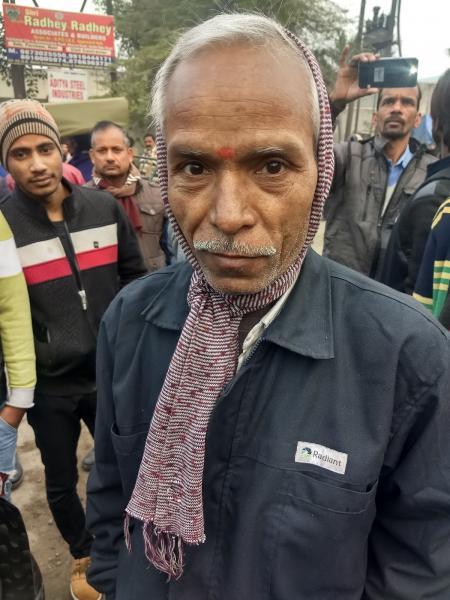 Speaking to Newsclick, Mohd. Shabid from Patparganj said, "I have been working for the past 25 years. However, we are still not recognised as workers. In all these years, we have not received any leave, even if it's during the festive season. Our struggle is for survival and recognition."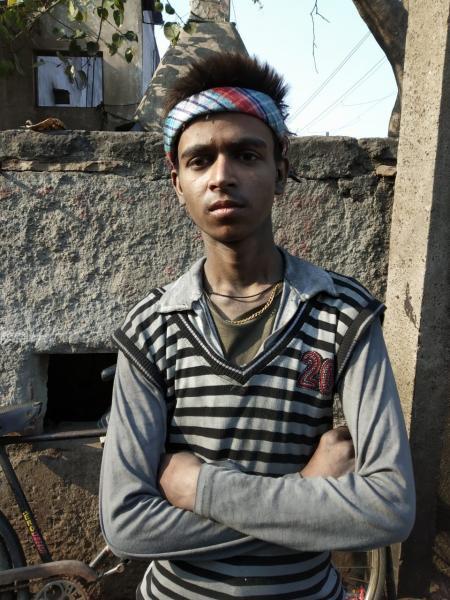 Mohammad Sari, a 19-year-old boy, who works for a steel factory, was also one among the protesters. He had been working for almost two months, and receives Rs.12 for every kilo of product he makes. The contractor who provides the raw material gets Rs 33 for every kilo, on the other hand.
Panne Lal, another protester, told Newsclick, "I came to Delhi all the way from Gorakhpur because I could not afford higher education. I thought that with the money I will make while working in Delhi, I will be able to earn, and save enough for my education. But even after working for 12 hours a day, I am still dependent on my brother because I can't even afford my own accommodation."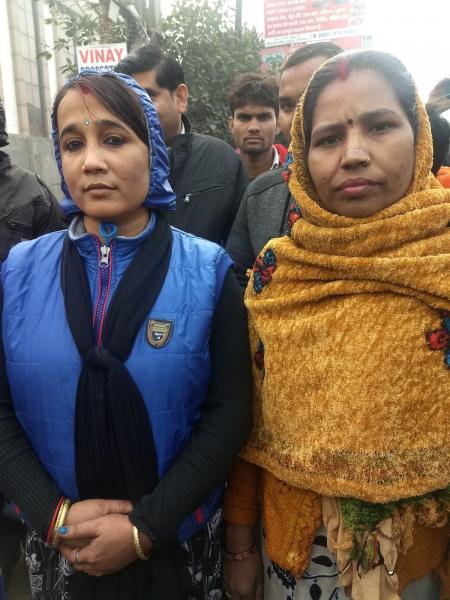 Women too participated in large numbers to highlight the fact that even in 2019, working women face exploitation and discrimination when it comes to wages. Speaking to Newsclick, Bhawani and Meena explained, "Women workers are exploited more, and are paid less. In our entire factory, only one woman is permanent, and the rest of us are contractual workers. We get less than half of the money in comparison with the men. While the men end up earning up to Rs 12,000 per month, female workers end up making only about Rs 6,000."
The ongoing strike has been announced by a joint platform of central trade unions including Indian National Trade Union Congress (INTUC), All India Trade Union Congress (AITUC), Hind Mazdoor Sabha (HMS), Centre of Indian Trade Unions (CITU), All India United Trade Union Centre (AIUTUC), Trade Union Coordination Committee (TUCC), Self Employed Women's Association (SEWA), All India Central Council of Trade Unions (AICCTU), Labour Progressive Federation (LPF) and United Trade Union Congress (UTUC) after the national convention of workers that was held in September 2018. The trade unions have clearly pointed out that "the government policy of mass privatisation of strategic PSUs, crucial infrastructure and public utilities, specially targeting the ports, airports, telecom, financial sector etc with defense production and railways thrown open for 100 percent foreign direct investment is causing severe damage to the rights of the workers in India".
Get the latest reports & analysis with people's perspective on Protests, movements & deep analytical videos, discussions of the current affairs in your Telegram app. Subscribe to NewsClick's Telegram channel & get Real-Time updates on stories, as they get published on our website.
Subscribe Newsclick On Telegram