November 26: World's Biggest Strike Begins in India
An estimated 25 crore (250 million) workers are on strike, and millions of farmers will join the protest.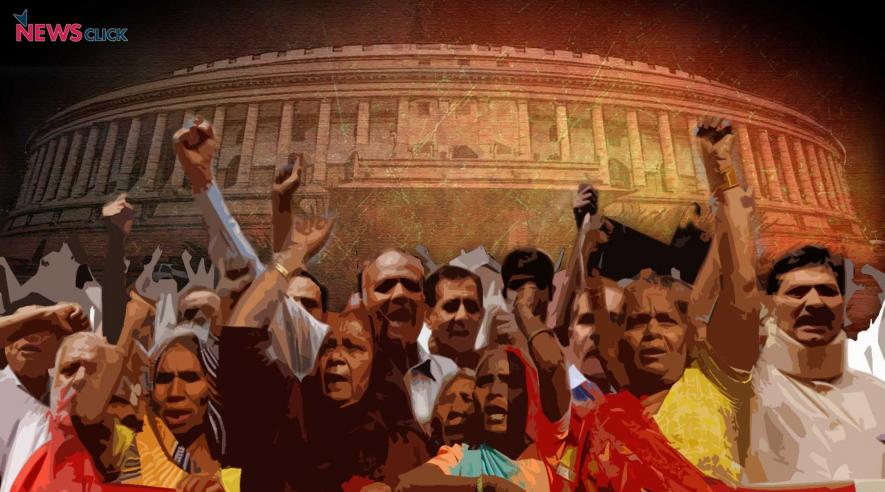 In what is perhaps the biggest ever coordinated general strike anywhere in the world, an estimated 25 crore (250 million) workers and employees struck work since the midnight of November 26 in India, causing stoppage of work in banks, financial services, various government services, transport, steel units, port and docks, telecommunication services, plantations, power generating units, coal and other mines, oil and natural gas production units, and millions of other miscellaneous industries. Government offices, railways, post and telegraph services and scores of other government offices are also likely to be affected as employees will hold solidarity demonstrations. Several lakh women working as Anganwadi workers/helpers, healthcare workers, mid-day meal cooks and those employed in other government run schemes have also gone on strike.
Meanwhile, farmers from across the country are preparing to join the workers in protests despite several state governments like those in Haryana, Uttar Pradesh and Madhya Pradesh (all ruled by the BJP), have sealed highways and deployed security forces to prevent agitating farmers from reaching Delhi where a massive protest demonstration was planned. Reports indicate that while all eight highways entering the Capital are currently blocked by farmers, thousands may have managed to sneak in and will hold the protest near Parliament on November 26 and 27.
The strike has reportedly begun in all states of the country, with varying degrees of effect depending on the strength of trade unions. With 10 biggest trade unions, gathered under a joint platform, calling for the strike, only those workers affiliated to the ruling party linked Bhartiya Mazdoor Sangh (BMS) have been left out, although reports suggest that in several places they, too, have decided to join their striking fellow workers. 
"In several states like Karnataka, Maharashtra, Andhra, Telangana, Chhattisgarh, Odisha, and others, there has been tremendous response to the campaign for the strike, and we are expecting that many more workers will join the strike this time, even more than those who participated in the January 8 strike earlier this year," said Tapan Sen, general secretary of Centre of Indian Trade Unions (CITU), one of the biggest trade unions in India and part of the joint platform.
"In Tamil Nadu, due to Cyclone Nivar, life has come to a standstill and many districts have declared a holiday officially," he added.
CITU, in a statement, condemned the BJP-led Haryana government for sealing the borders between the state and Punjab, Delhi, etc. to prevent the peasants—who have already started from their villages to participate in the protest demonstrations in the national capital—from entering Delhi. Calling the action "totally unlawful, unconstitutional and autocratic", CITU said that police have raided the houses of peasants at midnight and arrested hundreds of peasants in Haryana. 
CITU also denounced the Odisha state government for declaring Essential Services Maintenance Act (ESMA) in the state "to scuttle the strike on November 26". 
Several organisations representing people from other walks of life, including university teachers, students, artists, engineers, doctors, lawyers, women's organisations and others, too, have supported the strike call. Across the country, organisations of street vendors, informal sector workers, construction workers, and other sections are also joining the strike.
The strike has been organised to protest against the Narendra Modi government's dismantling of protective labour laws, refusal to negotiate an increase in minimum wages, increasing unemployment and job insecurity, sky high prices, selling off of several public sector units to private entities, invitation to foreign capital in a slew of sectors, including defence and space, and refusal to provide income support in a sinking economy, which suffered a severe crash during the recent lockdown.
On November 25, on the eve of the strike, workers' rallies and torchlight processions were held in hundreds of industrial areas, workers' residential colonies, slums, and in prominent places to rally support for the demands. 
In Kerala, every locality witnessed such solidarity processions while in West Bengal a call for Grameen Bandh (rural strike) has been given by the farmers' joint front. Both states have strong presence of Left trade unions and farmers or agricultural workers' organisations.
Farmers are angered by the three laws recently passed by the Modi government which together impose a corporatisation of agriculture, with entry to corporate entities in cultivation (contract farming), trade, warehousing and stock holding, and even pricing. Farmers fear that this will mean an end to State support for prices and the laws will mean that they will be left to the mercy of big traders.
The strike today is the second one this year and the fifth in the past six years since Modi took over as Prime Minister in 2014. This period has seen an onslaught on workers' rights and living standards as the government has pushed forth with a series of policies to make India more deregulated and integrated with the advanced countries. 
This has meant not only erosion of such basic rights like the 8-hour working day, or rational fixation of minimum wages, but even the right to organise and protest has been curtailed. Fixed term employment has been introduced as a lucrative option for employers, drastically reducing job security and aggravating instability of work tenures. Social security, far from being expanded has actually been restricted with state run medical and provident fund schemes undergoing market oriented changes.
Coming as this does in the context of increasing inequality of income and wealth in India, there is widespread anger and discontent with these policies. Trade unions have been fighting a relentless battle against these policies and their sustained efforts appear to have yielded good results because participation and support for their movements has been growing with each passing year.
The recent lockdown caused immense misery and suffering to low paid informal or small scale sector workers and employees in services since they lost their jobs and the government didn't do anything to protect them. Lakhs of migrant labourers were left on their own, forcing them to travel back to their distant villages under distressing conditions. All these have aggravated the already serious unemployment that is raging through the country
Get the latest reports & analysis with people's perspective on Protests, movements & deep analytical videos, discussions of the current affairs in your Telegram app. Subscribe to NewsClick's Telegram channel & get Real-Time updates on stories, as they get published on our website.
Subscribe Newsclick On Telegram