Wrestlers' Protest: Hundreds Gather in Delhi to Demand Arrest of WFI Chief and BJP MP
Student, youth, women and farmer organisations pledge support to wrestlers; say delay in arresting the accused was aimed toward "saving him".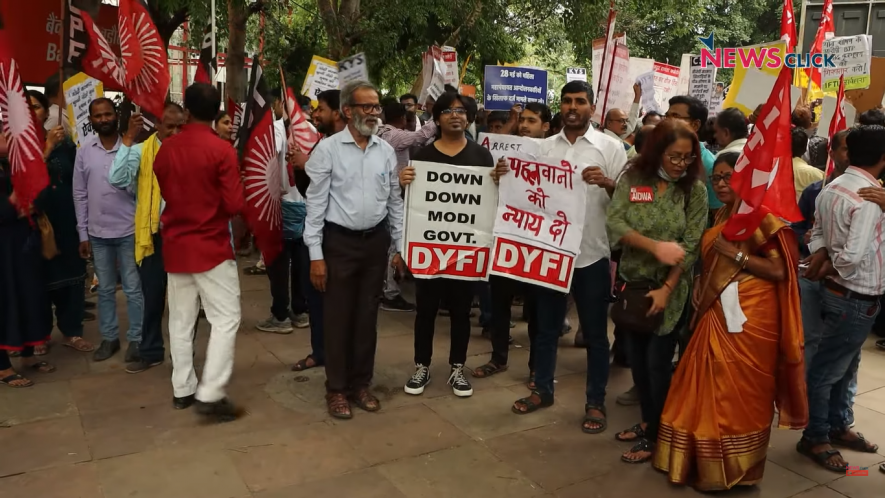 New Delhi: Hundreds of people converged at Delhi's Jantar Mantar on Thursday to demand the arrest of Wrestling Federation of Indian (WFI) chief and Bharatiya Janata Party MP Brij Bhushan Sharan Singh, who has been accused of sexually harassing women wrestlers, including a minor.
The protest was called by 10 central trade unions, women, students and farmers organisations, in solidarity with the protesting wrestlers who were manhandled and detained from Jantar Mantar where they had been on a sit-in agitation for over a month.
Slogans like "Inquilab Zindabad, Delhi Police Down Down and Arrest Brij Bhushan Singh Immediately" rent the air in central Delhi, where the Delhi Police has temporarily built a barricaded enclosure. The protesters maintained that the delay in arresting the accused was aimed toward "saving him" and affecting the investigation.
Prakash Devi, an activist of All India United Trade Union Centre (AIUTUC) told NewsClick that Singh has been allowed to roam free to garner support whereas the Protection of Children from Sexual Offences Act (POCSO) mandates immediate arrest once a minor reports a crime to the local police.
"We are getting reports about a religious assembly being organised in Faizabad to demand a change in POCSO Act itself. Is not it shameful that a law is being asked to change by so-called seers whose primary job is to stand for justice", she said.
Devi, however, said she was not surprised the way the case had been treated so far.
"We must not forget that there was a tiranga rally in favour of rapists by BJP activists in Kathua case in Jammu. Kuldeep Singh Sengar (rape convict) was shown similar amnesty. The family of rape victim in Hathras was not given her dead body and Uttar Pradesh Police forcefully cremated her body at night. The rapists of Bilkis Bano were garlanded," she listed various instances.
Devi said the wrestler's struggle has changed into a fight to reclaim justice for daughters. "I am a mother and I know what our daughters endure. If our daughters are late, the first thought that comes to our mind is always about some such mishap. Once a mishap is reported, the immediate response is to kill the accused or hit the streets. I would argue that hitting the streets is only option because stopping these crimes is our priority," she said.
A law intern who also came to extend her solidarity and requested anonymity said that it was upsetting to see that the government was not giving them (the wrestlers) support when they needed it most.
"It breaks your courage to fight when the government chooses the side of oppressors. It's not BJP versus Congress, it's a humanitarian trait to stand by the victims in such heinous crimes," she added.
Aishe Ghosh, president, Jawaharlal Nehru University Students Union, who also joined the protest, pointed out that the wrestlers came back to Jantar Mantar because the promise about an impartial enquiry was not fulfilled. "That's why there have been demands to arrest Singh, because there is an immense pressure on the minor's family to change statements. He (Singh) is also organising an assembly of seers on June 5 to demand change in the law itself," she told NewsClick.
Ghosh was responding to the statement by Union Women and Child Development Minister Smriti Irani defending no intervention by the Centre into the case. "I want to ask BJP about the action they have taken against Singh to portray that they are standing with survivor", she asked.
Vikram Singh, joint secretary, All India Agricultural Workers Union, said that it was unfortunate that the so-called seers were assembling in defence of Singh. "Is it our culture that they are backing Singh just because he was a key leader in Ram Janmabhoomi Andolan. Does it guarantee him protection beyond law? They are using religion for pernicious ends. Even international regulatory bodies are asking for an explanation over the whole issue."
Notably, United World Wrestling, the governing body of wrestling federations in the world, recently expressed shock over denial of justice to Indian wrestlers and demanded a fair investigation into the allegations made by women wrestlers against the WFI chief.
Maimoona Mollah, an All-India Democratic Women's Association leader, told NewsClick that the women wrestlers' protest was testimony to the fact that struggle empowered women.
"I can say with certainty that women did not report such harassment earlier. However, this protest gave them courage to do so not once, but twice. The entire country is standing by them. Farmers, women, youth and students have extended their support. We are here to say that we are with you in this struggle, and we will win," she added.
Get the latest reports & analysis with people's perspective on Protests, movements & deep analytical videos, discussions of the current affairs in your Telegram app. Subscribe to NewsClick's Telegram channel & get Real-Time updates on stories, as they get published on our website.
Subscribe Newsclick On Telegram