A Year Into the Ukraine War, Peace Seems a Mirage
It has gradually become clear that the West—US, EU, and NATO—is fighting a proxy war against Russia, at the cost of the Ukrainian people, and does not desire any negotiated settlement in the near future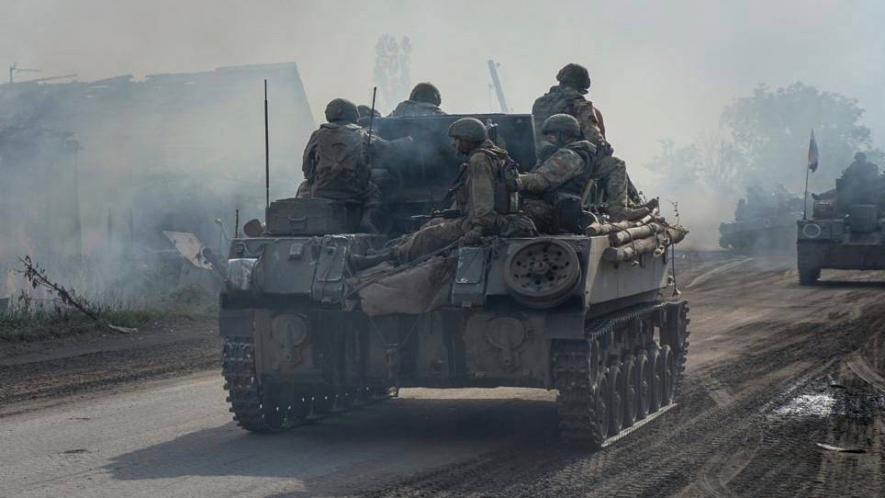 (Photo: Alexander Reka/TASS)
The war in Ukraine will complete a full year on Friday, February 24, without any signs of resolution. Apart from affecting millions of people directly in Ukraine and Russia, the war has caused massive economic problems across the world. Grave concerns have been expressed about the possibility of its escalation into a much greater conflict, perhaps even at the scale of a global nuclear confrontation. And yet, over the past years, there have been very few attempts by international bodies to initiate steps for a peaceful resolution.  
It is by now well documented that Ukraine's Western backers—the US, the EU, and NATO—played a key role in preventing a negotiated settlement. In fact, with their supply of weapons, the Western countries acted to make the conflict even bloodier. A carefully orchestrated campaign has tried to marginalize voices of dissent, brushing them aside as pro-Russian.   
Obstructions in peace attempts
The West pro-actively hampered all attempts to bring an end to the war. In the initial days, Russian and Ukrainian delegates tried to sit and discuss the issues. Several rounds of talks were held in Belarus and in Turkey. All those attempts were abandoned without any explanation within days of then UK Prime Minister Boris Johnson's visit to Kiev in April. 
Johnson was reported to have offered more money and weapons to Ukrainian President Volodymyr Zelensky in return for withdrawal from the talks with Russia and continuation of war. He even claimed that "Putin needs to be defeated."
Zelensky has since then refused to talk with Russia and used language similar to Western leaders. In December, during his first foreign trip since the beginning of the war, Zelensky addressed the US Congress and claimed that the war in Ukraine cannot be frozen or stopped until Russia is defeated, claiming that the result will have ramifications for the future of democracy in the world. 
Following Zelensky's speech, Ukrainian Foreign Minister Dymtro Kuleba proposed a "peace summit" under UN leadership. However, conditions for such a meeting were near impossible to meet. Ukraine claimed that Russia will only be allowed to join the summit if it agrees to face a war tribunal and pay remuneration. 
No wonder that Russians, though expressing their willingness to talk, refused the conditions pronounced by Kuleba, calling them "illusory."
Provocations for war
From the years of incidents that led up to the war to statements and policy measures during the past 12 months, the West's role has only vindicated the views of experts who have termed it a conflict between NATO and Russia.  
In the year leading up to the war, the Western countries not only failed to urge Ukraine to implement the Minsk agreements, they also supported far-right groups which which were active in the Euromaidan uprisings and the assault on the Russia-speaking population of the Donbass region which led to thousands of deaths. Instead Meanwhile, NATO proposed deployment of a sophisticated anti-rocket defense system near Russia's western borders.  
Ever since the start of the war, the US and the EU have only pushed Ukraine for its continuation, and refused to respond to issues raised by Russia.
Some NATO leaders have instead expressed support for Ukraine's membership. NATO has meanwhile initiated a process to admit two more members from Europe, Sweden and Finland. The US, EU and other NATO members have supplied billions of dollars worth of weapons to Ukraine, including tanks. There are talks about the possible supply of war planes to Ukraine as well.  
The US alone has provided weapons worth more than USD 100 billion to Ukraine so far. There are also unconfirmed reports about "volunteers" from the US and other countries fighting in Ukraine. 
In September, Russia's Nord Stream pipelines were blown up by explosives. In recent days, evidence has emerged which establishes that it was the US which carried out these explosions with the objective of isolating Russia by breaking its economic ties with Europe. 
The UN, apart from adopting a few resolutions condemning Russian aggression in Ukraine and alleged human rights violations, has largely failed to be effective in its talks to promote peace. Partial success, with active aid from Turkey, to get a grain export deal from the Black Sea ports is the only fruitful intervention made by the global body in the conflict so far.    
At the same time, the US, EU, and some of their allies have imposed numerous economic and political sanctions on Russia and Russians. There is an undeclared boycott campaign against Russians in the fields of sports, culture, and media as well. 
US President Joe Biden's speech in Poland, following his visit to Kiev earlier this month, removes all doubts that the war in Ukraine is a hybrid proxy war. Biden claimed that the war in Ukraine is a test for Europe, NATO, and the US. He expressed appreciation at Sweden and Finland's bid to join NATO and asserted, confirming Russian claims, that Ukrainian territory is the territory of a NATO ally.
Get the latest reports & analysis with people's perspective on Protests, movements & deep analytical videos, discussions of the current affairs in your Telegram app. Subscribe to NewsClick's Telegram channel & get Real-Time updates on stories, as they get published on our website.
Subscribe Newsclick On Telegram