Yet Again, Modi Sets Campaign Tone for BJP's Pet 'go-to' Issue -- Religious Polarisation
In his Jan 31, 'virtual rally' speech, PM Modi's bid to raise a scare of past SP 'rule' in UP was aimed at breaking the evident coming together of some castes and sub-castes with Muslims.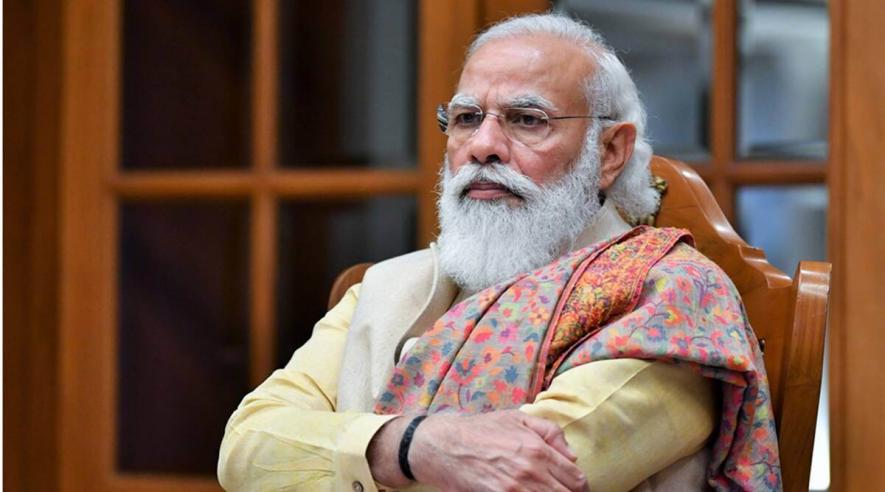 Image Courtesy: The Indian Express
Hatred is corrosive of a person's wisdom and conscience; the mentality of enmity can poison a nation's spirit, instigate brutal life and death struggles, destroy a society's tolerance and humanity, and block a nation's progress to freedom and democracy.
-          Liu Xiaobo 
The first several minutes of Prime Minister Narendra Modi's speech at his first "virtual rally" on January 31, proved that old habits die hard. This event was aimed at voters of western Uttar Pradesh, the region which set the tone for communally polarised electioneering to Bharatiya Janata Party's advantage in elections in 2014, 2017 and 2019. Expectations are that a 'westerly' of contrasting nature is to some extent palpably blowing towards the rest of the state from this region this time. Modi's speech was part of an effort to ensure this does not happen and strings of power remain in his party's hand.
Despite being the incumbent, Modi sought votes not in the name of his party's governments, state as well as the Central, accomplishments in improving the quality of life of people, eliminating their survival concerns, and enabling them to successfully navigate through the health and economic crisis the COVID-19 pandemic wrought on the voters and their families. 
Instead, Modi depicted the alleged 'picture' of the state before 2017 as nightmarish and stated that if the people did not vote for BJP, they would be taken back to the grim days when the rule of law was subverted by "overpowering social groups in league with rioters". 
He claimed in the pre-2017 years, "traders were looted, daughters (in the state) feared venturing out, and mafia dons along with henchmen rampantly terrorised people."
He added: "The people of western UP can never forget those days when this region was consumed by the flames of rioting while the government of that time indulged in festivities. Five years ago, forcible occupation of homes and shops of people – the poor, dalits, deprived lot, and the OBCs (Other Backward Classes) – was on display in the name of socialism." 
Not content with these claims, Modi listed an assortment of words and phrases that act as dog-whistle to arouse passions and heighten prejudice against the numerically significant Muslims of this region. 'Palayan' (exodus), kidnapping, ransom, extortion, were a few of those used to revive the old BJP campaign of the Samajwadi Party subsisting on a nexus between yadavs and Muslims, who flouted law and order under government patronage. 
If there was some truth in these claims, then it is equally true, if not more, that under chief minister Yogi Adityanath, UP has been converted into a de facto police state. From the decision taken immediately after assuming office, when he established 'anti-Romeo squads' to the continuing extra-legal 'thok do' (knock them off) policy of UP Police, a euphemism for false encounters, security forces displayed an unambiguous anti-minority thrust and fanned the BJP-spread notion of Muslims being mainly responsible for deterioration of law and order. But, even a cursory examination of official records belies BJP claims of a dramatic improvement in the law and order during the BJP tenure. 
Raising a scare serves the purpose of breaking the evident coming-together in significant numbers of jats, OBCs (both yadav and other middle and lower sub-castes in the community) along with Muslims, a social process that has the BJP much worried. 
This is not the first time Modi has set the tone or raised the pitch of a communally polarising electoral campaign. His pitch in 2017 with his infamous kabristan-shamshaan remark still resonates and provides the template to other party leaders. This tactic began in 2002 in Gujarat in fact, and remains his sam, the first beat of the cycle in the Hindustani classical music. From the time BJP leaders launched its electoral campaign for this round, Union Home Minister Amit Shah and Adityanath acted as stereophonic loudspeakers fanning bigotry directed at Muslims. While the former ridiculed Friday namaz, presenting it as being disruptive of life and business, Adityanath dropped keywords like Jinnah, the battle being between 80-20 and shoring up caste identities – going to the extent of stating he was proud to be a Rajput. Readers would be aware that both these leaders remain faithful to their primary focus despite occasionally mentioning 'achievements' and promises because their speeches are broadcast over multiple media platforms. 
Significantly, all BJP leaders, from the top three campaigners to the ground workers, emphasise on the party's recurring anti-Muslim pitch while depicting the SP, the chief challenger in popular perception currently, as being a minority appeasing party. It asserts that a vote for BJP will 'ensure' Muslims do not become 'assertive' again. Alongside, its principal campaigners mention the government's successes in 'restoring Hindu dignity' by accelerating 'progress' on the political expressway that starts from Ayodhya to Varanasi and Mathura with pit stops named as Triple Talaq Bills, Citizenship Amendment Act or CAA, Article 370, Love Jihad, anti-conversions laws and so on. 
From the time the Congress stopped being considered as the natural party of governance for its role in the national movement, first in various states and later at an all-India level, electoral verdicts were either the result of endorsement of a combination of promises and/or alternate politics, or rejection of governments for performance reasons and/or belief in challenger's capacity to 'correct' things. 
Electoral verdicts are essentially either about harnessing anger/distrust/hatred, or enthusiasm for a leader/promises/political outlook. If 1971 was about the promise Indira Gandhi's Garibi Hatao pledge held, 1977 was a rejection of Emergency excesses. 
Likewise, 1980 was a rejection of the Janata Party and endorsement of Gandhi's slogan to elect a government 'that works'. In contemporary times, 2014's mandate was about rejection of United Progressive Alliance for successful marketing of 'policy paralysis' and the promise the Modi held. In 2019, the Modi regime returned to office on the back of its hyper-nationalistic pitch in combination with social welfare deliveries. As everyone knows, an overblown and distorted patriotic pitch is intertwined with BJP's domestic majoritarian agenda. 
Post-1970s, elections and political developments often witnessed public anger as a triggering point – the JP (Jayaprakash Narayan) movement and India Against Corruption, for instance. Since 2014, the BJP's effort has been to find a deflect people's dissatisfaction to an imaginary 'other' that is held 'responsible' for every ill, and not in government failure or its feeble or inadequate deliveries. 
This round of Assembly polls are the first after the economy, already on the downswing before the pandemic set in, plummeted further and elevated economic distress of people to levels unprecedented in recent time. Additionally, the government's ineptitude in managing the outbreak of COVID-19, especially during the second wave, has potential to make people factor their livelihood concerns which making up their electoral choice. 
Aware of the potency of anti-incumbent sentiment that is visible in several states besides UP, most importantly, BJP has fallen back on its 'go-to' issue to channelise the frustration of people, including the youth. To the old divide et impera strategy used over centuries, BJP has added perpetuation of antipathy and suspicion of religious minorities as State policy. This remains the foundation on which the party is mounting its campaign to seek another term in UP and elsewhere. 
To take along those who wish to fool themselves into believing that Modi/BJP is not just unmixed Hindutva yarn, the Prime Minister occasionally takes diversionary routes, like broadcasting a speech explaining the grand virtues of this year's budget That, however, is a different matter for another occasion. 
 The writer is a NCR-based author and journalist. The views are personal. His latest book is The Demolition and the Verdict: Ayodhya and the Project to Reconfigure India. His other books include The RSS: Icons of the Indian Right and Narendra Modi: The Man, The Times. He tweets at @NilanjanUdwin)
Get the latest reports & analysis with people's perspective on Protests, movements & deep analytical videos, discussions of the current affairs in your Telegram app. Subscribe to NewsClick's Telegram channel & get Real-Time updates on stories, as they get published on our website.
Subscribe Newsclick On Telegram