Youngsters Throng Bengaluru Job Fair, Hoping for Work Matching their Qualifications
The 20-something arts, commerce job-seekers in the fair had offers mainly from participating companies, most of which were into sales, marketing, and BPOs.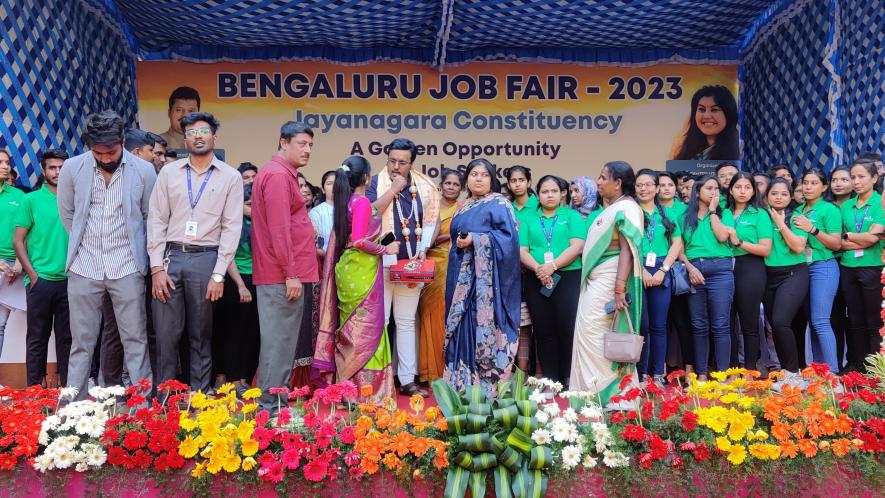 Bengaluru: Job aspirants from Bengaluru, Tamil Nadu and Andhra Pradesh thronged a recent job fair in Oxford School here, in the hope of decent employment commensurate with their qualifications, amid rising unemployment concerns across the country.
There were a large number of arts, commerce, business graduates and techies among the 20 something job-seekers last week. The job fair was organised by
Congress MLA Sowmya Reddy in the run-up to the Assembly elections due in Karnataka in May this year. 
Over 110 companies participated in the job fair and the pay range was between Rs 10,000-25,000 per month. The average number of vacancies announced was between 20-50 per company.
The event was organised by a company called Nexplace Info Pvt., which along 30 Nexplace employees, had an army of unpaid interns, mostly college students, working for the event. The interns said that they would be given certificates from Nexplace at the end of their internship and were promised jobs upon graduation. 
Pawan Kalyan, 22, a web developer from Tirupati, Andhra Pradesh, said he had completed a BSc in August last year. Since then, he has been looking for a job. He came to Bengaluru to complete a course in web development.
 "I have applied at one company so far. I am a little disappointed to see that most of the openings are in sales and BPOs. I was hoping for more openings in the tech sector," he told NewsClick.
IT and core engineering roles formed the smallest portion of the vacancies at the fair. The highest number of participating companies were listed under sales, marketing, and BPO. 
 Muruga Nanda, 24, a Bengaluru resident with a BCom degree said: "I had an interview with a sales company and they asked me if I have a bike. They said it was a must. But I don't have a bike or a driver's license. Our family is not financially well off. My father is unemployed and my mother goes door-to-door selling flowers,"
 The commerce graduate told NewsClick that he "previously worked as a liftman in a private company. I have not worked for more than a year. My friends are pursuing higher education, but I am unable to do the same because of my family's financial background."
'Unethical businesses'
Saniya, 24, a BBA graduate, was quite clear she would not take up any role that involved sales targets. Earlier, she was working at a recruitment and training firm. Her job was to conduct placements for qualified IT workers and also to sell educational packages. While she was promised a salary of Rs 17,000 per month, she was paid a measly Rs 6,000 per month.
Saniya told NewsClick said that the company set very high targets and put immense pressure on her to meet them. "The pay used to fluctuate every month and the company saw a high employee turnover as well. She requested them to pay her bus fare, which was refused. Finally, after one year at this company, she quit in January. She wasn't paid her final month's salary either." She said she was happy that companies had come to the job fair and was open to taking a sales job as long as it didn't involve targets.
While talking to various job aspirants, it became clear that young people with a commerce and arts education formed the largest chunk of job seekers. The companies operating out of the sales sector tend to fix low salaries and high targets. Freshers have little or no bargaining power and many domestic companies in this sector follow exploitative practices. The employees are unorganised, therefore, protests are rare. 
Murali, 24, from Nellore in Andhra Pradesh completed his M Com from Venkateswara University in Tirupati. His father is a farmer while his mother is a homemaker. He was looking for a job involving accounting but said that the recruiters were expecting additional qualifications like CA (chartered accountant) and CMA (cost and management accountant) which he did not have.
"I graduated in August 2021. I spent a year preparing for government jobs. I came to Bengaluru four months ago. I don't know why I chose this city over others. I just wanted to be here. The first month was very hard due to the language gap. But I have learnt some Kannada now by watching movies. At my PG, I am paying a rent of Rs 4,500/month. If I don't get a job within the next two months, I will go to Hyderabad and try my luck there," he told NewsClick.
Although there were no posters with the Congress symbol, there were many hoardings that featured the pictures of MLA Sowmya Reddy and her father, MLA Ramalinga Reddy. Sowmya Reddy was present at the location, on stage, where announcements were being made from time to time for the benefit of the job-seekers, a considerable number of whom were going to be first-time voters. 
The 112 participating companies were listed under eight categories - sales & marketing; BPO; Finance; Retail sales; education & hospitality; Recruitment; Logistics & Manufacturing; IT.
One of the recruiters was looking to hire for the merchant navy. It drew attention from a young couple from Belagavi, Mahesh Akkol, 23 and his fiance Sujatha, 21. Recently engaged, they came looking for jobs together. While Mahesh had a BA degree, his wife-to-be had an MCom degree. Mahesh said the merchant navy recruiter asked him to pay Rs 300,000 for training and documentation.
He said he was "disheartened as he is unable to raise such finances". At presently, he is working as a security guard at a company that makes batteries and chargers for electric vehicles.
Speaking to NewsClick, Mahesh said: "I am a kabaddi player. In 2021, I got selected for the Army. However, a few months later, while playing in a kabaddi tournament, I got injured and a nerve in my leg was severed. I lost my place in the Army after this injury. My wife and I are hoping to get a job today. She is also a fresher and is looking for an accounting role."
Only four companies registered under 'logistics & manufacturing' were offering core engineering jobs. Among them was DY Uppar engineers & Contracts, which was looking to fill 20 vacancies in civil engineering roles. The average vacancy in these companies was between 20-40. In contrast, a BPO called [24]7.ai that had announced 1,000 vacancies. 
A group of three women who came together said they had previously received job offers from companies like Wipro and Infosys. They had a background in computer science and were freshers. However, they had not been given joining dates. Many of them said their companies have slowed down hiring citing economic recession. They were told they would be recruited when the company found new clients.
The group of youngsters, seeking for a decent job and future, seem to be the hardest hit by forces out of their control - first a pandemic and then recession. But each of them seemed determined, hopeful and excited at the prospect of landing their first jobs. The job fair was a representation of young India today—aspiring and dreaming.
Get the latest reports & analysis with people's perspective on Protests, movements & deep analytical videos, discussions of the current affairs in your Telegram app. Subscribe to NewsClick's Telegram channel & get Real-Time updates on stories, as they get published on our website.
Subscribe Newsclick On Telegram