YouTube Star's Murder: How to End Domestic Violence in Iraq?
The murder of yet another young Iraqi woman by family members has revived the debate about laws on domestic violence there. But even activists admit overcoming such violence in Iraq requires a lot more than legislation.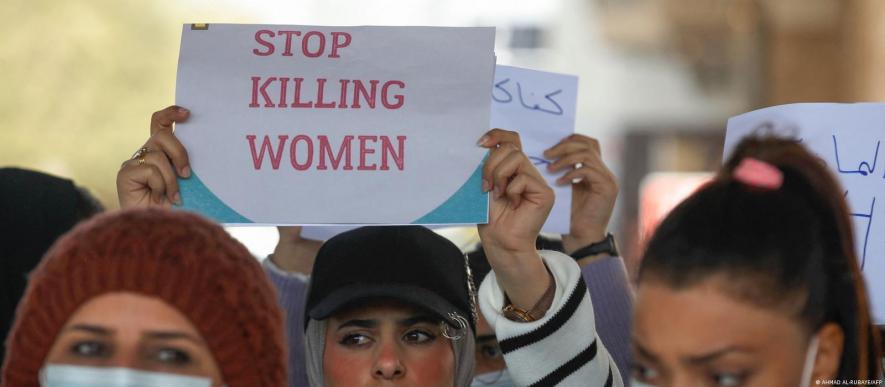 In Iraq, the murder of another young woman by a family member has led to renewed calls for the country's government to finally enact a law on domestic violence, one that has been stuck in parliamentary limbo for years.
Tiba Ali, a 22-year-old from the southern Iraqi province of Diwaniya, had returned home from Turkey, where she'd been living, to visit her family. The young woman had become well known for posting about her comparatively liberal life in Turkey on YouTube and planned to marry a Syrian boyfriend. While motives remain murky, local police said Ali's father confessed to strangling her on January 31.
On the Sunday after Ali's death, Iraqi women's rights activists staged a protest in Baghdad. They called upon local authorities to better protect women and to finally enact domestic violence legislation.
But even if Iraq did have such a law, could it have saved Ali and the many others who have been victims of familial violence and so-called "honor killings" before her?
Remembering Taiba al-Ali, who was brutally murdered by her own father. The Government of Iraq needs to address domestic and gender based violence. There must be no more impunity. Germany will always remain committed to the protection of women. 🕯 pic.twitter.com/rVPJbnvx3I

— German Embassy in Baghdad (@GermanyinIraq) February 7, 2023
"I don't think a law would stop violence against women here totally but it might reduce it," Kholoud Ahmad, an Iraqi journalist based in Baghdad, told DW. "If people knew they could be punished for this, or if women in trouble even had somewhere to go, that would help," she said. "Right now, it really feels like there is no serious punishment."
Iraq doesn't have a law dedicated to dealing with domestic violence. In fact, its current laws offer multiple ways for anyone who does beat or kill a female family member to avoid prosecution.
Law permits violence against women
Paragraph 398 in Iraq's penal code says that in a sexual assault, the case will be dropped, if the rapist agrees to marry the victim. Another part of the penal code, Article 409, says that if a husband kills his wife because he discovers she committed adultery, the maximum sentence is three years in prison. And Paragraph 41 says that "there is no crime if the act is committed while exercising a legal right." Legal rights in Iraq include "the punishment of a wife by her husband … within certain limits prescribed by law or by custom."
In a statement about Ali's death, the United Nations in Iraq urged the Iraqi government to repeal some of these articles.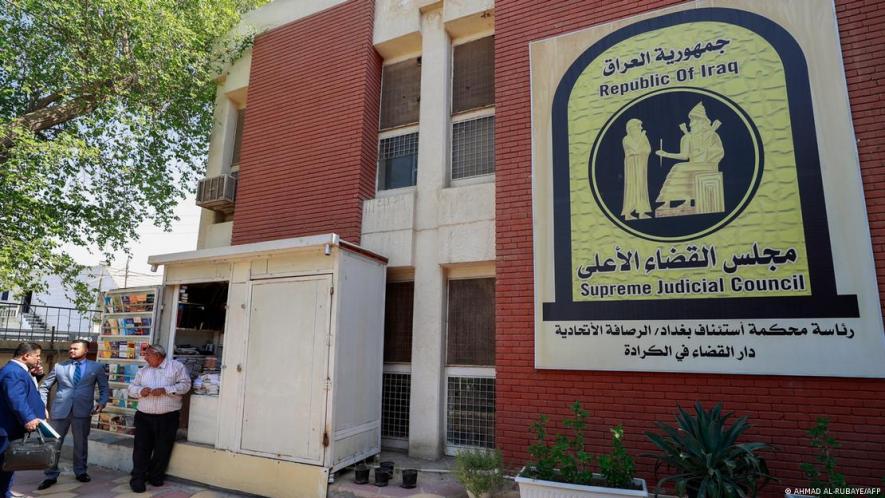 In February 2022, Iraq's highest court dismissed arguments that Article 41 was unconstitutional because it led to inequality between sexes.
"Iraq lacks a central and effective reporting mechanism for victims and survivors of domestic violence or sexual and gender-based violence," said Razaw Salihy, a researcher on Iraqi issues for Amnesty International.
To lodge a complaint of this kind, Iraqi women only have two offices they can report to and both are "not founded in law," Salihy continued. "Women and girls who report incidents to police stations inevitably have to go home as there is no referral system, meaning the majority will not report anything for fear of repercussions at home. There is nowhere for them to go," she told DW.
All of this is why it is hard to get genuine figures on domestic and sexual violence committed against women in Iraq. Official statistics on domestic violence cases that go to court in Iraq hover around 15,000 a year. But if these are to be believed, then the rate of this kind of crime per head of population is not actually all that high when compared to countries in Europe.
However, much of this kind of violence is likely hidden for a number of reasons. Victims have nowhere to report the crime or they are reluctant to do so because of the aforementioned laws. Recent surveys by various United Nations agencies have found that around 75% of women wouldn't report domestic violence as a crime. Additionally 85% of Iraqi men said they would stop female family members from reporting such crimes.
Law alone is not the answer
Even when it comes to the most obvious violence against women — such as murder in line with the misguided idea of "honor killing" — it's hard to work out how many Iraqi females are affected. Statistics often include women who died by suicide or self-immolation. Activists say families use these catgeories to hide murder and local officials accept that.
All of these factors are reasons why simply changing the law is not enough, activists argue. 
Women in our societies are hostage to backward customs due to the absence of legal deterrents & gov measures - which currently are not commensurate with the size of domestic violence crimes. Yes to legislating the Anti-Domestic Violence Law. #طيبة_العلي

— Ala Talabani آلا طالباني (@TalabaniAla) February 2, 2023
"Legislation alone cannot shift cultural attitudes," Ruwayda Mustafah, a British-Kurdish activist wrote in a March 2022 editorial for the Washington Institute for Near East Policy. "For cultural attitudes to change, our society needs a national dialogue frankly addressing the issue."
Iraq needs both legislative and social change, Mustafah argued.
The situation in Iraqi Kurdistan — a semi-autonomous region in the north of Iraq, mostly populated by Kurdish locals, that has its own parliament, military and judiciary — provides a good example. The region already has tougher laws around this topic, having passed the "Combating Domestic Violence Act" in 2011. This law threatens life in prison for so-called "honor killings." 
Priority for male-on-male violence
However none of that saw official numbers for domestic violence and femicide fall in Iraqi Kurdistan. In fact, during the COVID-19 pandemic, in 2020 and 2021, they rose.
In Iraqi Kurdistan, locals have suggested that other factors also add to the difficulties around implementing any such law.
The Women's Organization for Legal Assistance, or WOLA, based in the city of Sulaymaniyah in Iraqi Kurdistan, pointed out that despite more murders, suicides and self-immolations, not a single case of femicide was resolved in the city's own court system in 2021.
And in their annual monitoring of how the Iraqi Kurdish domestic violence law is used, WOLA noted that delays in the judicial system often see female complainants drop charges. Crimes against women are not a priority, they added.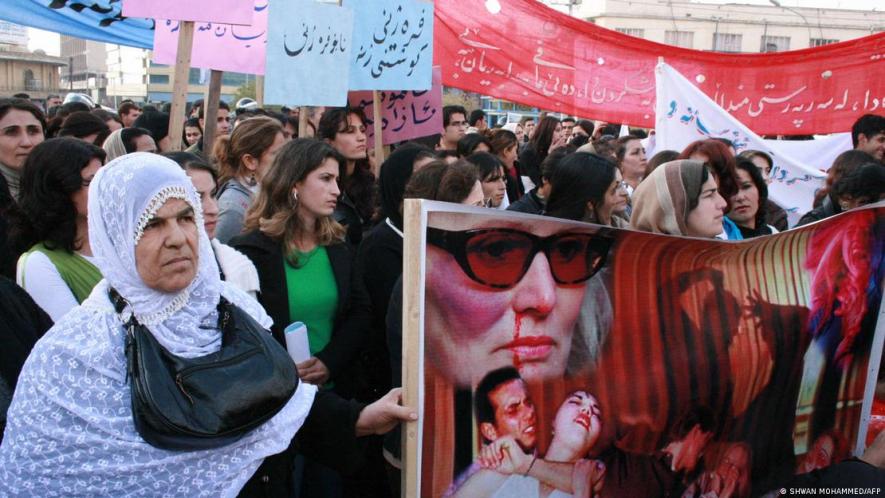 Protests in Iraqi Kurdistan in 2008: Ten years later, authorities there set up a hotline for victims of domestic violence
Other activists suggest that if a man kills another man, there's more urgency to those investigations. They also say that often murders and other crimes are resolved using traditional, patriarchal tribal law, where elders from two clans decide what would be suitable compensation for wrongdoing.
How a perpetrator of domestic violence or femicide is punished can also depend on how powerful their tribal or political connections are.
Cultural change is coming
Amnesty International researcher Salihy says that nobody knows for sure if YouTube star Tiba Ali would still be alive today if Iraq had only had a domestic violence law.
"But we can be sure if the state's apathy continues and if perpetrators continue to be protected, then we will see more victims," she told DW. "Like all human rights related issues, one change will never be enough," she conceded, "but Iraqi authorities have refused to even take the first step. Undoubtedly there are huge cultural obstacles to change but the colossal task of making that [cultural] change is impeded by laws, or lack of them," she concluded.
When it comes to cultural change, there is perhaps one positive sign on Iraq's horizon: There may be a generational element to attitudes towards this topic.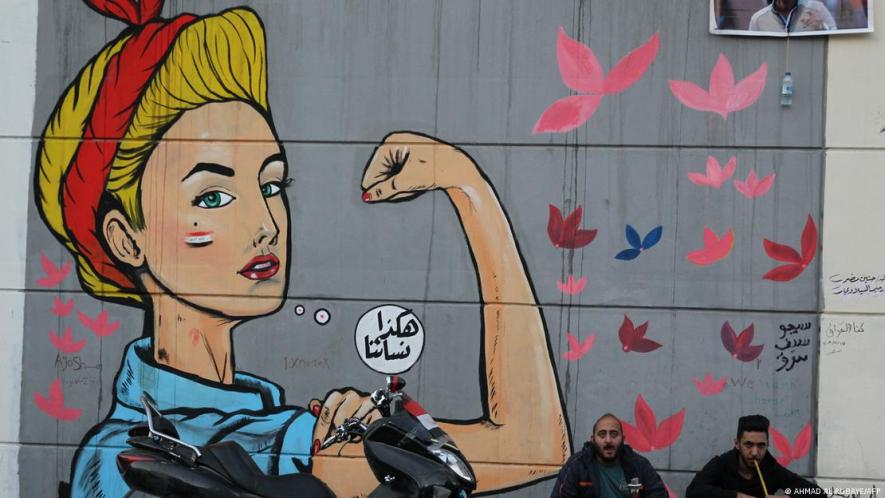 Iraqi women played a major part in political protests in 2019, changing how many saw feminism in the country
In 2020, after the latest version of the country's domestic violence law was introduced to parliament for debate, Baghdad-based thinktank, the al-Bayan Center for  Planning and Studies, conducted a survey of public attitudes towards the law.
Al-Bayan researchers reported an unexpectedly enthusiastic response to their digital poll, with over 13,000 Iraqis answering 26 questions. The survey found that the new law was supported by 89% of locals and that 95% believed that hitting one's wife was a crime that should be punishable by law. What was particularly notable though: Just over 77% of those who responded, and who thought the topic was important, were aged between 18 and 29.
Edited by Andreas Illmer
Get the latest reports & analysis with people's perspective on Protests, movements & deep analytical videos, discussions of the current affairs in your Telegram app. Subscribe to NewsClick's Telegram channel & get Real-Time updates on stories, as they get published on our website.
Subscribe Newsclick On Telegram