Memories of a Sporting Year Unforetold
In a year of many medals and accolades, it is worth considering what sport really stands for? Participation, equality, the raw visceral noise of a stadium or the silence of a bio bubble waiting to be breached.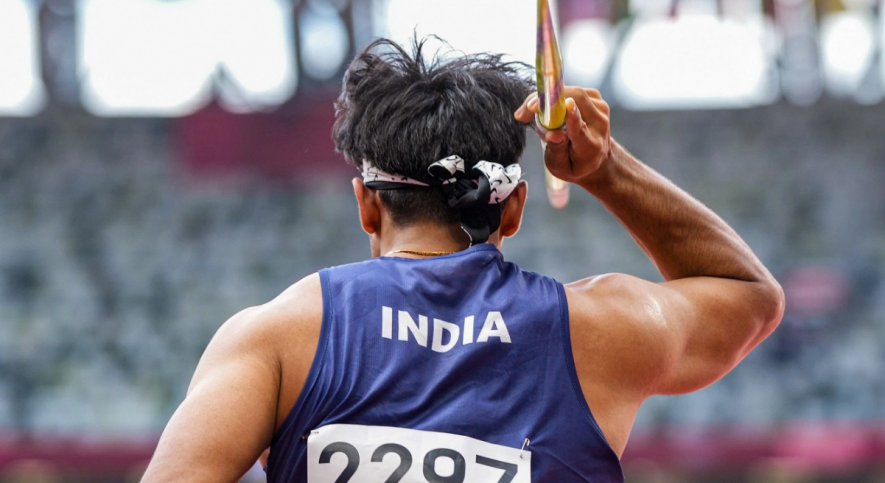 Neeraj Chopra during his gold medal winning performance at the 2021 Tokyo Olympics.
The last day of 2021…. When a year of memories flash in front of our eyes. For people who have the luxury or the will to slow it down enough that is. Arrest the pace at which the seconds tick toward the new year, muffle the cacophony emanating from a celebration — why do we have to leave behind baggage from the recent past? To take on new resolutions and burdens just because a digit changed. The calendar holds little significance these days. It, at best, mirrors the year left behind, while adding old wine in new bottles on the shelves of our super marketed existence. To consume. Oh, a new variant of an old virus. Let us consume, pharma bait notwithstanding. Oh, don't forget to subscribe to this sports channel's OTT platform — there is a cricket series underway. Let us consume sport too in a very distant, removed way. 
Did we forget to live sport in 2021? Did we just consume sport? What are we? Sports fans or mere shoppers out in a digital space figuring out which goals to screen-record and share on social media, and which Olympic gold medallist to put on a pedestal. Indians, well, had it easy on the latter dilemma in 2021. We just had one Olympic gold medallist. Neeraj Chopra was an aberration. A great Indian sports aberration. Neeraj Chopra, the 2021 Tokyo Olympics champion.
The 365-day sports calendar will reset for Chopra too, and for the other handful of Indian medallists at the delayed Covid-19 Games staged in the Japanese capital. The names are familiar to all Indians now. That, perhaps, is 2021's biggest gift to Indian sport. 20-odd new names to rote, ferment, abuse and paste on our social media walls. Then again, can we name five hockey players in the Indian roster who helped end the country's medal drought in the sport? 
Maybe 2022 will help.
However, nothing changes if we go by what the years have taught us. Cricket series, bio-bubble breaches, delta and omicron, gender biases and disparity — sport in India hardly notices shifts in the solar calendar. Unless you are the BCCI big boss and you decide to force shut an era in Indian cricket. Sense, sensibility and Indian cricket. Did I just dare to write all these words in one sentence?
Also Read | Ethical Dilemmas and Unethical Dispensation: The Story of Indian Football in 2021
There is only so much a change in digit can alter. After all, it is just a number. And we, as an emotional and perceptive race, should ideally detest numbers. Statistically speaking, 2021 saw sport grow in unprecedented ways, conquering screens, and thereby our lives in the new normals we have happily settled in. Also, thereby killing that feeling we used to get while sitting at the sidelines of the stadium, any stadium, any venue, on the pavement for street football, and feel the barometer rise up a notch. Figuratively. Maybe literally too. After all, a moment of inspiration in sport can create its own weather system. Thunder, lighting, bolts from the blue…  The change is enough to give you goosebumps, a momentary rise in the physical parameters that govern our health and well being. They could leave us cold yet warm, drenched yet parched.
We can perhaps call it the existential duality of a sports fan. The opium we all crave for. I craved it for myself in Tokyo. It was not to be. Not 2021. Tokyo was far away. Tokyo was distant. Tokyo was still a part of my life for a fortnight and a wee bit more too. It left me drenched but I never did live the dream I envisaged on the last day of 2020, and on the first day of 2021, when the year was born, young, vibrant, and ready for memories. 
It eventually materialised though. Closer to home in Bengaluru. At a local football league match. Two clubs — well kitted — playing at the Bangalore Football Stadium, a venue steeped in local lore, history and emotion, a game far slower than the one played on European turfs, but fast enough to jolt you. A cold breeze swept across the sparsely populated main stand. And it hit home. So this is what it is…
Also Read | Indian Football, Played by Professionals, Run by Amateurs
It is what it is. My stolen piece of time in 2021. My memory. And it was not big. But it was huge. It was my moment. A year — in sport or in life — after all is a string of memories. Like the romantic lyrics of a song I took a fancy to in my early 20s, we progress through a year stealing pieces of time, making a memory each time, and at the end of it all, we string them all together into a nice little neck piece we will never wear. It will remain in our closet. Safely tucked away for posterity. 
This year in sport, a gold medal and many bronzes notwithstanding, I could not manage a string of gems. I could only pocket one shimmering stone. From Bengaluru. From the beautiful game.
Life, sport, everything else in between, is now ready for the new year, and hopefully we will walk or waltz into it carrying a few lessons from the days gone, giving us the right bearings. It is the small things that matter, in sport and in existence. Beyond that, the show must and will go on! 
Get the latest reports & analysis with people's perspective on Protests, movements & deep analytical videos, discussions of the current affairs in your Telegram app. Subscribe to NewsClick's Telegram channel & get Real-Time updates on stories, as they get published on our website.
Subscribe Newsclick On Telegram