Indian Football, Played by Professionals, Run by Amateurs
All India Football Federation's (AIFF's) reversal of a rule regarding transfer of players left debutants Rajasthan United FC with just nine eligible players to field in their I-League season opener against RoundGlass Punjab FC.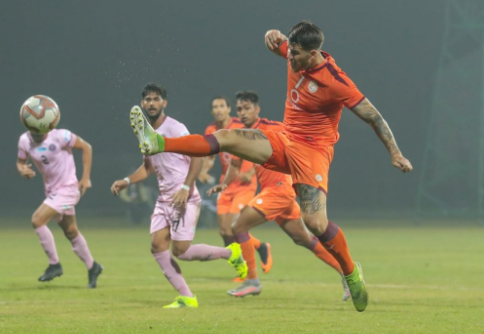 Action from the Roundglass Punjab FC vs Rajasthan United FC I-League football match in Kolkata on Sunday.
Over an hour of the game had gone before bedlam ensued, the match paused and the action happening near the metal barrier that separated the ground from the stands. The match referee, the match commissioner, various members of staff and the All India Football Federation (AIFF) ground control personnel, all trying to identify someone among the RoundGlass Punjab substitutes who needed to be booked. Masking, apparently, makes identification problematic. In the small booth right outside the playing area, the match commentator was as confused as those viewing this craziness at home. Something had happened. What though? And when?
It was close to nine o'clock in the evening when this comic routine had begun, but the real comedy had actually begun almost 12 hours prior, when Rajasthan United FC, the other half of this prime time I-League fixture on the league's opening weekend had released a statement via social media, claiming that administrative confusion had left them with only nine players to field for their season opener. The statement was detailed and yet left holes in the narrative — as public statements often go. It was the prelude to an episode of comic incompetence, with a little posturing, pressuring and politics thrown in. The reaction was swift and immediate, everyone picking sides, some bashing the federation and others taking digs at the club. All in all though, no one summed it up better than one observer said simply: Indian football, played by professionals, run by amateurs.
Before apportioning blame, the facts. RUFC's team predicament came about because of a complex but well known rule structure regarding player signings for the season. Most clubs in previous years would sign players on two tiers, professionals and amateurs, the distinction being on payment structures and how they could be traded outside transfer windows — amateur players can transfer between clubs in the middle of a season as long as both clubs agree. Players signed on amateur contracts are, for the most part, novice understudies and minors who have been brought in mostly to get a hang of high level training and professional football. The system, while supposed to be magnanimous and educational, has been corrupted in various ways over the years — a story in and of itself. 
Also Read | The Risk of Dementia in Football: A Ticking Time Bomb?
Earlier this year, the AIFF's regulations on Status and Transfer of Players 2021 (RSTP) was amended to ensure that "only professional players would be allowed to participate in I-League 2021-22". However, seeing as the AIFF had only managed to conduct the I-League Qualifiers as late as September this year — after the transfer window had shut on August 31— the federation apparently communicated to all clubs that they could sign players as amateurs and play them in fixtures till December 31, 2021 without breach of rules. RUFC took them at their word and signed a majority of their 22 Indian players as amateurs, and expected to convert their contracts to professional when the January transfer window opened. There would be no problems. Right. Of course. But, who can ever trust them.
Within days though the federation changed course, saying that clubs could play their amateurs as long as they were signed as such, during the transfer window according to their own RSTP which was approved and bound by FIFA. 
The reversal left them with just nine players eligible to play — a handful of whom had been a part of their victorious I-League Qualifier campaign. 
A simple question, posed by many onlookers, is why RUFC entered into this predicament in the first place at all — after having played the Qualifiers with a full squad of players without any problems. "It's okay to blame the federation, who have definitely created confusion out of nothing, and once having done so, refused to resolve it," the source said. "But you must also ask, why did the club not retain the players from the second division squad? They could've fielded that squad itself for the opener!"
According to those within the club, their surprise success and promotion meant most players, contracted just for the course of the league, were tempted away with the promise of bigger clubs and left. Others were called back for a new set of trials, because of an upheaval in club management and were not selected for the squad. 
"It's a completely manageable situation that all sides have messed up," an official at a rival I-League club said, adding that the federation could have simply postponed either their opening game to the next year or started the league itself in January. "It's after all, just a matter of one week. You could add that week in April, it makes no difference, not to us, because we sign all players for a month extra anyway, and not to them because it's a matter of days. They did it last year, so what's the hurry this year?" The federation could not be reached for comment, despite various attempts by Newsclick to do so. 
According to sources at the club, attempts were made by the club and the federation to avoid the embarrassment and postpone the fixture to January. Except, erm, there was one problem: one that speaks volumes, really. Nobody really considered what Punjab wanted. And they wanted to play. After a long and draining pre-season, it made no sense to postpone a scheduled fixture, especially when it looked winnable, because you were about to face a nine-player team. RUFC's public statement hinted at a lack of sportsmanlike conduct by the opponents, words that were actually just a jibe rather than a fact. Furthermore, rumours suggest that it was Punjab who told the league that any attempt to circumvent the federation's rules regarding transfers would lead to an official FIFA complaint — one that would jeopardise the federation's ability to run the game in the country. 
Also Read | Peak Introspection: Kidambi Srikanth and Lakshya Sen's Medals at World Championships
But the truth is, that the federation doesn't run Indian football. At least not in the professional way it should be run. With empathy, and equality. How else to explain the fact that they haven't managed to hold the women's league since the 2019-20 season, but will be hosting the AFC Women's Asian Cup in January? 
After all of this, a unique pre-match build up came the game itself, an hour gone and Punjab up by a goal. Then came the comedy, and two red cards, awarded to CK Vineeth and Robin SIngh for using abusive language against an official, in a game they watched from the bench. Punjab dominated the game, — 73% possession, 23 shots to one against, and a two goal victory — but the nine men for Rajasthan really were the heroes. 
In this case, the stats really won't tell the story. It took till the 90th minute for Punjab to take that two goal cushion, and the man of the match was Rajasthan's Shreyansh Chaudhary, playing his debut I-League game — his unrelenting running  and hard work descriptive of the team's character as a whole. It was a brutal introduction to Indian football. Because this is what Indian football really is. Not the glamour and glitz, not the multi-camera show with the smooth talking well dressed analysis. India football was played yesterday. 20 professionals against a system that is at best amateur. 
Get the latest reports & analysis with people's perspective on Protests, movements & deep analytical videos, discussions of the current affairs in your Telegram app. Subscribe to NewsClick's Telegram channel & get Real-Time updates on stories, as they get published on our website.
Subscribe Newsclick On Telegram